I've been distracted lately by food videos sent my way by YouTube. A week ago America's Test Kitchen posted Our Top Rated Hot Sauce.1 At about the same time I was reintroduced to the first hot sauce I ever used on a regular basis.

Growing up in Boulder in the 1960s, Mexican food was considered fairly exotic. Believe me, you wouldn't be able to reconcile the restaurant landscape then with what's available today (or was, until the pandemic hit). In the early '70s we'd go to a place on Walnut called Tico's. I'd order something called the Oaxacan Red. I can't tell you what it was, but it was flavorful enough that I wasn't compelled to splash whatever table sauce was at hand. And so I never tasted the varieties of piquant condiments that are household names today.2 I think the only thing we would have had in my childhood home was a small bottle of Tabasco.3
When I left Boulder for L.A. in 1973 to work with the United Farm Workers' boycott organization, the hot sauce in our households (we community organizers lived communally) was Pico Pica.4 Such was my penchant for picante, I was advised: "Greñudo," addressing me by the nickname the Mexican nationals in our number had given me,5 "we'll have to send you back to Colorado with a case of Pico Pica."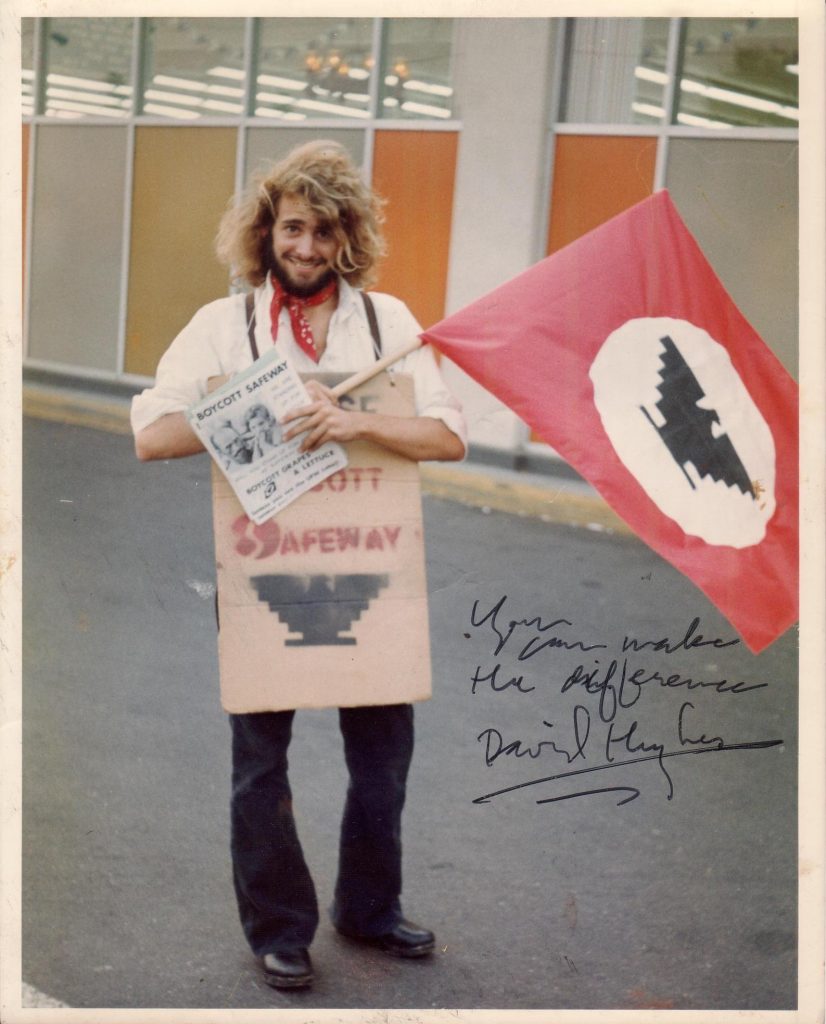 Of course I didn't move back to Colorado for three decades. And Pico Pica always was on the shelves of the markets we frequented in Los Angeles. It was made in Arizona but in 1977 Pico Pica sold out to Juanita's Foods in Wilmington, in L.A.'s harbor.
I stopped buying Pico Pica when we began trying to buy organic exclusively. This was not for our health. It actually ties in to my work with the United Farm Workers. Pesticides maim and kill agricultural workers. They also kill beneficial insects.6 By buying organic we message growers that pesticides aren't acceptable.
Years ago my local Denver market King Soopers (a Kroger chain) began selling organic jalapeño hot sauce. Its recipe is nowhere near as simple as Tabasco's peppers-vinegar-salt, but it's organic.7 I bought it by default. Once, when I couldn't take it any longer and tried to find Pico Pica here, it wasn't easy. (Tonight, when I tried to find Pico Pica here, it wasn't easy.)
Then a week ago, at the local Safeway (I'd boycotted it for years in Los Angeles with the UFW), I found an organic jalapeño hot sauce in Denver that nearly mimics Pico Pica.
| | |
| --- | --- |
| Pico Pica | O Organics Jalapeño Hot Sauce |
| Water, chili peppers, red jalapeno peppers, tomato paste, spices, salt, less than 2%: citric acid, acetic acid, vegetable oil (soybean and/or canola oil), xanthan gum, garlic powder, sodium benzoate (preservative), paprika (color). | Water, organic jalapeno pepper puree (organic red jalapeno peppers, salt, organic vinegar), organic spices, organic tomato paste, salt, less than 2% of: organic vegetable oil (organic soybean oil and/or organic canola oil), organic cultured dextrose, organic maltodextrin, xanthan gum, organic garlic (dried). |
The only real difference is the absence of vinegar in Pico Pica—that and no dextrose (aka glucose, a simple sugar) or maltodextrin (a complex carb with a glycemic index higher than sucrose and also used as a safe insecticide). And I can taste that sweetness, which I very much could do without. But otherwise, now I have my "organic" Pico Pica.
There's a great difference between Pico Pica and a vinegar-based hot sauce. It's cruder. The pepper seeds float about (indeed they can clog the Safeway cap's small opening). You can chew the dried pepper flakes. It's earthy, maybe even a bit bitter. Back in the 1970s I'd say this is hot, but not anymore.
Epílogo
I don't sample hot sauces as a rule, but this past spring one caught my eye because of the peppers involved: peri-peri (aka piri-piri, aka African bird's eye) are lovely little things that I used to enjoy stuffed in the cocktail olives I'd find at Target—until I didn't anymore. (Saw them at a grocer in Minnesota but the price was prohibitive.) The peppers are red as pimiento but pack a punch. (Poking out of the olive hole, they also have a canine anatomical quality, if your mind is so inclined.)
The sauce is called Nando's, a restaurant brand that sources peppers from Mozambique, making seven varieties, all using peri-peri. Some of these definitely are spicier than Pico Pica, like the Hot and XX Hot. But the ingredients would horrify the Test Kitchen folk, with water being first, vinegar second. The saving grace is a secret ingredient: lemon pulp, for a tantelizing tang.
| | |
| --- | --- |
| Medium | Hot |
| Water, vinegar, onion puree (11%), salt, lemon puree (4%), sunflower seed oil, spices (cayenne pepper, African bird's eye chilli, paprika), green chilli, garlic puree, stabilisers (xanthan gum, propylene glycol alginate (derived from seaweed)), preservative (ascorbic acid), rosemary extract. | Water, vinegar, lemon puree (6%), onion (6%), salt, spices (cayenne pepper, African bird's eye chilli, paprika), green chilli, sunflower seed oil, garlic puree, stabilisers (xanthan gum, propylene glycol alginate (derived from seaweed)), preservative (ascorbic acid), rosemary extract. |
As mentioned in the above promo, elephants don't like the bird's eyes. And as humans encroach on elephants' territory, farms are, mm…, fair game for the quadrupeds, as explained in an NPR segment (transcript here) from a week ago. It's a disturbing balancing act.
My skeptical side sees the promo as a Portuguese-African counterpart to Amazon's smarmy TV ad profiles of its workers who are so excited to be exploited. "So humble," Celestino Santos says of the Mozambican farmers. See what you think.
Notes