Yes, this involves Leopold and Loeb and their victim Bobby Franks…
Killing time a week ago in the expansive area devoted to new releases at the central branch of the Denver Public Library, a title beckoned: Nina Barrett's The Leopold and Loeb Files: An Intimate Look at One of the Most Infamous Crimes, issued last summer.1 If overly familiar with The Crime of the Century—title of Hal Higdon's 1975 book2—one might ask, Why another rehash?
Barrett has created the sort of case study that resembles an oral history, the kind of approach that I like to take. The book is the logical progression of The Murder that Wouldn't Die, a 2009 exhibition at Northwestern University, which she curated. As such it is slathered with photos and facsimiles. It reminds me of Exquisite Corpse: Surrealism and the Black Dahlia Murder written by print and exhibition designer Mark Nelson and art and cultural critic Sarah Hudson Bayliss.3 With the look of a university-press popular history, Barrett's doesn't have the monograph/fine art sheen of the latter, but both books bring together images that likely hadn't been seen in one place. And unlike Exquisite Corpse, Barrett breaks no new ground other than by exhuming, well, old ground—hopefully carefully culled.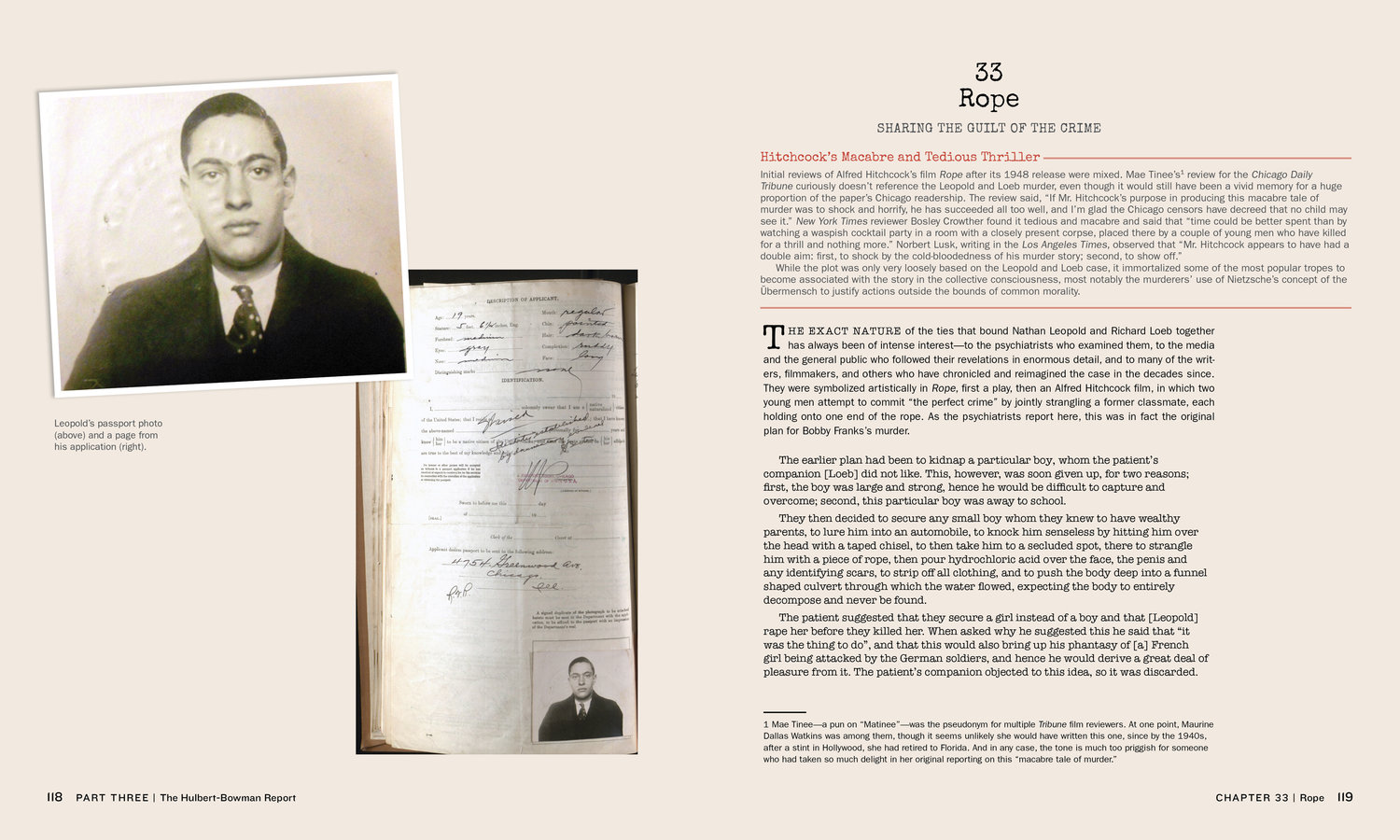 Why discuss a book I haven't read? I have a list of topics for this blog, some of which, like my most recent post, are the result of nagging questions. One such question involved Leopold and Loeb. Barrett merely induced me to answer it.
Years ago in the pursuit of a larger project I photocopied way too much material from a file on Martin Block, founder and editor of ONE magazine. A passage from a 1993 Block interview, conducted by an unknown party, vexed me. Once I dug into it last week it was relatively easy to investigate. I began with the index of Barrett's book, which was a bust, but that propelled me. A (virtual) book checkout via Archive.org took me further, but I really needed the Leopold and Loeb trial transcript. Since I'm not an academic I don't have access. (This is the digital divide that drives me nuts. Even were I a deep-pocketed individual I am denied access.) Fortunately a friend has come through and I can complete this post.
Chicken Pox
chicken (fr naut[ical] chicken = young recruit) pox (k[no]wn L[as]V[egas], mid '60s) the urge to have sex with younger men.
— Bruce Rodgers, The Queens' Vernacular: A Gay Lexicon4
Martin Block's tale actually deserves a context that I wouldn't mind fleshing out one day, but here begins the slice that I always wanted to delve into.
In the 1930s Block (b. July 27, 1919) had a job as delivery boy for a bookshop with the "most refined customers."
And it was another kind of world that I had become aware of, and because of my sexual traits and habits, I met on Madison, no on Fifth Avenue one night, a man named Wallace B[misremembered] who I had tremendous, tremendous respect [for]. Wallace had just at that time become an editor at Simon & Schuster. […] Wallace, by the way, was a man you'd find very interesting.
It's tempting to figure that Block's interlocutor was archivist Jim Kepner (from whose computer directory the interview was printed). But in my experience, Kepner's interviews of those he already knew, like Block, were quite informal and conversational, which this is not.
Can I give you a little historical gossip? One of the great gay cases as it was known in this country was the Loeb and Leopold case. Well, […] my friend Wallace, was I think, he was the only or one of the very few witnesses for the defense. And we got to talking about it one day, and […] I asked him about it and I said "What was the true story as you know [it]?" and he said well what never came out was that the reasons that the young [blank line] boy was killed had nothing to do with a thrill killing. It had to do with that this boy at 12 years old or eleven years old was blackmailing Loeb and Leopold and everybody else in their circle because he already was an active homosexual and was blackmailing all the older men, some of whom he had had sex with and some of whom he had not. And he wanted money, and that's why he was killed.
The question of motive I can't address except that I'm reminded that a lack of cash led to Loeb's own death in prison and that Leopold told state's attorney Robert Crowe that Loeb already "was acquainted with" the fourteen-year-old Bobby Franks prior to his abduction and murder.5 Obviously Wallace B's account contradicts the usual version of the crime's narrative, which claims Franks had been selected at random.
I offer Block's recollection here for any response or rebuttal—not to libel a murdered youth or presume his circumstances.
I mainly wanted to determine the identity of Block's friend Wallace B, whose surname he misremembered in the interview. Was he even a witness in the trial? With a copy of the witness list I confirmed that a Wallace Brockway testified. And, indeed, this same Wallace B later became an editor at Simon and Schuster, as well as an author, translator, and contributor to many books and audio recordings.
The Fact Hawk
The test of Brockway's mettle as an editor, according to Block, had been Dick Simon giving him the manuscript of the second volume of Will Durant's The Story of Civilization, The Life of Greece.6 Brockway found three dozen errors in the first two dozen pages and was hired. "I am grateful to Mr. Wallace Brockway," Durant wrote in the book's acknowledgments, "for his scholarly help at every stage of this work."
On behalf of Simon and Schuster, in 1943 Brockway approached Joseph Campbell to produce a latter-day Bulfinch's Mythology, which didn't interest the scholar. Instead—six years later—the house published Campbell's The Hero with a Thousand Faces.7
Brockway was described as "a fact hawk" and a
sandy-haired, pale-faced, pedantic person […], a young man with an encyclopedic memory and a knack for copying any writer's style so immaculately that few authors […] were sure what Brockway had rewritten and what [the author] had not.8
At the time of the Leopold and Loeb trial in 1924, according to the transcript, Brockway was an editor "of some books for the Government." By about 1930 he likely had moved to New York. The New York Times of November 15, 1931 mentions a delay in the publication by Covici, Friede of his translation—the first ever in English—of The Journal of Eugène Delacroix "because of the discovery of a great deal of hitherto unknown material written by the famous nineteenth-century French painter." Pedantic? Perhaps. When published—again, six years later—Brockway's name appeared not on the title page, but instead in the acknowledgments.9
By contrast, Gerard van Loon, cited above, states that, on a later project, Brockway "almost snatched the manuscript" away from the author he was editing. Thus "he was largely responsible for seeing to it that this prodigious volume"—Hendrick Willem van Loon's The Arts (1937)—"was completed on time."10
Oh, and Covici, Friede was the stateside publisher of Radclyffe Hall's The Well of Loneliness as well as a relatively early publisher of John Steinbeck. Yet, in 1954, both Pascal Covici (then at Viking) and Brockway (at S and S) would reject Vladimir Nabokov's Lolita as being at least problematic, if not pornographic.
Wallace Brockway
Wallace Brockway (1903–1972) is listed as being born in Chicago on August 27, 1903 to Louis S. Brockway and Lillian M. (Johnson) Brockway according to a Cook County index, although over the years he shaved two years off his age.11
He was the grandson of Swedish immigrants on his mother's side. In the 1910 federal census he's living in their Chicago household, with American-born Lillian, a concert musician, apparently already separated if not divorced. Ten years later they're in the same household, different ward, and Lillian is private secretary to a doctor. He's in the Class of '23 at the University of Chicago with a tiny résumé: Poetry Club. Nathan Leopold was in the same class: Campus Club Executive Council, Italian Club, Undergraduate Classical Club. They were 19 and 18, respectively.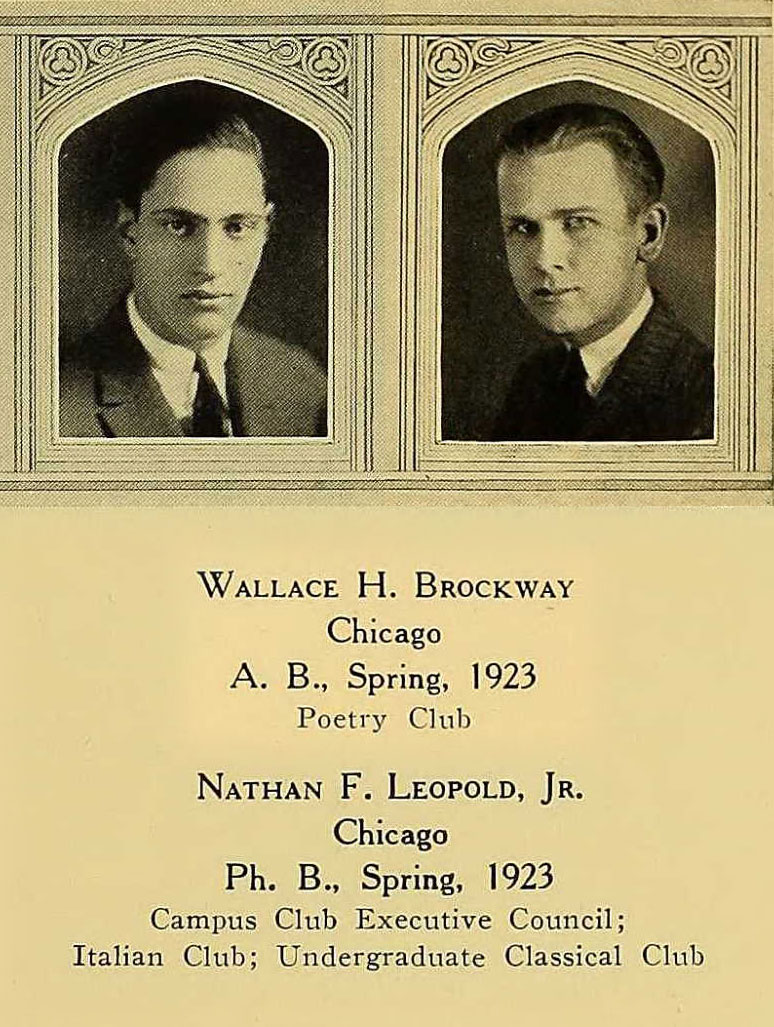 At age 16–17 Brockway had attended the Staunton Military Academy in Virginia, during the academic years of 1919–20 and 1920–21. Two decades later, in 1939 he gave a copy of one of his books to Major Roy Warren Wonson, the school's headmaster, followed by a letter. (Again, Brockway appears to have been 16 rather than 14.)
I hope you were not too perplexed, some weeks ago to receive a copy of (Men and Music), by Wallace Brockway and Herbert Weinstock. If you were, permit me to jog your memory, and remind you of your kindness to a lonely 14-year-old boy, almost twenty years ago. That boy still remembers vividly your playing of Chopin and his pleasure at being allowed to sing a solo at Trinity [Episcopal] Church—I think it was Faure's (Les Rameaux). At any rate, you fostered the boy's love of music at a crucial moment of his life. In a sense, (Men of Music) constitutes a debt repaid, after many years.12
Brockway, W. H. is listed in the 1920 yearbook as a Private in both Company C and Band, listed only in Band in 1921.
To the 1920 yearbook Brockway (W. H. B.) contributed a disturbing short story, "The German," narrated by a young soldier who, after a rocky start, becomes inseparable from a fellow soldier, one Max Lebbard. "When I think of him my thoughts conjure up a great pair of watery blue eyes." The two are stationed in occupied Coblenz (Koblenz) when Lebbard steals away from camp, followed by the narrator. His destination is his parents' house and his father's contempt, "of treason to the fatherland." Leaving the house, Max commits suicide.
The SMA newspaper The Kablegram carried the following notice in its tidbits column, February 14, 1920:
Brockway, W. H., has announced to the corps that he is engaged, and will probably be married this summer.13
I can't help but wonder whether this was the result of an ultimatum as much as it appears to be Brockway's declaration of normalcy. I did a half-hearted search of a marriage record: where to start? Chicago? Virginia? He was to be wed that summer, contradicted by his paean to his fictional comrade—unless W. H. B. was a typo, even intentional, and "The German" was written by a member of the graduating class, Elwyn H. Bishop, aka "Cherry," who had been at the school for six years and was the yearbook's military editor as well as a member of the Kablegram staff. That's a lot of speculation.
Nevertheless Brockway's parochial relationship with the headmaster should be considered. How did Wonson, and likely his wife Marie—she read Brockway's letter publicly on a couple of occasions after receiving it in 1939—approach the "lonely 14-year-old boy" on the one hand, and the actual 16-year-old, with his fairly transparent literary allusions and an apparent love of music that brought him to the choir loft, if not the altar, of Trinity Church? What brought him to the school in the first place? And what, if anything, did he recognize in Martin Block, presumably half his age, when he met him on Fifth Avenue?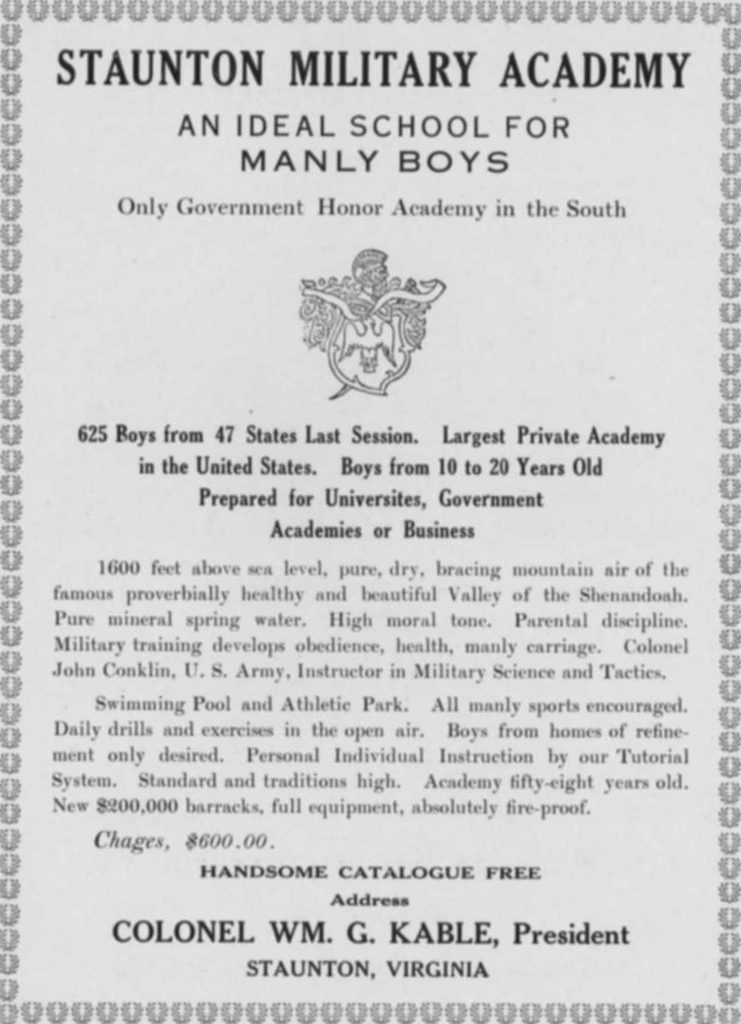 Leopold and Loeb
Four years later Brockway was a witness for the defense of Leopold and Loeb, but one of 16 such witnesses, which I suppose can be construed as "very few," as Martin Block had put it, when compared with the 100 called by the prosecution. At the time, Brockway was just turning 21, and his testimony is revelatory yet reserved. He studied "arts and literature" at the university but didn't obtain a degree. He'd known Nathan Leopold for about four years but didn't consider him a friend. He respected Leopold's intellect but only to a point.14 Cross examination:
Q You considered Leopold the finest man you ever came in contact with in the university, did you not?
A One of the best intellects; perhaps not the best, but one of the best.15
Simon and Schuster
Peter Schwed, in his profile of Simon and Schuster, includes this description, echoing van Loon above.
Wallace Brockway was almost certainly the storehouse of more erudition than could be believed, but his aspirations were never to be more than an ivory-tower editor. He was a walking encyclopedia and, being an expert in many fields, a regular contributor of Britannica articles.16
Brockway translated Andrea Majocchi's Vita di chirurgo (Life of a surgeon) for another publisher, issued in 1937.17 It can be noted that Nathan Leopold himself was a linguist, with fifteen tongues plus English under his belt. The fall of 1923 Leopold was considering a collaborative translation of Pietro Aretino (a taste here). His collaborator's parents, upon learning of the project, spirited Leon Mandel II "packing to Europe."18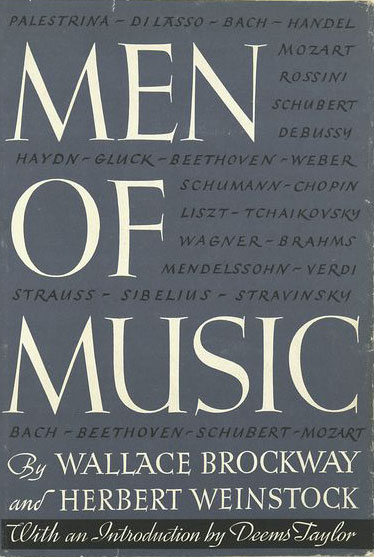 In 1939 Simon and Schuster published Brockway's own bestselling Men of Music: Their Lives, Times, and Achievements, and in 1941 The Opera, a History of Its Creation and Performance: 1600–1941. Both of these were coauthored with Herbert Weinstock. And both men appear to have run with the Leopold and Loeb crowd, as explained by Schwed.
Wallace and his close friend Herbert Weinstock attended the University of Chicago when one of the most famous criminal cases of the century took place there, the murder of young Bobby Franks by Leopold and Loeb, and they knew all the protagonists of the affair very well. When Meyer Levin wrote his gripping novel Compulsion, based upon Clarence Darrow's memorable defense of Leopold and Loeb, Wallace was a valuable source for Levin's research, although it was a part of his life that Wallace would gladly have swept from his memory.19
In his own memory of Brockway's account, Martin Block suggests no reticence in the telling.
A browse through Meyer Levin's papers might shed light. Compulsion was published by Simon and Schuster in 1956. But, as Levin explains in his memoir, The Obsession, the idea for the book had come only after some probing by McGraw-Hill editor Robert Kuhn, who asked if the writer had "any Chicago ideas" since that city was Levin's "background." When he submitted the novel's completed first half, McGraw-Hill rejected it. As did Random House's Bennett Cerf, who had enjoyed Levin's writing, but refused to consider the book based on the subject alone. Jack Goodman at Simon and Schuster liked it and accepted it for publication. Levin doesn't mention Brockway's involvement, so exactly when he contributed to the novel's research would require its own investigation.20
In 1940, according to the federal census, Brockway and his coauthor Weinstock were renting together on Lexington Avenue south of 38th Street, with Weinstock having the day job of travel agent. The flat's leaseholder was a 21-year-old underemployed copy editor named Herbert Winer who, as Bart Keith Winer, would coauthor two other books with Brockway, A Second Treasury of the World's Great Letters (1941) and Homespun America: A Collection of Writings (1958), both issued by Simon and Schuster.
Winer was survived by his wife Shirley upon his death in 1989.21 By 1949 Weinstock was listed in the city directory as living with his "longtime companion" Ben Meiselman, who survived him upon his death in 1971, according to the New York Public Library.
Wallace Brockway died at age 69 on November 5, 1972 of a heart attack at his home on East 57th Street, survived only by his mother, Mrs. Ralph E. Simmons.22 His father, Louis Shaffner Brockway, had died in April of 1967 at age 86 in Los Angeles, not far from MacArthur Park and Loyola Law School, according to Social Security and voter registration records.
Secrets
The question of whether a horrific secret can be kept by multitudes was addressed a few years ago by Daniel Ellsberg, who notoriously did not keep his.
If Wallace Brockway, via Martin Block, is correct about the motive for Leopold and Loeb killing Bobby Franks—a secret kept?—, would theirs not, in a perverse and fuzzy sense, be The Perfect Crime?
Notes