After many years of resistance and organizing, the name of Andrea's and my Denver neighborhood finally will be abandoned. "Stapleton" is a holdover from another era: Denver Municipal Airport, a consolidation of smaller fields, was championed by mayor Benjamin Stapleton in 1929, six years after he first was elected with the help of the Ku Klux Klan.
Denver has a history of naming things after living individuals. Speer Boulevard, which bisects the inner city on the bias, is named after Robert Speer, who commenced the City Beautiful Movement in Denver. Peña Boulevard was named in 1993 for Federico Peña, Denver's first Latinx mayor, who left office in 1991 and had spearheaded DIA. The Wellington Webb Municipal Office Building was named in 2002 after the sitting mayor, the first African American to hold that office, who saw DIA through to completion. Not without protest, the Denver Municipal Airport was named for ex-KKKer Benjamin Stapleton in 1944, three years before he left office.
And that is the basis of one argument against removing the name of a KKKer from our neighborhood: that it wasn't named after the man at all but rather for the airport. I kid you not. Another contention, hardly limited to our situation, is that removing the name somehow "erases history"—that without our neighborhood name schoolchildren across Colorado are denied the opportunity to dig into Ben's KKK past.
A more ironclad argument has been that removing the name should be up to its residents, all in the name of Democracy (which can be a slippery slope if you've tried to vote in 2018 or 2020). Twice we had votes to change the name; first the name of our registered neighborhood organization (we got 58% for change out of a required 66% supermajority), and last summer the name of our neighborhood, voted on by owner-members of the Master Community Association (35% to change, 65% to retain, with renters excluded, big property owners given multiple ballots, and a 33% turnout). Predictably, such Freedom of Choice was invoked by Benjamin's great grandson Walker Stapleton yesterday afternoon on Twitter.
Walker can't help but fudge the truth, however, as I pointed out last year. Votes weren't cast by "residents" multiple times. Renters couldn't vote at all last summer. The democratic process was not overlooked, despite Walker's disappointment. We elected—democratically—delegates to the Master Community Association, which at any time could have voted to recommend that the MCA board change our neighborhood name—without a distracting and money-squandering vote. The delegates simply kicked the can down the road by claiming The People Have Spoken.
After our first of only two "multiple" votes, on November 14, 2018, I wrote the following to our change-the-name Facebook group:
A month after the Civil Rights Act was passed in 1964 barely 50% of the public supported it. Yet legislators had passed the act overwhelmingly. Couldn't they just have hedged, citing the ambivalence of their constituents?
Our MCA delegates hedged, claiming they were responding to the wishes of their constituents. Except that's not how it washed out yesterday.
Now it seems that Other People Have Spoken.
Yesterday the MCA delegates agreed to change the name, based not on the inviolable wishes of constituents, who had declared their desire to retain the name (multiple times), but in response to cries of "No Justice No Peace"—miles away from our neighborhood—from Civic Center Park to Lafayette Square. The venality is breathtaking in its breadth…
…and so condescending. Suddenly it's become "more clear" that the S-word "is hurtful to many residents of all backgrounds and life experiences"? While it's true that Ben Stapleton's Klan targeted Jews and Catholics as much as BIPOC, the change-the-name effort began at the beginning, with citizens objecting to the Stapleton name in 1944. Further, that MCA line smacks of "All Lives Matter," which is as disgusting and lame a comeback as the notion of our neighborhood having been named after an airport. All of this pales in the face of a simple truth: according to the Stapleton development master plan the name was no more than a placeholder, nothing permanent. And now the placeholder will be removed "from all branding, marketing," etc., etc., the bullet points so efficient, when, before, the process was cautioned as being so cumbersome.
Still, this is yet another monument to inequity toppled. There are a lot of tears being shed—of joy, of relief, from exhaustion, eyes damp but wide open for the coming opportunities, great and small, symbolic and fundamental.
Now if we can do the same with this one. I know I'm being trivial, but still…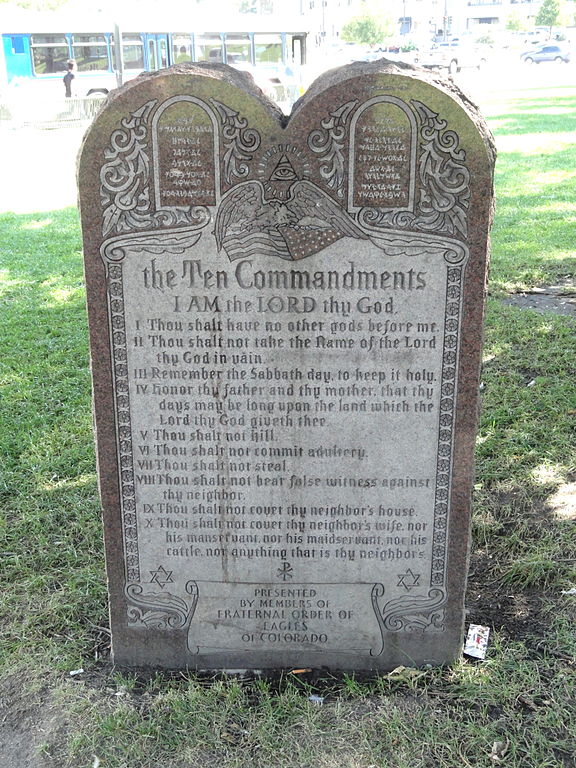 Header image:
Third day of protests
in reaction to the
killing of George Floyd.
Denver, May 30, 2020.
(Photo: Kevin J. Beaty/Denverite)