Yesterday my friend and collaborator Rob Berg messaged me that my old, dear friend Joseph Shuldiner died. Of a brain tumor. It's a cruel joke: I'm the one bingeing on cheddar cheese, and last week I was told to go on statins.
My heart goes out to his spouse Bruce Schwartz, his sister Judy, and to all he's touched.
Joseph and I go a long way back, but hadn't corresponded for several years. Looking for a photograph last night I came upon a half-dozen file folders containing the following mementos.
I met Joseph, a fine arts student, at Immaculate Heart College in Hollywood in late 1977 or early 1978. He shared a class with my friend Juan (later Johanna) Guzmán, a Bolivian pianist and scholarship student. I asked Juan to introduce us, something I'd never done before and haven't done since. In 2019 I'm embarrassed more by my question than Juan's answer: "Is he gay?" "Gay as a three-dollar bill." Juan certainly had become acclimated.
I was attracted to Joseph's flair; he wore a tweed overcoat, had auburn hair and a full beard, and was a fantastic dancer. He was a red-diaper baby while I was late of the United Farm Workers. Joseph had read my poems in the IHC newspaper (something about "drinking soda and bitters in bars" and "boys with flashing pins in their ears") and eventually put two and two together after I'd pursued him shamelessly. I'm bewildered by this because I believe I had several boyfriends at the time—polyamory was in the air (at least mine)—but I wanted to connect, perhaps on some other level.
We had an affair, interrupted by my summer vacation in Boulder and attending Naropa, and both of us met others, me there and he in L.A. Nevertheless we rented a loft in Little Tokyo in '78 or '79. Joseph's father Max and his buddy helped us install studs and hang drywall. Joseph entered a work-study program in the neighborhood and learned graphic design.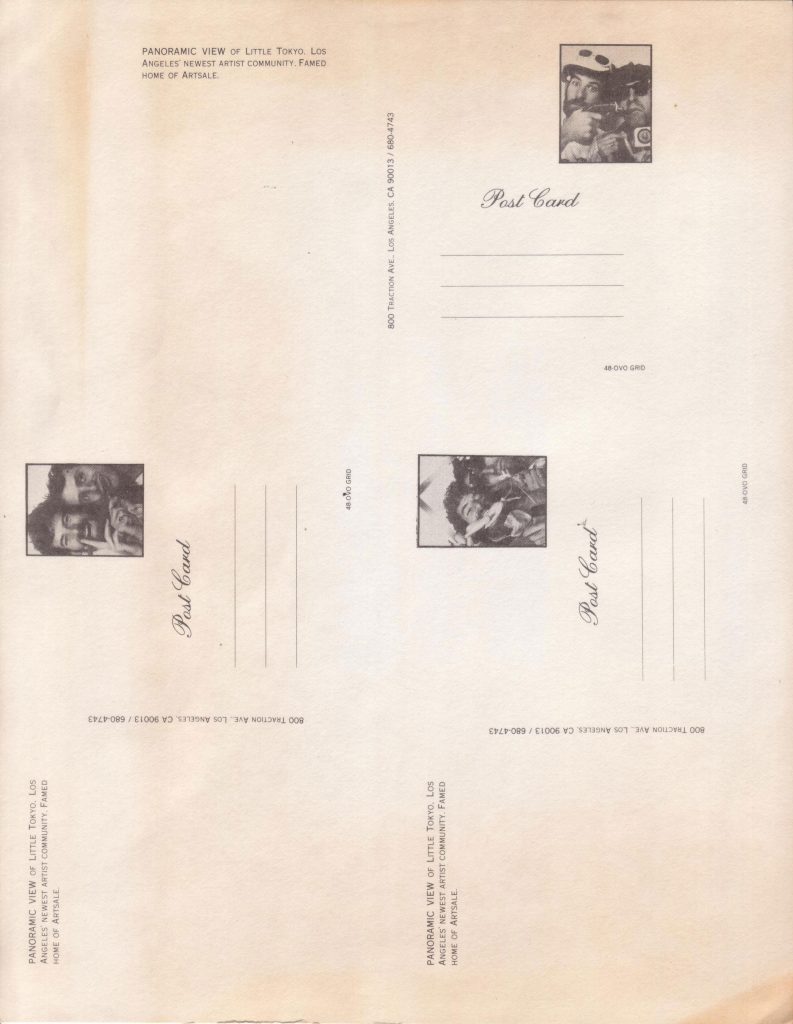 In June 1979 Joseph graduated from IHC. His senior show consisted largely of fibers—woven and otherwise (we were told to save our clothes dryer lint). The centerpiece was a huge papier-mâché-like fish-like form, with long drooping fronds sprouting from at least one tapered end. He asked me to assemble a soundtrack for the gallery (actually just a studio at the school; we were fundraising for a dedicated space).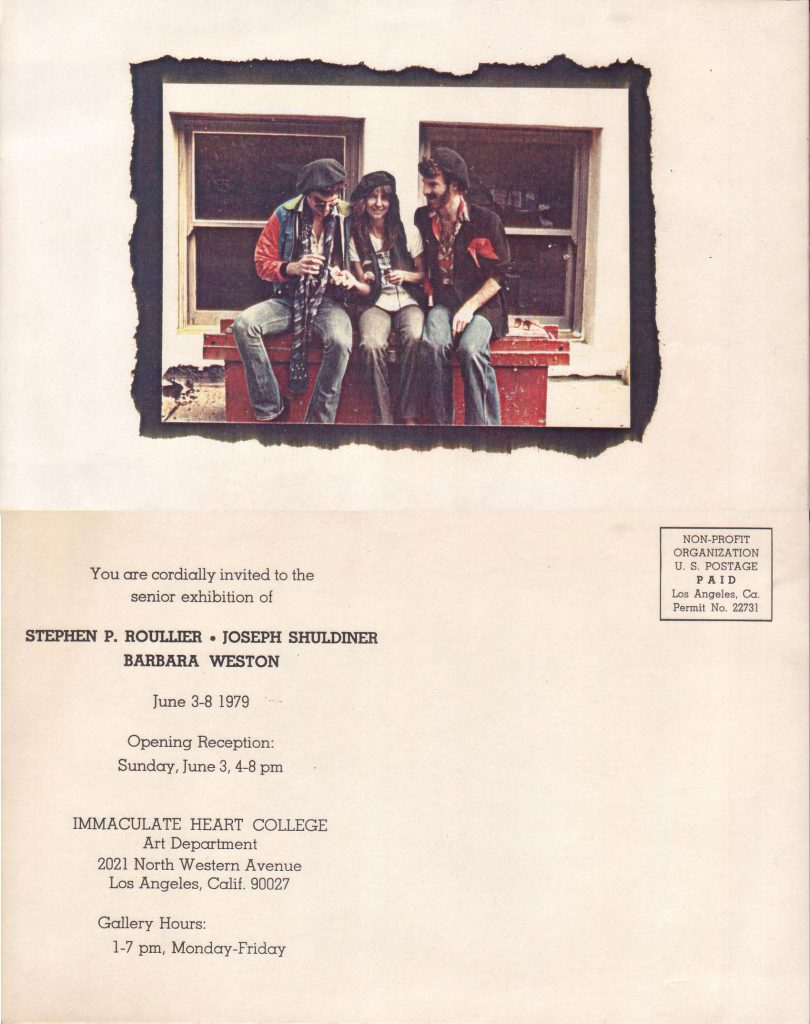 Joseph loved music, hence the audio for his show. One night a few years later I dropped in on him and happened to play a beer commercial, being haunted by its soundtrack. "It's Talk Talk," he told me, introducing me to a band that became a favorite.
Joseph and his then-partner David Moreno converted part of our loft into a small gallery that mounted exhibitions and hosted the Encounter Cinema experimental screenings. (The series was sponsored by the Craft and Folk Art Museum, where Joseph would show years later.) We all participated in one private performance that was to end with a breaking of bread. I remember Joseph's little tea ceremony (it was Little Tokyo after all) that closed with his snuffing, mm…, tea candles with a Japanese hand fan, plunging us into the space's darkness.
I left the loft in 1981 and, later, Joseph moved to New Mexico. (We had some differences that I won't explore here.) When he returned to L.A. we worked together, and with others, on some AIDS-related arts projects like the Fabulous Fascist Fashion Show (Stiff Sheets).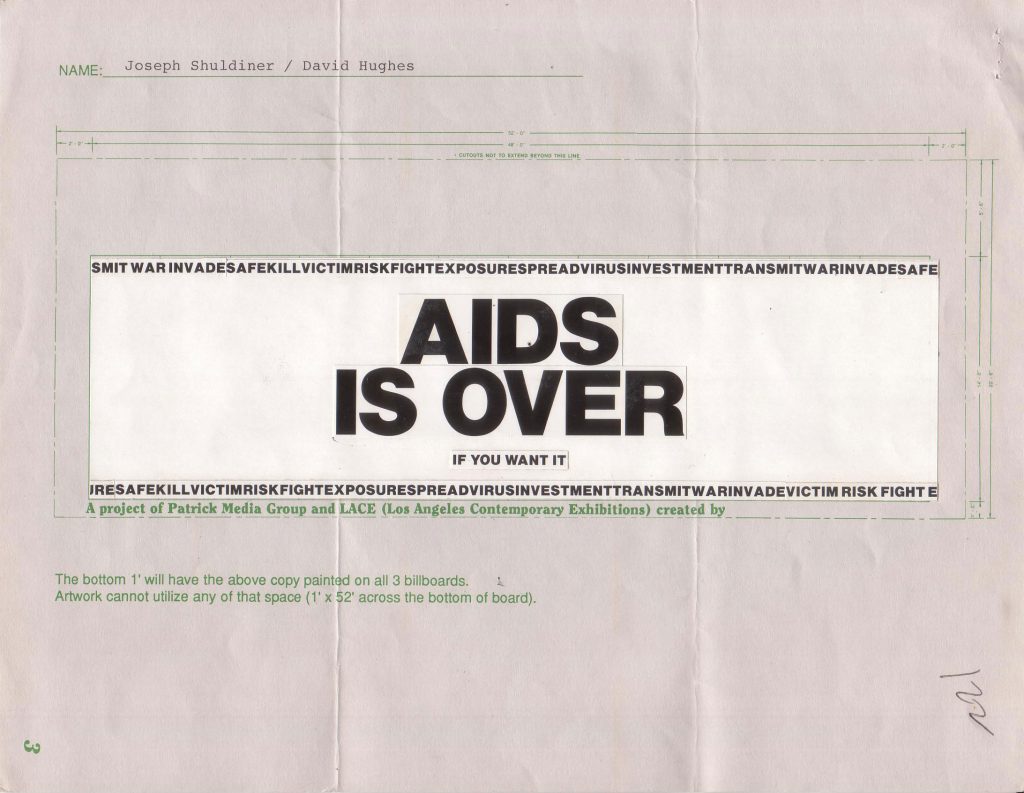 And of course Joseph always was pushing the envelope, with his constructions, publishing, personal wellness, and eats. On Tuesday I thought of Joseph fleetingly as my wife Andrea Carney and I drove past a Denver restaurant where we'd taken him in July 2007. After that meal he'd talked artisan limoncello and chamomile grappa with one of its owners.
"I fall awake"
When Joseph wrote me in 2011, he said he'd found a stash of letters and poems I'd sent him. "You were a romantic even if you don't think you were!" he told me. He definitely was, as attested by one of those untitled poems I wrote in June 1978 from Boulder.
I got his letter today
the envelope an oversized, off white
filled with dried blooms
which tumbled to my
lap as I lay open the folds
crumbles of blooms
cologned in the open air by live
lilacs, here
worth their weight
in California
in gold
(Another envelope contained a curl of cinnamon.) Here's a poem he gave me on a scrap of rice paper.
Non-existence
Put me to sleep, I think I'm waking
A nudge from your elbow will do
In my side where it all collects
I fall awake sometimes
I hate when it happens
Pills roll on tabletops
Like tires falling off of cars
Oh it is an apathetic life!
Falling awake is Joseph's conundrum and challenge. His mother Sara Lewitsky Shuldiner and aunt Bella Lewitsky Reynolds were partially raised at Llano, the legendary communitarian colony in the Antelope Valley. Sara and husband Max somehow escaped notice of the House Un-American Activities Committee but Bella didn't, being grilled in a non-public 1951 session by a tiny HUAC subcommittee, invoking the Fifth Amendment often to questions about membership in the Communist Party and front groups. She also was asked about her association with Lester Horton with whom she had worked. It was at a Horton rehearsal that Harry Hay met dancer Rudi Gernreich, the result being the Mattachine Society, the first gay civil rights organization with legs. I learned some of this from Joseph, and while he likely had a sense of pride regarding his forebears' endeavors, he could have felt bound by an obligation to carry on somehow, sleepwalking, to become a Barbara Kruger or Cornelius Cardew, with the message eclipsing the medium (although he did sneak in a couple of references to AIDS nonconformity we'd investigated with Bruce).
Organizing around sustenance while foreswearing flesh and butterfat—again with flair—is its own declaration. And, I dare say, of independence.
Sleep well, old friend. Now I'll mix your shiso leaf martini.
Header image:
Joseph Shuldiner
self-published card