Years ago I was surprised when my brother Richard told me that filmmaker Penelope Spheeris was singer-songwriter Jimmie Spheeris's sister. She: creator of The Decline of Western Civilization, the punk rock doc I saw only last night, tho' I saw the bands she shot. He: creator of ethereal ballads I found amongst my brother's LPs when I returned home to Boulder from Los Angeles in the '70s while he was living abroad.
At some point Richard turned me on to Jimmie's "Decatur Street," from his eponymously-titled album released in 2000, long after his death in 1984 at age 34. After completing that album's final mix on July 4 he was hit by a drunk driver while riding home on his Vespa. The setting of his song is the city of his sister Penelope's birth. A tourism website describes it like this:
Basically a waterfront strip, the French Quarter part of Decatur Street has catered to sailors and hosted the kinds of businesses a big port would have. By the 80s it still retained its port feel, especially in the Lower Decatur near Canal Street, but the part closer to Esplanade and Frenchmen Street became a bohemian haven with a vibrant goth and punk scene.
The kind of scene Penelope documented. But perhaps not the scene Jimmie's fans would associate with him and his music, particularly the four albums he issued between 1971 and 1976.
Had I been inclined, in 2010 I could have been re-introduced to Jimmie Spheeris via John Grant's first solo album, Queen of Denmark. As the story goes, after leaving his Denver band The Czars in 2004 Grant languished (and got clean) but kept writing. The Texas band Midlake had channeled Spheeris on their The Trials of Van Occupanther (2006) and apparently recognized something Jimmie in John's voice. They approached Grant and offered to back him. Having read this at the time, I never bothered to do a comparison and, frankly, hadn't listened to Queen of Denmark for years before writing this post. Setting Spheeris's and Grant's debuts' opening songs side by side, the sonic similarity is unmistakeable. This is echoed by what I found while writing this post:
You know how people cleverly say, "Why, they broke the mold when they made so-and-so," by which you infer that so-and-so was one of a kind? I always thought that about the late, very great Jimmie Spheeris, whose "The Dragon is Dancing" is one of those magical albums I'll drag into the beyond when they break my mold. Here's the thing, though, listening to John Grant's new CD, "Queen of Denmark," and the single "TC and Honeybear," it's spookily like Jimmie has returned to us.1
I'd completely forgotten the acoustic quality of Grant's arrangements on that first CD, especially the flute; it is spooky, the semblance.2 And I hadn't remembered how Grant mimicked Spheeris's double-tracked vocals, which must have sounded so fresh in 1971; recently I'd been comparing the doubling effect with that of another debut track, in the chorus of Duncan Sheik's "She Runs Away" (1996). With Midlake, it's not on their debut; you have to wait until "Bandits," track 2 of their second album Occupanther, to hear the same technique. Here's "The Nest," track 1 from Spheeris's debut Isle of View, followed by the others.
Hybrids
Chosen for Jimmie Spheeris's first album jacket was a late-career illustration by Gustave Doré (1832–1883) commissioned for British and French editions of the sixteenth-century epic poem Orlando Furioso by Ludovico Ariosto (1474–1533). Spheeris found it in an antique shop even after he'd commissioned the cover art to his friend Ingo Swann, as explained on JimmieSpheeris.com [a defunct Jimmie tribute site.]
A couple of Goodreads reviews of Orlando Furioso (Orlando Enraged) hint at the appeal of its 38,736 lines across its forty-six cantos. David writes: "Like King Arthur meets Arrested Development. A surprisingly exciting, original, kalidescopically [sic] plotted poem with ideas regarding gender and race that might be considered progressive by even today's standards." Author J. G. Keely talks of a work that "is constantly shifting, so that now one side seems right and now the other" with a style that "flies on wings, lilting here and there, darting, soaring." He could have been describing Opus 1 of Penelope Spheeris (discussed below) or that of her brother (Isle of View), or the fabulous creature in Doré's illustration.
Ruggiero, pictured by Doré atop that creature, is described as being the son of 1) the king of Africa's Muslim daughter and 2) a Christian knight. He and his twin sister Marfisa were born after the murder of their father. The hybrid quadruped that Ruggiero rides is described in a non-literal English rendition as a griffin born to a "filly": a hippogryph (Canto 4: XVIII). If this sounds like a grotesque disaster, Ariosto declaims (Canto 6: XVIII, again in that non-literal rendering of the original):
I scarce believe that bolt, or lightning flies,
Or darts more swiftly from the parted skies.
Such was the agility and speed of Ruggiero's steed. Doré's half-breed rider, astride his half-breed mount, rides solo: from the nest of a wizard who adopted him (the twins' mother having died in childbirth) and toward a quest.
In "The Nest" Jimmie Spheeris sings of "ripe" wings and sails, a suitor with a dove on the shoulder, upon whose breath a "white flame of love burns." To be awakened, taken, woven, laced, and unlocked. Heed not the aerie's security, he sings: "Trip the light and know I am waiting for you."
Flip the LP cover to follow his lyrics and there is Spheeris waiting—with a Dutch Master's head of hair, on the bohemian brass bed he shared with Idalie Adams, the mother of their son Jim Adams.
A year before, another, mm…, Jimmy, with another head of hair, appears in Penelope Spheeris's UCLA graduate film I Don't Know.3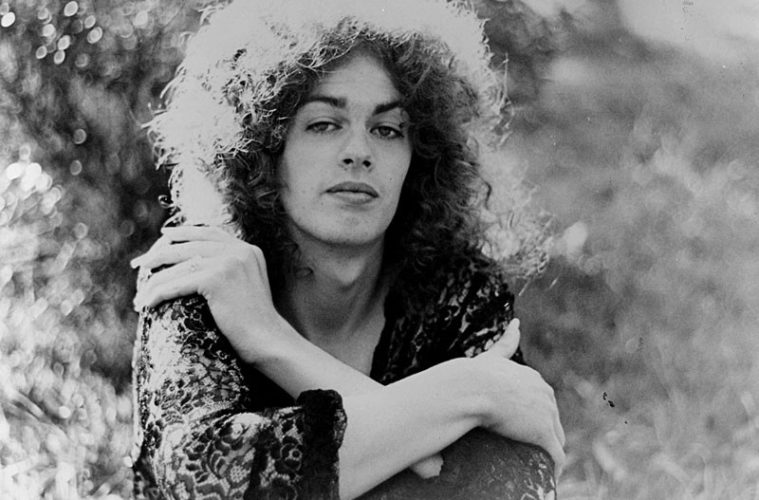 While we might be challenged to read between Jimmie Spheeris's lines in order to image the objects of his desires, in her film Penelope Spheeris is equally ambiguous—beginning with her title—blurring the boundaries between documentary and narrative, cast and crew, the clichéd and complex, surface and substance, prosaic and profound. Asked why she'd made the film, Penelope responded:
Back in the early 70s two of my best friends were transgender and they were the most fun people I had ever met. I was in film school at the time, had cameras at easy access and decided to make a film about them. Gender identity movies were few and far between back then.
Okay, but for the film Spheeris enlists her gay sister Linda and straight brother Andy to round out the characters along with Dana, a gay man. UCLA film preservationist Mark Toscano, who came across Spheeris's reel and recognized her name, had this to say for a retrospective of her early, unknown, films: "A truly major work," the first of her films "to fully embrace what would become her characteristic documentary style: probing, intimate, uncompromising and deeply meaningful."
I Don't Know is the subject of a ten-page essay published last year by Erika Balsom, senior lecturer in film studies at King's College London, and so she provides a cutting-edge academic analysis of the feminist+ aspects of the film.4 You really should read the full essay, but one tidbit Balsom unearthed is Spheeris's comeback to a question of whether her films "are from a woman's point of view." In about 1993 Spheeris admitted she's been criticized for not making "films that are real sensitive to women's problems and don't deal with women in a way that some people think I should deal with them. But the way I see it is that it's not a woman or a man, it's a person."5
Without any obvious theoretical modus operandi Spheeris went on to work as a production assistant on Womanhouse (1974), Johanna Demetrakas's film documenting the installation by the same name organized by artists Judy Chicago and Miriam Schapiro. As Erika Balsom writes, "Despite its central importance to feminist art history, seen from the vantage point of the present, it is difficult not to understand Womanhouse as exemplary of second-wave feminism's embrace of 'woman' as a falsely unifying category" given that it was "marked by white, heterosexual, cis-gendered, class privilege." Thus the Womanhouse installation "must be seen as emblematic of the convictions and shortcomings of hegemonic feminism in the early 1970s, and as casting into relief the radical difference and heterodoxy of I Don't Know, a film that has never entered the canon of feminist art or cinema."6
Because I Don't Know currently isn't available via streaming services (to my knowledge), this synopsis, clunky as it is, will suffice:
The film follows Spheeris's sister and her relationship with Jimmy/Mary, a transgender man who seems to self-identify as somewhere between a man and a woman. The semi-brutish characters, including Spheeris's brother who repeatedly calls Jimmy a "faggot," sit around the house, take baths together, and talk about menstruation and gender identity. Their words are always ironic and tongue-in-cheek, but they are working through serious issues of gender identity. The reaction to these then-taboo subjects—and perhaps also to the offhanded [sic] way they were incorporated into the film—was harsh in the culture of UCLA and subsequently the film [was] not seen for many years. While it does portray these characters and its maker to some extent just shooting the shit, the film is carefully constructed to create this creeping feeling of dread that Jimmy, a druggie who has done some sex work, is the type of person that isn't long for this world.
The Rise and Fall of the Magic Empire
Eleven-year-old Andreas Sfiris sailed for New York in 1911 on Christmas Day (in the Julian calendar) from the Greek port of Patras, site of one of the largest (Shrovetide) carnivals in the world.7 He was accompanied by his father Apostolos, 39, a farm laborer, probably from Arcadia, Peloponnese.8 Arriving at New York on January 19 they were bound for Milwaukee, home of relatives Michael and John Spheeris, who were laborers-turned-suitcase makers, and had arrived a few years before.9
Six years later, in 1918, Andreas had anglicized his name and was living with a relative on the upper east side of New York, working a block away as a cook. By 1920 the Corey Greater Shows carnival company featured "the Greek champion, Spheeris, who will meet all comers" in the shows' open wrestling matches. Other attractions included a collection of freak animals, a wax works, an athletic show, a reptile collection, fifty concessions, and rides: a merry-go-round, a Ferris wheel, and a set of scoop swings.10 At 160 pounds, (Andrew) Spheeris was "the national middleweight champion" that year, winning both the Greek American and national championships.11
By 1922 Spheeris was working with the American Exposition Shows and going by the nickname Curley.12 At age 24 he married his first wife Elizabeth Calley in April 1925, listing his residence as Milwaukee. They were wed in her tiny central Arkansas town of Malvern. Elizabeth gave her age as 17—the state's age of consent in 1920 was 16—but she didn't turn 16 until July. It could have been a marriage of convenience, however, resulting in the birth of a child who didn't survive.13
By 1930 the couple had two young sons, and Andrew was a wrestler in the Ralph R. Miller Carnival Company. Ten years later he was manager of a road show and the couple, based in Tulsa, had one more son as well as a daughter.
In 1933, Spheeris was described as a "newcomer" in a match to be held in Sedalia, Missouri—and as "protege of Benarr McFadden [sic], famed editor of Physical Culture."14 Macfadden had built an empire around fitness and nutrition that dwarfed ventures of successors like Charles Atlas, Jack LaLanne, Richard Simmons, and Jane Fonda. Spheeris had his own ambitions:
Curley Spheeris, of New York City, [is] one of the best wrestlers in the world and owner of athletic shows and other concessions […]. He won second prize in the McFadden [sic] contest for muscular development and body building, being named second to Charles Atlas. Spheeris can throw his shoulder blades out of place and can expand his neck to 22 inches and contract his waist to 27 inches.15
By 1936 Spheeris owned and managed the Great Olympic Shows.16 (His movements, and those of his son Jimmie six decades later, can be traced in the pages of Billboard magazine, which began by covering the print- and outside-advertising industries in the late nineteenth century, moving on to traveling entertainment and music.) Great Olympic attractions included the "Aerial Parades" performed by a couple who executed acrobatic tricks on a tightrope sixty feet above the ground without any safety measures.
Miss LaPrade, said to be the only living woman to successfully ride a bicycle over Niagara Falls, rides her bicycle on the high-wi[r]e at the Olympic show while her partner stunts on a trapeze attached to the bicycle high in the air.
An attractive feature of this exciting act is the reproduction in fireworks of beautiful Niagara falls […].17
Sometime after April 1940 Spheeris walked out on his family, taking up with another Arkansan, Juanita Gary, twenty years his junior. It's not clear that he legally divorced Elizabeth; she died with his surname, the death certificate listing her as a widow.
By early 1938 Great Olympic Shows' name had changed to Magic Empire Carnival Company.18 Newspapers at the time mention variations on the new name, including Great Magic Empire Shows, Magic Empire Carnival and Shows, and Magic Empire Shows, the latter in 1941 as hailing from Minneapolis (Spheeris was based in Arkansas if not Tulsa) and described as "one of the largest entertainment companies of the middle west."19 Even one of the largest could encounter a snag, as in 1948 when law enforcement closed the Magic Empire Shows (sic) gambling concessions at a Franklin, Kentucky carnival after two gamblers complained about losing money. The confusion might have stemmed from the road show purchasing a state license that didn't account for local ordinances banning gambling games.20 Such, mm…, concession wasn't given to the Magic Empire Shows gambling booths in Rushville, Indiana two months later when they were described as "'clip' stands […] fleecing players of their money." "Among the outlawed devices were the marble game, the spinning wheels and others which did not give guarantee of some return for money invested." The fish pond, however, was allowed as long as each player received a prize.21 The Great Magic Empire Shows were back in Indiana in 1949 for the 75th anniversary bash of the incorporation of tiny Nappanee.22
Oh, and in 1942 Spheeris was involved in another venture, Victory Exposition Shows, with addresses in Arkansas and Texas. It appeared to be a booking agency under U.S. War Department supervision.23
Detailed descriptions of Magic Empire Shows' midway attractions were mentioned in Indiana dailies, listing rides like the 20th Century Caterpillar thriller ride, a merry-go-round, a Roll-o-plane, a Ferris wheel, the Dangler ("a twister from the letter T"), and the Octopus as well as a "garden of kiddie rides." The enigmatic "Working World is truly named, as two opposing armies meet, with all the panoply of war, and all done with a pen knife and a lot of hard work." On stage: a minstrel show, a Hollywood revue, and that old standby, a snake exhibit.24 A wrestling sideshow. And…
Suicide Simon is the free attraction. He blows himself [sic] each performance with sticks of dynamite and lives to tell about it. It's a thrill and well worth seeing, according to the management.25
In the late summer of 1950 Magic Empire Carnival was involved in the second Delta Fair and Livestock Show in Greenville, Mississippi. It received second billing to the usual county fair-type exhibits as well as to the Braly Shows circus. The fair drew nearly fifteen thousand paid admissions over its six days (forty thousand in all) but organizers had hoped for five-to-ten thousand more. Ironically, incessant rain, which had marred the 1949 event, stopped just before this one got started—providing an opportunity to harvest cotton rather than to recreate. In the end the fair broke even. Unfortunately for Magic Empire, the fair's directors announced that for the 1951 fair "the carnival being engaged had [sic] over twice as many rides and concessions as the one obtained for the 1950 fair."26 The new midway contractor was Wallace Brothers Shows, a co-owner of which was a Mississippian, and which brought thirty railroad cars of gear from Wisconsin.27
In early September 1951 Magic Empire Carnival and Shows (sic) had the midway concession at the Humphreys County Fair in tiny Waverly, Tennessee.28 The last full week of October Magic Empire Shows was on the midway at the Pike County Fair in Troy, southeastern Alabama, featuring "Penny Millette and her high pole act, coming directly from the Toronto Fair in Canada."29
Once again, a resident complained of gambling and "an indecent and immoral show." While admitting the fair had been sponsored for a good cause (by the Shriners), the Rev. John Keels asked, "Is the corruption of character for charity a gain or a loss for the citizens of the county?"30 If law enforcement was called to the midway, the press didn't report it.
Two days later Magic Empire Shows was committed to provide fifteen rides and twelve shows to the Dale County Fair in Ozark, southeastern Alabama.31 But the fair was called off.
On Saturday night, October 27, at a Troy airport hangar, site of the Pike County Fair, the Magic Empire crew was packing up for Ozark, thirty-four miles away. Thomas Jones, a farmer from nearby Union Hill, struck a Magic Empire employee, an unnamed Black man, with his cane. Accompanied by the accuser, Andrew Spheeris approached Jones and the two began to argue. Spheeris "grabbed" Jones, who drew a .38-caliber pistol and shot Spheeris three times, killing him, according to witnesses. Jones was held without bail in the Pike County jail on a charge of first degree murder.32 Spheeris's body was transferred to Montgomery where a Greek Orthodox service was held on October 30. He was survived by his wife Juanita, daughters Helen, Penelope, and Linda, and sons Paul, George, John, James, and Andrew, only twelve weeks old.33
On November 8 Jones was released on $10,000 bond after a hearing in which witnesses recounted the above as well as describing Spheeris "as an extremely heavy man and an ex-professional fighter."34
Magic Empire Shows disbanded by November 10, 1951.35 That same day Billboard published Andrew Spheeris's death notice as well as a brief about the troupe's pole artist:
Penny Millette [post]cards that she is appearing as the free act with Magic Empire Shows and that the org is doing well on Alabama fair dates.
In Andalusia, Alabama, near the Florida panhandle, where Magic Empire wintered that year, the troupe left $273,000 unpaid in state, county, and local taxes.36
Thomas Jones was tried for manslaughter in March 1952, resulting in a mistrial when the jury failed to return a verdict. He was represented at trial by two local attorneys, John Walters and John Gibson.37 At about this same time Andrew's widow Juanita Spheeris appears to have had a rapprochement with her husband's first family. She was aided by Andrew and Elizabeth's eldest son Paul in a luncheon for the Hot Springs Showmen's Association Ladies' Auxiliary meeting.38
Thomas Jones's retrial in November 1953 was the first case heard in Troy, Alabama's new courthouse. Jones was convicted of first degree manslaughter (second degree murder) and given a sentence of a year and a day by the jury. "Attorneys for the defense gave immediate notice of an appeal."39 Those attorneys now included Birmingham's Roderick Beddow who "has often been described as the best criminal defense lawyer in Alabama history" according to the Alabama Criminal Defense Lawyers Association.
Post-Empire: Penelope
In 2015 Penelope Spheeris told interviewer Marc Maron that her father's killer served no jail time. She also explains, in much, moving detail, the circumstances of her father's murder and the reason his killer got off—defending a Black man in the Deep South. If Jones actually prevailed in his appeal it wasn't reported. One point Penelope makes is how her father enjoyed the company of African Americans, which is supported somewhat by the fact that Magic Empire worked the so-called Colored Fair in Brownsville, Tennessee just days before his death.40
Elsewhere Penelope tells about her father: "Whenever he would get mad at people he was really pushy, like, 'I'm the boss, don't mess with me.' He would get in fights with people." Although Spheeris was the Strong Man on the midway, according to WWII draft registrations from roughly a decade before, in height and weight both he and Jones could have been an even match. But one had a gun, even if the other was "extremely heavy."
Maron's interview with Penelope Spheeris essentially is an oral history. She explains how her father met her mother when Juanita was 19 and Andrew was 40 (because of their birthdays he would have been 39). After her father's death the family hunkered down in Arkansas at a property Andrew owned. Juanita, known as "Gypsy" by then, became involved with an army soldier. When he was restationed the family followed him to Southern California, where Gypsy "ditched him." This was when Penelope was nine or ten,41 which jibes with her mother's remarriage in the summer of 1954 in San Diego, the first of many more. The family lived in trailer parks in Long Beach, Chula Vista, National City, Midway City (!). And so the itinerant life of the county fair was traded for the itinerant life of the mobile home.
The family eventually moved into a house. Penelope's teenage years were spent in Westminster, in Orange County. She's pictured on a dozen pages of her 1963 senior yearbook, The Citadel, for which she was art editor. Her activities and honors included the House of Lords (student body officers, class presidents, class representatives), Ladies Board, Girl of the Year, Hall of Fame (Crafts), female Most Likely to Succeed, Song Leader (cheerleader), Girls League V.P., C.S.F. (California Scholarship Federation), Bobbettes, German Club Secretary, Sigma Phi Delta, Honor Roll, Art Club, and Coronation Senior Princess. She's even pictured as the Westminster High member of a Montgomery Ward Hi-Teen Fashion Board of seniors, which presented a back-to-school fashion show.42
All of Spheeris's academic and social engagement was in accord with a "love-dislike" relationship with her mother, who she described as both charismatic and narcissistic to Dr. Michael Friedman on his Psychology Today-hosted Brick by Brick cultural-profiles blog. She explained how she used her appearance to be noticed because, early on, her mother didn't know—or care—where she was. She'd go so far as to simulate a bruised arm with blue makeup to get her mom's attention. And the violence she documented in the punk scene was nothing compared with that at home with mom and her stepfathers, one of whom physically hurt her when she was 16 or 17. On the other hand, she learned a lot from her mother, who she called the "suburban philosopher that tried to turn everything into something positive."
As a teenager of 15 or 16 Penelope used music "to get my head out of the bummer that my life was" by going from Westminster to L.A. to see rock bands, as she recalled in a Red Bull Music Academy interview, catching Blue Cheer at Cheetah in Venice and The Doors in Griffith Park.43 She also went to Tijuana with a girlfriend, buying a guitar, thinking she'd learn to play. It was her brother Jimmie, however, who picked it up and "instantaneously just knew how to play it," as he did the piano. Elaborating, Penelope recalls a remarkable, undated exchange between brother and sister. Somehow Jimmie had "run into" Jack Nitzsche, the guitarist and producer, who wanted to put together a pop duo like Sonny and Cher. Jimmie asked Penelope to join him at the piano but she, who was a "song leader" in '62–'63, "hated it" because she "wasn't any good at it" especially compared with Jimmie's fine voice.
Post-Empire: Jimmie
A Jimmie concert notice states, somewhat fancifully, that he "spent the first two years of his professional career with the 'Magic Empire Circus,' as a starter," without explaining that those were the first two years of his life.44 And yet, their mother Gypsy, in a profile of Penelope, recalled that her husband Andrew "played with [his daughter] from birth: holding her in his large palm, he'd flip-flop his hand over so quickly that Penelope would turn a complete 360 degree circle, popping back up on top unscathed, and apparently unfazed."45
A Jimmie profile states, equally fancifully, that "at age 15, he ran away from the circus to seek his fortune, an age when most boys are running away from home to join the circus. […] He tried separate stints in San Francisco and Hollywood, but came a cropper each time."46 The first statement is partially confirmed by the fact that, while sisters Penelope and Linda are pictured in their senior annuals of 1963 and 1965, Jimmie appears only in his sophomore yearbook of '65, the academic year when he turned 15 (and at a different school, La Quinta High). The same profile continues, "Spheeris eventually made his way to New York, where he found refuge in a West Village flat courtesy of folksinger Richie Havens." Penelope added, "Clive Davis signed my brother, and he was dealing with David Geffen at one point because he was an incredible gifted musician."47
An early Cash Box profile of Jimmie was equal parts fact and fancy:
He's sort of a skinny kid with honest but darting eyes and hair that is, at times, almost indistinguishable from his whiskers. He is also a biographer's dream. Born in Greece, raised in the South and the mid-West by a father who ran a travelling carnival until he was killed by dissident locals for hiring a black tilt a-whirl operator, a hippie-child in the San Francisco Haight-Ashbury movement and finally a Laguna Beach loner who drifted in and out with the tides. […]
Things have been fitting together acceptably well for the biographer's dream during the last couple of years. Three things can so far be counted on, rather regularly—a recording session, a tour, or [sic] his role of conciliatory confidante [sic] to his film-maker sister, Penelope Spheeris.48
Psychobiology with a Minor in Cinema
Penelope attended art school at Long Beach State before transferring to UC Irvine and studying psychobiology with Dr. George Falcon.49 Hearing that UCLA had a film school, she transferred again. Walking across campus one day, Bobby Schoeller, the future father of their daughter Anna, noticed Richard Pryor who was looking for film students to make his movie Uncle Tom's Fairy Tales. "You found 'em," Penelope said. "Bobby shot the camera and I produced the movie." It was "un…real," as she goes on to describe. They worked with Pryor that year of 1969; Anna was born in December. Schoeller, who did the camera work on Penelope's I Don't Know, would die of a heroin overdose in 1974.50
Music played an important role in Penelope's oeuvre from the outset, as two of her recollections attest. Last year, in discussing her second UCLA film, Hats Off To Hollywood (1972), she said, "I put some music to a shot of Hollywood Boulevard in, like, 1968 or something, and man, when you put music and movies together—it was like the sky opened up and God said, 'You're meant to do this.' So I did it." In 2017, while discussing music and film she recalled how "The Low Spark Of High Heeled Boys" "really worked" in the creation of Hats Off To Hollywood. "When I put that Traffic song to picture, I remember something happening to my soul which was, 'This is what I want to do for the rest of my life. I want to do movies and music.'"51
From Erika Balsom's extended discussion of I Don't Know, I get the feeling that Spheeris's epiphanic moment could have occurred during the making of that, her first UCLA film. Balsom gives several instances of contrapuntal, oppositional, ironic sight-and-sound, beginning with Charles Trenet's lilting "Frédérica" against gritty L.A. streets, Rosie and the Originals' "Angel Baby" as Andy Spheeris works on a car and is asked his opinion of Jimmy, footage of L.A.'s first gay pride parade (June 27, 1970) juxtaposed with Neil Young's "After the Gold Rush" (lyric: "Look at Mother Nature on the run in the 1970s"), Linda Spheeris topless who "butches it up" to Joe Cocker's music-hall "That's Your Business Now," later clad in a blouse to Mungo Jerry's tender "Tramp."
Presumably Jimmie Spheeris was not in town and so was unable to make an appearance in his sister's film. By early 1969 he'd obtained a personal manager, Billy James,52 who seemed well connected to both Bob Dylan and The Byrds, according to Wikipedia.
Jimmie Jamming
Ostensibly released in 1971, Jimmie's Isle of View wasn't reviewed until '72, being listed as a new release by Billboard on February 12. A week later Billboard announced that Columbia's fourth annual compilation The Music People would include new artists such as Spheeris. His cut "The Nest" was amongst the three-LP set of forty tracks. It could have been worse: he was on the first LP's B-side, which led off with Bob Dylan's cover of a Woody Guthrie tune, and was wedged between a solo Colin Blunstone (The Zombies) and a solo Pamela Polland (The Gentle Soul; she appeared on the Mad Dogs and Englishmen tour of 1970). A week later the magazine's Special Merit Picks (i.e. sales potential) listed Isle of View with a capsule review:
Jimmie Spheeris has crafted an album that provides an unique emotional exchange between artist and listener. His lyrics are quietly mystical and his images intensely personal. The whole album is suffused in an atmosphere of becalming mellowness. In a voice that carresses [sic], he delivers such lovely songs as "Long Way Down," "Esmaria" and "Seven Virgins."
A week later the album was listed in Billboard's FM Action column that covered playlists of "the nation's leading progressive stations," including Hartford and Cleveland specifically. Jimmie's competition in the general neighborhood: Neil Young's Harvest, Loggins & Messina's Sittin' In, Dave Mason's Headkeeper, David Bromberg's David Bromberg, Jesse Colin Young's Together. Eventually he would open for at least two of those artists.
Recently my brother Richard sent me a live set Jimmie did here in Denver in 1974. It was at Ebbets Field, a small club that hosted everyone from Bob Seger to Kraftwerk. What's notable about this set is how comfortable Spheeris is on stage, leading an audience-participation shtick during his first song. Like his father he's a Showman.
Jimmie's music could be called an acquired taste. It wasn't really classifiable; he showed up on a Country playlist in Dallas in 1975, worked that same year with Chick Corea and later with Stanley Clarke, both founders of Return to Forever (both Scientologists), and was produced by Henry Lewy, Joni Mitchell's beloved collaborator.53 "He listens mostly to classical music," wrote critic Rick Atkinson, "which at least partially explains the odd quality of his music."54 But listen to "The Nest" with its Broadwayesque open-vowel contortions. Spheeris told deejay John Hendrix, "I'm much more into the concept of artistic creation than money." [Link points to a defunct Jimmie tribute site.]
To wit: For every tuneful "I Am the Mercury" on that first album, Spheeris seems to have a rambling "Monte Luna" in search of a hook. For every positive review, I found another that was scathing or snubbing or damning with faint praise. The absence of periodical coverage was stunning: not a single entry in the Readers' Guide index, not even in Rolling Stone, which in 1980 gave Jimmie's The Dragon is Dancing just one out of five stars.55 (Penelope mentions the same kind of reaction among students to her UCLA films, but with most being very critical.56) Jimmie's fans, especially in the Midwest, were just that—fanatical in their adoration. (Because he was a Scientologist, you'll find the inevitable reference to cult in the comparisons.) Quite shocking to me is not locating a single obituary for Jimmie in the music industry—or mainstream—press.57 The ultimate shock was reading what Johnny Pierce said.
"Ready to check out"
Johnny Pierce never should have met Jimmie Spheeris, who played the Civic Center Music Hall in Oklahoma City in 1972.58 Too broke to buy a ticket, a disc jockey friend who had attended the show knocked on Johnny's door, inviting him to Spheeris's hotel room for an after-party. Pierce took both his wife Joanna and their baby to Spheeris's suite and at one point was cajoled into playing a song for Jimmie, who liked it. Before his next appearance there in 1973 Jimmie called Johnny to ask him to play bass, which he did. He relocated to California in 1974. Eventually the two moved apart, Pierce to work with Juice Newton by 1982 and later to leave the road by honing his songwriting, Jimmie to release his last record, "Hold Tight," a pop promo-only single in 1980 (using the spelling Jimmy; perhaps the last to feature Johnny?) with associate producer Daphna Edwards who went on to form Unicorn Records, saying she "wanted to do something idealistic instead of for monetary gain" and that she steered clear of established acts and trends.59
"When Jimmie died," Pierce told the Daily Oklahoman in 1989, "it was very tough, but I think he was ready to check out. He was into drugs real heavily."60 This almost offhand remark is disturbing on its face, but even more so because a decade later Pierce would be instrumental in getting Spheeris's albums reissued on CD between 1998 and 2000. That effort was thwarted when the project's distributor folded in 2001, as Pierce informed Spheeris fans at the time. [Link points to a defunct Jimmie tribute site.]
My search for early posthumous press turned up a Q&A column by Ellie Rucker published in the Austin American-Statesman at nearly the two-year mark of Jimmie's death, on June 29, 1986. Two nostalgic readers had come across his first two LPs: "Longing for simpler, carefree times of Jimmy [sic] Spheeris concerts at the Armadillo"—Armadillo World Headquarters where he performed a few times between '75 and '78—"please find him for the neurotic Yuppies everywhere." The columnist printed a reply from Scientology Celebrity Center president Pamela Lancaster who apparently attempted to reflect Spheeris's sensibility:
He was in a motorcycle accident and he's doing OK—his fans will know what I mean […] and his body wasn't in great shape so I guess he decided not to stay.
We had a lovely service for him here and afterwards we all went to his mother's—his mother is this famous character in Venice, Calif. Her name is Gypsy and she works at the Circle Bar at Venice Beach and we all went there and had a good old-fashioned wake.
He had a cremation. His ashes are in a pond in Palisades. I must stress though that he wants people to understand that his physical body is not who he is.
The Circle Bar was a favorite hangout of my wife Andrea when she (and I) lived there between '77 and '81 (see And He Never Left! from January).
My search for Jimmie's obituary was hampered by the many misspellings of his first name as Jimmy, so I turned to Spheeris, which turned up another: Penelope, of course. At the time time of his death she was directing a film with the working title of Killers, renamed The Boys Next Door. Interviewed about a month after Jimmie's passing, Penelope was loath to talk about it, saying only that she still was recovering from the shock. "He had a lot of fans," she said. "It was really sad."61 Last fall she was more forthcoming:
My brother was gay […]. He was on the road to being a superstar, and then he just got taken out by this asshole drunk driver. But the reason I bring it up is because I had to shoot a scene in The Boys Next Door where Charlie Sheen and Max Caulfield are serial killers, and they pick up this gay guy in a bar. And they go back to his apartment and kill him. And it was literally months after my brother got killed, and it was so hard for me. I remember having to walk off the set and cry sometimes. It was really difficult.
Coda
In responding privately to a reader of this post I realized I could have confirmed whether Andrew Spheeris's killer Thomas Jones had won his appeal. For historians, a silver lining of the coronavirus pandemic (I realize this sounds callous) is that resources like my local public library advertise, "We are still here for you!" as opposed to "Come in and look for yourself" or "Here's a list of local researchers for hire." So I thought I'd ask the reference desk at the Alabama Supreme Court and State Law Library in Montgomery. Two days later I was told that the trial court's original judgment in the case was affirmed—on October 18, 1955—nine days shy of the fourth anniversary of Andrew's death. And two days after that I was told there was not "anything to indicate that the case was appealed to the Alabama Supreme Court."62
The Court of Appeals synopsis actually is somewhat disturbing.
Defendant was convicted of manslaughter in first degree. The Circuit Court, Pike County, Will O. Walton, Special Judge, entered judgment accordingly, and defendant appealed. The Court of Appeals, Price, J. [i.e. Judge Price], held that the court's refusal to allow answer to question whether witness knew deceased's reputation for being a 'turbulent, violent, bloodthirsty and uncompromising individual', was not erroneous, since 'uncompromising' character of deceased was not the proper subject of inquiry, under rule providing that on all doubtful questions as to who was the aggressor, the violent or bloodthirsty character of deceased may be shown.
Judgment affirmed.
Jones was represented for his appeal only by local Troy attorney John W. Gibson, who filed no brief on his client's behalf. This left it up to the court to determine if, in the trial by jury, there had been a "reversible error." Judge Price wrote, "The only ruling which merits any discussion is the court's refusal to allow three law enforcement officers to answer the question, in substance, as to whether they knew the deceased's reputation for being a 'turbulent, violent, bloodthirsty and uncompromising individual.'" Character evidence was allowed at this point in the trial, wrote Price, "[h]owever, we are of the opinion that under this rule the 'uncompromising' character of deceased was not the proper subject of inquiry and the court did not err in sustaining the objection to the question in this form." Presumably therefore, had defense counsel merely decoupled the term "uncompromising" from the others, the question would have been admissible. Likewise had "overbearing" been exchanged with the term "uncompromising," the court could have allowed the officers to answer the question. The opinion concluded:
Proof that a person was of 'uncompromising' nature would not be the equivalent of proof of a violent, turbulent, bloodthirsty, dangerous character, the evidence of which is received for the purpose of illustrating or explaining the circumstances of the killing, or to give meaning to the conduct of the deceased […] or 'to justify a resort to more prompt measure of self-preservation.'
And so: "The judgment of the trial court is affirmed."63
Notes