In a comment to my post The Stranger Alongside Me in September our friend Milania remarked on my being a rescuer. In reply my husband David Hughes said, "I guess you could say she rescued me forty-four years ago this month! We'll have to have Andrea tell that tale some day." Milania urged me to do so "sooner rather than later." Okay, but I should say that "rescue" sounds more dramatic that it really was, although David and I agreed that this story could get a little bit personal.
In 1975 I left my then-husband (see my post Little Women) and moved to Panorama City in the San Fernando Valley. I wasn't sure I'd fit in and told my husband that if it didn't work out we could live together again. But that wouldn't be necessary.
The Friday after I moved out I attended a nearby meeting of the Coalition for Economic Survival, which had been started two years before to organize around tenants' rights and other issues facing low-income residents. At the meeting was a United Farm Workers boycott organizer named Victor. He explained that the UFW's community organizations in Los Angeles were conducting boycotts of stores who sold grapes and lettuce that came from fields where the workers were on strike in their effort to unionize. Victor asked for volunteers to house his fellow organizers so they could live in the communities where they worked, including mine.
So I signed up because I had an extra room in my apartment. That was on a Friday. David Hughes showed up the next Tuesday.
And he never left!
THE END
David stuck to himself and wasn't very friendly. When he was home, after holding meetings in the evenings, he stayed in his room and strummed his dulcimer, which I couldn't enjoy because he wouldn't play in the living room. Because his bedroom was large enough, the UFW kept sending organizers to stay for a couple of days at a time. I told one of them that David wouldn't wash his dishes, and this got back to him. (He told me later he was mortified.)
Within a month I asked the landlord if I could move into a vacant one-bedroom unit to save money. I told David, "It's up to you if you want to stay with me. You can sleep on the couch." Because he was so shy I thought he'd just leave, but he didn't. So I said, "You can take your stuff downstairs to the new apartment," which he did. Then he left for an event at La Paz, the UFW's headquarters in Kern County. And so I was stuck getting my husband and brother-in-law to move all my furniture—including a long couch—to the new unit. Even so, I gave David my parking place in the garage because I got home early enough to find a spot on the street and he could never find one after his meetings at night.
That year I held Thanksgiving dinner at my place with my family. David had been invited to a gathering by a fellow organizer, a priest. After I did the dishes, as a lark, I put on a blue see-through blouse and sat at the dining table, wondering who might drop by. When David returned we had a conversation, but my blouse got no reaction. This is interesting because David tells me in hindsight that he realized the priest's dinner had been attended by a gay crowd and that David, at age twenty, was the young thing of the moment, but he didn't react to that either. Later, this same priest stopped by my apartment from time to time and began to put the make on me. The last time, he actually chased me around the apartment but I disarmed him: "You're not here for me; you're here for David." He was surprised but had no response. I knew it was true. He obviously thought I wouldn't have figured it out. I learned later he'd done this to other women who worked with the UFW.
About mid December David planned to visit his family in Boulder. I was looking forward to having my place to myself—for two weeks! I told David I'd drive him to the airport. After I dropped him off, on the drive home I began singing along with the radio as I often did. All of a sudden I thought, "Why am I happy he's gone?" I was totally in love with him. He was handsome, he was smart, and I would come to know him as sensitive. I already missed him and couldn't wait for him to come home.
David came home.
THE END
After Christmas I told David he didn't have to stay on the couch, he could sleep with me in the bedroom. He agreed and I was surprised that he came to bed naked. I thought, "If he's going to, so am I." One thing led to another. Twice. In December and in February.
In early 1976 we moved nearby to a two-bedroom apartment in Sepulveda. My son was living with me half the time, so we put a bunkbed in his room so UFW organizers could continue to crash with us. David still worked with the UFW full-time until late '76. That Christmas I went with him to Boulder but his parents insisted we sleep in separate rooms, which was a joke because, like I said. Twice. In December and February.
David and I moved to a little house in Venice in early '77. He got a job near Culver City but the work depressed him and he decided to enroll in music school at Immaculate Heart College in Hollywood. At that point I told him he needed to leave. I said, "I had a great time in my twenties, and you need to have the same experience, meeting new friends." David agreed and got an apartment near the school. He moved out on a Sunday.
I spent the rest of the day crying.
THE END
David flourished in Hollywood. I got a new roommate, a silversmith, who set up a studio in my garage. The three of us socialized sometimes. David also involved me in what he was doing, going to clubs and discos and second-hand stores. It was an exciting time. My lease was up in early 1978 and I looked for a new place that month but no one would take a parent with a child. While I was still looking I was infected with an inner ear virus (see my post Little Women) that knocked me on my face. David came to see me in the hospital as he left for a vacation, but my face was so bruised and swollen he felt faint. He sat on my bed and I told him I was okay, that my husband would take care of me and my son, and he should just go on his way.
After eight days I left the hospital, when my landlord told me, "I hate to kick you when you're down," and raised my rent. A woman friend who knew she could depend on me at a moment's notice for political events heard I needed a place with my son and she told her sister about me. The sister lived in a duplex near the beach and had just rented her other unit to a single white man but told him she had to revoke the rental because she understood how hard it was for me to find a place.
So David and I lived apart while he was going to college and while he lived in a loft downtown. He writes about this in his remarks about the recent passing of our friend Joseph Shuldiner. But we saw each other all the time. For an August 1980 performance in his loft's exhibition space, Traction Gallery, David created a sound piece called "Dancing Ban in China," in which I recited a newspaper brief I'd found the month before. The performance, titled Urban Rite, was a collaboration between David, Joseph, David Moreno, and dancer Rudy Perez. It was our introduction to Rudy, with whom we'd work over the next few years (as David explains).
In early 1981 I spent a few months in Trinity County caring for my son in a trailer park while his father lived in my apartment in Venice so he could make some real money. (That's a story I should tell later, too.) While I was gone my roommate invited a third person to live there. When I got back in the spring my husband went up north and I temped, which I hated, before I got a job at Kaiser on Sunset Boulevard.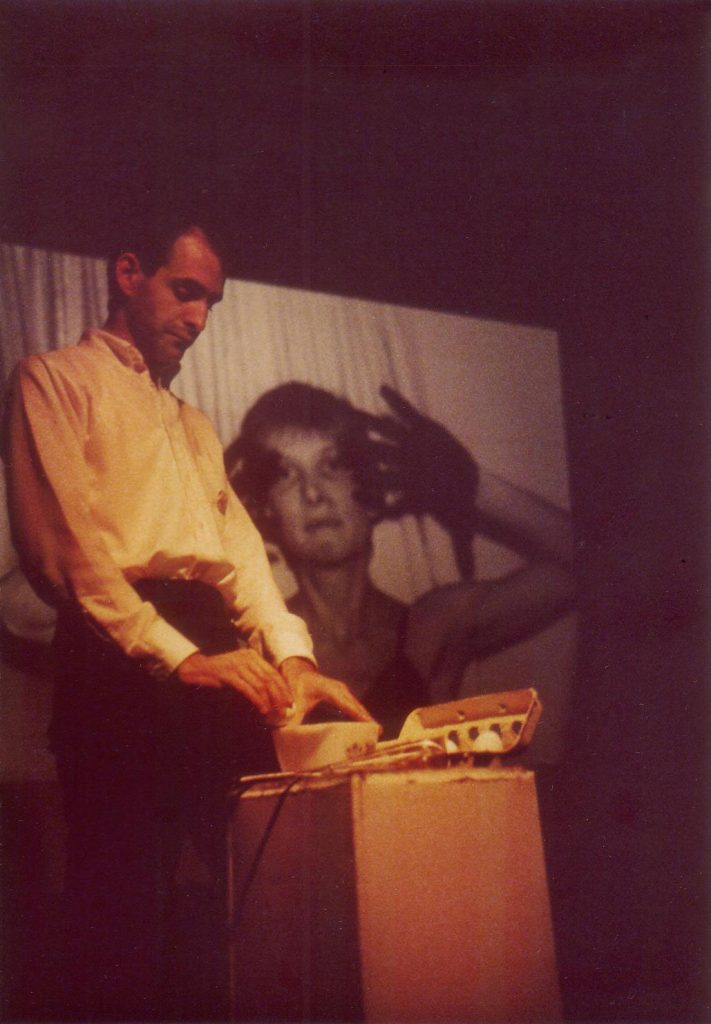 After I returned from Trinity County David and I collaborated with our friend John Callahan on a new performance at Traction. I did a live rendition of "Dancing Ban in China." When David left the loft that August I let him move in with me once again in the duplex, where these two photos were taken:
David, John, and I continued to collaborate—in Age of Consent, an outgrowth of that Traction performance.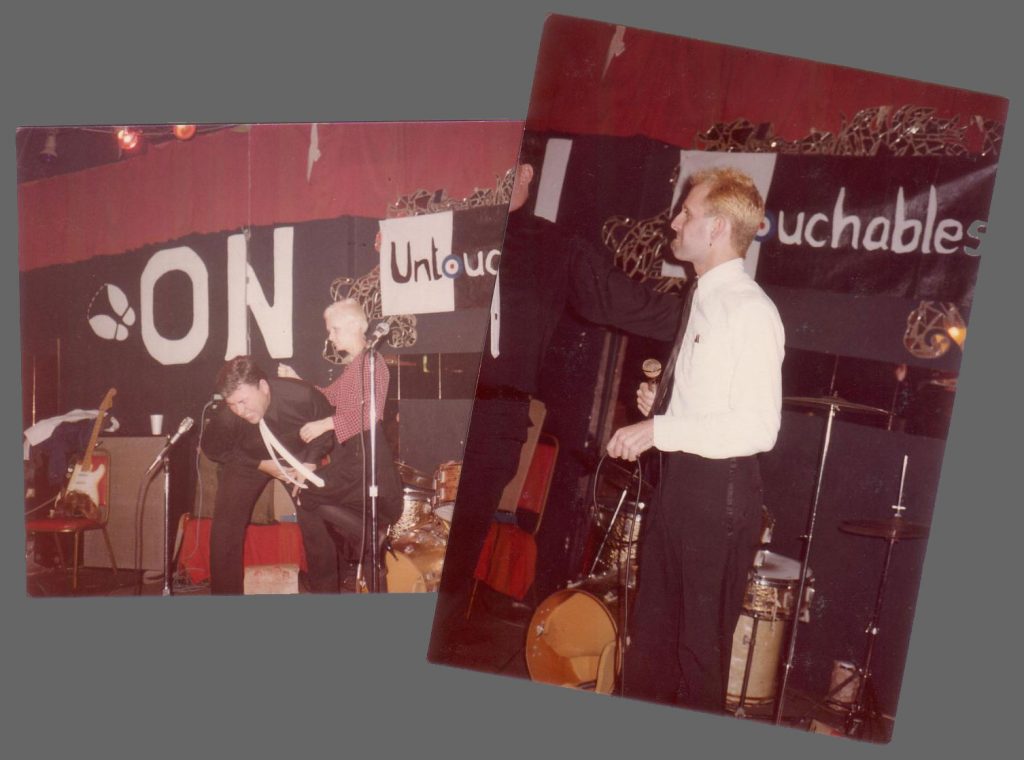 We did four performances that fall before I decided to drop out. Immediately I got a call from our friend Josie Roth who asked if we could talk about working together. David asked if he could join us and we began performing under the name Cortège 9. It was Lhasa Club owner Jean-Pierre Boccara who provided a label for what we were doing: visual theater.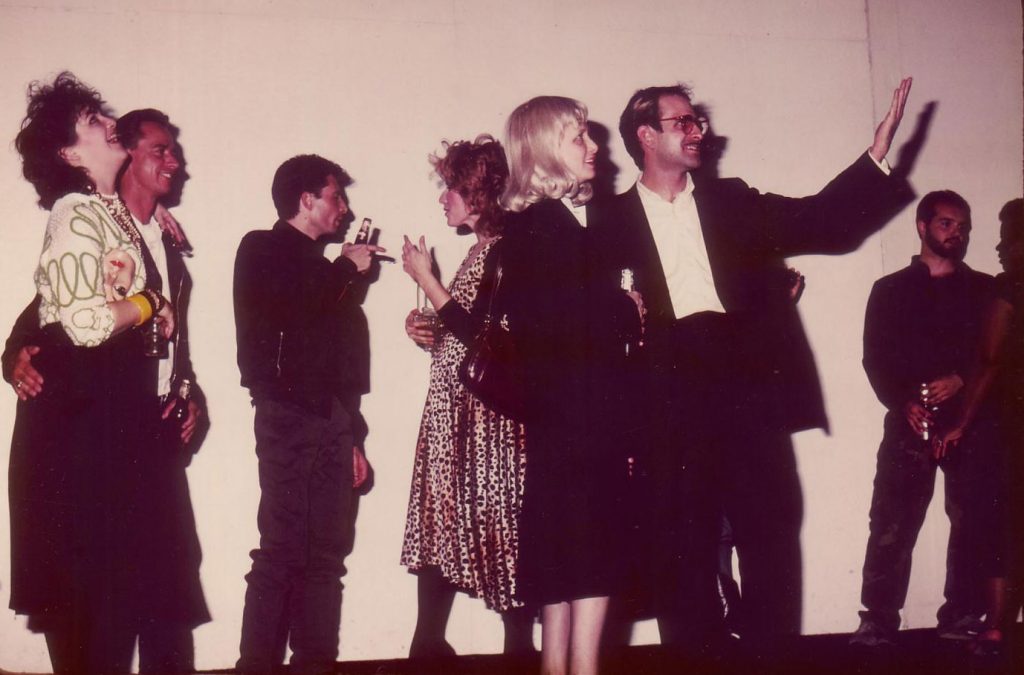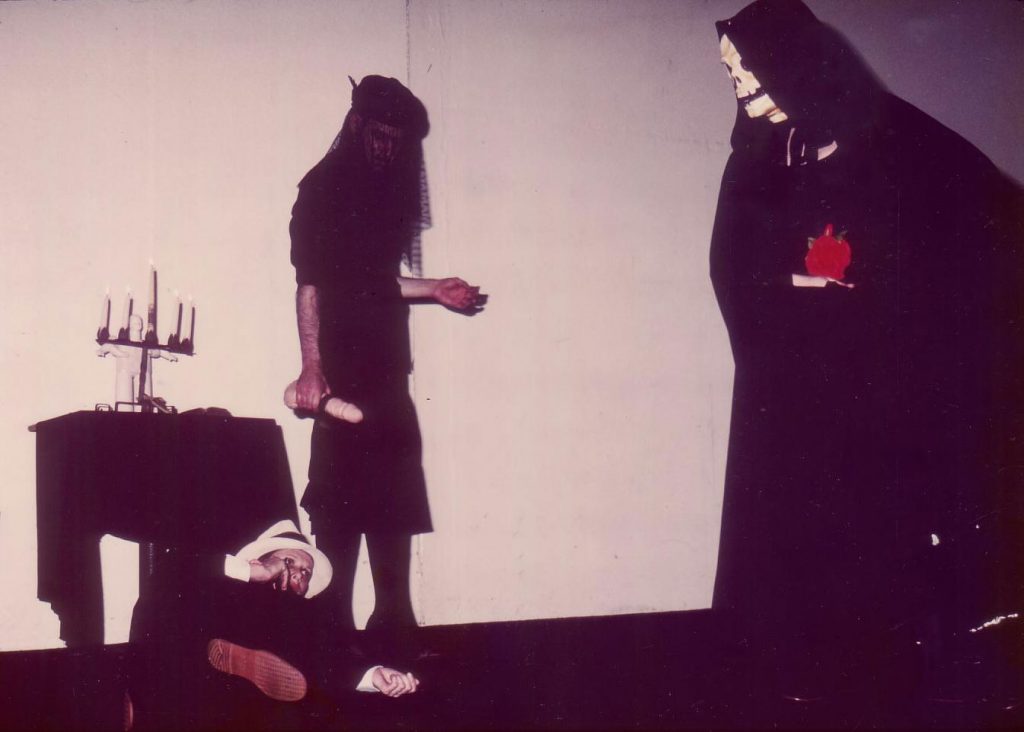 In late 1981, because both of us were working at Kaiser Sunset, we decided to move to a Wilshire District apartment that our friend Jon told us was available in his building. But when we told my roommates we were leaving one of them said she was staying—willing to wait out the lengthy eviction process. I guess you could say I had rescued her, but there's a limit to everything. To speed her departure David tried removing the front door, but she pulled a knife on him. Feeling an obligation to the widower of my landlady—she had died of breast cancer—I asked an old friend, a mediator, to become involved. Fortunately the roommate consented to mediation, and she agreed to leave in a month.
Our new apartment had issues: noise and cockroaches. I finally couldn't take it anymore and moved to a Hollywood apartment just blocks from Kaiser. David moved in with Jon in that same Wilshire building and they eventually moved to a duplex in what's now Koreatown. Again we were separated, for about eleven years, but we saw each other constantly.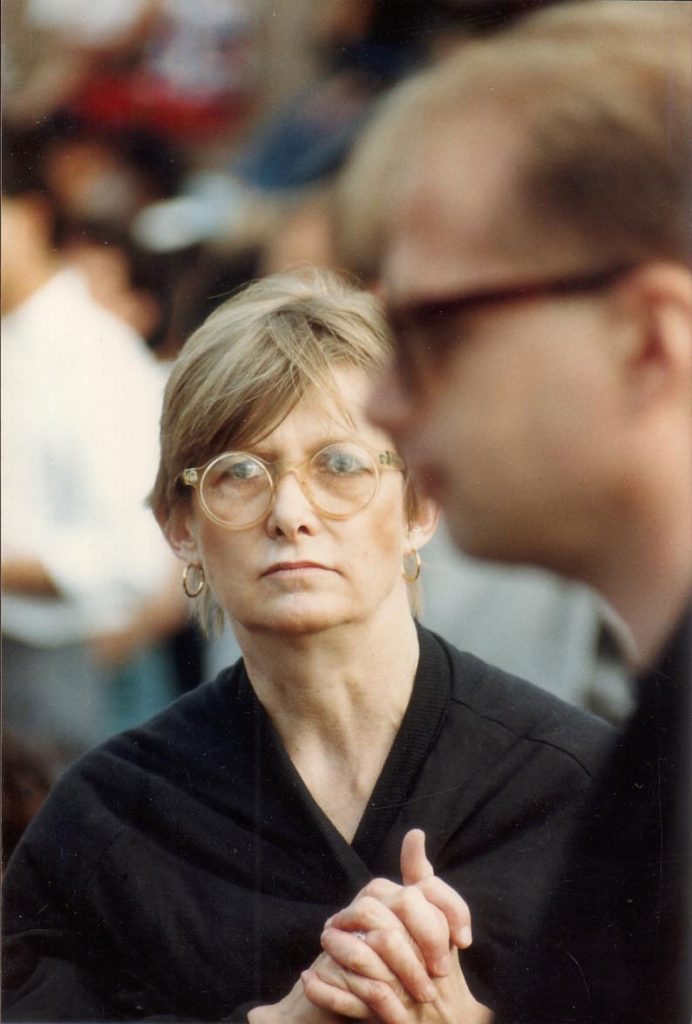 David moved to Pasadena with our friend Rob Berg, who David had met in a Catholic choir; they formed a band, Bachelors Anonymous, and their big rental house had lots of rehearsal space. It also had a "granny flat," which I rented when it became vacant.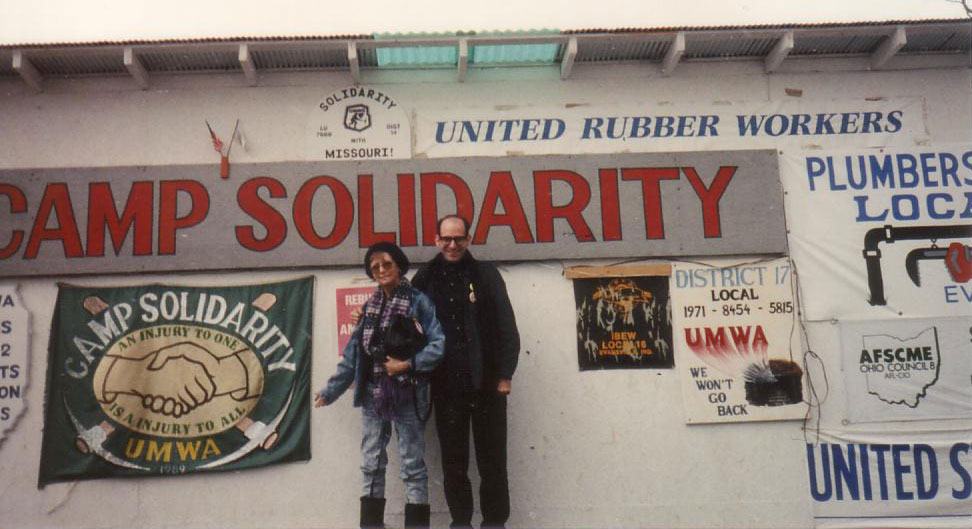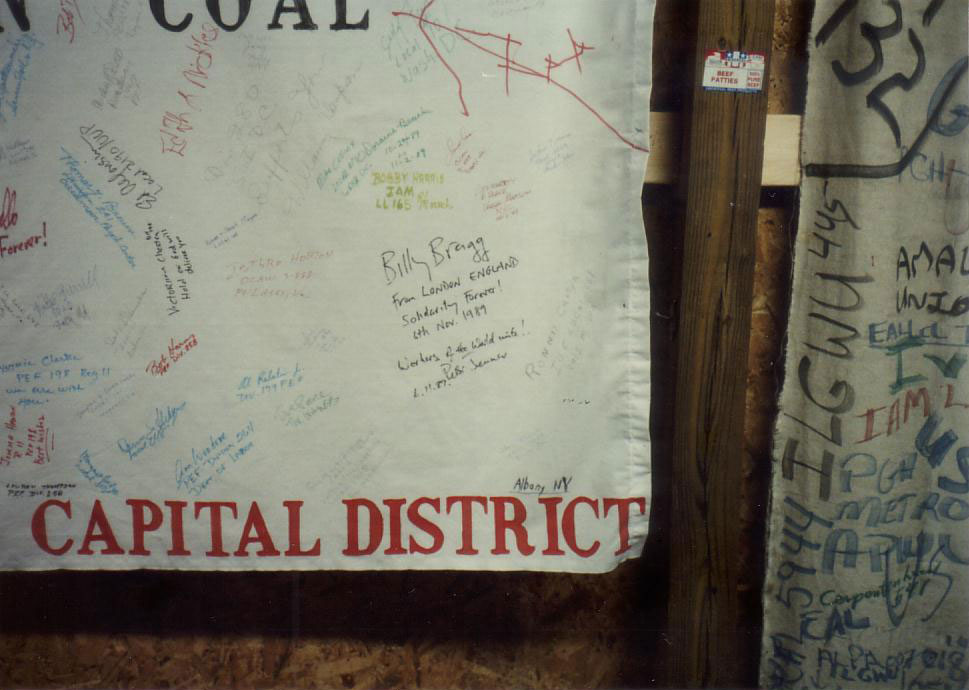 In 1991 I celebrated my fiftieth birthday, hosted by our friend Johanna Guzmán. She helped pick out the ornate, beaded dress shown below, so unlike the more simple off-the-shoulder thing she wore that night. David and Robert's band performed and they even wrote a song for me.
In late 1993 or early '94 our friend Joseph Shuldiner suggested to David that we consider home ownership—next door to him. This led to our marriage in February, which David explains.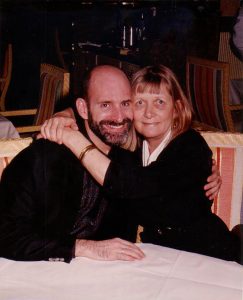 For years we celebrated our anniversary on the 19th until David found the certificate in one of his many file folders. This year, we missed the fact that 2019 was our twenty-fifth—because we've been together, more or less, since 1975.
THE END