The coronavirus has moved systemic racism into public discussion once again. To people who've been tracking health in this country, none of this comes as a surprise. The greatest health care system the world has ever known is not accessible to all, and there are a lot of efforts to keep it that way.
People of color contract COVID-19 and die in greater numbers than white people. Given. Digging deeper, amfAR, the Foundation for AIDS Research, issued a study stating that as of May 5, U.S. counties with black populations larger than their 13% national percentage account for nearly half of diagnoses and close to 60% of deaths nationally. These statistics are brought home by the following animation. (Note that the statistics in the animation do not necessarily match those in the above link nor in the study which, at the time of my post, was pre-print.)
Preexisting conditions, greater in communities of color, are to blame, but so is the fact that members of those communities are likely to work in the initial so-called essential businesses.
When I hear this, my mind goes back to an instance of blatant racism at what of course is an essential operation—Kaiser Permanente in Los Angeles—and also within the ranks of Service Employees International Union (SEIU) Local 399, which represented many Kaiser workers.1 I learned the history of the union second-hand from a union business agent who had received it from an old-timer who retired not long after. For credibility, clarity, and convenience I'll point to sources that recount this narrative.
A Business Union Is Born
A forerunner of SEIU was founded in Chicago in 1902 by two hundred "flat" janitors, but disbanded by 1905. Flat janitors in Chicago tried again 1912, an effort that morphed into the Building Service Employees International Union (AFL) in 1920.2 In California the history of the union can be told via the Wikipedia profile of George Hardy, who eventually became SEIU president in 1971, the union having removed "Building" from its name at its 1968 convention "because the 372,000-member union [was] expanding its membership into other fields."3
Having spent his formative years in San Francisco, Hardy joined his father as a janitor in BSEIU Local 9. "During the San Francisco General Strike of 1934, Hardy helped his father to organize service workers to support the strike, leading to the closure of restaurants, movie theaters, night clubs, and office buildings during the four-day strike." Although he was blacklisted for doing organizing, he persevered.
"By 1943, Hardy had organized BSEIU locals from San Francisco to San Diego," and in 1946 he moved to Los Angeles. By 1950 he claimed that union members' wages had increased forty percent in four years. "The union also expanded out of office buildings, and represented workers in bowling alleys, supermarkets, hotels, apartment buildings, gymnasiums, clubs, public schools, and hospitals."
BSEIU's racial and ethnic composition diversified. "By 1950, half of the members in Local 399 (the largest in Los Angeles) were African American, and 9 percent were Mexican American. Overall, 38 percent of BSEIU members in Los Angeles were black."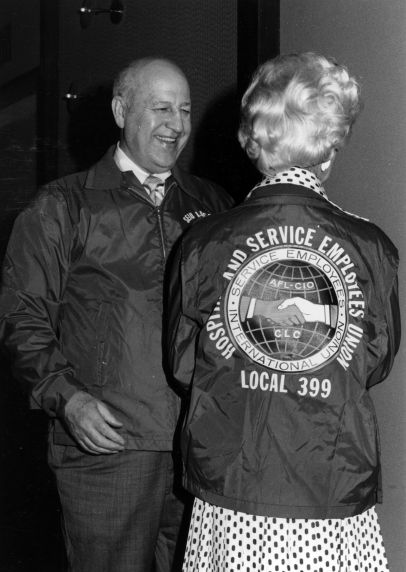 This was the union I eagerly joined as a clinic assistant at Kaiser Permanente in 1978. Gradually I would recognize that there is little difference between the business of the employer and the business of the union. The business of the union member is to re-organize autonomously to outmaneuver the union staff who sandbag independent efforts by the rank and file more eagerly than they defend an individual aggrieved member.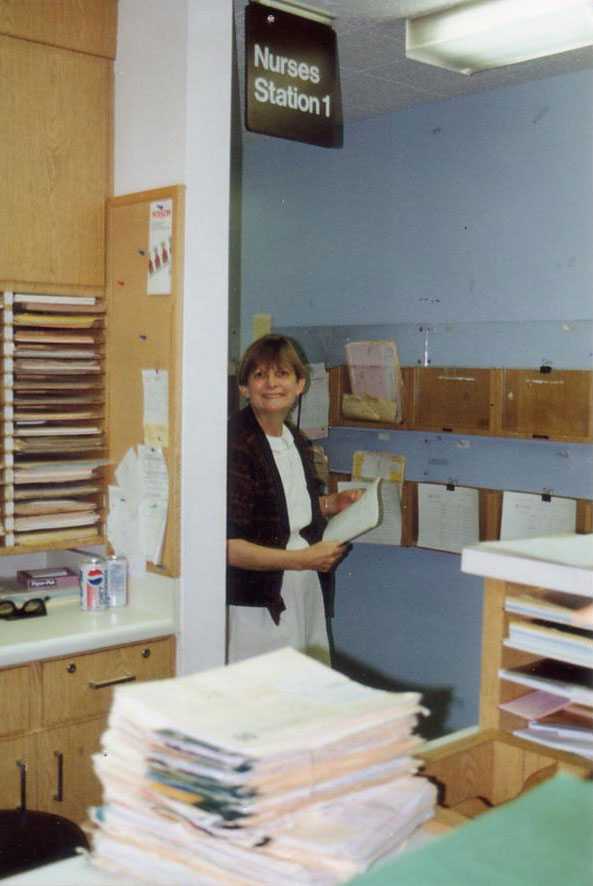 Ironically, I wouldn't have had that opportunity to join my union four years earlier. Like farmworkers—whom I supported in their struggle and through which I met my future husband David Hughes in 1975—health care workers in nonprofits like Kaiser were exempted by the National Labor Relations Act protection until 1974.4 And so in 1978 I worked alongside many people of many extractions, many of whom might have been a generation away from the fields: African, Mexican, Central American, Philippine, Chinese, Armenian, Russian, British. Eventually I became a union shop steward, fighting both the boss and the "brotherhood" every step of the way.
Aid for an Aide
On March 22, 1991, when I'd just started my shift at Los Angeles Medical Center's Urgent Care, a fellow employee ran in and asked me for help. "I'm being called in by the supervisor," he said. I told him, "Right now I have to get this clinic running, but I'll be down there as soon as possible." The employee—we'll call him Beto Zúñiga—was a Patient Transportation aide, and went down to tell his supervisor.
I had worked with Beto and found him to be a really caring person. He happened to be a former gang member, covered in tattoos, but this was not unusual with service and maintenance jobs. Even though SEIU had been founded by janitors, in the new union they were the least paid, as were aides like Beto as well as parking attendants, kitchen workers, mail clerks, and storeroom workers. I recall him being married to an LVN who had gone into management about two years before this incident.
I ran downstairs to Patient Transportation and walked in with Beto to the office of his supervisor, Tom Ligouri. I sat down with both of them and Tom suspended Beto. He said he wasn't doing his job, which I found strange because, in my experience, no one there did it better. I told Beto's supervisor "I'm filing a grievance."
Arbitrary Arbitration: Two Toms
Termination grievances skipped Step One (response in writing by supervisor) and went to Step Two, consisting of meeting with a union business agent and/or grievance steward—me—as well as with management reps from which a written response was due within a week. Of course, management denied the grievance, as it did at Step Three. At this point the union has the option of taking the case to Step Four—arbitration—but this was at the discretion of the union business agent, Tom Hennessey. Tom refused, without giving me a reason. My hunch was that Beto, a brown man, simply wasn't worth his time. This left me in a position I'd never been in. I called the local's president Jim Zellers and explained that this was a winnable case because Beto had a witness, who I'll call Raul Muñoz, a coworker who could contradict anything Ligouri might say. Jim told me to call the union attorney, which I did. I'd participated in several arbitrations, but these always had been facilitated by business agents. Frankly, I was intimidated, but I called and scheduled a meeting.
I took Beto and Raul to the meeting. It was on the eighteenth floor of a Wilshire Center high-rise. In his explanation of the incident Beto expressed himself using Spanglish, the patois of the barrio. This put off the attorney, who claimed we didn't have a case. But where Beto was vague, I knew Raul to be articulate, and so I as asked the attorney to give him a listen. Raul gave his account as an observer and, halfway through, the attorney said, "I'm taking this case."
While writing this my husband David dug out a copy of the arbitrator's opinion from my files. Before he'd let me see it he asked me what I remembered of the case. Nothing I told him contradicted the facts as laid out in the opinion—not bad for this being twenty-eight years later!
"Are you going to finally get rid of him?"
First I must mention that Tom Ligouri's treatment of Beto Zúñiga appeared to me to be in retaliation for Beto's defense of his women coworkers. As will be seen, Tom was demonstrably racist in his treatment of Beto and of Raul (even if this is not explicitly noted in the opinion). Ligouri also harassed female workers. He was so intimidating that the few women in his department refused to take action. It was the men—nearly every one—who filed a class action grievance, in solidarity with their sisters.
Before filing, Beto came to me and I explained the procedure so they could file the grievance themselves. Like terminations, class actions skip Step One. The day the grievance was heard at Step Two, I appeared with the men in the personnel office. When I arrived, the receptionist, who knew why I was there, said, "Andrea, are you going to finally get rid of him?" meaning Ligouri. "I can't stand the way he looks at me and leers. He stands on his his toes in order to look down my blouse!" I don't recall the resolution of this grievance. For all I know, our business agent Tom Hennessey may have dropped the ball on that one, too, and at that point I didn't know I could go over his head. But when Beto was fired, I recognized it was payback for that class action.
Dispatching With Dispatch. Or Not.
A single arbitration hearing took place at Kaiser headquarters in Pasadena nine months later, on January 6, 1992, from which the following is taken.
Beto had a work history as a patient transportation dispatcher. He didn't play by the rules though; he improved upon them. The rule was: first come, first served, with the exception of stat requests, which took precedence. Beto knew this to be inefficient, leading to delays in service on a medical campus that spanned roughly eight city blocks. "For example," as stated in the opinion, "if there was a request to transport a patient in a wheelchair from the emergency room to x-ray, the dispatcher would match that request for wheelchair transportation from the x-ray area to another location."
On the day of the incident, March 21, 1991 (which happened to be Martin Luther King Jr. Day), Beto was starting his third week of filling in for the regular dispatcher, who was on vacation. At least one other department employee also was out that day and so it was busy. Tom Ligouri alleged he had received complaints about a lack of response and "discovered that calls that had come in later had been taken ahead" of a particular call that had been left waiting for ninety minutes. Remember, this is after two weeks of Beto using his modified first-come-first-served method. Tom decided to take things into his own hands and took over dispatching himself.
Tom told Beto his start time would be changed from 6:30 to 7:30 the next morning, against department policy. Tom then dispatched Beto to do a pickup in the ER's discharge area, but the patient couldn't be found. Meanwhile, next door, Surgical Walk-In asked Beto for help moving a large man with a fracture onto a gurney. When Beto returned without having found the ER discharge Tom told him to get a union rep. Tom testified that when he then moved to remove Beto's timecard, Beto threatened his life and used profanity. Beto left, meeting his coworker Raul who was waiting to drive him home (their quitting time was 2:30). Raul urged Beto to confront Tom about the change in his hours, for which he was supposed to be given a week's notice. Beto returned to Tom's office and there was an exchange before Tom said he was calling security.
The next day Beto asked me to represent him when Tom suspended him pending investigation, after which Beto was fired on April 2, 1991.
Culling the Credible
At the arbitration hearing Ligouri mentioned several witnesses to the incidents of March 21 but produced only one, claiming the others didn't want to become involved, ignoring the fact that they could have been subpoenaed. Tom's sole witness was his assistant supervisor John Rochin, whose "testimony added little to the record," according to the arbitrator. "Either he saw little, or his testimony suffered from selective if not defective recall." To be fair, the arbitrator found the testimony of Ligouri, Zúñiga, Rochin, and Muñoz to be "flawed to varying degrees and generally less than credible." And so he culled what he could.
Tom claimed he never used inappropriate language towards subordinates, which the arbitrator found "incredible in light of the forceful testimony" of Beto—and Raul, who "testified that Ligouri was generally abusive" of subordinates and "had verbally abused and badgered Grievant all morning on March 21, 1991," calling him "'idiot,' 'brainless,' 'pinhead,' 'lazy,' 'dummy,' 'jerk,' and 'asshole.'" Beto himself said Tom called him "'stupid,' 'idiot,' 'pinhead,' and 'asshole,' and said he had no brains and should be on the street. He said that Ligouri did this 'all the time,' and that he did it in front of others." Yet Beto testified that he did nothing in response. The Employer at the arbitration found this to be incredible, pointing out "that the Union argues on the one hand that Grievant did not commit the acts of misconduct with which he is charged"—gross misconduct and insubordination—"while on the other hand the Union maintains that Grievant was provoked." Except that the Union maintained no such thing. "The Union asserts that Ligouri engaged in such conduct"—name-calling, disruption, discipline without evidence—"in an attempt to provoke Grievant" (italics mine).
The issue of provocation is perhaps the most racist aspect of this grievance. From Kaiser's contentions: "The Employer asserts that Grievant is a proud man who would not tolerate the sort of demeaning verbal abuse allegedly heaped upon him by Ligouri." The arbitrator disagreed: "In my experience, male Hispanics are often stoic in such in such situations, despite their intense personal pride." And remember that Raul testified that Ligouri was "generally abusive" of his department's workers.
Nevertheless the arbitrator felt that, on the date of the incident, Beto might have been pushed to the point of responding verbally to Tom. But he concluded that Beto did not threaten Tom's life because Tom refrained from calling security until Beto returned to his office to complain about the change in his work schedule.
Just 'Cause
The arbitrator issued his opinion on March 9, 1992. The award:
The discharge of Grievant […] was not for just cause. Accordingly, the discharge of Grievant shall be set aside, and all references to it shall be expunged from his personnel records. Further, Grievant shall be reinstated forthwith to his former position, and shall be made whole for all lost wages, benefits, and seniority that resulted from that unjust discharge, less his actual interim earnings, if any.
In the face of an arbitrator's judgment like this, Kaiser insisted time and again to retain supervisors who cost them dearly. When a supervisor eventually was found to be at fault in Kaiser's eyes, they weren't let go. Like a child-molesting priest in the Roman Catholic Church they were allowed to transfer to another department—another parish—that had an open supervisorial slot. This happened with Ligouri's assistant John Rochin. I was told by several insiders that Ligouri was unhappy with Rochin's performance during Beto's arbitration, and so a few months later John was out the door. He had three months to obtain a new post and did so. In Housekeeping. Ligouri didn't last much longer, but I don't recall if he stayed with Kaiser. I'd say, I hope not, but then he might have moved on to a new diocese.
Next time: For a Clinic Without Supervisors
Header image:
Facial illustrations
for physiognomie
and chiromancie
Wellcome Collection
CC BY 4.0
Notes