I'm a terrible interviewee for the most part. Recently I was contacted by a radio news editor about homophobia in hip-hop, based on my involvement in the 1980s rap group, Age of Consent. I can't imagine any sound bites from that conversation will end up in the final piece, but the dialogue got me thinking. In the course of subsequent riffling through AOC archival material and updating our website I came across a profile of our group from 1983 in which I actually was cogent. And I was surprised that I articulated a notion I thought I'd only come to hold more recently. But I also was disappointed by my hubris.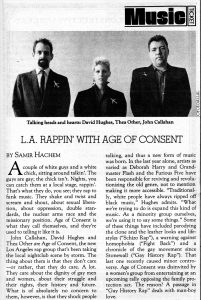 The article, by Samir Hachem (1956–1992), provides a good introduction to what AOC was about, so I won't duplicate that here. I knew Samir's work from radio and his love for the Lebanese singer Fairouz. As KCRW's Tom Schnabel (the station's first music director and creator of Morning Becomes Eclectic) recalls in his tribute to Hachem, "Samir told me of how Fairouz could perform for one faction in the Lebanese civil war of the 1970s, then cross over to the other side and perform there, too. Such was her fame and the respect she commanded." In addition to radio Samir wrote for The Hollywood Reporter and The Advocate, in which the AOC profile appeared.
Rap 101
Before turning to that profile, some historical perspective. As I told my interviewer last week, in AOC's heyday, 1981–1983, rap was so new to West Coast audiences that music critics felt obliged to explain what it was.
Chris Pasles, who reviewed our first performed rap, was a classical music reviewer (the music series I produced and performed in was geared toward the highbrow avant garde), so it may be understandable when he called our rap "a rock-accompanied" message
LA Times critic Don Snowden instructed, "Rapping, the funk style which features spoken-sung vocals laid over skeletal funk rhythms," in his review of the September 6, 1981 Rap Night at which we were asked to encore the only rap we'd written to that point (thinking we'd be blown away by the other acts, so why polish up the other raps we were working on?)
Even Bill Lane, an African American journalist for the LA Sentinel, in his commentary about that same gig, described the art form using quotation marks: "kinetic 'rap' recordings." His analysis is engaging because he has a sense of history and also of what could be: white domination of rap (discussed below)
Darcy Diamond, in a Herald Examiner profile of AOC three months later wrote, regarding the same gig, "Los Angeles has not been a hotbed of rap music activity and many people were hard-pressed to even define it"
The Herald Examiner, on October 15, 1982, reviewed "The Message" by Grandmaster Flash but it also felt compelled to include a sort of sidebar, "Tracing the Roots of Rap," by Leonard Pitts Jr.
In December of 1982, L.A. Weekly writer John Sutton-Smith led off a "Scoring the Clubs" item about about Jamaican "toasting": "'Rapping,' for the uninitiated, is the pseudo-spontaneous spouting of lyrical messages over instrumental tracks of the popular rhythms of the day"
In February of 1983, six months before we broke up, LA Times pop music critic Richard Cromelin still was explaining rap as "a rhythmic, sung-and-spoken style" (see "L.A. Takes the Rap from N.Y. Movement," Feb 7)
The next month LA Times pop music critic Kristine McKenna again felt she had to offer a primer on rap, writing, "Rap originated as a sort of folk art, a way for ghetto kids who couldn't afford guitars and amps, to create their own music…" (see "Taking the Rap in L.A.," Mar 7 1983)
Of all the above writers Bill Lane is the most thoughtful, although I quibble with some of his assertions. After leading off with remarks about pioneering rapper Kurtis Blow, Lane mentions a rap antecedent, Larry Darnell, who "had sold millions of his talk records years ago, especially one based on the song 'I'll Get Along Somehow.' And there were others." Claiming, via Darnell, that Blow's "peculiar talk" was "not the first time" it had become "salable product on the American market" is a bit of a stretch despite any similarities. In Part 2 of his song Darnell reads the beads of an ungrateful protégé, just as in "The Breaks" Blow ends his rap with a vignette of a woman betrayed by a two-bit gold-digger. But Darnell's delivery is in a conversational (if forceful) style atop the filigree of a celeste-ial score. It can't compare with the beat of Blow's rapping, accented by classic rhythm guitar work and drum… er… breaks.
Blackout
At the time of Bill Lane's column in August of 1981 he noted that
suddenly black radio began a ban on rap records. Some black program directors said the recordings were too profane. Some said they were "too black." How black one can or cannot be in black radio is anybody's guess. Many blacks years ago shunned and condemned the "jive talk" of Cab Calloway and the late Chicago Defender writer Dan Burley.
Indeed, in 1975 the Bee Gees had included their absurd "Jive Talkin'" on the Saturday Night Fever soundtrack. While not mentioning the Bee Gees by name vis-à-vis disco (discussed below), Lane warned against white appropriation of rap. "Nowadays, it's peculiar that black radio in banning rap records by black artists made a cross-over hit of the new rap recording of the white singer Blondie"—mistaking Debbie Harry for the name of her band. "Some black stations are also playing a Cockney-sounding 'Wikiwrap' disc from Sam Records, also featuring a white singer." The disc in question is "Wikka Wrap" by the Evasions on SAM Records—a 12″ in my collection, as are almost all the records discussed in this post.
The so-called white singer's rap—not a rap at all, of course—is clearly a parody, as indicated by its jacket, above. Discogs, the indispensable Wikipedia of recorded music explains about the rap's artists, The Evasions:
Basically a formation of U.K. TV producers Graham De Wilde and Adrian Sear in 1981 for a funky – novelty – comedy impersonation of TV personality Alan Whicker in their single "Wikka Wrap", No.9 in the U.K. chart, No.20 in the U.S. R'n'B chart and No.19 in the U.S. Hot Dance Chart that year. Coolio sampled the song in his 1996 single "1, 2, 3, 4 (Sumpin' New)".
Aside from mimicking Alan Whicker, Graham de Wilde had a more personal connection, having composed the theme music to Whicker's World, the globetrotting documentary series that ran for more than thirty years. (Per Wikipedia, Whicker already had been parodied in 1968 by Benny Hill—"Knicker's World"—and in 1974 by Monty Python—"Whicker Island.") As for Bill Lane's characterization of de Wilde-as-Whicker sounding cockney, keep in mind that Whicker himself was born in Cairo and grew up in Surrey. Listen to the journalist in this ITV obituary and decide whether de Wilde flubs the parody. But also decide whether it is more offensive than Lane thought.
In 2003, when John Callahan, Thea Other, and I were preparing the release of our retrospective CD, Old School on the Down Low, I wrote the following, augmented by my asides tonight in brackets.
It's interesting that in 1981 we still had to explain what rap was, given the fact that, the same year, the rap parodies "General Hospi-Tale" [by The Afternoon Delights, the band name itself a play on the naughty number by Starland Vocal Band] and Russ Mason's "Prep Rap" were released on major labels, followed by Rich Little's "President's Rap" [set to Tom Tom Club's "Genius of Love"] and Eddie Murphy's "Boogie In Your Butt" in '82 [while still at Saturday Night Live, and taken from his first album, which led off with the live "Faggots," apparently a non-routine riff uttered when he came onstage and a male audience member urged him to "Take it all off," perhaps in reaction to Murphy doffing an article of clothing]. I guess by release of "The Message" people pretty much knew what was going on, and with "White Lines" [rhythm lines lifted from Liquid Liquid's "Cavern"] one would think that record execs wouldn't think rap was a flash in the pan. Maybe because there was so much novelty stuff (Rodney Dangerfield did one), they still thought it was a joke?
I left out another parody, 1982's "Beatle Rap" by The Qworymen, issued by Rhino Records, which had specialized in novelty numbers before becoming a reissue powerhouse.
Whiteout
Bill Lane continued his critique.
When disco was ablaze white discos were criticized for banning mostly black-speech disco songs in favor of those by white singers and musicians. Now some black-oriented radio stations are doing the same thing. […] But just as whites took over disco, until it became tiresome, so are whites making a bid to master rap records. Rap songs. Rap talk.
Lane goes on to say he attended the first Rap Night at Silver Lake's ON Klub (Aug '81), which became an occasional series. The house was packed with white music critics and industry folk, and the deejay was Ken Tucker—then critic for the Herald Examiner, now heard on NPR's Fresh Air with Terry Gross. Lane:
It was notable that virtually every song played was by a black singer, or a black group. Why? Because there are comparatively no white rap records with the funky black beat and rapidfire words of the streets. But they remedied that after awhile. [Tucker] put on a recording that featured only a soundtrack of stopdown, funky black music. And up to the mike stepped two white chaps called the Age of Consent and they began to rap over the music background like two Anglo-Saxon Kurtis Blows.
And we did. We were stretching the rap envelope topically, not sonically (yet). And so was Blow. His hit "The Breaks" did not deal with his sex appeal (although the album cover covered that handily); he merely gave a laundry list of "breaks, brakes, etc"—bad and good—and told a tale. Our own musical reworking of the rap group mode would come fifteen months later when we were perhaps the first such group to be backed by a live band. (And, yes, this is a rhetorical remark intended to elicit any rebuttals…)
Bill Lane worried about the appropriation of rap by whites. "Before long, […] the white rock stations that have been playing black rap product will join the contemporary black-oriented radio stations and stop playing them. White rap will be in, and, once again, blacks will have helped to kill their own generic, indigenous creativity." And the "140-billion-a-year black consumer just might be spending himself into the poorhouse—by steadily seeking to buy white." Lane then turned hopeful. "Sylvia Robinson says her Sugar Hill [sic] Records is preparing to record white rap singers wherever she can find them." (She sort of succeeded with Patto, whose "Ebony and Ivory"-ish "Black and White" tries to poke fun at racial attitudes and epithets.)
I just read that Justin Simien (Dear White People) is slated to direct a film adaptation of Robinson's life, which should be fascinating. I remember as a kid in the '60s hearing her 1956 single with Mickey Baker, "Love Is Strange." In addition to collaborating on "Rapper's Delight" in 1979, that same year she signed the all-female rap group The Sequence (including Angie Stone) and cowrote their "Funk You Up." Regarding the film project, Robinson's son Joey told the Hollywood Reporter:
Sugarhill paved the way for a new genre of music that the industry had no knowledge of back in 1979. You will see the struggles of what Sugarhill went through to keep Hip-Hop music alive when the industry wanted to bury it.
Our experience in L.A. wasn't that rap was something to be ignored or buried. Fads like rap simply weren't worth the investment.
Bad Rap
I don't recall seeing Bill Lane's Los Angeles Sentinel article at the time in 1981. I found it by chance on October 14, 2018 when I was doing a newspaper search to confirm the date of another clipping. To my knowledge, but for Lane, Age of Consent never was critiqued by an African American writer.
In light of Lane's argument I was surprised that I echoed his sentiment somewhat in what I told Samir Hachem in April of '83.
Traditionally, white people have always ripped off black music […]. What we're trying to do is expand this kind of music. As a minority group ourselves, we're using it to say some things.
But with introspection now I ask:
Who am I to engage in cultural appropriation—and enhancement—simply because it's been done before? Because I can be counted amongst a sexual minority?
I cringe—except that in that same interview with Samir I equivocated somewhat.
One of the things we stand for most strongly is that everyone should have a choice […]. We're against sexual labels. Sex isn't rigid. Roles aren't limited. It's all more fluid and complex.
As I said up top, I'm not a good interviewee. When Age of Consent issued its retrospective CD in 2004, cofounder John Callahan and I appeared at a release event at the ONE Archives at USC (which houses an AOC collection that John assembled). John did most of the talking, but the little I did evidently was not effective. As I recall, John was invited to appear on KPFK's IMRU program to promote the CD, with a specific request that I stay home.
Were Samir Hachem alive today I'd ask him if he remembers crafting my mumblings into words that, thirty-five years later, I both take issue with and embrace.
Header photo credit:
Joyce Dallal (colored by David Hughes)