What follows is the recollection and reflection of a remarkable musical work, and my work experience around it.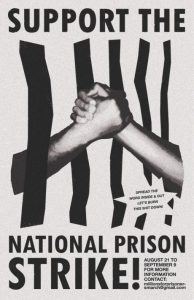 The prison strike of late summer 2018 was in part a commemoration of the killing of prison organizer and author George Jackson on August 21, 1971 as well as the uprising his death sparked (in part) at Attica nineteen days later on September 9. Having just turned 16 at the time, although I was involved in antiwar activity in Boulder, Jackson and Attica were two coastlines away and easy enough for me to ignore. Two years later I was reacquainted with those struggles—through music.
Minimizing Minimalists
As a kid I'd become familiar with composers who pushed the envelope. Our music teacher played us recordings of John Cage in grade school. Two electric/electronic masses were known to me, one by The Electric Prunes (Mass in F Minor, 1968) and the other a collaboration by Spooky Tooth and musique concrète maestro Pierre Henry (Ceremony, 1969). Warner Brothers samplers like The Big Red Ball (1970) and Zappèd (1970) promoted offbeat acts like the GTOs, Captain Beefheart, Ed Sanders, and Lord Buckley, all of whom took liberties with music and the spoken word.
A friend's father, Paul Parmelee, was pals with composer George Crumb as was David Burge, a Crumb collaborator who taught with Paul at CU and conducted our philharmonic. So it's not surprising that Crumb's intimately challenging Ancient Voices of Children (1970) was performed in our high school auditorium—my first exposure to the poetry of Federico García Lorca (not having paid attention to Joan Baez's Baptism of '68). Likewise, our church youth choir did not shy away from Benjamin Britten's Ceremony of the Carols (1942), recordings of which sometimes are paired with the composer's Rejoice in the Lamb (1943), the setting of a poem penned by Christopher Smart when he was prisoner in a mental institution: "For I am under the same accusation with my Saviour; for they said, he is besides himself." Smart later died in a debtor's prison. (See my post about such a gaol.)
After high school when I worked with the United Farm Workers as a full-time boycott organizer beginning in the summer of '73 a comrade introduced me to the so-called minimalists of avant-garde classical music. The oeuvre of two of these, Steve Reich and Frederic Rzewski, contained charged language. Reich composed his famous Come Out as part of a 1966 legal benefit for the Harlem 6 who were being retried for the '64 "fruit stand" riot, covered by James Baldwin in the pages of The Nation. Five years later Rzewski composed two pieces in reaction to the Attica uprising.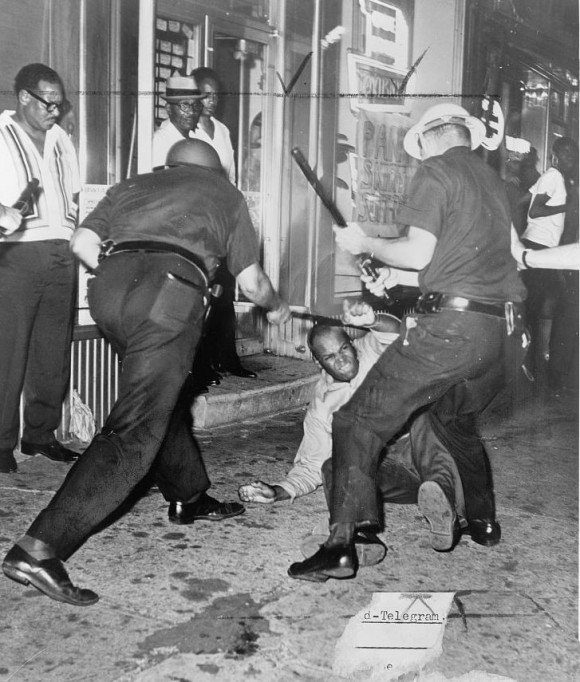 Reich's Come Out is a masterpiece of manipulated verbal vérité: it's simply and solely a recording of defendant Daniel Hamm explaining how he had to convince cops he'd been beaten in jail—by rupturing his own bruise. Rzewski's Coming Together is a traditional musical setting of a written text, a narration, albeit by an electro-acoustic septet. And while both Come Out and Coming Together had brutal roots, Daniel Hamm survived his ordeal whereas Rzewski's narrator did not.1
These are two powerful, musical statements, belied by the minimalism genre to which they are assigned, and we minimize the minimalists, in whatever medium, at our poverty if not our peril. Take, for instance, the color field canvases of Mark Rothko. A friend from college, a fiber artist, remarked on how those uncomplicated paintings are made richer by the fabric of their foundation, as if the traditional gesso primer had not been applied, freeing the fibers' textures.2 Likewise, the repetitions of Come Out and Coming Together facilitate our auditory and intellectual attention-to-detail—to lyrics, but also to the musical fibers freed from the substrate of either lyrical (representational) melody or atonal (abstract) cacophony. The weft, if you will, of the notation staff bearing a more-or-less even weave, with variation.
Melville and Attica: A greater coming together
On May 16, 1970 Attica prisoner Sam Melville wrote his close friend John Cohen.
I think the combination of age and a greater coming together is responsible for the speed of the passing time…
Melville was born Samuel Joseph Grossman in 1934 in New York City. (The story of his name change is told at SamMellville.org, from which some of the following is taken.) Like many other political radicals in the '60s and '70s Melville turned from protest to property destruction as an act of defiance against: the war in Vietnam, rampant capitalism, environmental pillage, governmental clampdown. Melville's eight acknowledged bombings took place in 1969—before the formation of groups like Weather Underground and George Jackson Brigade.3 He was arrested on November 12 of that year, and attempted an escape the next March.
Melville made trouble everywhere he was held. He organized prison strikes in The Tombs and Sing Sing before being sent to Attica where he published a zine called Iced Pig and organized with black, brown, and white protests against brutality, mail censorship, and 25 cents-a-day wages. And, of course, he was a leader of the prisoners' takeover of Attica, during which he was killed—but not before fashioning hundreds of Molotov cocktails and other defensive weapons and devices.
After the Attica occupation, Ramparts magazine published several of Melville's letters, including the one referenced above. Frederic Rzewski recalled later:
As I read it I was impressed both by the poetic quality of the text and by its cryptic irony. I read it over and over again. It seemed that I was trying both to capture a sense of the physical presence of the writer, and at the same time to unlock a hidden meaning from the simple but ambiguous language. The act of reading and rereading finally led me to the idea of a musical treatment.4
If Rzewski needed more motivation, a photo of Melville in the Ramparts article was accompanied by a poem by Adrienne Rich—not Attica-inspired but describing the cruelty of "the city of pain." (The same edition of the magazine, December 1971, includes: a commentary by Staughton Lynd, who would chronicle another prison rebellion at Lucasville two decades later5; a lengthy and sympathetic profile of four New York sex workers; an equally lengthy and sympathetic profile of the Cockettes; an ad for The Food Stamp Gourmet: Patrician Eating on a Proletarian Budget; a look at nascent women's studies programs; a piece on Rainbow Farm's evolution to a women's commune; a review of records by the Grateful Dead and Country Joe; and a sports column.)
It's impossible for me to read Melville's words in that Ramparts article without hearing the cadence of Steven ben Israel, Coming Together's narrator in its 1973 recording. Israel is described by the New York Times as "a longhaired, card-carrying pacifist, anarchist, comedian and performance artist who toured during the 1960s and '70s with the Living Theater, an avant-garde repertory group."6 If Sam Melville attempted to tear down—blow up—the walls of imperium, Steve ben Israel and the Living Theater actually succeeded in breaking through the "fourth wall" separating stage and spectator.7
Rzewski's pulsating score for Coming Together was performed on that 1973 LP by an ensemble that included Alvin Curran, who with Rzewski and Richard Teitelbaum cofounded Musica Elettronica Viva, a pioneer of electro-acoustic exploration. In 1978 when I studied with Allen Ginsberg at Naropa, knowing of my interest in offbeat music, Allen handed me Curran's first solo album, Cante e Vedute del Giardano Magnetico (Songs and Views from the Magnetic Garden). Apart from Ginsberg's insightful tutoring of my poetry, I tend to forget how influential was the loan of that LP. Curran's use of natural sounds—not necessarily manipulated à la musique concrète—was an inspiration, liberatory in the laboratory of my own magnetic musings.
The sequencing of text and sound in Coming Together echoes Rzewski's first reading of Sam Melville's transcribed letter, with phrases repeated, dislodged. (Living Theater also had worked in a somewhat modular fashion on at least one production.8) I'm not even sure if the two paragraphs of Melville's May '70 letter—the focal point of Coming Together—ever are read word for word in a single string. And I don't need or even want to know. After nearly twenty-six minutes of various configurations, we get it.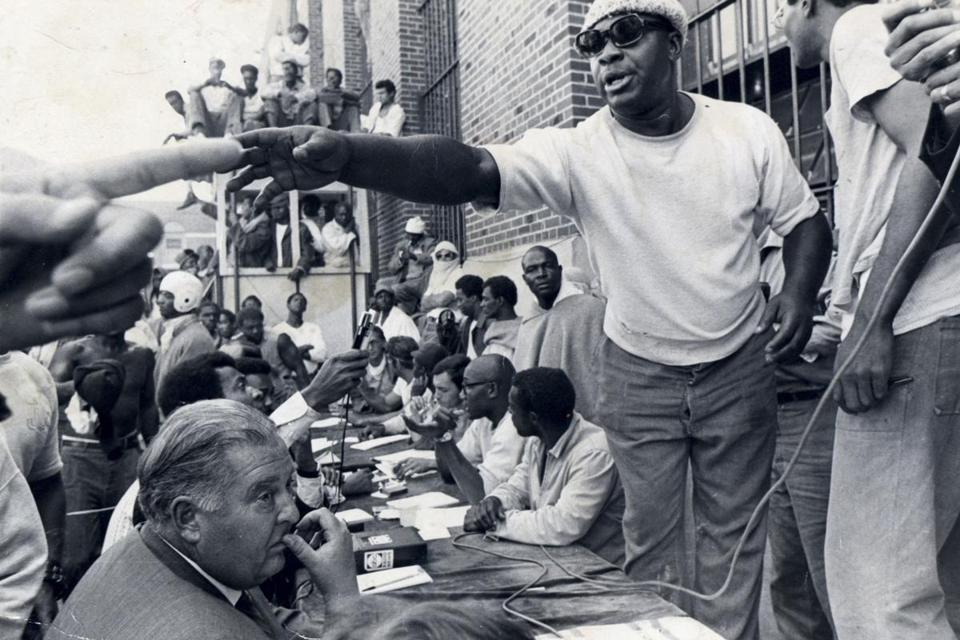 Performance Pressure
In April of 1999 I had the chance to witness Coming Together performed by the California EAR Unit at the Los Angeles County Museum of Art. LACMA has had a long history of presenting challenging and unfamiliar chamber works via its Monday Evening Concerts series, beginning in 1939. As a student at Immaculate Heart College (now the campus of American Film Institute) I attended the MEC performances and even took a course in the fall of '78 by the series's then-director Dorrance Stalvey in which we previewed and reviewed the concerts. Among other things we were treated that season to a 78-year-old Aaron Copland accompanying his own 12 Poems of Emily Dickinson.
On the night of the EAR Unit performance I was a (temp?) worker at the California Power Exchange, which facilitated the trading of energy prior to the collapse of Enron two years later. I can't recall exactly what our unit did at the time; later we were tasked with creating a curriculum for the training of traders, in pursuit of which I spent at least one night, perhaps more, sleeping on the office floor. Even before that I didn't often attend weekday night concerts—I was flexible, a team player (okay, I just needed my job)—but I was looking forward to this performance.
From the LACMA promo brochure it appeared Rzewski's piece might be on the second half of the program, which began at 8. It would take me the better part of an hour to drive from Pasadena to the Miracle Mile district. Just before what should have been quitting time I recall a matter being drawn out by my bosses who knew I had an engagement. How exactly does an adult human squirm? I can't say, but I know I did, as the clock ticked and ticked past 7. It was a subtle sort of humiliation, yet embarrassing on both sides because of its utter transparency: I was not master of my leisure—they were. Upon my release I rushed to the museum only to hear, from the lobby, the strains of Coming Together coming together. It was the opener. The concert closed with Louis Andriessen's Worker's Union, and now I wish I'd acted as though we had one. A slight consolation, if I recall correctly: the intermission buzzed due to the presence of Ruth Underwood, late of Frank Zappa and The Mothers of Invention, who apparently had been interested in the chops that were called for by Rzewski on the part of the vibraphonist in Coming Together. Music. Workers. Music workers. Coming together.
---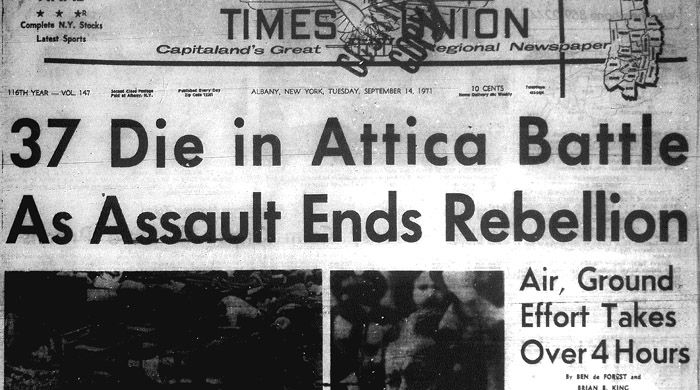 Attica
Richard X. Clark was another leader of the Attica uprising. Raised in foster homes in Jamaica (Queens) and the Bronx, he joined the Navy after graduating high school. Discharged in 1968, he was arrested for attempted robbery in 1969 and received a four-year sentence, ending up at Attica.9 Unlike Sam Melville, Clark survived the uprising, writing about it in The Brothers of Attica (New York: Links Books, 1973). Kirkus, in the book's review, remarked on Clark's descriptions of the four nights of relative autonomy as being "clinical and graphic" and his paraphrasing participants' words "with reportorial exactness." In a scathing analysis of a more recent book on Attica, cultural anthropologist Orisanmi Burton quotes from Clark's description of the prison's Goon Squad, made up of
from eight to twenty-five officers […]. These guards were like Neanderthal men, and they would all roll on one inmate. They never spoke. The only thing you would hear was the cracking of the victim's bones. And his cries. They were led by Sergeant Elmore, a devil with gold-rimmed granny glasses. We called him Little Hitler.
Earlier, upon his release from Attica, Clark was more poetic but no less pointed, and Frederic Rzewski was provoked.
In February, 1972 [Clark] was released from prison. As the car that was taking him to Buffalo crossed the Attica village limits, he was asked how it felt to leave Attica behind him. His answer, quoted in the New York 'Times', provided the text for this piece.10
The piece is Attica, in which Steven ben Israel sing-speaks Clark's six-word rejoinder to that question, on a single note. It is shorter than Coming Together by a dozen minutes, and with a lilting, less convulsive accompaniment, but featuring penultimate fanfare flourishes.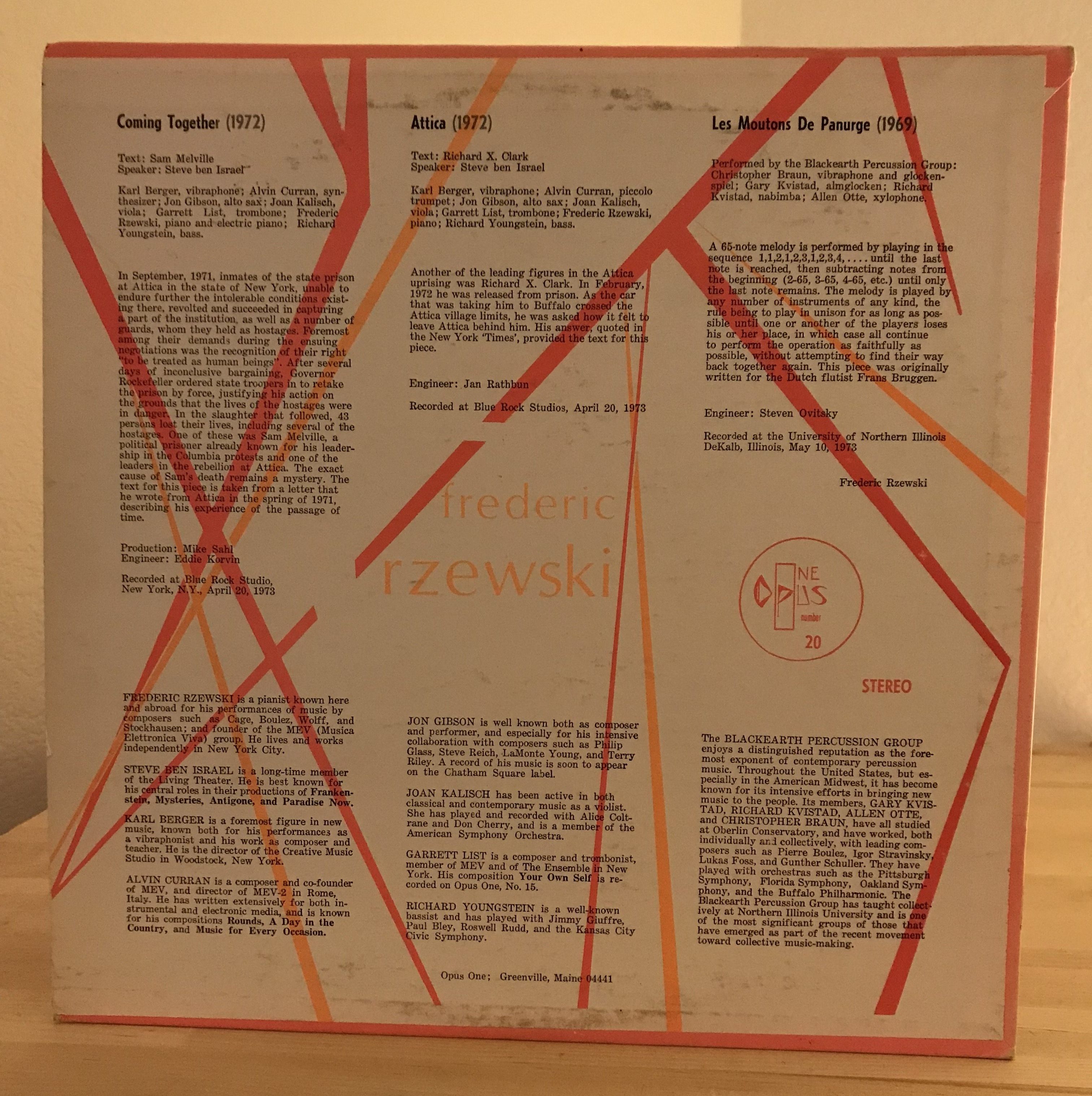 Clark had pled guilty to the original charge of armed robbery but he told the Times in the same article that the plea was only to reduce the sentence for a crime he didn't commit. At the time of the "crime" he'd been out of the Navy only eight months and was married with twin sons, two years old. Like so many others he simply couldn't afford to lose upon taking his case to trial—for whatever reason. (Today 95% of felony convictions are achieved via plea bargains, according to the Bureau of Justice Statistics.)
Before Clark's arrest in March of '69 he'd just passed the police department entrance exam. This raises the question: Why would he want to add armed robbery to his résumé? The answer is embedded in a system that begins with J and ends in ICE.
Coming Together || Attica
If Sam Melville had been radicalized prior to prison, it appears that Richard X. Clark was radicalized on the inside, becoming a politically motivated Muslim minister. Hear Clark "in his own words," an appearance at Burning Books in Buffalo:
'Tis not in harmony…
William Congreve famously begins his 1697 tragedy The Mourning Bride with the princess of Granada observing that "music has charms to sooth a savage breast." But she is not pacified. "'Tis not in harmony to calm my griefs."
Through perpetual repetition, Coming Together and Attica force active listeners to confront the horror of prison and its perpetuation. No, we are not charmed, nor soothed.
Notes