I recently found I could stream films through Kanopy by way of my public library. The first film I watched was A Taste of Honey, Tony Richardson's 1961 award winner set in Greater Manchester's Salford. Jo, played by Rita Tushingham, the daughter of a libertine mother, Dora Bryan, moves out on her own after her mother remarries. While at home Jo has a fling with a ship's cook Jimmy (Paul Danquah), who soon sails away slowly (if not into the sunset). At her shoe shop job she meets Geoffrey Ingham (Murray Melvin), a textile design student who's been kicked out of his flat apparently for his own liaisons—with men—and thus Jo invites him to room with her. And room they have—it's a top-floor studio apartment—but squalid, as only the black-and-white camera can capture, softened somewhat by Geoff's student's style.
I recall Tushingham from her less-free-spirit role of Dot a couple years later in The Leather Boys. And Melvin is instantly recognizable from Barry Lyndon (1975) as Rev. Samuel Runt, the "failed Rasputin" for Marisa Berenson's Lady Lyndon. But what surprised me were two lines in A Taste of Honey uttered by Jimmy in response to Jo's urge to "Dream of me" upon their second leave-taking. "Dreamt of you last night," he says. "Fell out of bed twice." The lines also appeared in the film's forebear, Shelagh Delaney's popular play by the same name. But music fans like me otherwise would remember these from the middle eight of the Smiths' first song on LP, "Reel Around the Fountain."
I dreamt about you last night
and I fell out of bed twice
This was not an unconscious lift: Delaney is "cover star" on the band's 1987 single "Girlfriend in a Coma."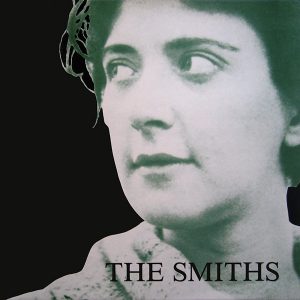 Although "Reel" is perhaps my favorite Smiths song, I haven't listened to the album in years. It was spoiled for me by my brother Richard, an audiophile, who pointed out the album's wretched tizzy EQ. Lead singer Morrissey apparently concurs, writing in his 2011 Autobiography that "the album sounds exactly how the Smiths were not: pasty and thin."1 It was produced by John Porter, whose résumé up to that point included playing bass with Roxy Music on For Your Pleasure and producing Roxy frontman Bryan Ferry's first solo album, both in 1973. The same year as The Smiths (1984) he'd work with Paul Haig, Killing Joke, Dead or Alive, Julian Cope, Orange Juice, One the Juggler, The Room, Microdisney, The Monochrome Set, and Chron Gen.2 Porter also had produced the Smiths' summer '83 radio appearance for David Jensen, and so the band's guitarist Johnny Marr suggested Porter for their debut LP; Morrissey agreed.3
But The Smiths initially was recorded during the summer of 1983 with Troy Tate producing. (I seem to recall that my brother was a fan of Tate's "Love Is…," released in '83 and featuring Robert Ellis Orrall, who issued his mini-album Special Pain that same year, which names Tate as a contributor and includes a duet with Carlene Carter, whose voice compares well with stepsister Rosanne Cash, both being born in '55 to different parents.) Marr recalls in his own autobiography that Tate strove to achieve a live presence in the studio,4 which was articulated by Morrissey: "The Smiths sound had already developed with a bullish fortification […]. Live, Mike's drumming had an incredible thunderbolt quality, and Andy's bass had a pealing swagger […]."5
Morrissey complained further that, via Porter's recording, the "yearning thirst of Reel around the fountain was dropped in pitch […]."6 Moz's metaphor notwithstanding, this was borne out by the fact that the John Peel radio version of the song, performed May 18, 1983, is in a higher key than either the Porter or Tate version (my Tate differs from others floating around)—or even a July 6, 1983 live version filmed at the Hacienda, not to mention the Porter-produced David Jensen radio version from September 5, 1983, which didn't air.
Just as the Albert brothers that same year were accused of sandbagging Gang of Four's Hard,7 Porter can be said to have studio-ized "Reel Around the Fountain" by relegating Morrissey's hailed bass-and-drums to the status of a rhythm section while raising Marr in the mix, accentuating his jangly guitars' perennial appeal. By contrast, on the Tate tape Mike Joyce's drums are almost Wall of Sound although clipped a bit by a studio effect. Producer Roger Pusey of the Peel tape has Andy Rourke's bass front and center, possibly a byproduct of the higher key. In both of these Marr retains his own ostinato obbligato in vast passages. But Porter not only tips the balance in Marr's direction, he fills those passages with what Morrissey calls the "frisky piano" and organ of Porter's friend Paul Carrick.8
To my mind Carrick's non-frisky organ contrasts well with Marr's movement as it poignantly plays with Morrissey's sustained cadences. The piano lends an ironic touch to this incarnation of an already ironic song that is second-cousin to Marguerite Duras's The Lover (which I refer to in an earlier post). Beyond that I hadn't really probed the lyric past the line "Fifteen minutes with you," which seems naturally tied to the album's cover art—obtained from Warhol's Flesh. But when I was looking tonight for the song's lyrics I found a thoughtful (albeit clumsy) exegesis, beginning with the song's title. That "reel around the fountain" itself is a sexual slang is, mm, hard for me to, mm, swallow, but the same assertion is made by celebrity biographer David Bret (Morrissey: Scandal and Passion, 2004).9 A taste of honey indeed.
Notes