Billy Idol has a new music video. And four dates in Vegas.
At the Chelsea. In October.
I remember first hearing Idol's band Generation X on Rodney Bingenheimer's show on KROQ. I thought the song was titled "Wild Dove." Rather, it was the dub side to their second single, "Wild Youth." It sounded so mysterious, this up-paced power-pop tune pulled apart.
So let me reminisce a little. Poking around the world wide web has shown me how a music scene in, say, London in the mid 1970s, could be—well, circumscribed is a bit too confining, but you get the picture.
Showing Roots: (I Don't Want to Go to Stay in) Chelsea
(…with apologies to Elvis Costello)
Billy Idol began his performing career as guitarist for Chelsea, a band assembled via a want-ad in 1976 by the owners of Acme Attractions on Kings Road, neighbor to Malcolm McLaren and Vivienne Westwood's shop that went by various names, including Sex. The band was the vehicle for vocalist Gene October. Billy bleached his hair but things didn't work out. He and bassist Tony James were writing songs—"'Ready Steady Go' was quite a mod thing to write," James recalled. "I wanted to go much heavier and naughtier than that," recalled October who was dropping acid while watching Fassbinder. Having opened for the Stranglers that November 21 at The Nashville, the band had no encore, but Idol and James had written "Prove It" and performed it, with October left in the lurch. Idol, James, and the other ad-answerer—drummer John Towe—decamped and formed Generation X.1 "Prove It" never made it to vinyl.
Chelsea—October and his new backing band—went on to record 1977's "Right to Work," a pedestrian punk tune built around its title (I had a habit of buying "work" songs…). The song was co-produced by Miles Copeland and Mark Perry. Copeland would polish records by acts as diverse as his brother's band The Police, Wall of Voodoo, Wayne County and the Electric Chairs, and Leslie West, as well as build an alternative label empire (Illegal Records and I.R.S. among them). Perry, who had founded the punk zine Sniffin' Glue the year before, went on to form Alternative TV and The Good Missionaries.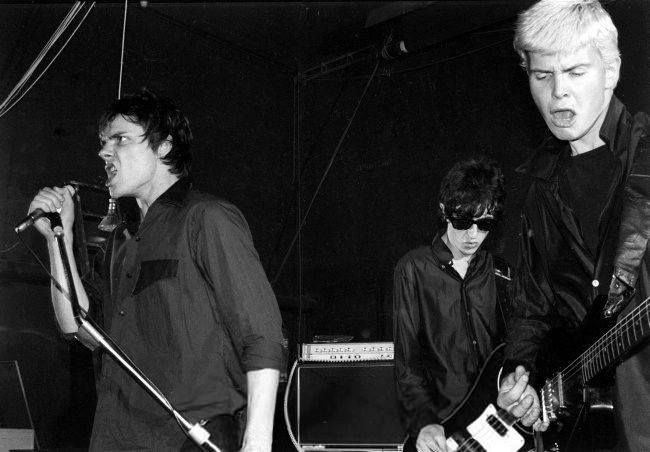 Members of these bands did a lot of cross-pollination. ATV's Alex Fergusson moved on to Psychic TV (!), which dabbled in dub. Perry's ATV morphed into The Good Missionaries, which toured with The Pop Group in 1979 and jammed with the latter's singer Mark Stewart on Pop Group's "Thief of Fire," the original of which employs chicken-scratch funk and dub dropouts.2 Generation X bassist Tony James had been in The London S.S. with future Clash members Mick Jones and Terry Chimes; after Gen X he formed Sigue Sigue Sputnik (with a couple of Billy Idol clones) and played for The Sisters of Mercy.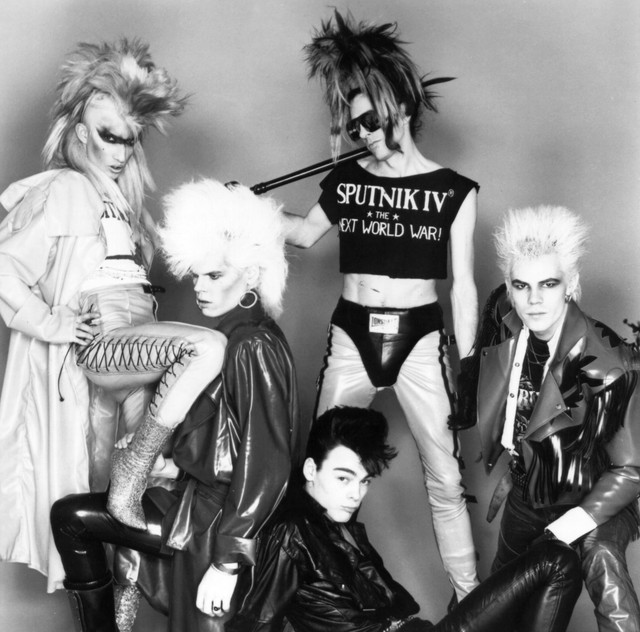 John Towe was asked by fellow ex-Chelsea bandmates Idol and James to leave Generation X; he joined Alternative TV. James's replacement with Chelsea, Henry Daze (aka Badowski), would play with The Good Missionaries. Chelsea drummer Carey Fortune, who replaced Towe, appeared on Stranglers bassist/vocalist J. J. Burnel's first solo album and then dropped from sight. Finally, Idol's replacement with Chelsea, James Stevenson, appeared on the second, shorter version of Gen X's "Dancing with Myself," which hadn't caught on when it first was released in 1980 (I have the 12″) with its bewildering-if-not-creepy cover (by photographer Iain McKell) displaying a menacing, monochrome Billy Idol in background with a four-color foreground young girl in a short dress posing just this side of come-hither.
The B-side to the '80 version 12″ contains the double dub of "Loopy" and "Ugly," written by Idol, James, and Terry Chimes. "Loopy" contains an abundance of vocal (for a dub) including echoes of Harry Nilsson's echoes in "Jump Into the Fire," before singing, "Here we go loop de loop/ Here we go Louie Lou-eye," with a nod to both the 1962 Johnny Thunder hit ("Loop de Loop," covered in '63 by Liverpudlian Frankie Vaughan) and the 1957 faux Jamaican shanty B-side by Richard Berry ("Louie Louie"; the original doo-wop being given rock stylings in '61 by Rockin' Robin Roberts & The Wailers, and appropriated most famously by The Kingsmen in '63).3 "Ugly Dub" is a version of "Ugly Rash," the B-side to the "Dancing" 7″.
Chelsea's Gene October continued to front the band as well as release solo material. "Right to Work" was included in Derek Jarman's film Jubilee (1978) and October took on the role of the film's Happy Days, whose demise is anything but jovial. The song was included in Mojo magazine's list of "100 Punk Scorchers" in 2001.
Showing Roots: The First Crop
Chelsea producer Mark Perry's Alternative TV is credited in the band's Wikipedia entry with having "pioneered reggae rhythms in punk and then moved on to redefine the musical rules," per pop music encyclopedist Steve Taylor. I recently challenged this on Wikipedia behind the scenes because Taylor's quote is taken out of context: he actually wrote that the pioneering took place in tandem with bands "like" The Ruts and The Clash as well as Alternative TV.4
A thumbnail sketch of the first crop to show roots: The Clash included a cover of Junior Murvin's 1976 "Police and Thieves" on their first album, released in April of 1977, while four months later Mark Perry included a flexi disc of ATV's reggae-inflected "Love Lies Limp" in the last issue of his zine Sniffin' Glue. Inspired by the Clash album, Elvis Costello wrote "Watching the Detectives," which was issued in the UK only as a single, on October 14, 1977.5 In November, Generation X's second single, "Wild Youth," was backed with "Wild Dub (Version)," which was a fusion of the rocking original and the deconstruction of dub, reggae's hypnotic sibling. And then there's The Police, who allowed reggae to creep into their sound in '78 ("So Lonely"), and which I mention because Miles Copeland was their manager.
To this thumbnail I add The Offs, the San Francisco band that formed in early 1978. Their "Everyone's a Bigot" was copyrighted in 1977 and in '78 they covered The Slickers' rocksteady "Johnny Too Bad," which had been featured on the soundtrack to the 1972 film The Harder They Come. Peter Belsito and Bob Davis's book Hardcore California declares simply, "They were the first Punk/Reggae fusion band."6 While browsing my vinyl and looking further online I found that the British writer and musician Vivien Goldman had written the liner notes of not only the punk/reggae compilation I already have, Wild Dub: Dread Meets Punk Rocker Downtown (2003), but also the foreword for London deejay/producer Wrongtom and musician/lover-of-bright-colors Ed Zed's collection Spiky Dread Punky Reggae & Postpunk Dub 1978–1984 (2012), the latter leading off with The Offs' "Cool Down" from 1984.
Solid Goldman
Vivien Goldman wrote for many a British music magazine and most recently issued Revenge of the She-Punks, which needs no subtitle for those of us of a certain age.7 She now is an adjunct professor at NYU-Tisch School of the Arts and specializes in Jamaican music and more. I happened to record her on Rodney Bingenheimer's KROQ show on July 5, 1981 just after the domestic release of her Dirty Washing EP in April and just before publication of her first book, Bob Marley: Soul Rebel – Natural Mystic, nine days later.8 Marley had died on May 11 at the age of 36. The book, issued by Pete Townsend's Eel Pie imprint via Hutchinson, features photographs by her colleague Adrian Boot.9 Her EP comrades include George Oban (Aswad), Keith Levene (Clash, Public Image, et al.), Steve Beresford (Flying Lizards et al.), Vicky Aspinall (Raincoats), Robert Wyatt, Shooz (Rich Kids, Iggy Pop), and producers John Lydon and Adrian Sherwood.10
The three-song Dirty Washing EP was released on the New York label 99 Records after Goldman issued two of the songs on her own label, Window. It includes "Private Armies" and "P.A. Dub." Listening to the vocal version after many years, I agree with author Michael Patrick MacDonald in his 2016 interview with Goldman:
MPM: There is so much in that song which is so relevant now. I love how it doesn't differentiate between the gang mentality of skinheads and a very similar gang mentality among police—
VG: —or the government and, of course, the corporations.
MPM: The song was also way before the notion of private armies became common conversation in the George W. Bush years with Blackwater, and the privatization of armies and mercenary groups that were being formed in Iraq and Afghanistan.
VG: Yeah, and the whole fear of ISIS. They say it's ideological but when you get up close, are loads of them mercenaries reading Soldier of Fortune?
(I'm writing this on the day ISIS-K bombed Afghans and soldiers at Hamid Karzai International Airport in Kabul during an operation that, alas, could not be conducted with the U.S. preferred MO, unmanned aircraft. Correction: It was.)
Party Over Here, Party Over There
During the Bingenheimer show Rodney asked Goldman about a record he'd played years ago, "Punky Reggae Party" by Bob Marley and Lee "Scratch" Perry. Goldman said Marley had been spending time with Perry, who was living in London. When the first Clash album was released, Goldman brought it to them and asked whether one title might have been familiar (the aforementioned "Police and Thieves," which Perry had co-written). She told them that she saw overlaps between punks and Rastas, "both outcasts from the bulk of society and they were both fighting, standing up, defending truths and rights." They asked Goldman some questions and the next time she saw them they said, "Hey, listen to this."11
As I was finishing this post, I learned that Lee Perry died yesterday in hospital of an undisclosed illness, in Lucea, Jamaica. Vivien Goldman wrote a tribute for Rolling Stone.
In her 2003 liner notes Goldman credits King Tubby with having done dub after a studio screwup, writing, "never was an accident more pivotal in shaping international culture." Like Charles Goodyear accidentally dropping sulfured rubber on a hot stove in 1839—it hardened rather than melted—,12 in 1967 or '68 Duke Reid's Treasure Isle studio in Kingston accidentally dropped out much of a vocal track when making an acetate disc (i.e., a test pressing used by deejays) for play by soundsystem operator Ruddy Redwood. When both the vocal and "version" were played by Redwood's deejay at a dance that Saturday, the crowd enjoyed filling in the missing vocals. Producer Bunny Lee was at that dance and told Tubby on Monday how the mistake "we" made was a hit. Tubby took it from there, fashioning the dub that is recognizable today.13 He was shot and killed at his home in Kingston in 1989.14
Wild Dub and Spiky Dread
Many of the names on the Wild Dub compilation would be familiar to music lovers of a certain age. The full list: The Ruts, The Clash, Generation X, Basement 5, Killing Joke, 4 Be 2, The Slits, Vivien Goldman (!), Red Beat, Public Image Limited, The Pop Group, Stiff Little Fingers, Grace Jones, and (hidden) China Street. Of the fourteen tracks, I already had nine.
Spiky Dread was a different story. I only knew five of the fourteen acts (nine if you count the Jah Scouse supergroup's feeders, the ACR nom de dub (or dub de nom), Red Beat, and Vivien Goldman15) and I had only two of the tracks. The full list: The Offs, Glaxo Babies, Family Fodder, Chantage (Vivien Goldman et al.16), Ruts DC, Jah Scouse, Peter & The Test Tube Babies, Return of the Panthers, Sir Horatio, Red Beat, Dangerous Girls, Bad Brains, The Slits, and Electric Guitars. Skank Blog Bologna is the name of the album label's blog, which delighted me, it being an homage to Scritti Politti's first three-song single, "Skank Bloc Bologna" (Nov. '78), the sleeve of which—like Spiky Dread (kinda)—is held together with staples.17
Ahem… Billy Idol?
Enough reminiscing, you'll say. What about Billy Idol's video?
I was struck immediately by Idol's lower register, which I'd forgotten and which registers Johnny Cash, just as the subject matter has a Cash-like autobio vibe, except that what Idol sings is his own. The sneer is there, and the long memory of an accident, but one that cost him an acting career. Idol was an early MTV idol and this video demonstrates how little the typical promo might progress in forty years. And so I like seeing him walk through an auto boneyard before singing about "my new crown."
Header images:
Reverse of "Punky Reggae Party"
12″ single; Bonjo Iyabinghi Noah
and Adrian Sherwood; Generation X
(Idol, Bob Andrews, James, Mark Laff)
Notes