Last Thursday my wife Andrea Carney and I visited the Denver Art Museum to see the homegrown exhibition on the theme of La Malinche, nearly twenty years in the making.1 This was our first door-darkening since Covid-19 hit. During that time, and for three years before, the museum had undergone a major renovation. A little history…
North and South
Until the 2006 addition of the Hamilton Building—architect Daniel Liebskind's jagged, titanium-faced eruption on 13th Avenue, jutting in at left below—DAM's iconic profile was provided by Gio Ponti's towering gray-glass-tile fortress, aka the North Building, which opened in 1971. In its shadow remained the South Building, looking like a dislodged blocky pedestal, which until 2018 housed a multipurpose space, a gift shop, and Palettes, a fine dining restaurant by Kevin Taylor. By chance I ate there on what I recall was Palettes' last day before demolition: my mother Phyllis J. Hughes had given her genealogical papers to the Central Library and our organization, the Hull Family Association, hosted a luncheon there for the librarians and archivists who had facilitated accession of my mom's collection.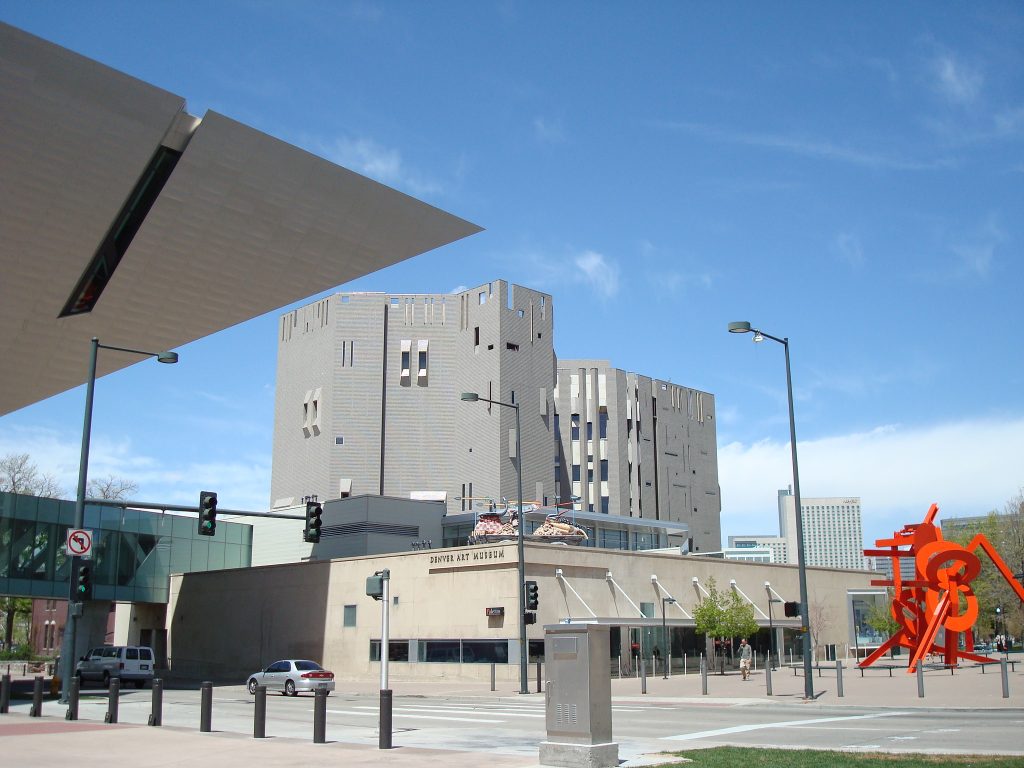 I call the South Building "blocky" and that's not necessarily a dis. In 1948 the museum bought a building at Acoma and 14th Avenue across from Civic Center. Architect Burnham Hoyt was tapped to renovate it into the Schleier Memorial Gallery, its features being "hailed in the national press as innovations in museum architecture" including "big display windows that could attract passersby in much the same way as downtown store windows." It was part of museum director Otto Bach's "campaign to make art a 'part of everyday life.'"2 This design was replicated in the South Building, which was built in 1954 from the ground up, with a skin of neutral limestone. Art historian Neil Harris writes about the museum after the 1956 opening of its Asian collection in another acquired and renovated building:
Finding virtue in necessity the Denver Post contrasted the "modern, airy, flexible and compact" character of the museum with the "mausoleums of art, vast pillared tombs patterned after New York's Metropolitan, where you can walk miles before finding what you really want to see."3
The South Building is no more. In place of its limestone is glass—a "glass drum," as Westword writer Michael Paglia aptly describes it—that includes a welcome center, café, restaurant, and huge event space. The new construction is 50,000 square feet in size. It's stunning. Early renderings of the renovation and reimagining depict visitors using a feature of Ponti's original design, which contrasts beautifully with his very vertical edifice: its horiz-oblong entryway, which never was really employed. Andrea and I walked up its ramp (or bridge); alas, it is used only as an auxiliary ingress for groups. To my mind a barred entrance is like a dry reflecting pool.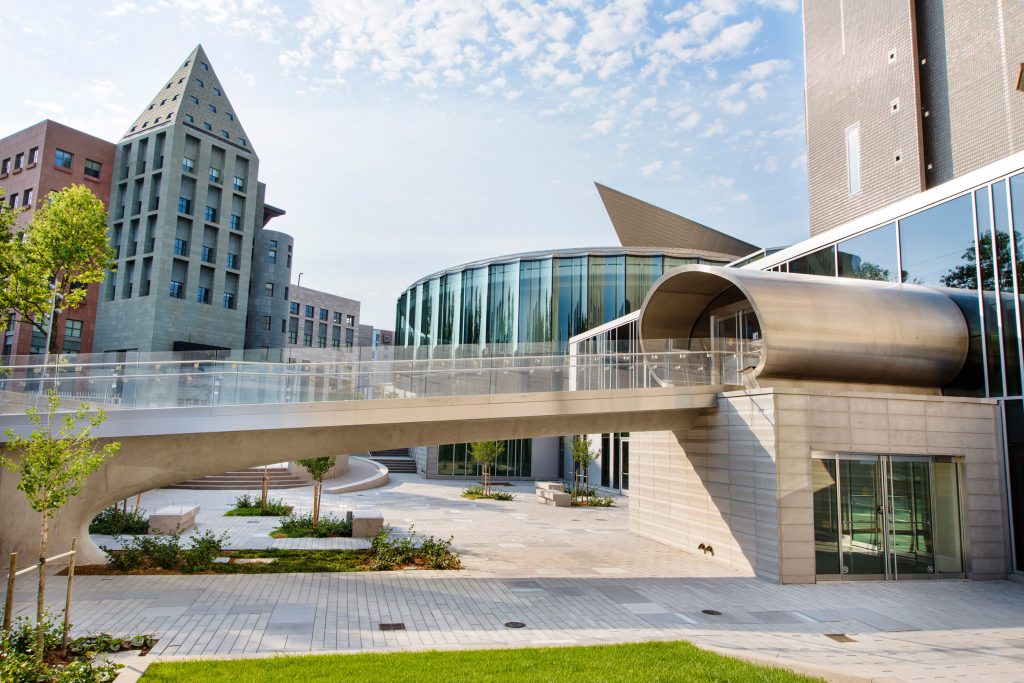 The Mute Interpreter
We didn't visit the museum for the architecture, however. Traitor, Survivor, Icon: The Legacy of La Malinche is a free-with-admission exhibition that ends Sunday, May 8. Mother's Day. Fortunately it travels to the Albuquerque Museum (Jun 11–Sep 4) and San Antonio Museum of Art (Oct 14–Jan 8). La Malinche is an historical figure who is best known as the enslaved interpreter of Spanish invader Hernán Cortés. As noted in the exhibition catalog, "In the absence of her words, she has become what has been said of her."4
My introduction to Malinche was indirectly through my mentor Charles Cameron. Sometime in the early '90s he gave me a stack of slim books to browse while he took a shower. One was Haniel Long's Interlinear to Cabeza de Vaca. I had known of this Spanish invader through Jonathan Katz's Gay American History, because Cabeza de Vaca was perhaps the first European to describe Native American gender roles:
During this time that I was thus among these people I saw a devilish thing, and it is that I saw one man married to another, and these are impotent, effeminate men [amarionados] and they go about dressed as women, and do women's tasks, and shoot with a bow, and carry great burdens, […] and they are huskier than the other men, and taller […].5
It was Cabeza de Vaca's compassion for the native people, however, that comes through in Long's thirty pages, which consist of the author's conception of what lay between the lines of the Spaniard's actual, historical report made to his king. I was hooked and sought out what is known as his relación. Cabeza de Vaca wandered what is now the southern United States, living as the inhabitants lived. The epithets Traitor, Survivor, Icon essentially could be applied to him.
The edition Charles had given me was from Long's own imprint, Writers' Editions, a cooperative he'd cofounded in Santa Fe, New Mexico, where he'd moved from Pittsburgh. It was published in 1936. Three years later he issued Malinche (Doña Marina). Later reprints of the Interlinear were published under the title The Power Within Us as well as The Marvelous Adventure of Cabeza de Vaca, the latter being paired with Long's Malinche, which is told in her voice, the new edition containing a preface by Henry Miller.
Malinche came from a region at the bottom edge of the Gulf of Mexico in the Tehuantepec Isthmus, which is nearly bisected vertically by the Coatzacoalcos River. The Spanish invaders came across the river in the 1510s and this couldn't have been more unlucky for the Indigenous: the river's name in Nahuatl means "the place where the serpent hides," according to Wikipedia.
For Long (1888–1956), Malinche recognizes the Spaniards as Quetzalcoatl, the plumed serpent of legend. Her eagerness to work with Hernán Cortés as an interpreter of customs and languages reminds me of Traudi Junge's excitement upon being chosen Hitler's last private secretary, as portrayed in the 2004 film Downfall. Long flubs a little however: after explaining that Malinche knows many Indigenous languages yet still speaks to Cortés through a Spaniard, she states that some of the white men "fear the governor of Cuba" from whence Cortés sailed, "and think Cortés does wrong to disobey him and not return." She's an interpreter of language, but also of body language, while she needs her own translator in Spanish? Long writes that Malinche "must still reach" Cortés through an intermediary. Perhaps that's in the diplomatic sense rather than the expressive.
Long's Malinche finds herself propelled into the presence of Cortés, "as in a dream." She's an Amerindian syncretist: sleeping in Hernán's arms, she thanks both the Virgin and the Babe as well as the feathered serpent. She loves Cortés even as he slaughters. But Malinche notes that slaughter, human sacrifice, is endemic in the land. Long's Malinche is complex, she's the invader's superior even as she is enslaved. She might strike readers as the creation of a man, a white one, at the end of the 1930s. Long could have had personal experience as invader: he was born in Burma to Methodist missionaries in 1888, but they returned to the U.S. by the time he was two.6 See what you think; Long's little book about this Little Big Woman is available for virtual checkout.
Interpreting the Interpreter
The Denver Art Museum exhibition is as eclectic as Long's own aspirations for his subject. She is portrayed as traitor, survivor, icon, enslaved, revered, woman, historical Person (Long's term), youth (she could have been as young as fourteen when she was enslaved, living about fourteen more), interpreter, convert, other. This I knew, but I was surprised by my blind spot: Malinche is La Madre de Mestizaje (The Mother of a Mixed Race), the title of a section of the exhibition.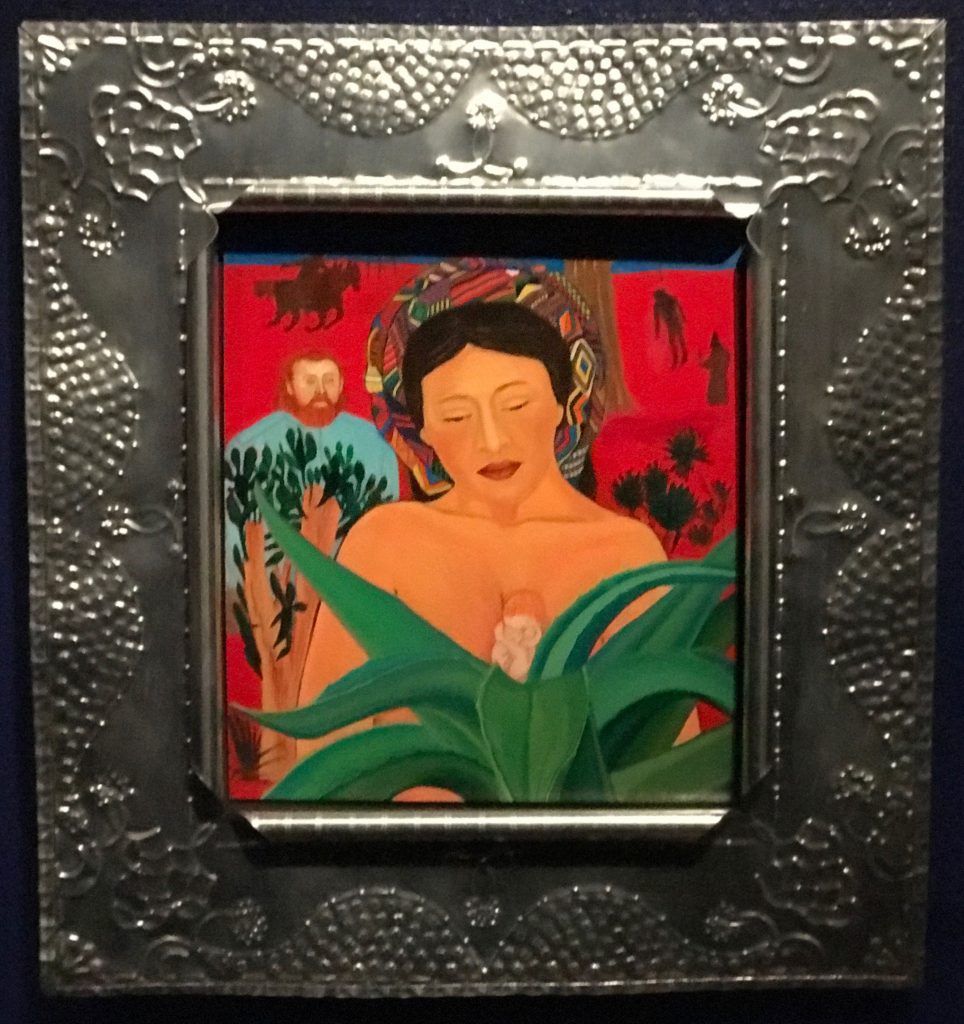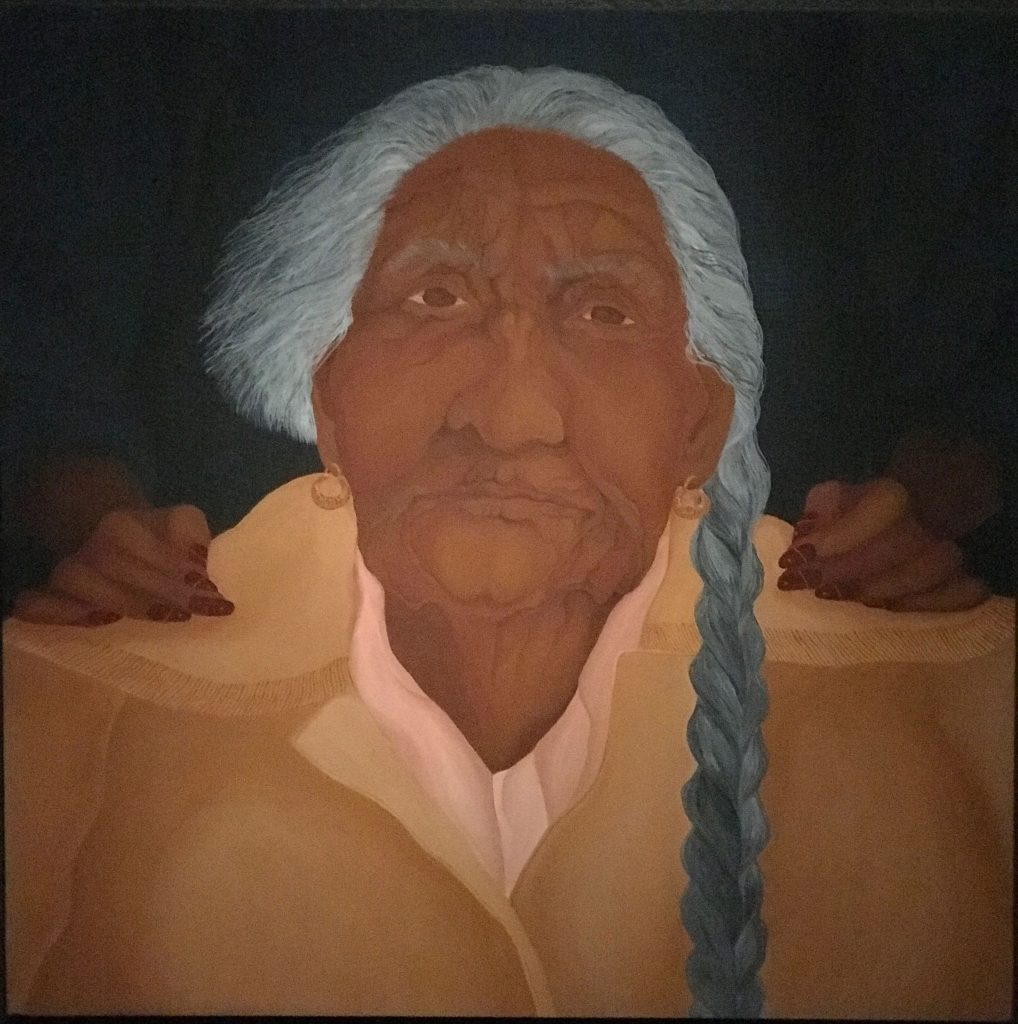 For me the most striking portrayal of Malinche in the exhibition is the one above. According to the museum title card:
This tender portrait of Malinche is based on the day the artist's grandmother had to cut off her long hair because she could no longer braid it. She died shortly after. Malinche's depiction as an old woman challenges our preconceptions, since she did not live to be an old woman.
The artist herself lived only five years later, dying of ovarian cancer at age 51. Tragically this is no surprise given her history of having worked in the San Juaquin Valley grape fields, which routinely are sprayed with carcinogenic pesticides.7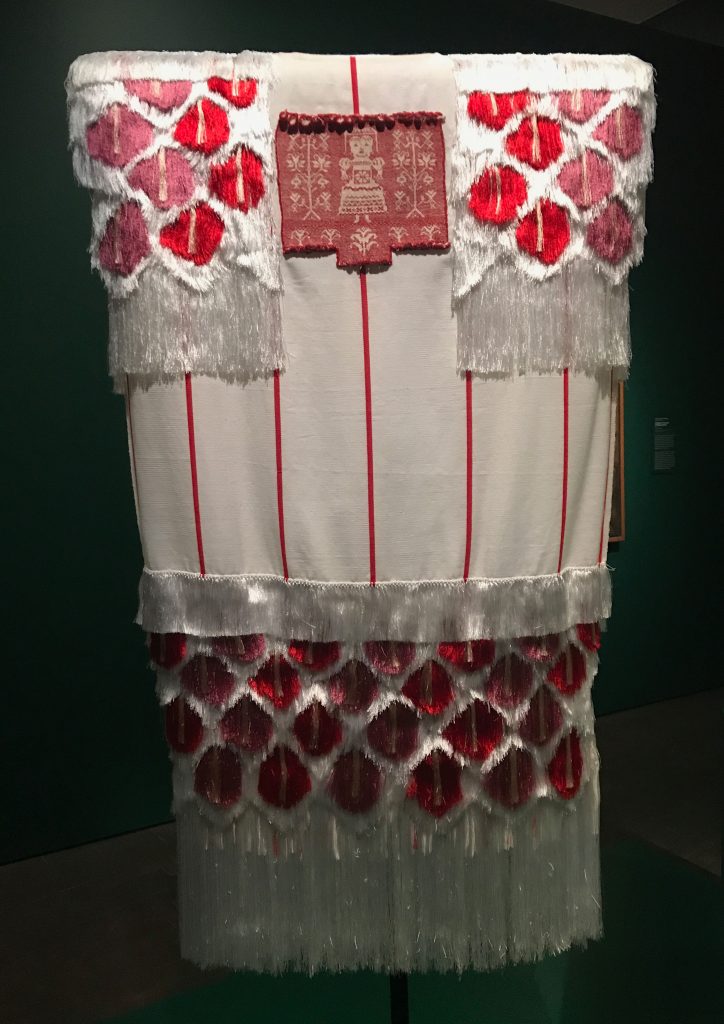 Charlene Villaseñor Black explains in the exhibition catalog: "So closely entwined were clothing and gender that the phrase in cueitil in huipilli was a metaphor for the female body."8 A body that cannot be fully enslaved or possessed, as represented in this wide-ranging yet not overwhelming exhibition.
I lifted the title of this post from Jean Eustache (1938–1981), whose La Maman et la putain—the female characters of the title—refuse to be fettered by the man in their triangle. Likewise, La Malinche refuses to be reduced to a kitsch image on a calendar.9
If my snapshots above make the show seem unengaging, I took them without planning to post them. The exhibition is rich. Its curators Victoria I. Lyall, Terezita Romo, and Matthew H. Robb have included everything from pre-invasion female figures, both god and mortal, carved in stone, to an introductory video and video performance by Jesusa Rodríguez, to Antonio Ruíz's conception of Malinche's dreamworld—exhibited by Breton at the first surrealist show in Mexico in 1940, but looking very like a Kahlo peinture à clef—, to Jorge González Camarena's powerful portrayal of The Couple, a naked Malinche, formidable, beside the armored, anonymous Cortés. The catalog contains many items from outside the exhibition, including several poems as well as Alfredo Castañeda's heartbreaking imagining, Nuestros primeros padres, below.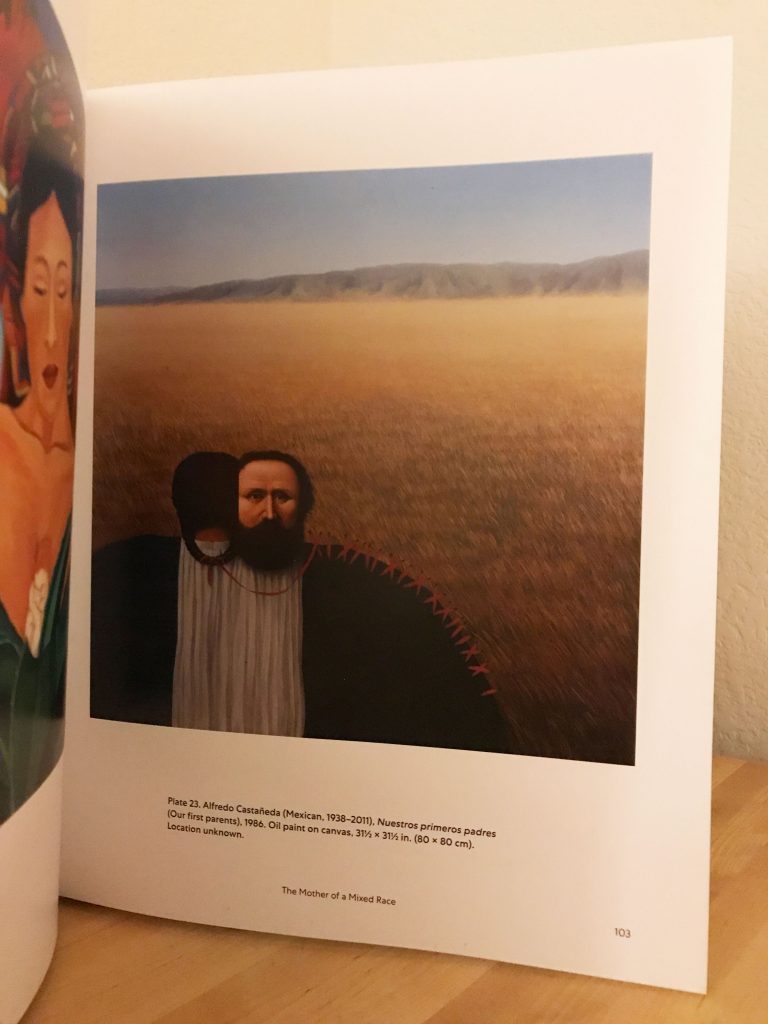 Double-take: ReVisión
Victoria Lyall teamed with Jorge Rivas Pérez, in their capacities as curators of art in the ancient Americas and Latin America respectively, to present ReVisión: Art in the Americas, culled mainly from DAM's extensive holdings. It is one of the first exhibitions to grace the renovated North Building, and is on view through July 17. Folks may not be aware that the museum's Latin American collection claims to be the most comprehensive of its kind in the U.S. If the Malinche exhibition is a monograph (68 artworks), ReVisión is a compendium (about 180). (While I write this Andrea is watching Wim Wenders's 1999 portrait of Cuban musicians, some of whom toured the lands covered in ReVisión.) Again, the three snapshots I took reflect my fleeting fancies, but they might suggest the breadth of the presentation, which the curators describe as a "visual journey across time and place in the Americas" via "memory and imagination."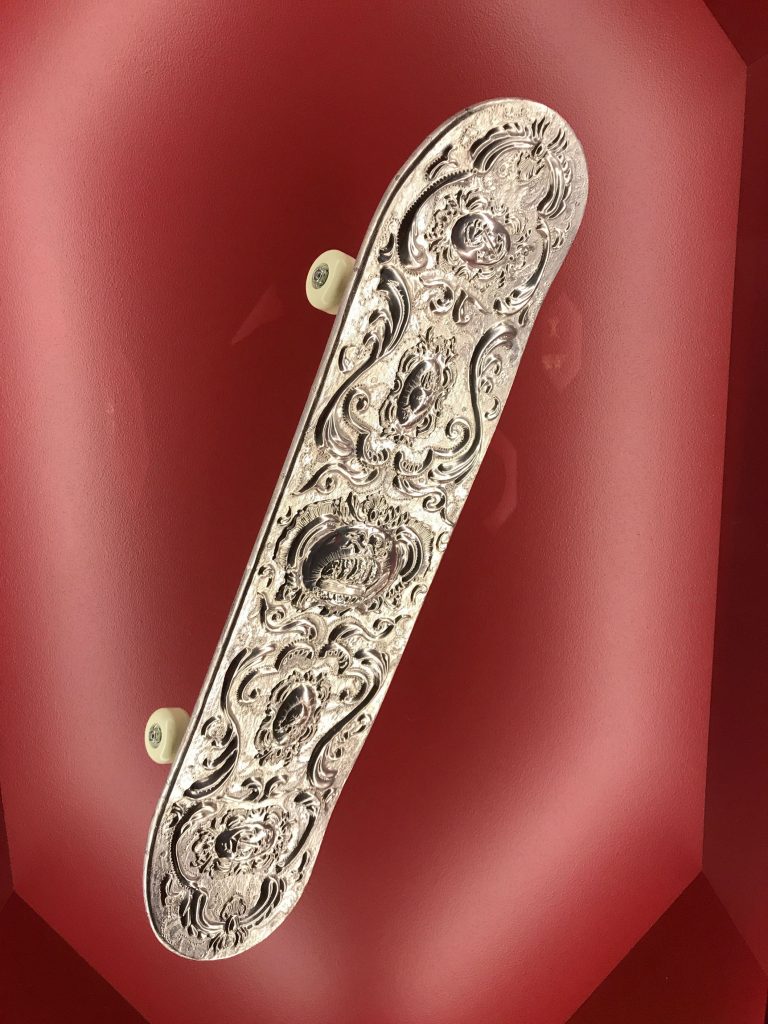 Guatemalan artist Darío Escobar's skateboard fits so perfectly in its hallway display case alongside Spanish-Colonial silver, you might take it for a decorative salver, but for the wheels.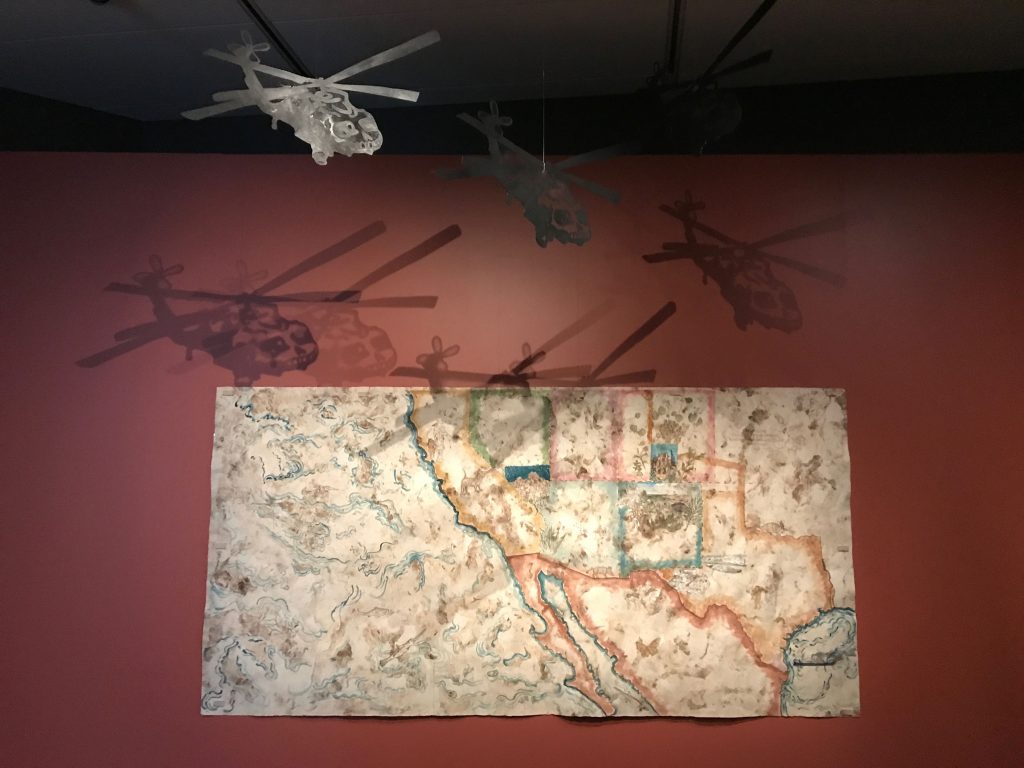 Sandy Rodriguez's mapa above at first seems trite: helicopters float above borderlands outlined on a map. But the airborne vehicles are really wayang kulit forms—shadow puppets in front of the screen. A closer look at the shadows cast: calavera cockpits with the leftmost shadow overlapping the tailwheel of another, creating a crocodile tear from the skull's eye socket. The map is in the style of (and employing the media of) the Florentine Codex, friar Bernardino de Sahagún's ethnographic study of what he encountered during the invasion, painted by Nahua artists. This is only one part of Rodriguez's monumental Codex Rodriguez-Mondragón, which was exhibited at the Riverside Art Museum, 2018–2019. For a detail that my snapshot only hints at, see Rodriguez's pages for the Codex and for the above mapa. Tying the subjugation and enslavement of the Other to the atrocities of the 21st century is disturbingly effective.
(Rodriguez also appears in the DAM Malinche exhibition. Mapa for my Malinche and our Stolen Sisters, also created in the style of a codex, depicts Malinche's milestones—those of countless other "stolen sisters." Upon entering that gallery, the viewer is greeted by it alongside a didactic timeline diagram, a subversive juxtaposition.)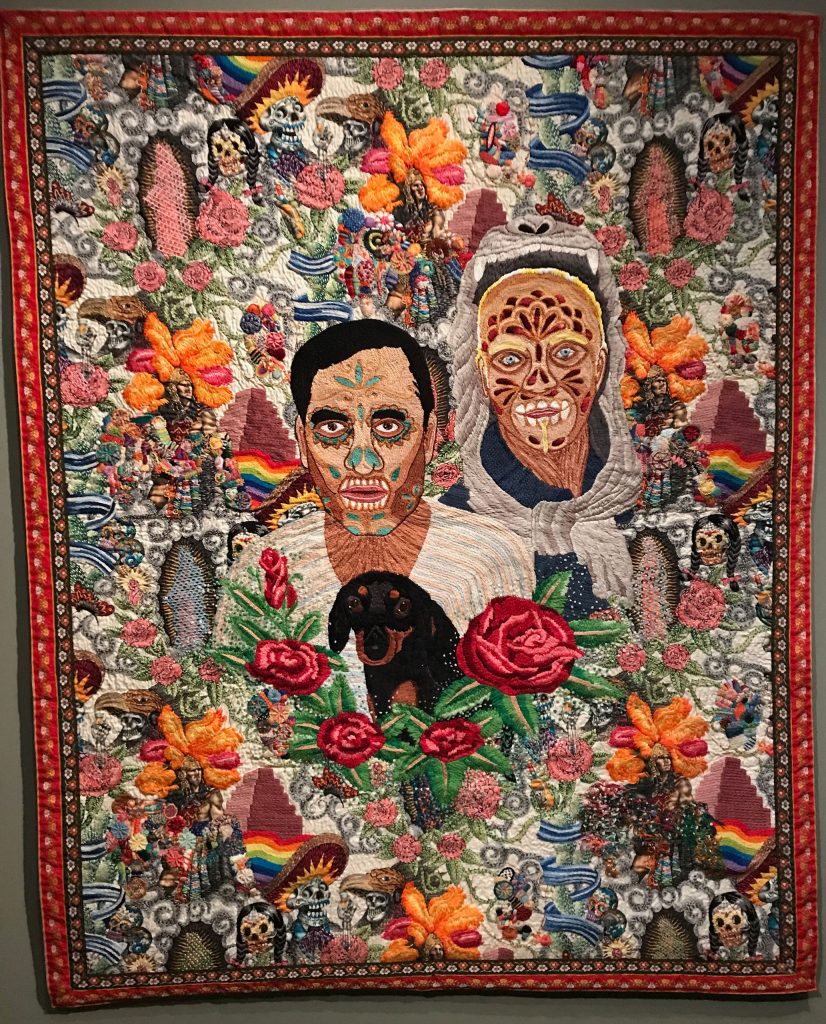 In Calaverita, Argentinian artists Chiachio & Giannone create a self portrait. But it's also in/at play with the kitsch fabric of Burbank, Calif. textile design house Alexander Henry, shown below. Their own portraits are masked as calaveras and lucha libre freestyle wrestlers, and many of the original AH figures and objects are veiled as well. From the museum title card:
The artistic duo of Chiachio & Giannone uses techniques such as embroidery and needlework that are traditionally associated with femininity and domesticity. They portray themselves as a same-sex family (Argentina was the first country in Latin America to allow same-sex marriage) alongside their dachshund in elaborate and colorful compositions. The figures in their work often wear masks that conceal their identities as a commentary on the still-prevalent social stigma faced by LGBTQ individuals.
And so we recall Cabeza de Vaca's description of "one man married to another" and "who do women's tasks."
Notes