Five years ago this month I posted a lengthy review of Martin Aston's encyclopedic Breaking Down the Walls of Heartache: How Music Came Out.1 Last week one of Aston's subjects came to life as it was pushed my way courtesy of YouTube: 1964's "Have I the Right?" by the Honeycombs. Lyrically it's reminiscent of Sixties songs that became gay and lesbian bar hymns. Think Sinatra's "Strangers In the Night" (1966), Bobby Darin's version of "My Buddy" (1962), Connie Francis's "Where the Boys Are" (1961). Such songs were appropriated by this social set, but its membership included a few of the hymnists as well.
"Where the Boys Are" of course was penned for the film of the same name, but add this layer: lyricist Howard Greenfield apparently never was in the closet. (Howie also penned "Breaking Up Is Hard to Do" and "My Heart Has a Mind of Its Own" among many others.) "Have I the Right?" was written by Ken Howard and Alan Blaikley who, per Aston, "managed the Honeycombs, were both gay and intent on expressing their desire using the band as a Trojan horse."2 In this regard, Howard and Blaikley are more demure. One night in February 1964, after work at the BBC, the two stopped by the Midmay Tavern in Balls Pond Road, a "rather sleazy" North London pub that happened to feature a band with an "unusually" good lead singer along with a female drummer. The two songwriters already had a batch they'd begun writing the year before and approached the band, who were "desperate" for originals to record with producer Joe Meek. Conversely, Olli Tooley, proprietor of a Honeycombs fansite, states that the duo were turned down because rhythm guitarist Martin Murray, the band's founder, already had his own originals. At that point Howard and Blaikley dropped the name of their employer…
In his book, Aston complains that the Honeycombs single "Eyes" was sabotaged by Meek, who "gave Howard and Blaikley's haunting ballad […] an unusually taut and clammy treatment," before quoting blogger David Bryant, who calls the song, "extremely melodramatic, unpredictable and peculiar sounding for 1964." In Aston's context, I didn't read this as praise: later in the same blog post, Bryant writes that "tracks like 'Eyes' do prove that the band could be tremendously forward-thinking. Lest you scoff and say that it was all down to Meek, it's also worth remembering that the band have frequently insisted that they created most of their arrangements, not him […]." To David Hughes, however, who at age 9 heard Roy Orbison's "It's Over," released six months before, this is relative.
Last night I watched the seventy-minute Pop Gear, from which the above Honeycombs clips are lifted. If the arrangements were the band's, as Bryant notes, the sound appears to have been Meek's. Trashcan reverb and garage-y grunge might have seemed fresh on Meek's "Telstar," given to the Tornados in 1962, but in 1965 it sounds positively poor on Pop Gear in the context of the competition: The Animals, Herman's Hermits, Spencer Davis Group, The Nashville Teens (Meek must have kicked himself, missing out to Mickie Most, who produced the Teens' "Tobacco Road," which smoldered in Pop Gear). I chalked up the Honeycombs' sound to a bad film-to-stream transfer, but it's just as lousy in the original. All the acts mimed their songs; only the Meek treatment tanked. (But everyone on Gear might have benefited from less pancake.)
Be that as it may, when I hear "Eyes," I imagine a gay-friendly mid-Sixties dive with that single on the jukebox, its habitués with eyes that watch, and watch, afraid. And I do a double-take at each gender-neutral they, them, their, only to realize this refers to the window to the soul. "Strangers In the Night," with its written-in-the-stars ordainment—"lovers at first sight"—comes off quaint alongside the abject fear in "Eyes."
Making Eyes At Them
I can understand how Howard and Blaikley were drawn to the band and its lead singer, Denis D'Ell (né Dalziel), with his tender tenor and lethal malars: stoic, yet just this side of uneasy in "Eyes," he allows a glimmer or two of a winning smile in "Have I the Right?"—asking the right question at the right time.3
And the Honeycombs story continues as if lifted from Julian Temple's fanciful Absolute Beginners, in which there was a lech behind every dotted line. Yes, Joe Meek also was gay, having been arrested in a tearoom in 1963, but he is described as both bipolar and schizophrenic. In bad shape financially and mentally—and with a wallop in 2022—he killed his landlady Violet Shenton in 1967 before killing himself. With a single-barreled shotgun, commandeered from a client.
British sociomusicologist Simon Frith, writing eighteen years later:
In the words of Simon Napier-Bell (manager of the Yardbirds and Marc Bolan), in the early days, managers' sexual tastes determined rock'n'roll talent—'most of the managers were men and most of them liked boys'.4
The Honeycombs bespectacled founder Martin Murray's day job was—you guessed it—hairdresser. The band's first drummer was "an Indian guy named Chris," according to fansite author Tooley, possibly catching the, mm…, eye of the viewer as much as would Murray's girlfriend and future Honeycombs drummer Ann Margot "Honey" Lantree, who worked at his shop. Tooley explains that Murray originally taught Lantree guitar, but at one lesson she asked if she could "have a go" at the drum kit. It was meant to be: she was good. Honey's brother John "fell in love" with Murray's Black Bison guitar—featured in the Pop Gear clips—and bought a matching bass. D'Ell and lead guitarist Alan Ward were picked up at a single audition. Although Ward was very young—turning 18 in 1963—he had many years of musical education behind him. D'Ell turned 20 that same year, Honey 20, John 23, and Murray 24.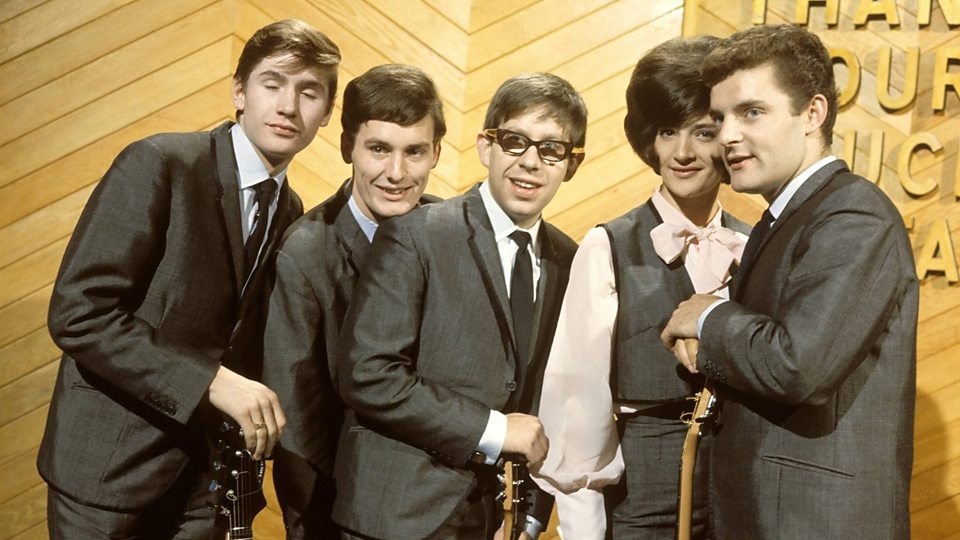 While the Honeycombs went from bar band to Top of the Pops by August 1964, all wasn't well. D'Ell complained, according to Tooley, that Meek's penchant for speeding up the band in the studio made him sound like Mickey Mouse. (For an example, listen to the B-side of their fifth single.) Two months after TOTP, and two months before the Pop Gear shoot, Murray was pulled off stage by exuberant fans and suffered a broken leg and hand. He was immediately replaced for a live show by his 18-year-old guitar student, Peter Pye, but was able to mime for spots on television and film. Nonetheless, Murray became disillusioned and left the band he'd created.
The Honeycombs' fifth single, "That's the Way," which featured Honey duetting with D'Ell, was their last to chart—for fourteen weeks in 1965—peaking at 12. Tooley lists their many live dates through early 1967, including the Big Beat Scene tour that ran between October 17 and November 22, 1964. It was produced by Larry Parnes, one of Simon Napier-Bell's "managers [who] were men," and who provided the template for Julian Temple's character Harry Charms in Absolute Beginners.5
Notes