Last month I saw Gang of Four for the third time.
1980
The first was at a small club, probably their show at the Starwood in West Hollywood, capacity 400–800, May of 1980. Earlier that same year, the band had opened for the Buzzcocks and later, Iggy Pop, both at the much larger Santa Monica Civic. But those garnered lousy reviews by the Los Angeles Times, the first due to bad sound, the second to fatigue. The Civic could put a lot of distance between the stage and the floor. And it ostensibly seated 3,000, but when I saw the Clash there, the seats were replaced by metal plates; when we bounced, so did they—and there were a lot more than 3,000 bouncing.
Obviously that Starwood show in 1980 featured the band's original lineup: Hugo Burnham on drums, Dave Allen bass, Andy Gill guitar, and Jon King vocals. It was riveting. The stage was small enough to bridge the Civic's divide, but broad enough to allow Jon King his signature sprints between microphones. If King was a gazelle, Gill was a beast of prey, exactly as described by poet Ted Hughes in his "Second Glance at Jaguar": "He coils, he flourishes/ The blackjack tail as if looking for a target."
2005
The second time was a quarter century later in Denver at the Gothic, a converted 1920s motion picture theater, capacity 1100. By chance and fortune the lineup was the same; it was their tour supporting Return the Gift, Gang of Four's reunion album that featured remakes and remixes from their back catalog. The band members were quite seasoned at this point, working it well underneath the wide proscenium arch. It was a concert, not a gig.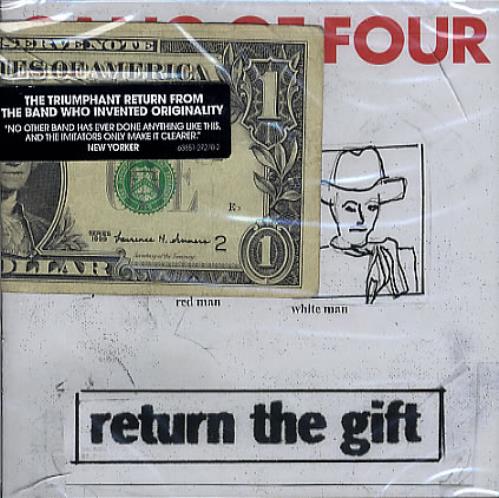 The band returned to the Gothic in October 2016, but I missed that show—twenty months after the release of the album What Happens Next. If Andy Gill had had misgivings about Return the Gift's myriad remixes diffusing its overall impact,1 he hadn't learned his own lesson. What Happens Next featured four lead vocalists besides Jon King's primary replacement, John "Gaoler" Sterry. Initially I was put off by GO4 seemingly turning into Massive Attack, given the number of guest artists.2 But that qualm was quashed upon hearing Herbert Grönemeyer's singing on the evocative "The Dying Rays." It is as engaging as, well, Elizabeth Fraser's on Massive Attack's "Teardrop"—and poignant, given its Bowie-esque tone and the fact it was released nearly a year before the latter's death.
2019
Last month's show again was at a Denver venue, Globe Hall, built in 1903 as the St. Jacob's Lodge Hall, a meeting place for the Croatian and Slovenian community, capacity 200.3 This says a lot about the dying rays of the band at this point. Blink in Denver and you miss tickets for acts as big or small as P. J. Harvey and Phosphorescent, as I have. But wait until just five days before and you still can buy a ticket to see Gang of Four in a dive bar, as Yelp calls Globe Hall.
Had a fan seen the band's 2016 show I can appreciate why they might have sat out this set. John Sterry is not Jon King, of course, but at times I felt I'd taken in a tribute act. King had been a dynamo, given, but I never got the impression he was trying. Sterry simply tries too hard. I kept thinking of his on-screen presence in the background of the promo videos for "The Dying Rays"; he's in the band, but somehow he's not the lead singer. Otherwise the band is tight, and a fringe benefit was obtaining the band's new CD, Happy Now, to be released later this month. Only two numbers from that album were performed, "Toreador" and "Lucky," the latter having been issued last spring as part of a digital, topical EP, Complicit.
Natural's Not In It
The Complicit EP (and by extension the album) is remarkable for its subject: Donald Trump and his daughter Ivanka. Not even during Margaret Thatcher's heyday did Gang of Four devote as much as an entire song to the personality of the Iron Lady. But then again she might not have been considered a fascist threat. The EP's three tracks (omitting a remix) are reprised with minor variations on Happy Now, which also contains the cut "Alpha Male" with explicit lyrics of Russian diplomats, oligarchs, showgirls, "deep fake tans," and a "urine pool"—"all unplanned" as, of course was Trump's triumph, it having been no more than a stunt to enrich his brand.
Quibbles.
One of the four panels on the Happy Now cover depicts latte art (a design in the coffee's crema, or fine foam) in the form of Donald Trump' pouty puss. The idea is of some interest but the execution is so transparently faux that it backfires.
The hypocracy of the women in Trump's family and administration runs deep, so a spotlight on Ivanka comes off as rather dull, especially when it insinuates incest.
The chorus for "Lucky"—"The lucky get the luck and the longshots lose"—which appears to cite Trump's failed casinos, has an antecedent in GO4's "Money Talks" from nearly thirty years ago, and in a Vegas context—"Money talks in the street so we walk"—which more cleverly references the adage "money talks, bullshit walks."
An annoying tic throughout the album is misplaced syllabic emphasis. I realize that singing is not speaking, but lyrical subservience to the tune, resulting in awkward accentuation, reveals an inattention to craft—a shortcut. I know, because when I tried to do the opposite, i.e. alter my collaborator Rob Berg's melody to the cadence of my lyric, I was met with absolute resistance, and rightly so. I rewrote my lyric. Gill, of course, is composer of both words and music for much of the album; there's no excuse. Early on, such incongruity was part of their charm as naïve artists, but in the pipes of the relatively conventional singer Sterry, it irritates.
The album's collaborators all are listed: composers, producers, mixers and remixers, bass, drums, background vocals and vocal samples, programming, and vocals. Why then is John Sterry listed only as a co-composer but not as a vocalist? To be fair, Andy Gill isn't listed as guitarist, but still…
Praise.
Just as Andy Gill had experimented with the varied timbres of his several vocalists on What Happens Next, he does so with the sound and vision of two cuts on Happy Now, both of which were cowritten with Decoy (of whom I know nothing, although it would make a fine pseudonym). The songs appear as a peculiar penultimate pair, sandwiched between two of the EP's Trumpian tracks, nonetheless relevant:

"White Lies" is as intimate as any GO4 number I can recall (cf. "Satellite" from 1991's Mall). It's a love song to both the one-night stand and its residue, to the relationship between empires and "empires of the heart," between Conquest and conquest. But I was shocked by the song's tronics, suspecting somehow my iTunes shuffle option had kicked in, sending me from Post-Punk to Eno-esque. The sonic mutability tends towards fe/male: Amy Love and Gaoler (ever a questionable nickname retained from a previous band) entwined, with the latter singer allowing himself some unusual expressivity.
"Paper Thin" on its surface reminds me of a question posed by scientist and science fiction author David Brin in a 1996 lead-up to his nonfiction book The Transparent Society: "Can we stand living our lives exposed to scrutiny … our secrets laid out in the open … if in return we get flashlights of our own, that we can shine on the arrogant and strong?" In "Paper Thin" the object is not to repel spies but rather to ward off ideas: "We double-lock the doors/ […] Can't stop the endless messages pouring in." Brin's flashlights are not shined outwardly on the powerful by the less-so, but inwardly, on our own biases, (relative) white privilege, diversion. When our beliefs become malleable due to paper-thin walls, boundaries, and borders—"in space we spin." As in the song's first few lyrics, "It's not hidden/ It's there to find," if only we have the fortitude.
John Sterry certainly can sing, and he has a sensuality in his tone and frame that could if not should be a refreshing departure from Jon King, who had an air of engaged defiance but was a soft sell in the sex department. Un…mm…luckily, Sterry's stage moves seem stagey; he comes off as insolent and ultimately detached and distracted. And distracted we become. We know it's all an act, but we don't need to be reminded quite so often.
---
As I wrote this post I learned that the last performance of Gang of Four's U.S. tour was cancelled due to Andy Gill's hospitalization for a respiratory infection. The opening act already had gone on before it was decided to call it a day. Best wishes to him and his partner Catherine Mayer.
---
Part 2: I Found That Essence Rare
Header photo: David Hughes
Notes
"Introducing Globe Hall, Your New Favorite Venue" by Kori Hazel, 303 Magazine, 26 Apr 2017.