Last year, in Everybody Dance Now 1, I reminisced about studying with dancer-choreographer Rudy Perez in the early 1980s. Nearly four decades later Rudy agreed to let me interview him a week ago, on May 13. What follows has been lightly edited for clarity.
We begin where I left off in that prior post.
My regret is that virtually no streaming video of Rudy's oeuvre is available for me to point to. That makes the trailer for the 2006 documentary, Countdown: Reflections on a Life in Dance, a brief, beneficial artifact. Distributor Alexander Street does provide a transcript of the film. Depending on the operational status of your local library, you might be able to borrow the documentary via WorldCat.
---
Rudy Perez: Did you see the District 1 [1973] piece that I did for WGBH-TV?
David Hughes: Yes.
Rudy: Working on that level, professionally you really had to know what you were doing and you had to make quick, quick, quick, quick choices. And I look back and when that came about I thought, Well maybe that's an area I would like to pursue. But then I realized that you do it once, you do it. I didn't want to spend time redoing something, whereas in a live performance you can make subtle changes every time you do the work or whatever.
David: Right. I wrote that up in the blog post that I sent to you. And I was impressed by how whoever had written the description noted that you were very meticulous in designing that piece, because it was not going to be a live performance. It was going to be captured on film and so a lot of planning had to go into it. And you did it.
Rudy: Yeah, I was ready for it also, because at that time I wanted to see if I could pursue different areas with my work. And it satisfied that, but I realized it wasn't really what I wanted to do. I'm glad I did it. It was good experience. WGBH, they rolled out the carpet and the people I worked with were very generous and I learned a lot. Wonderful.
David: The reason I wanted to interview you: the things you've been sending to your mailing list I find really interesting because I've been working as a lay historian for the last fifteen years or so and so I just thought, Why not ask you?
From Rudy's mailing list, February 5, 2019:
Merce was always an inspiration, although I wasn't at my best doing all that counting, he certainly helped me to raise my own bar.
In the 1970s I was invited to appear on The Today Show along with Twyla Tharp to help promote Don McDonagh's book, The Rise and Fall and Rise of Modern Dance. I was allowed one minute and 40 seconds. And I was delirious because I wanted to do part of Coverage. Bumping into Merce at Westbeth he suggested I do one second from each section. Again he provided a challenge that influenced my work.
Rudy: Well, I think for me the mailing list is a good means of letting people know where I'm coming from and why I am who I am, which I think is very important, more so today than ever because for me that holds me up. I mean, when you think about what's going on, I'm so fortunate to have been of a certain generation where things were quite different. They were difficult in their own way, but there are strengths there that I've gathered, you know, having gone through the Great Depression and having to do with my mother dying at a very early age and all that sort of stuff. It goes way back and that haunts me sometimes. I hate to say that, but—
From Rudy, April 29, 2020:
Dear Mr. Breznican,
Thank you for your article on the current West Side Story film in Vanity Fair.
   Thought I would like to share with you that I saw the original West Side Story with Carol Lawrence, Larry Kert, and the unbelievable Chita Rivera. I too was brought up on listening to the original LP of West Side Story, with Carol Lawrence and Larry Kert on the cover. I lived in the building where that photo was taken. It was a cold water flat with a toilet in the hallway for each apartment, a laundry tub that we took baths in, with a coal bin chute where they would deposit coal in front of the building. How's that for memories? That whole area was eventually torn down to build Lincoln Center. That was then. Thanks for helping me relive and share that time.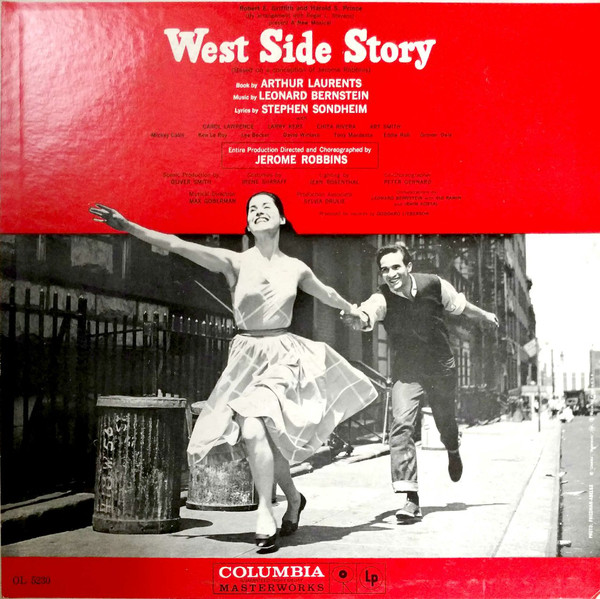 David: That's what I wanted to know. I know you came from the Bronx, but I really don't know anything about your early life. So that's what I wanted to delve into.
Rudy: Well, mother dying at seven [years of age in 1937], and my immediately being in numerous hospitals for three years, recovering from having tuberculosis. So that really had a great deal to do with my feeling of not belonging and being angry at that early age. Not having any roots anywhere, then later my mother dying. That really kind of haunts me sometimes and I try to think, Well maybe that was meant to be. And it's certainly part of what I've become.
David: So, who were the people in your family?
Rudy: Well, I have three brothers, there are four of us, and we're not all from the same father. So that I found out much later. And I sort of suspected that all along as I was growing up because I felt that my other brothers were getting a little more [chuckles] attention than I was. I was just being difficult anyway; I was angry.
David: I was reading the piece that you sent by Jeff Slayton who is recognizing the similarities between AIDS and now, the new pandemic—he titled it "In the Crosshairs Once Again." And I read his bio and it said he began dancing in order to correct his hip dysplasia. What was your impetus for dance?
Rudy: I think it's sort of recorded that I didn't set out to be a dancer; it was just a hobby at the time. I don't think that I had the kind of confidence to say that I wanted to be a dancer. From what I could see, dancers at that time were [white]. Not that I don't consider myself white; I certainly was not of dark color whereby people would say that I was otherwise. I mean I am Puerto Rican. Dance was a hobby. Because I was a very good social dancer, as a young person, being a Latino, you got me on the dance floor and you couldn't get me off. And I think someone suggested that I take a dance class. And that got me going. So it was not anything I intended. But it was something I depended on for many, many years, and having spent that much time doing, I then got into knowing more about dance and became interested. And then in the '60s, when the whole Judson period came about, I got involved in what was going on there and decided to do my own work.
David: So one of my questions that I had given you was, Did you have influences before you worked with Martha Graham and Merce Cunningham and the Judson folks?
Rudy: Well, as a kid I liked ice skating—not that I was an ice skater—but I liked seeing the movies, the musicals, and all that sort of stuff. It's hard to say. I just like moving. I didn't get to study with Martha until the mid '50s. But prior to that I was taken to my first dance class. The studio was called New Dance Group. It was a place where they had a lot of dance, mostly modern dance, not show-biz or jazz. It was somewhere out in midtown Manhattan, West 47th Street or something. And there I was not knowing really what I was getting into but really liking the fact that I was being active in movement. And I liked the structure and discipline of the classes. Then I became curious.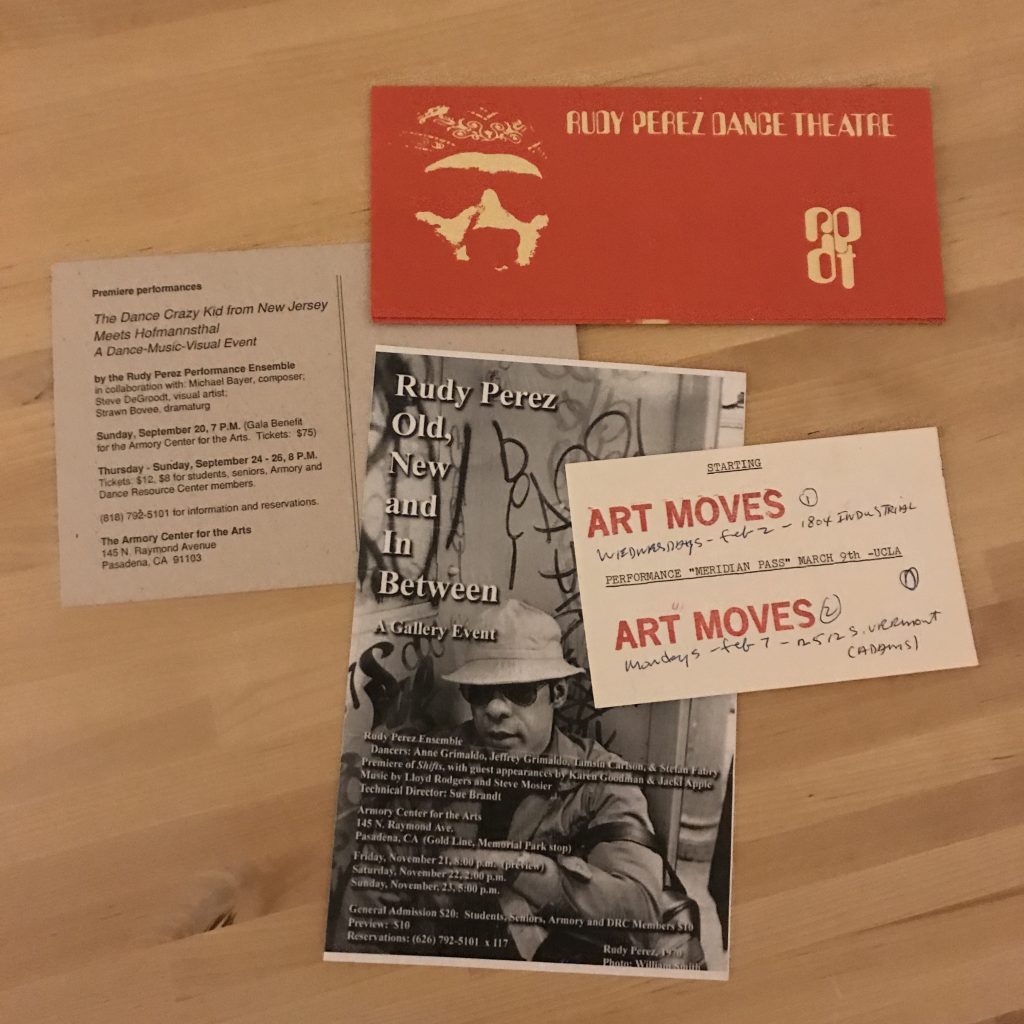 David: In the work that we did in your workshops (and then sometimes the workshops' participants would morph into kinda like extras, supers for your company), I remember you talking about props. You were communicating something along the lines of: You have to be careful with props. It's like you can't be controlled by them. You just have to be wary. Could you expound on your relationship with using objects in your work?
Rudy: Hoo, hoo, hoo. That's certainly a big question and a lot of times I really point that out in classes that I teach. I always see props as a sort of extension of what you are doing and your energy. It takes whatever you're doing—like when I did the piece Bang Bang [1966] with Julia Child's commentary on asparagus. She was talking about asparagus and I was doing this solo with a pole—and I didn't see the connection until someone mentioned that later: they thought it was kind of phallic. And then I heard that she heard about it and she kinda giggled over it. [both laugh]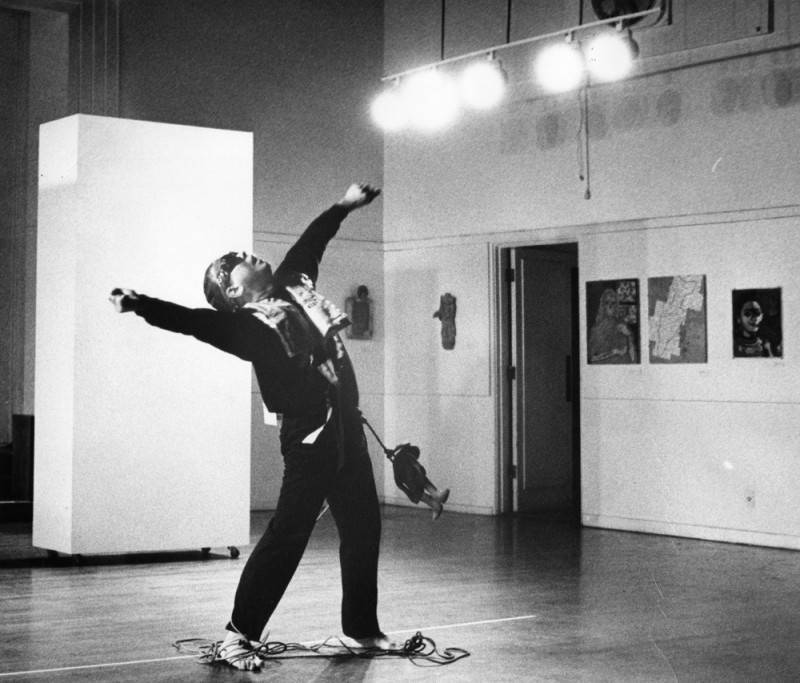 Rudy: I've evolved so much. I'm so aware. I had a stint as a volunteer at Bellevue Hospital because I studied at the time in the late '60s with someone named Marian Chase who was a dance therapist at St Elizabeths Hospital in DC. And that influenced me a lot. I got to learn how to bring myself down to the level of where people were, how to use my voice, and it was quite interesting and it really influenced me a great deal. And I owe to that experience how I work and how I listen and how I care. And to this day I mention it to everybody: You're talking too loud; you're not listening. [both laugh] Which of course is very much the case today. People don't listen and they answer before they even think about what they're saying.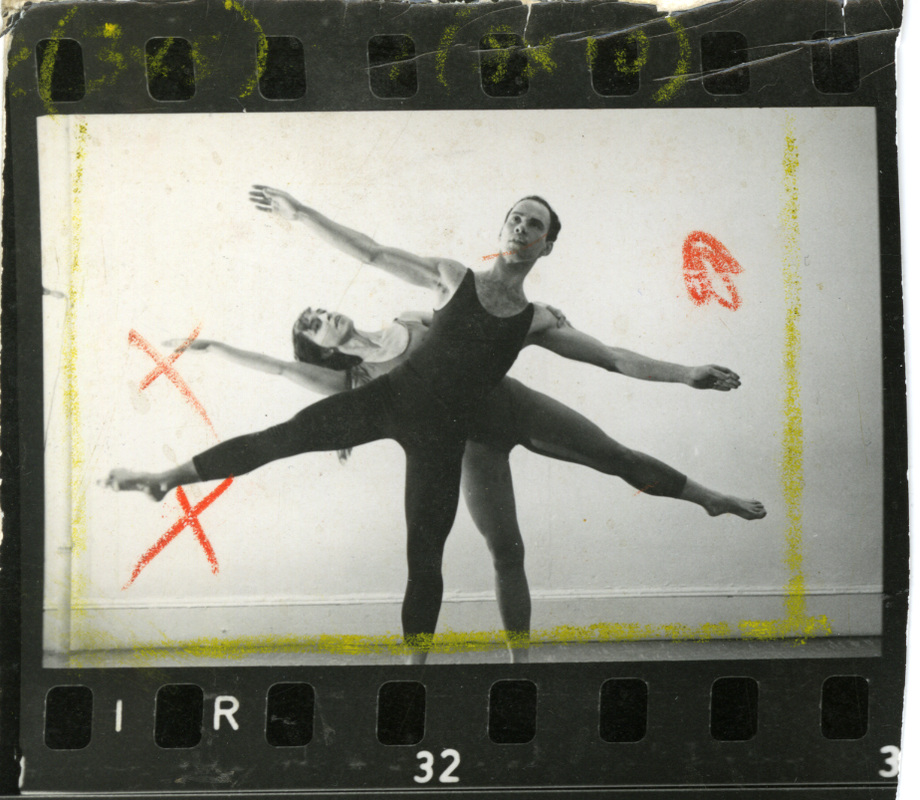 David: You kind of touched on something that I wanted to talk with you about. The notion of indeterminacy or, let's say, taking a score and then creating a dance that to the viewer might not have any relationship. Just like the pole and the asparagus.
Rudy: If I come across a sound or music, my challenge is: How can I find a way to use this in opposition or contradiction of the sound? And a lot of times that's been the case, and other times I've worked on something and tried to find something that would fit it, in respect to the way I think about the connection between movement and sound or music or whatever. Somewhat it's like a puzzle. I want the audience to kind of arrive at their own way of thinking of what they're seeing. They might in some way relate to the sound and relate to the movement and somehow put it together. But everyone in the audience should hopefully interpret in their own way from their own experience and where they're at at that time.
David: Before I started the taping here we touched on relationships with dancers. Would you like to talk about your personal relationships with dancers?
Rudy: Well, I can't say I haven't become infatuated with certain dancers in my life. I mean, it's only natural and I'm a human being. I have in my lifetime come across many dancers that I've been interested in and with some having had affairs. So it's just part of the human connection, human nature of people, if you're working around people that you're attracted to. When I got started, of course I did a lot of teaching and a lot of that sort of stuff. And part of one's sense of who they are needs to be—how could I say it? [laughs]—satisfied. Well, that makes you. The thing about it all, even though I've had a lot of heartache in my life—plenty, plenty, more than I like to get into—it's given me the strength, really, to just persevere and really concentrate more on the work and not allow that to interfere. But it's a long process: thinking about oneself and how you protect yourself. And then one has to think about one's reputation. I've done so much teaching. My latest stint here in L.A. was teaching at the High School for the Arts [at Cal State LA] working with young people. And in New York I was teaching at Marymount Manhattan College and there was always that temptation. There were always students that tried to get me interested, in their own way, whether it was serious or not. And one had to discipline themselves. And I look back and I consider myself very fortunate that I didn't really let that happen in any way.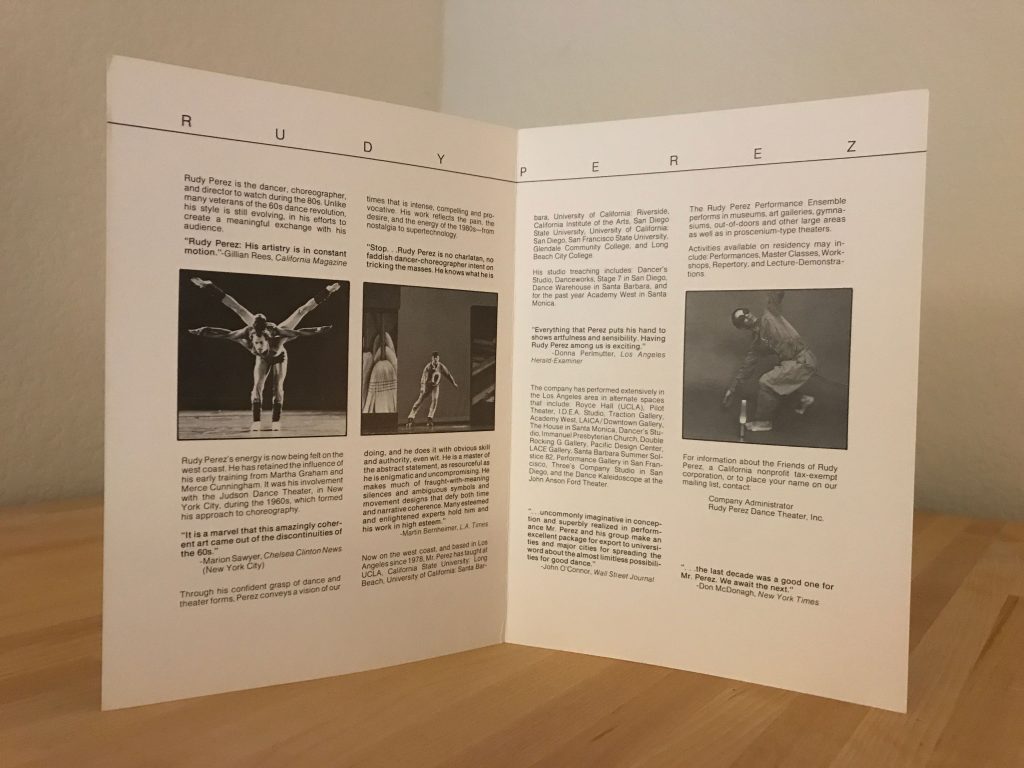 David: I want to make a comment about when I look at your work, your solo work. For instance, Countdown [1966] which is the centerpiece of the documentary about you, I can't help but compare your performance with anyone else's. There's a sense of perfection in what I see. How can you compare what you do when you've choreographed something and its realization can't help but be different [from the original]. How do you reconcile that?
Rudy: [chuckles] That's a very hard question. In relation to that piece, maybe consciously or unconsciously, it's my response to Martha Graham's Lamentation where she does this solo bound in this stretching cloth. But my solos are really very, very personal. That particular piece says a lot about me: how I restrain myself, how I let my emotion out, how I almost start screaming, and all that sort of stuff. Or I can show a lighter side, just poking fun or something. It's who I am. People who know me can see that. But I've made who I am into works that are signature pieces. Like Coverage [1970], my hardhat solo. That's a whole biographical piece.
From Rudy's mailing list, June 6, 2017:
Rudy was at the Martha Graham School in 1955 and was part of her special class for demonstrations whenever she had dignitaries and other guests, e.g. Mary Wigman, and Helen Keller.
In fact, Rudy's solo Countdown (1966) was influenced by Martha's Lamentation. Premiered at the Mary Anthony Studio, Countdown was originally titled To Mary With Love. 
The Martha Graham Company recently performed at Valley Performing Arts Center at California State University, Northridge – May 13, 2017. Artistic Director Janet Eilber is to be commended for her commitment and dedication to Martha's legacy. Many of us are forever grateful.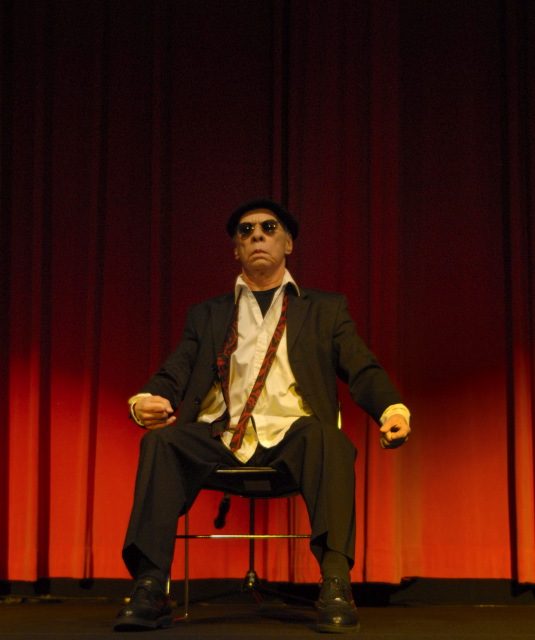 David: I don't know if I've communicated it well, but I've tried showing people Countdown as a demonstration: This is Rudy Perez. This is the genius. Here it is, right in front of you. And it's one of those pieces where every tiny movement is gargantuan. Somehow you need to be clicked into that; if you're not, it's like whoooooh, goes way over the head.
Rudy: Well, know you, recently Stephen Petronio Company, one of the dancers, attempted to do Coverage. Although it was a great opportunity, the experience was not. I usually work with people for a length of time before they get really into what I'm doing. This particular person came to L.A. and I tried to do all I could in one rehearsal, and that was impossible. I mean, to get into anyone's head, you really have to be with them for a certain amount of time. And I really knocked myself out. It was a very frustrating time. You know, when I worked with Clive Thompson on Coverage and Countdown at least I approached it from where he was and he met me halfway. But in Stephen Petronio's case the person was too young: what he could do, what he could bring to it.
Although I didn't mention it to Rudy in our interview, the Petronio rehearsal image printed in the New York Times, underscores his point. The pose is simply too dansual. "For Mr. Perez," writes Siobhan Burke in the accompanying article, "it's crucial that the soloist shed any dancerly affectation, so that he reads as 'just a guy, a man, an everyman—not a dancer,' he said."
And yet the work itself can be described, at least in part, as it was by Times dance critic Gia Gourlas:
He tapes a square on the floor and removes his jumpsuit; now in shorts, he has the freedom to jump and run within the space. But it's a tiny space to pledge allegiance to; in the end, he rips the tape off the floor—systematically and without emotion—while the song "God Bless America" plays. Finally, he removes his hat, brings it down across his chest and pauses slightly over his heart; he isn't finished until it firmly rests over his crotch. The affecting "Coverage" is quiet and defiant at once.
David: And so in terms of dance, before this pandemic, you were teaching, still?
Rudy: I had my Sunday workshop. And so I had a small group of people that would attend. And I'd experiment. Aside from emotion, later on I became interested in space, how to use space. I found that, whether it was conscious or not, people didn't have the kind of sensitivity or emoting as I had. And I was always interested in space, so I just concentrated more on space. I felt that that would be a challenge. I mean, if they couldn't express themselves or even use space, what good are they? So that's what I've been working on mostly. And doing things backwards and doing things in many different ways, but being aware of where you are all the time.
David: And now in this era of distancing, space takes on a…
Rudy: A couple of my students, people who are part of my work, they're doing it on [virtual], remote—
David: Zoom or whatever.
Rudy: Yeah, they're doing that. Which is good; good for them. I mean, they're younger…. Do I miss it? Well, I miss it because I like being around people. And your energy is quite different when you're working, doing your work. I'm a whole other person. I don't think you've seen where I've gone to since the workshop, but I'm a completely other person. My energy is different, my focus is different, I don't waste any time. And so much of that came from the experiences that I've had as a person. The psychological experience by doing the piece…. When I think back to the factory [meaning the warehouse where I lived and Rudy and I performed, before his workshop], what things were happening. That was the hub, that building, the studio, and everything.
David: I don't know if I mentioned it in that blog post [I did…], but the people I've come in contact with, not because I necessarily wanted to, but people like you, my writing mentor Charles Cameron, people have just come across my path and I've embraced them.
Rudy: Right. Interesting how that happens.
David: And I'm just really grateful for the experience.
Rudy: Well I can say the same thing right now after all these years. My God [Rudy always tends to pronounce this My Gad, which I'd forgotten], I think I've been here for forty years. Almost as long as I'd been in New York.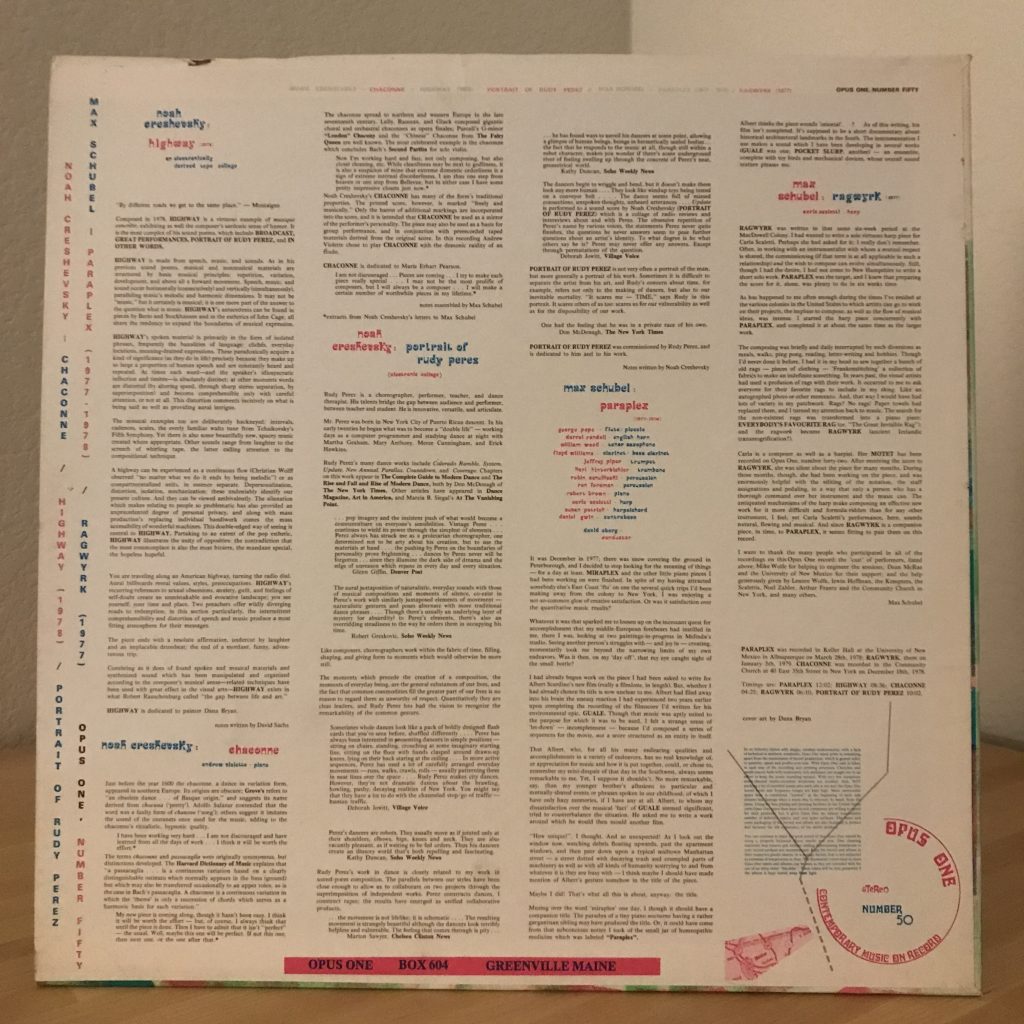 David: Right. What year did you arrive in L.A.?
Rudy: 1978. And L.A.: I'm so lucky. That residency at UCLA, which was not the greatest experience for me, and not knowing exactly what I was going to do after that year. But during the time I was here other people were aware that I was here and work started coming in. So I started to do the whole West Coast. [laughs] I've just been very lucky, so grateful. So I have nothing to complain about. My gosh, it never ends. And this moment, this recollection, reflection is very important for me, I want you to know, at this time in my life when I spend a lot of time thinking about my past. Because the slightest little thing triggers off a whole bunch of stuff that never ends. One thing leads to another and it's unbelievable. Stay up nights. [chuckles]
David: Well, I'm glad that you've let us in on some of that through your mailing list. I'm really grateful for that.
Rudy: I'm very lucky. Sarah Swenson—she's in Italy at the moment—she helps me with my email, drafting my emails and all that sort of stuff. And in a way I wanted to let people know more exactly about things that are important to me. It's not that I wanted to brag, but it was important to me to state them so that I was more or less sharing, not bragging. And that took the two of our heads put together so it wasn't about advertising. But maybe I was aware like yourself. People need to know each other. What makes someone who they are and where are they coming from? I'm always very curious about someone I admire, someone whose work I admire. Where are they coming from? What have they done? Who've they studied with? Always, always. Great.
David: Okay.
Rudy: Love ya, man. Love ya. [laughs]
David: Yeah, you too. Thanks so much.
---