The sun will never disappear
But the world may not have many years
— John Lennon, "Isolation"
In the summer of 2020 I contacted visual artist Jim Morphesis to ask his permission to reprint his private reply to Rudy Perez in response to Part 2 of my Portrait of Rudy Perez series. Jim had reminded Rudy of how the two had met on July 24, 1981, when Rudy appeared on Rona Barrett's television show.
Rudy, your appearance on the Rona Barrett show was absolutely wonderful and it was indeed the day that we first met. I remember it well and I have told the story many times over the years. You may not recall this, but that day you were being chauffeured in a limo driven by my then brother-in-law, Tom. You were running late and concerned that you might miss seeing yourself on the RB show, so Tom drove you to our nearby home just in time for your appearance on the show. Tom, his sister Kathy, who was my wife at the time, and myself were excited to meet you and we all had a delightful time together. Now, the story becomes rather bittersweet. Some weeks ago, Tom contracted the virus. There were complications and sadly, he died. I have remained close to both Tom and Kathy over the years. Recently, Kathy and I reminisced about better times when we were together with Tom and, of course, our surprise meeting with the famous Rudy Perez came up and we had a chance to remember and smile. Rudy, I certainly didn't want to depress you with this story. I just wanted you to know that our first meeting meant more than you could know.1
This sparked memories of my own, which I conveyed to Jim. He graciously agreed that I could memorialize our conversations here. We spoke—virtually, by email—for two years, from lockdown and isolation in July 2020 past our first ventures into museums two months ago.2 We finally had a telephone conversation recently, on July 22. During that call I recited the first line of Fr. Terrence Dempsey's 1994 essay, mentioned below:
Among those contemporary artists who have incorporated religious iconography into their work is a group whose relationship with religion can be described as one of positive ambiguity.
I suggested to Jim that this speaks to both our aesthetics, as you, the reader, will see.
2020-07-30
Dear Jim,
Rudy Perez sent me a copy of your reply to him regarding my interview, in which you recount how you met him. It was fun to read.3 I intended to ask you if I could reprint your reply in Part 3 of the interview [with Rudy], which I'm working on now. But last night I ran across something from my files that made my request all the more compelling.
Part 3 will contain little actual interview and consist mostly of my own recollection of meeting Rudy (and more). It took place when my loftmates Joseph Shuldiner and David Moreno crafted a performance—with Rudy—in the small space that they'd dubbed Traction Gallery in 1979 or so. The performance, titled Urban Rite, was held on August 23 and 24, 1980. I'm gathering as much documentation of it as I can. In the course of that I ran across a postcard announcing your own exhibition at the gallery the following winter, January 12 through February 20, 1981: Cruciform Paintings. Your No Sanctuary is reproduced on the card. That piece is remarkable because at first glance it appeared to me to be a crèche, the assemblage resembling the peaked roof of many a nativity scene.
That, in turn, reminds me of a Brahms choral piece called "The White Dove." I can't find the version I sang while in a choir years ago, but this translation gives a sense of the nativity and crucifixion being collapsed in three verses.
Assuming you'll give me permission to reprint your reply, I'd like also to include a photograph of the postcard (like I've done with the announcements for Rudy's performances).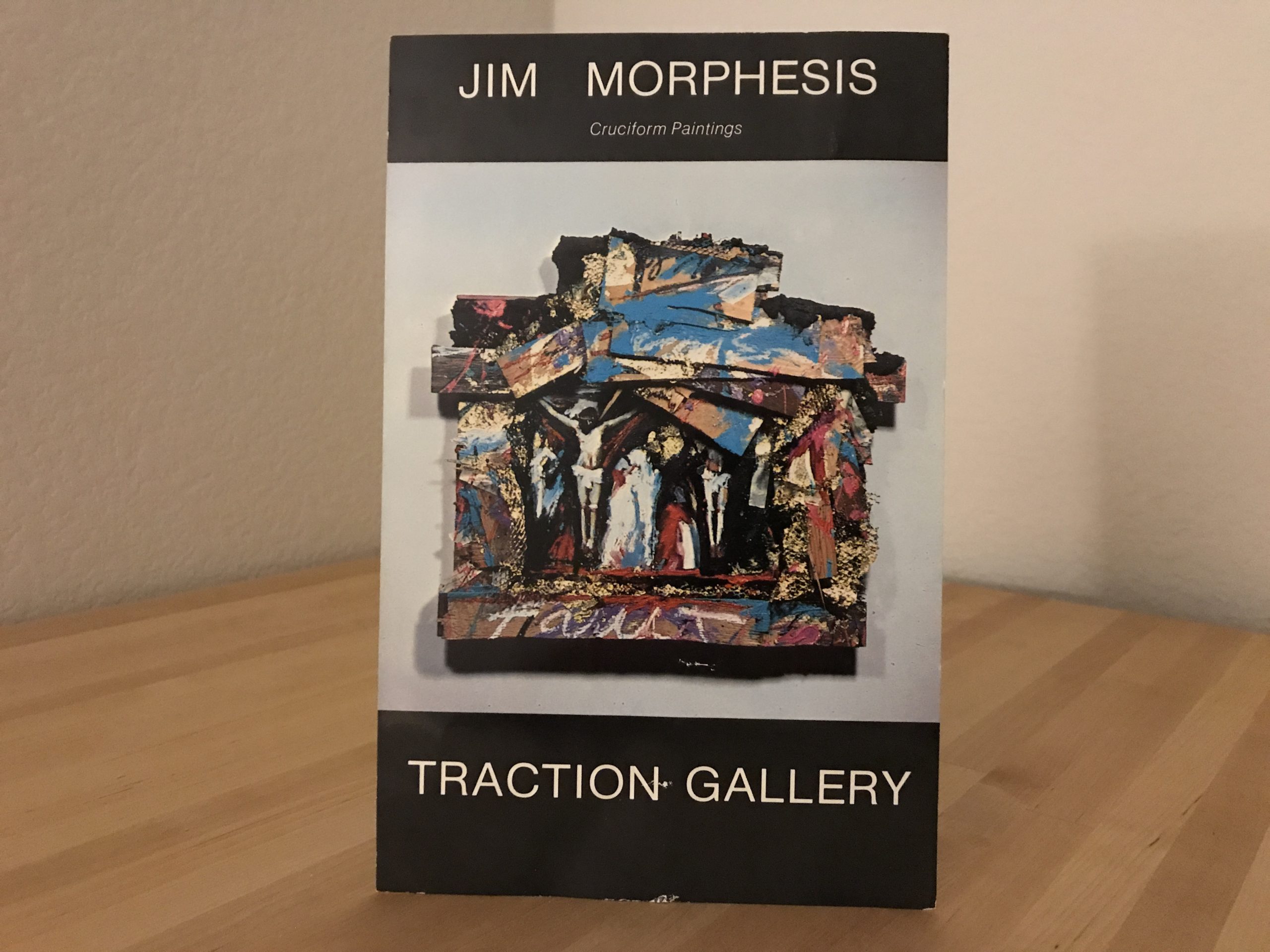 By the way, Rudy indicated in his note to you that Part 2 included a streaming video of that Rona Barrett show. Of course it didn't. I tried to track it down, but the network's archives are available only to people in the industry.
Thank you for your consideration.
2020-07-31
Dear David,
Thank you so much for the wonderful message. You may of course reprint my reply to your fascinating interview with Rudy. And our Traction Gallery connection is a nice surprise. The exhibition space that Joe and David put together on Traction Ave. was a venue that helped launch the prominence of LA's downtown art scene in the 1980s. I loved working with Joe and David and my exhibition there turned out to be an important one for me. And now, I would like to know more about your Urban Rite performance at the Traction Gallery.
I very much appreciate the connection you made between No Sanctuary and a creche. I didn't want the painting to seem static, I hoped that there would be the feeling that the story continued, or that the "song was not over." There is an architectural element to the piece. I built the painting on a structure that I shaped to the proportions of the central panel of the Isenheim Altarpiece. And the Brahms "White Dove" choral piece is a wonderful triptych.4 Thank you so much for taking the time to discuss this and include the translation.
And David, thank you for keeping Rudy's story alive by sharing your lively and informative exchanges with him. I will be looking forward to part three.
With gratitude and best wishes,
Jim
P.S. David, when I couldn't find the Rona Barrett video that Rudy thought was attached to your interview, I too unsuccessfully scoured the internet for it!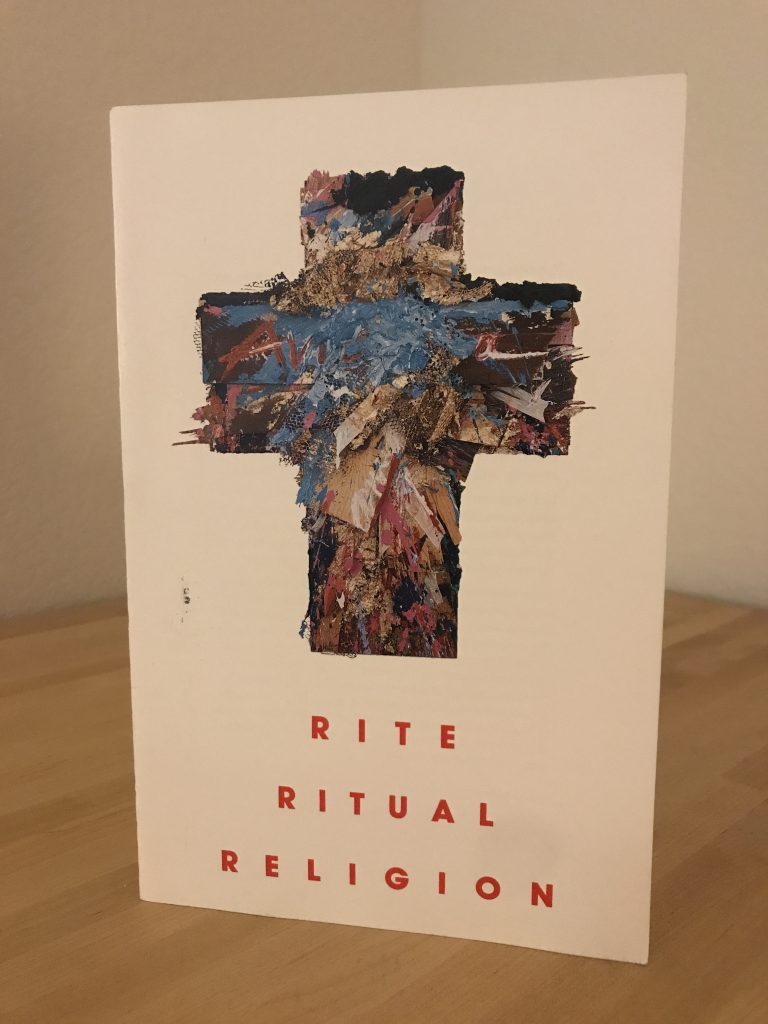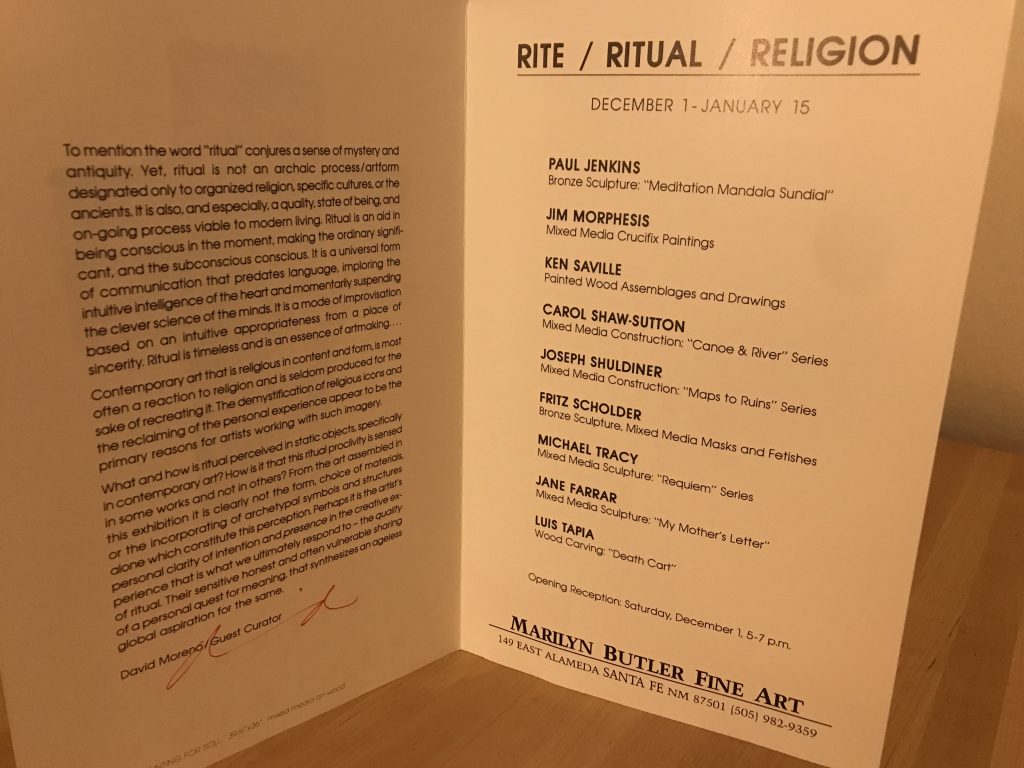 2020-08-02
Thanks, Jim, for your reply. For space reasons I plan to use only the portion in which you tell of meeting Rudy. And I found a nice quote from Peter Clothier in your Wikipedia entry in which he comments on your early work—and it's from his Art in America review of the Traction show. I'm afraid the Urban Rite writeup won't be as vivid, since it's the proverbial thousand words describing a (motion) picture. It was a collaboration between Rudy, Joseph, David, and myself. I don't know if you heard, but Joseph died last December. I hadn't been in touch with him in years, so I don't know any details. I wrote a tribute to him on the blog.
Thanks for the background on No Sancutary. I wasn't familiar with the altarpiece, except that I know I've seen The Resurrection panel reproduced. I see you used the altarpiece architecture in a more literal way with your Colmar Variations. Beautiful work. I wonder if you know Michael Schrauzer? You're kindred…
Poking around I saw your Marsyas III, which is horrible and irresistible. "Marsyas" by James Merrill is a favorite sonnet of mine.
I meant to ask: Does the scrawl in No Sanctuary read, "God's Fault"?
Thanks again. My plan is to post Part 3 on August 23, the fortieth anniversary of the performance.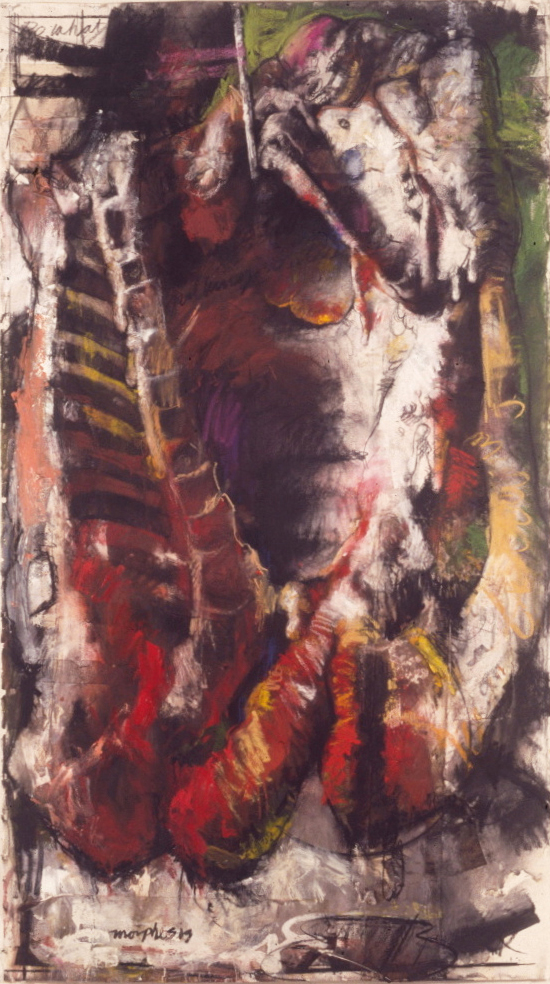 2020-08-02
Dear David,
I was happy to receive your message, but surprised and saddened by the news of Joseph's death. It seems not long ago that I saw Joseph and met Bruce. We talked about his Pure Vegan cookbook and all the lectures and tutorials he was presenting regarding his new passion for vegan cuisine. I had been curious and a little concerned that I had not received any announcements from him in quite a while. Being in Joseph's company always made me less grumpy. He was a wonderful guy and your beautiful tribute was a perfect way to remember him. I am now looking forward to going back to your blog tomorrow so that I can read your other works.
David, I am honored that you have taken time to dig through my past and make the wonderful connections between my paintings and the work of Michael Schrauzer. I wasn't aware of Michael's exquisite work and yes, we certainly have related sensibilities. And I love James Merrill's "Marsyas" sonnet. Thank you so much for that. And thanks for describing my Marsyas III as "horrible and irresistible." I appreciate that and so will the collector who owns it.
Now, I hope that I don't disappoint you, but it isn't "God's Fault." It's definitely mine. I think that I was trying to cleanse myself of usual guilt feelings and I hoped that the word "Fault" alone would help.
David, thanks again for your message and the links. I am delighted that you are including me in Part 3 of your interview with Rudy. I will be looking forward to your August 23rd posting.
2020-08-03
I'm the one who's honored, Jim. As I wrote in my last blog post, I'm inspired by artists who are inspired by others. I was a gemstone journalist for many years and not everyone was as easygoing and engaging as you about the back-and-forth. I've added a bit of our own back-and-forth in this draft [Portrait of Rudy Perez 3]. Please let me know if it's okay, including pointing to your Colmar images.
Your fault! That gives me a chuckle. I think I once used "happy fault" (felix culpa) in a song, but I don't remember the context. [My musical partner Rob Berg and I (Bachelors Anonymous) are] dusting off reel-to-reel tapes from the '80s (including for Urban Rite), so maybe I'll come across the song.
Do you have a website or gallery that I should point to? When I was looking for one I found that you were featured in Number 5 of the journal Image. That's how my spiritual mentor turned me on to Michael Schrauzer, via Number 12 in the mid '90s. I subscribed for several years after that. OMG, the title of the Schrauzer article is "The Revealed and the Concealed"!5
2020-08-05
I apologize for getting back to you late. I'm teaching a couple of online painting classes at Pasadena City College and I'm spending a lot of time and energy. It really feels like wasting time, preparing for the coming Fall Semester. I did, however, take a good look at the draft and I think it looks and reads extremely well. I am of course very pleased with your inclusion of some of our conversation. And David, your research talents are extraordinary. I loved seeing what you have unearthed so far. Do let me know if you come across your "felix culpa" song.
Also David, I found Diamonds in the Mine: An exploration of Humanitarian Gemology fascinating. I'll get back to Everybody Dance Now very soon. I still have dancing noses in my head.6
David, I have been working with a gallery for a few years, but I'm not represented.
And I do have a website under re-construction. The process of redoing my site has been an annoying chore, but time's slipping by and I have to get it done and you're giving me some incentive to do so.
Regarding Image, did you know the former editor, Greg Wolfe, who is now publisher and editor of Slant Books?
Best wishes and thanks for staying in touch.
2020-08-05
Thanks, Jim, for looking at the draft [Portrait of Rudy Perez 3]. I changed the last heading "Post Mortem" to "Appendix." I was trying to stay with an "anatomy" theme, but getting into necropsy territory was a bit morbid.
Teaching virtually isn't new, but now it's not a choice. How infuriating to be forced into something so confining. That same spiritual mentor of mine—Milania Henley, who comments on the blog sometimes—told me long ago why she disliked computers: "They're so small." (Yes, she is a cinephile of sorts.) She turned me on to the journal Image, and while I read it, often cover to cover, I never had contact with Greg Wolfe. Assuming you're doing live-action video instruction, the one plus is having it recorded, I suppose.
Later, on 2022-06-16, I wrote Jim to see if he wanted to tell me about Greg Wolfe.
Greg Wolfe
David, you asked about my connection to Gregory Wolfe, the founding editor of the journal Image and currently the chief editor of Slant. My connection to Greg began with a 1994 article about my work printed in Image. The article, "The Tragic Sense of Life: The Art of Jim Morphesis," was written by Terrence Dempsey, the founding director and former chief curator of the Museum of Contemporary Religious Art, in St. Louis. Because of Father Dempsey's article, Greg Wolfe became a supporter of my work, including several articles and updates of my exhibitions in Image. Greg also included my artwork in his book, Bearing the Mystery: Twenty Years of IMAGE. As the editor of Slant, he used an image of one of my rose paintings for the cover of a recent book of poetry.
I was compelled to remark to Jim that Wolfe's Bearing the Mystery was itself published by Eerdmans, the 111-year-old house whose volumes likely inform many a scholar and reader (including me) who appreciates a broad spectrum of thought, from C. S. Lewis to Dorothy Day, among many others. On June 7, I read an article in the online tabloid RawStory titled, "Christian Publishing Giant Destroys Critics of Its Pride Month LGBTQ+ Reading List." When Eerdmans posted a tweet about the reading list, the banners got, well…, burning mad. An excerpt from the publisher's reply: "The revilers say we have changed our position and begun to teach heresy. There are several problems with that accusation."
I'm intrigued by the dialectical in both the above titles: "the tragic sense of life" and in "bearing the mystery."7 The first suggests the womb/tomb nature of our existence, no light without shadow. The second is nicely ambiguous: Is the mystery of existence endurable; is it supportable? During a retreat at St. Andrew's Abbey in Valyermo on the topic of lectio divina (the "divine reading" of scripture), Fr. Luke Dysinger cautioned us about getting all airy-fairy in our reflectional reveries. "Our tradition is profoundly materialistic," he told us, or something to that effect. The mystery, born, must be borne.
2020-08-07
Jim, when you commented on my research I meant to tell you that my mother is a fine genealogist and has tutored me in how to use genealogical tools for historical investigation. During my review with Rudy of his last interview I told him that I'd helped an artist friend confirm the ID of his father, who had been named after a DNA match but misnamed on his birth certificate. (I won't go into the rest of that challenge.) Rudy said he only knew the surname of his birth father from his birth certificate, having been raised by his stepfather. By chance I found his birth family in the 1930 U.S. Census. Rudy had been born only four months before, as noted in the entry, routine for infants [but not for older residents]. So I knew it was him; had he been born in the spring of 1930 he would've appeared only in the 1940 census in the household of his stepfather. And so I traced the dad's movements through the decades until his death. Rudy was pleased, of course. But this had nothing to do with how my mother coached me over the years. It was pure luck. Thought you might appreciate that.
2020-08-08
Dear David,
How interesting to know that much of your exceptional sleuthing ability was learned from your talented mother. And the story about finding Rudy's birth father is amazing. I believe, however, that it had a lot more to do with your commitment to solve the mystery than with luck. And what a wonderful gift to Rudy.
2020-08-28
Jim, I forgot to tell you I posted Part 3 [Portrait of Rudy Perez 3: Anatomy of a Performance, mentioned above]. Sorry.
I turned 65 last Monday and my brother asked if I wanted a birthday present so I asked for your monograph. Glad you let me know about it.
Is there a different one that I should get myself? I wouldn't mind getting another.
2020-08-28
Dear David,
Thank you for letting me know about the post. And what a nice surprise. I will get a signed copy to you very soon. Meanwhile…..
HAPPY BIRTHDAY, DAVID!!!
It looks like we are in the same club. I turned 72 on Wednesday!
2020-08-28
Happy birthday to you, too, Jim! What I was trying to say is that my brother already pre-ordered the newly published monograph from Amazon to send to me as a birthday present. I wondered if there is a different one that ever was published that I should obtain—the more the merrier.
2020-08-29
Yes I do understand and I am so glad that your brother is buying the catalogue for you. There is not a different version. I just wanted you to have a copy dedicated by me to you. I would pop over to sign your copy when you receive it, but the time isn't quite right for that. So, we will work something out.
2020-08-31
I would love a signed copy. It would be challenging for you to hop over since I'm in Denver now.
The reason why I thought you might have multiple monographs is that when I was researching you I came across Jim Morphesis: Paintings, 1991-92 and it stuck in my mind. Is that worth my while? I can find a used copy.
Rudy now wants me to chronicle his performances in galleries. I have many invitations in my file and can fill in with LA Weekly and LA Times as well as his recollections.
Yesterday my friend Ricardo Reyes said he enjoyed Gaugin: Voyage to Tahiti, which was panned apparently. Ricardo, besides being an artist (he was taught by Corita, knew the Eameses, etc.) is an ethnoculturalist, so he might get more out of it than the average viewer. I'll check it out.
2020-08-31
Dear David,
I remember looking forward to seeing Gaugin: Voyage to Tahiti, until I read quite a few terrible reviews. You and your friend Ricardo Reyes now have me interested again. Regarding my catalog of paintings from 1991-92, you also reminded me that I did have two versions of that catalog. I will be happy to send you a copy of the new catalog.
Meanwhile, it seems as though Rudy is keeping you busy.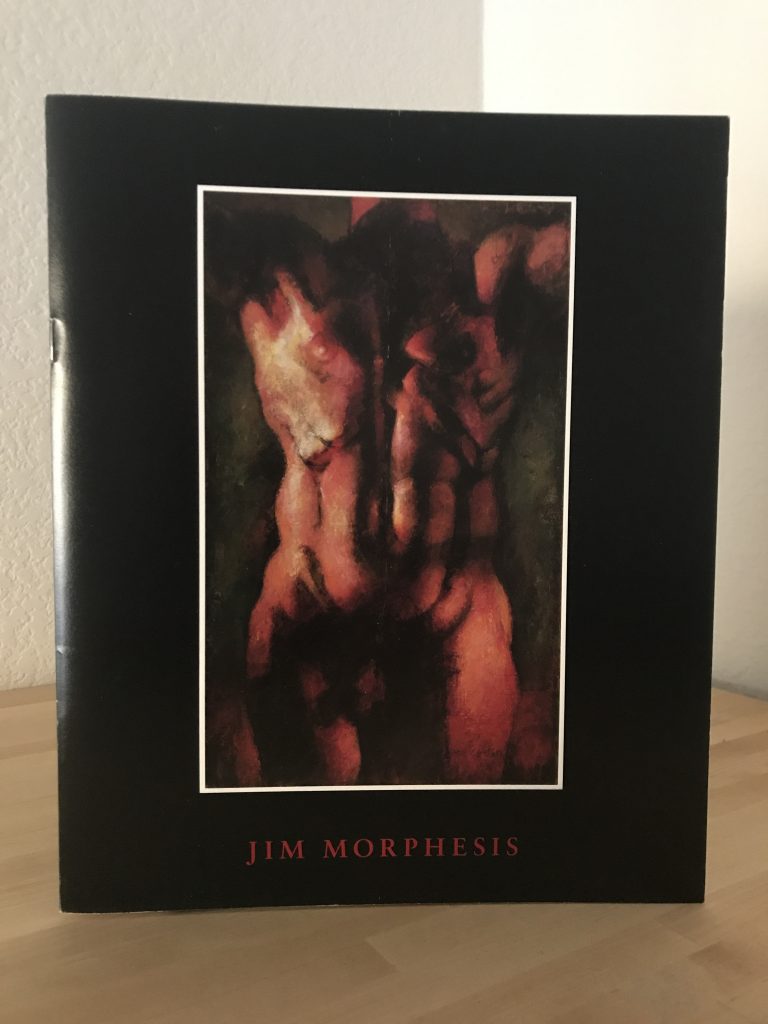 2020-08-31
I watched the film last night, Jim. I didn't read any of the reviews, but I can imagine that one criticism might be that there's not a lot of art in the film, either on the easel or the screen. So it's not really an "art film"; it's pretty conventional. Still 2+ hours went by very fast even though it's not a fast-paced film.
2020-10-10
Dear Jim,
Your catalog arrived yesterday. Can I send it to you to get it signed? I'll include a postpaid return envelope. I haven't looked at it yet, until it's complete with your signature. 🙃 But I like the format. The landscape orientation is very elegant.
The Catalog
Jim Morphesis: Passion and Presence, Memento and Myth is available here.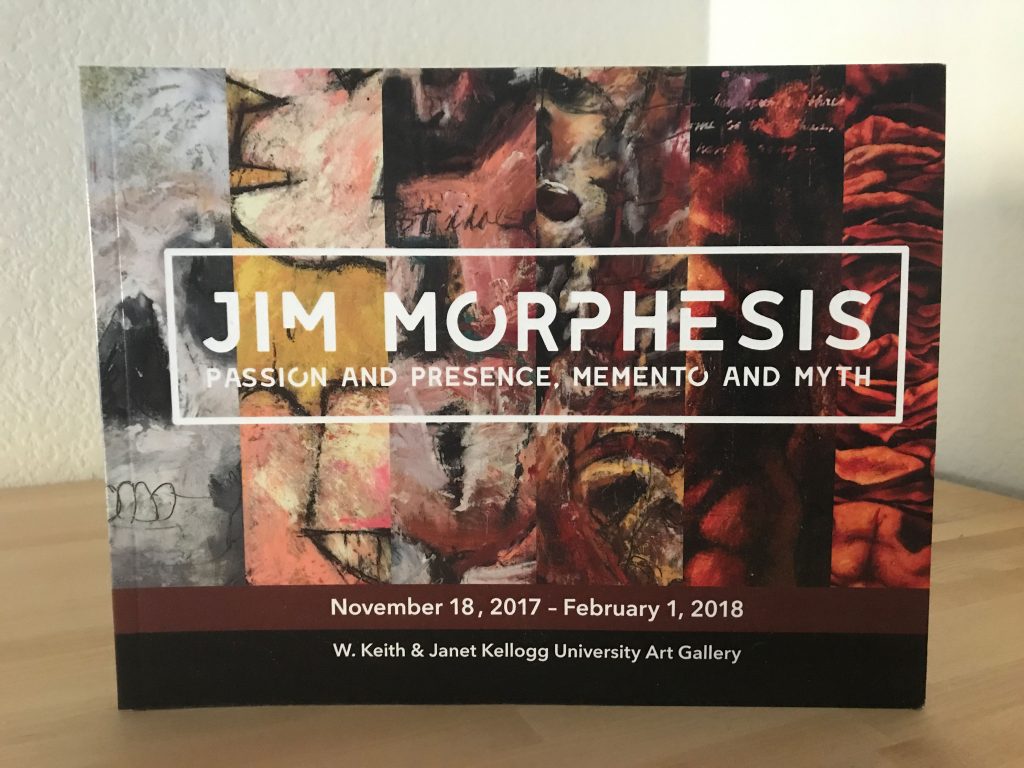 2020-10-11
I'm very glad that you received the catalog. Why don't you hang onto it. I have a dedicated catalog for you.
2020-10-11
How nice, Jim. I'll give this copy to my public library. I just checked, and they don't have it. They do have a copy of L.A. Raw, however, in their Western History Collection, which is non-circulating.8 I have a feeling your catalog might end up there, but I have contacts with that collection, so I'll investigate. Thanks so much.
2020-10-13
Your catalog was mailed this morning, David. And thank you so much for the news about L.A. Raw in your local public library. Please know that taking the time to donate your copy of my catalog to your library is very much appreciated.
2020-10-14
Thanks, Jim. Working on Rudy's things got my musical partner Rob Berg and me dusting off the pop tunes we did at that time. Remastering them now. Rob and I met at St. Philip the Apostle Church in Pasadena in the choir. In writing a blog post about how we met I went to the Wikipedia entry on St. Philip and the accompanying illustration is by James Tissot, who I didn't know at all. Kind of a dark image, perfect to include in the post. Wikipedia said Tissot was an opportunist by supposedly rekindling his Catholicism and devoting himself to religious subjects for the rest of his life—because it sold. Heaven forbid an artist making a buck by giving people what they want.
2020-10-15
Dear David,
I am happy to hear that your catalog was delivered quickly. And the pleasure was all mine.
This musical reconnection between you and Rob Berg sounds pretty exciting. I would like to read your blog post about your original meeting. And David, you got me interested in James Tissot. Today, I rarely hear an artist say that the money is in religious art! It seems that it was for Tissot, who I now understand, received an enormous number of church commissions. You also reminded me of a friend that I had in art school. Every day, Carl would sketch designs for vestments. I discovered, only a few years ago, that he had become a very successful designer of vestments and a variety of furniture for Catholic churches on the East Coast. I only once came close to a substantial church commission. I'll tell you about that one day.
Meanwhile, I will look forward to hearing those pop tunes that you and Rob recorded.
Later, on 2022-06-18, Jim wrote about the details of "a substantial church commission."
Acts of Commission and of Faith
I had to dig through some long-buried material to refresh my memory about the "never quite happened" commission for the Denver Archdiocese. And still, I cannot recall how, in 1994, Cardinal Francis Stafford, then Archbishop Stafford, came to contact me about creating artwork for the Ascension Chapel Mausoleum, which Archbishop Stafford had been planning. Construction either was underway, or about to begin.
The Archbishop and I had a wonderful conversation. I came up with ideas and drawings for a grand scale altarpiece triptych that would be installed in the Ascension Chapel's "Feature Area." This would be a hinged, three-panel altar painting, with images on front and back. One side would represent the crucifixion and the other side, the resurrection. I also designed ideas for a free-standing sculpture that would be installed below a skylight in this Feature Area. All images would have both representational and abstract elements. I would include images of the Rocky Mountains in the altar painting. Archbishop Stafford liked that idea as well as my other concepts.
I was put in touch with the builder of the Ascension Chapel Mausoleum and, into 1995, everything seemed to be progressing well. I was having my "Isenheim Altarpiece/Rothko Chapel moment"! That was, until I got a call from Archbishop Stafford's secretary who informed me that the Archbishop was suddenly called to Rome. All projects were put on hold. The secretary, a very pleasant person, said that from her experiences, the way these things go, the project is at an end. The next head of the archdiocese would likely change many things and she was even concerned that she would not have her job for long.
Well, that's it, David. I don't think that I ever discussed this matter in detail with anyone else. This was an interesting experience. Yes, a disappointing experience, but not a bad one. Everyone that I dealt with was enthusiastic about the project and I did get to use some of my ideas in a private commission soon after.
The next day, on 2022-06-19—Father's Day—David replied with the following recollection about Cardinal Stafford's successor.
Jim, how devastating to have the internal affairs of the Church dash the aspirations of the living to regard the dead: artwork for a mausoleum chapel. Prelates like Cardinal Stafford guard the faith and yet throughout the centuries their patronage has sustained artists whose oeuvre grazes the guardrails. Your description of your "Isenheim Altarpiece/Rothko Chapel moment" saddens me, maddens me, gladdens me. I haven't seen the Isenheim but I have the Rothko, and you've sent me back to the monograph I picked up there, subtitled An Act of Faith. I can imagine that each interaction with a client is, for you, in a different sense, an act of faith, because it ain't over 'til it's over. Your idea for the free-standing sculpture brought me joy: in sifting through the Rothko ephemera I found a postcard of Barnett Newman's memorial to Martin Luther King outside the chapel, Broken Obelisk.

And when you told me last month about your "very dark paintings" that you've been doing for some time now, I naturally thought of Rothko. I was there in Houston fifteen years ago for the funeral of my cousin who, like Rothko, had taken his life. Today at our Father's Day lunch a friend told my parents and me about her encounter with death at a mass shooting a couple of years before—and down the street from—Columbine. After homicide, she said, suicide was in the air. And so I'm gladdened today. She is with me, and you grace me with the details of "a disappointing experience, but not a bad one."

I only attended a Roman Catholic Mass in Denver once, at that same Cathedral Basilica of the Immaculate Conception on a Sunday evening in the late aughts. Our daughter-in-law being Catholic, she, her husband, my wife Andrea, and I went. I believe Cardinal Stafford's successor Archbishop (now Cardinal) Charles Chaput was celebrant. During his homily, Chaput seemed to go out of his way to malign homosexuals. I was offended but kept my place in the pew. (At the funeral of Andrea's dear friend Donna, I had left the room as the officiant performed an altar call over Donna's dead body, which miraculously didn't as much as twitch at the sacrilege.)
Over the ensuing years I've sloughed off both Chaput's remarks, as well as my resignation, to: "When in Rome…." But it stings. In looking for Chaput's name, I found his Wikipedia entry and this quote, which he delivered in 2018:
There is no such thing as an "LGBTQ Catholic" or a "transgender Catholic" or even a "heterosexual Catholic," as if our sexual appetites defined who we are; as if these designations described discrete communities of differing but equal integrity within the real ecclesial community, the body of Jesus Christ.
I find myself agreeing with the first part, horrified by the second. As I was that day, during Chaput's homily. And yet, as I said, the doyens of dogma facilitate acts of faith. So I'm maddened by the loss to myself and to all the people of Denver that your "moment" came and went.
Jim replied later that week, on 2022-06-24.
Dear David,
You are far too kind and generous to even consider that my almost art commission with the Denver Archdiocese compares to the painful experiences that you described in your last message. I tried to respond to that message a few days ago, but I really didn't know quite what to say. I can only begin to understand the hurt that you felt. I appreciated how honestly and eloquently you expressed your experiences. To help heal a wound, you turned to the church which unfortunately only deepened that wound.
Regarding An Act of Faith, for me beginning any artwork is an act of faith. No matter how excited I may be about a new work fulfilling my visions, I also know that things will go wrong and adjustments will need to be made. The faith that I will ultimately have something worth looking at is a necessity. But then these days, given all the obstacles, both internal and global, I find that waking up each morning requires an act of faith.
David, I promise that I will soon send you a discussion of my rose paintings. I will also include some comments on a favorite sculpture of mine, Broken Obelisk. At a time in undergraduate school, when I was feeling lost and desperate, discovering the work of Barnett Newman offered new possibilities that, and I don't think that this is overly dramatic, saved my life.
Four days later, on 2022-06-28, Jim described his life-saving experience.
Thinking Outside Inside the Canvas
When you recently mentioned a favorite sculpture of mine, Barnett Newman's Broken Obelisk, I immediately remembered how important that artist's work was to me throughout much of my career. So this is the story of my first face-to-face encounter of Newman's work. And you will see that it will lead into the brief discussion of my rose paintings.
It was the late sixties and I was in my third year as an undergraduate art student when I had my first major crisis of art and my own abilities. During the first two years of art school, I created meticulously rendered figurative paintings on a modest scale. I was pleased with these paintings as were many others. Then quite suddenly, in that third year, the life went out of these works as well as my painting process. My representational paintings felt like weighty technical exercises and I wasn't able to complete even one more. I was desperate and started looking for something new. I tried different styles but they all seemed forced. I was lost and in need of new eyes.
For inspiration, I went to an exhibition at the Philadelphia Museum of Art that included many of the important New York School painters and sculptors. I had seen the work of these artists primarily in reproductions, so I was quite unprepared for the shock that I experienced when I walked into the first room of the exhibition and found myself standing in front of a twenty-foot-long painting by Barnett Newman. The painting was Anna's Light. Two slender white bars were painted at either end of the canvas while most of the painting was a field of solid cadmium red. I was engulfed by this painting and felt as though I could step right into this infinite red universe. The experience had me realize the significance of scale, pure color, and the expressive possibilities of a minimalist composition. I also realized that art on a grand scale can create incredible intimacy.
That one painting encouraged a new vision and purpose for me. My next painting was a thirteen-foot-long, abstract, minimalist composition. And instead of using brushes, I applied my colors with a paint roller and a spray gun and compressor that I bought, inexpensively, at Sears. This was the first of many large scale paintings that I completed over the next few years. And while I returned to working figuratively long ago, the paintings of Barnett Newman continue to inform work.
David, from the red of, Anna's Light, to red roses.
2020-10-22
Jim, could I ask you some questions that could be turned into an interview post on my blog like I did with Rudy? I'm so involved with getting the website for my (resurrected) music together I can't read the catalog completely in one sitting. So I have questions that are cropping up. I can ask them one by one and so it's less stress on me and, hopefully, you.
The first, if you're willing, is: What's behind the doubling of the crucified figures? And doubling in general in many of your pieces?
Thanks so much for the lovely dedication [in the catalog you sent]. Continuing the remote conversation…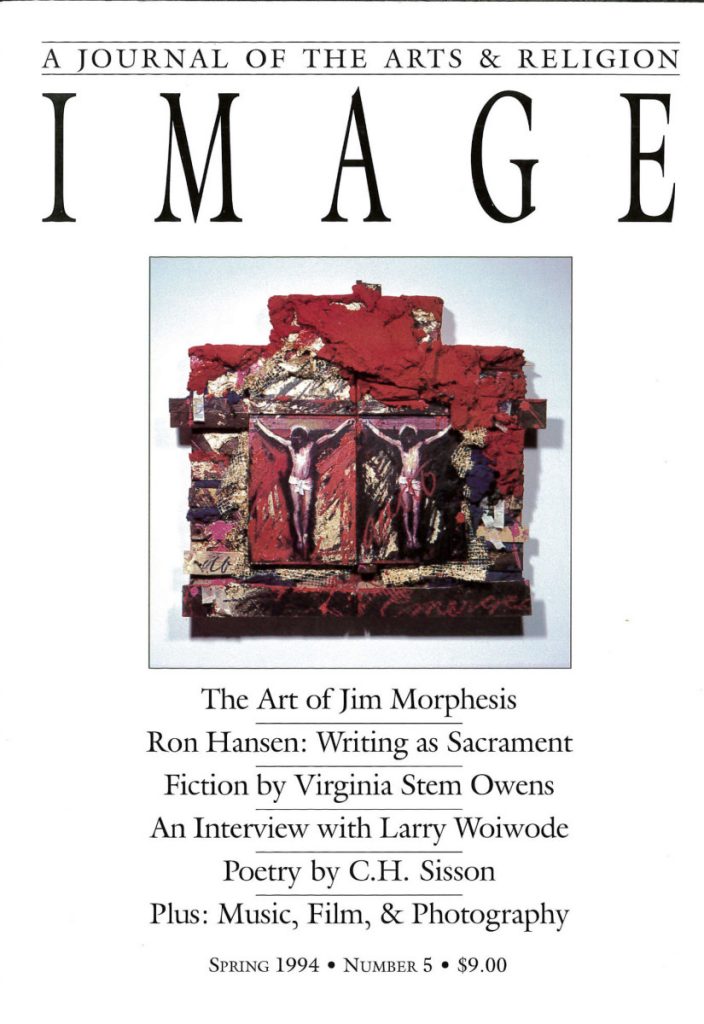 2021-01-17
Hi Jim,
I'm afraid my public library isn't accepting books at this time. If you know of one to which I can submit your monograph, let me know.
In Rudy Part 4 I mention the Brand. Haven't checked to see if they have a copy.

Attached is a mix of my song (Bachelors Anonymous was the band) that we wrote for my now-wife Andrea Carney's 50th birthday in 1991. I told her the other day it's the only love song I ever wrote, so I'll be lording that over her when she thinks I'm not being affectionate. It contains the phrase "happy fault" that I told you about.
Hope you're doing well.
2021-01-18
Thank you so much for your message. I have been meaning to write you for the last month, but I let an arduous end to last year, and a tumultuous beginning to this new year, get in the way. So, please accept my apologies for being out of touch.
I have been enjoying Rudy Part 4 and having a wonderful time listening to your music with Bachelors Anonymous. I'm sure that you have had very few reasons to have to use your song to get yourself off the hook with Andrea, but I'm sure that she continues to enjoy the music and your talents. I do remember that the word scrawled in my painting inspired our "happy fault" discussion. Whenever you are so inclined, please know that I will be happy if you would send more of your music to me. Who did most of the lead vocals with the band?
Also, David, thank you for trying to place my monograph. I would be very pleased to have the publication in the Brand Library, in Glendale. I will also look into the Getty Archives. I should have done this a while ago, but online classes continue to take up so much time and leave me a little too exhausted. This coming semester, I will be teaching one less class and that will help.
And before I forget. In your last message, David, you asked me why I repeated the Crucifixion images in my earlier paintings. There were a few reasons, including the fact that I was influenced by the kind of serial imagery that I saw in the work of Jasper Johns and Andy Warhol. But when I found myself at the point of needing to use the image of the Crucifixion in my work, I was concerned that using such a loaded image might get me into trouble. The need to use the image and my fears about using it created a dialogue in my head. Repeating the image in my paintings continued that dialogue and made the paintings seem more about searching, which was the truth, than the mere adoration of a single image. Your question may have encouraged the small series of pandemic Crucifixion drawings that I have been doing recently.
2021-01-19
Glad to hear you're okay, Jim. Nowadays we never know…
Thanks for that explanation! I hope we can share this conversation via the blog, and a sample of the [pandemic Crucifixion] drawings, which sounds so intriguing. I'm going to start a private draft of that dialog with you. Rudy asked me to get in touch with the artist he worked with on Dance-Crazy Kid, Steve DeGroodt, who turned the artwork for that into a beautiful folio of some sort. But I looked at his bio and he started out as a musician, so I think I'll see about starting a conversation with him later. Although we're all getting older and I'm afraid about waiting!9
Glad you remember our ["happy fault"] conversation. I assume you've received the two B.A. emails; let me know if you didn't. We released "The Flesh Failures" and two Christmas songs so far. We're looking forward to releasing a six-song album with two extras in the next week or so, and will email the list about that. I'll be making a Bandcamp item for it (titled Bachelors Anonymous) public in the next day or so and will point you to it. We traded off lead vocals. I did the lead for "In Another Time" [the song we wrote for Andrea, which I sent you]. That will be released further out. We're going to have it mixed properly in a studio, virtually I guess, however that works. The sarod was me doodling as I'm learning how GarageBand works.10
Well, I struck out with the Glendale Public Library [which includes the Brand] also. Seems no one is accepting placements now. I'll look into schools next.
And I'm enjoying the monograph, the reading of which I put on hold.
2021-01-19
Dear David,
Thank you for all of the wonderful items. And thanks for trying with the Brand. So that you don't have to put more time into it, I will take more time to delve into finding a library venue for the monograph.
I did receive "Merry Solstice from Bachelors Anonymous." And I'm looking forward to receiving the Bandcamp link and more.
Thanks again, David. I look forward to connecting again soon.
2021-01-21
Jim, our album is live on Bandcamp for streaming.
2021-01-21
Thank you, David. I sampled your songs on Bandcamp and I am now enjoying your music on Pandora. Wonderful. Congratulations!
Passion Passion
2021-03-21
Hi Jim,
It's that time of year and I'm reminded of your Crucifixion paintings. I have a second question for you below (after a bunch of me talking). I hope you have the time and interest to reply.
Jim, in the lovely foreword to your catalog, Michele Cairella Fillmore writes, regarding your work:
However, while religiosity and its visual interpretations float on the surface, one can earn more by delving much deeper. By exploring the more profound meaning beneath layers, a subliminal encounter more personal in nature, evolves.
Having been a lay gemstone journalist for several years, I immediately thought of a phenomenon in opal called, in Spanish, lloviznando (drizzling) or, less literally, floating light. Just as the opal beckons us to probe both surface and substance, Cairella Fillmore explains how your paintings capture, then call for cogitation.
When I was entering the Catholic Church in 1991, Bruce Schwartz, who you met, asked me about the meaning of the Passion. As now, it was that time of year, and likely near the Easter Vigil in which adults like me were brought into the church after a couple of years of study. I remember grasping for an answer because for me the Passion is like the end of a stanza in Leonard Cohen's "Suzanne":
But he himself was broken, long before the sky would open
Forsaken, almost human, he sank beneath your wisdom like a stone
The Passion had sunk so deep beneath my wisdom only later could I articulate its meaning on a personal level.
Your catalog leads off with The Crucifixion. I know that's only one piece of the Passion, but could you discuss the significance of both for you?
2021-04-04
Dear David,
It somehow seems appropriate that I'm finally writing this message to you on Easter. And, as I try to handle your questions about Lent and the Orthodox Church, as well as my relationship to the Stations of the Cross, I do hope that you are enjoying a wonderful Easter celebration.
When I was growing up, we called this day American Easter. I believe that my grandmother started that tradition. Orthodox Easter was always referred to as Greek Easter. American Easter was chocolate bunnies and Greek Easter was a long Church service and a fabulous feast at the home of my maternal grandparents.
Both of my parents were raised in the Greek Orthodox Church, but in time, the task of keeping the traditions alive within a post-war-era, Americanized family became the responsibility, primarily, of my surviving grandmother, my maternal grandmother. She was the one who kept the traditions of Lent as best she could. And it wasn't easy because fasting for forty days before Easter was the proper way to observe an Orthodox Lent. (…David, I really do have to take some time exploring the significance of the many "Forty Days" references in the Bible.)
The church experiences that affected me the most through my teenage years took place in the rather grand St. George Cathedral, in downtown Philadelphia. The church interior was vast, opulent, and filled with gilded icons, Byzantine chanting, and smoke from incense burners. The incense and beeswax candles created an otherworldly aroma that added to a very sensual and mystical experience. And only Greek was spoken.
The long services allowed me a lot of time to study the fourteen, very large, Stations of the Cross paintings that lined the church walls. I understood the story of Christ's last day initially through these visuals. My favorite icons depicted St. George Slaying the Dragon and, directly above the altar, the Crucifixion. The Crucifixion impressed me the most because I saw a human figure posed in the most vulnerable, as well as the most confident position possible. As a child, this became a superhero image for me. And it was the humanity of Christ that always meant the most to me. I began working with the image of the Crucifixion in the 1970s, but did not expose my use of this image until 1981. So, the idea of man being morally strong yet physically fragile, became a romantic theme throughout most of my early career. It drove my imagery and work for years. And I do wish that I could reclaim that exuberance over an image and a story.
David, I apologize for bending your ear. And I really don't know if I answered your questions, but I have been wanting to take some time considering these pictures in my head. So, I thank you for the opportunity.
And Greek Easter falls on May 2 this year.
2021-04-05
Thanks, Jim. Great timing. You aren't bending my ear at all. It's a perfectly cogent answer to what, as I told you, I found personally to be a difficult question.
You got my juices flowing so I'm composing a response, but the hour is late and while the spirit is willing, the flesh is fading.
2021-04-06
So, Jim, here's what I thought of in reading your American Easter remarks…
Because I grew up in a Congregational church, we had little idolatry—er—imagery to contemplate, heh-heh. I wrote a blog piece this Advent about one striking "portrait" of Jesus that came our way in Sunday school. Otherwise there were the perennial Gospel dramas and films on television. (Jesus Christ Superstar wouldn't be released on film until the week I left Boulder for L.A. the summer of '73, although we had an LP listening session with another youth group from the fundamentalist Presbyterian church nearby.) My parents are relocating in Boulder and gave me the sheaf of letters and other memorabilia I have before me, including the bulletin for our youth service about six months before I left. My contribution was playing Dylan's record "A Hard Rain's a-Gonna Fall" from ten years before, which I must have borrowed (I remember bringing in my stereo and turntable), and co-introducing (with the girl who had introduced it to me) Britten's Rejoice in the Lamb. We reprinted the entire libretto, so impressed were we by Christopher Smart's revolutionary lyric. "For I am under the same accusation/ With my Saviour,/ For they said,/ He is besides himself," written while he was in a hospital for the insane. What little hair I have stands up at the memory of this marriage of text and sound, as pure as breath. And so now, reading your answer, I can say that like you I was inspired by religious art.
Now I'll re-review the portion of your catalog that I've already read in light of your response. Then I'll move forward and pose another question.
2021-04-30
My web-based email, when I use my wife's computer, sometimes fails and so you're receiving this on Good Friday (if there is such an Orthodox day) instead of of, well, read on…
Hi Jim,
Greetings on what would be Ash Wednesday in the Roman church, but I'm told your Ash Wednesday takes place before Lent.
The Rudy Part 5, which focuses only on his The Dance-Crazy Kid from New Jersey Meets Hofmannsthal (1992), is taking forever to complete. I had some heart palpitations a couple of weeks ago and the doctor upped my BP med, and I felt very lethargic for a few days. So that didn't help speed things up. I'm essentially doing a second Anatomy of a Performance—but one that I had nothing to do with. Armed only with reviews, the printed program (I saw it at the Armory, but don't remember a thing), and a very murky live performance DVD, I'm feeling as visually challenged as Rudy. For instance, in the first scene I mis-IDed Hofmannsthal as a Veil Bearer! Steve DeGroodt, the artist who designed the production, has been a life-saver; it's because of his sketchbook/portfolio for the piece that Rudy insisted I work this up. There's also a twelve-page essay by Susan Spaid, a "gallerist" (perhaps you know her?), that I'm urged to read, but I'm waiting until I have all the pieces in place. I believe she did a grand analysis of the piece, which I'm not really doing, so citing that will be a fine addition.
Enough about me. I'd been waiting to finish the above before posing a next question to you, but since that ain't happening…
In The Human Figure section of your monograph, I'm struck by the voluptuous torsos, which give the nudes an almost androgynous luxuriance. In one or two, a vertical line hints as a Caesarean section scar. (I looked it up: the incisions normally are horizontal….) In this regard, something Steve told me is apropos from an email conversation we had regarding the observer's process of processing when confronted with abstraction, or even the figurative. Steve summed up: "Interpretation is out of our hands once it reaches the audience." So mine is the take of one of many in your audience, or perhaps the take of many as well. Do you have any response to my interpretation?
My Greek's a little rusty, so I can't close with a proper seasonal salutation other than to thank you.
2021-05-02
Dear David,
"Christos Anesti" It's Easter Sunday and, for Greeks, "Christ is Risen" is the most popular Easter morning greeting. And, concerning your question about Ash Wednesday, most Eastern Orthodox churches do not observe Ash Wednesday.
Now, how about you? I was sorry to hear about your heart situation and I trust that your energy continues to return.
David, regarding my torso paintings, in the late 1980s they began to morph into the images that you described as androgynous. And I liked your tag of "androgynous luxuriance." This, however, was not intentional. After painting so many large, tragic/heroic figures, I began to see the images in more abstract terms. I found myself accentuating curves throughout the figures. Figures that I continued to see as male were referred to as female by many. This bothered me until I pushed the process, or rather, the process pulled me into creating figures that were rather Picasso-like. Eventually, my palette became pastel-like and I started to title the paintings after female mythological characters. When the figures began to become total abstractions, I worked very hard to pull them back to more representational images in the early 1990s.
And of course, none of what I have been saying answers your question. David, I had to take a look at what you thought might be a Caesarian scar. I did see what you interpreted as such a scar in the figures. These vertical lines were more formal elements. Some of them are carved deeply into the figure, but they were not intended to be scars. They mostly appear in the very frontal images and I used them as a way to keep my proportions correct. But I usually leave them because they are an architectural element and helpful when I don't want the figure to become too abstracted.
Steve was correct. Interpretation is out of our hands once an artwork steps into the world. I have also learned to pay attention to the interpretations of others. Your observation reminded me of a short-lived series of "Sacred Heart" paintings that I did in 1994. The attached image may interest you.
Finally, David, thank you for the update on your writing. I knew Sue Spaid as a gallerist, but not as a writer. And because of you, I keep learning of Steve's involvement with Rudy's performances.
Take care of yourself, David and please allow for the rest that I'm sure you need.
With best wishes,
Jim
2021-05-03
Jim,
First, I'm moved to silence and a tear or two upon seeing your sacred heart. I will respond later, but for now: Yesterday I spoke with Strawn Bovee, who was the de facto librettist for [Rudy Perez's] Dance-Crazy Kid, and in the course of discussing the countenance of Christ and the mutability of masculinity, I went to that blog post I wrote in December. Among the few examples I had used was a blondish blue-eyed Sacred Heart holy card. Contrasted with yours, within twenty-four hours, I'm overcome.
Second, I have no idea where Ash Wednesday came from. Yes, I originally was writing you on the Wednesday before Orthodox Easter, but Ash Wednesday is the beginning of Lent in the Roman church! I'm making more and more mistakes these days.
Third, your answer(s) to my question are so well taken by me. Again you mention the architectural in your paintings, which started us on this conversation. Thank you.
– David
Memento mori
At this point in our correspondence, I sent Jim a Getty Museum report on its investigation of a mummy of a young man from the first half of the 2nd century CE. Such mummies are remarkable because of the painted portraits that were incorporated into their sarcophagi. Even discussion of the physical appearance of the historical Jesus (as I wrote in 2020) can be informed by these vivid portrayals that reflect an interplay between the Egyptian, Greek, and Roman, recalling the later intersections of Christians, Jews, and Muslims in medieval Spain. (In fact, the red pigment coloring the mummy's linen outer shroud came from Spain's Rio Tinto Valley.)
The Getty report focuses on "Herakleides, son of Thermos." It moves from the outside in, explaining the elements and emblems of the sarcophagus before examining its contents via CAT scan. The scan revealed a skeleton perfectly preserved, with an age at death of 18 to 20, matching the portrait. What wasn't expected was placed over Herakleides's abdomen. I wrote Jim, "You'll go wild if you haven't seen the tomography behind the sarcophagus." He replied, "I just showed my students images of several Fayyum mummy portraits; those who stayed awake through the discussion should be interested in this material."
Six days later, Jim wrote to tell me that Jay Belloli had died. Jay had been instrumental in the presentation of Rudy Perez's tour de force, The Dance-Crazy Kid from New Jersey Meets Hofmannsthal, at Pasadena's Armory Center for the Arts in 1992. Jay had sent me his memories of working with Rudy but had not responded when I sent him my draft. For Jim, Jay's passing was personal. He wrote, on Facebook:
The passing of my friend, Jay Belloli, is a stunning loss for me as well as the many people who knew and loved him. And if you knew Jay, how could you not love and respect him. He was a brilliant and caring man. Through his curatorial talents, Jay was long a champion of the arts and the artists of our community. Working with Jay was always a pleasure. And for me, remembering what a wonderful person he was will help fill the significant void that he leaves in my life and in the lives of all those who were fortunate enough to know him.
Jay died on May 21, 2021, the day I sent Jim the Getty report about the mummy of a young man.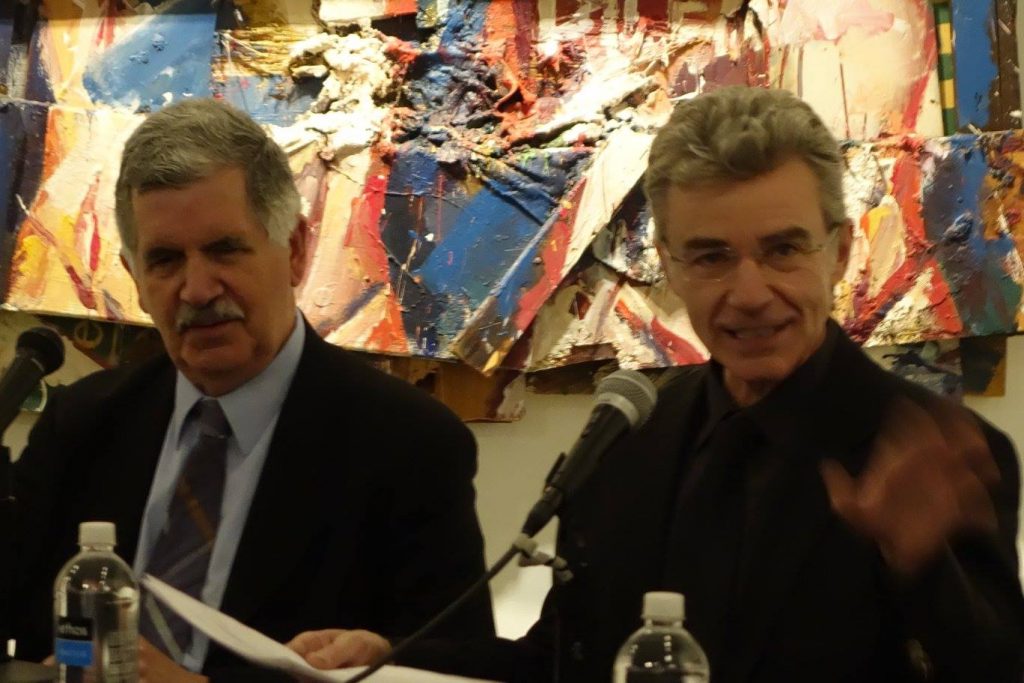 I wrote Jim at the time: The photo of him and you, with you both in relative shadow, the artwork shining, gives me pause. I'm so sorry for the loss of your friend.
2021-06-21
Hi Jim,
Happy Solstice (well I meant to send it on time). First, thank you for taking the time to help me sort out the details of Jay Belloli's passing. I had a flurry of activity in completing Portrait of Rudy Perez 5, receiving the last bit literally an hour before the post went live.

Once that was complete I began work on the digital release of the second batch of Bachelors Anonymous songs. Our task list for that would make you as sleepy as your students. I loved your quip:
I just showed my students images of several Fayyum mummy portraits; those who stayed awake through the discussion should be interested in this material.
These days everyone seems to have what John Bolton (hardly a favorite of mine) said of Donald Trump: "the attention span of a fruit fly."

As I mentioned last time, I was very moved by your Burning Heart No. 2. I can see why you sent that image in response to me quoting Steve DeGroodt about how, once a work is presented, the creator no longer owns its interpretation. You've offered a lot to interpret. So here goes…

It's a teratoma rent by a Vulcan-ic blast, mirrored by and engendered by the terrestrial eruption, an embrace and a purge at once. There's also something disturbingly cartoonish about it: the blood droplets, the stream in human form, the knobby chamber's "face" being kissed by the smoky/cloudy putto-cum-pussycat, the bats, a phallus. I viewed it at a relatively small zoom to begin with and each enlargement revealed something new.

Returning to your monograph, the Cubism and Abstraction section is well curated. Having just left The Human Figure pages, it, well…, morphs—from the figurative, to the cubist in which navel nipple and eye challenge us to reassemble the potsherds, to a torso that dares us to do so.

The paintings in your Roses group strike me as quite artificial, lusciously so, with cabbage surfaces dappled sometimes as if by a stage projection, and yet the petals' edges are so sharp, so fierce, so real. These are multiples with mutations.

I've been digitizing my audiocassettes, and while writing this email, I transferred Brandon LaBelle's aroseisaroseisarose (n.d.), for which he explains:
The phrase "a rose is a rose is a rose" was originally written by Gertrude Stein in an attempt to speak outside of metaphor, to emphasize the materiality of language without it referring to things outside of itself—the rose being nothing other than itself. There is also a hidden romanticism in the phrase (she wrote it in a circle above her and Alice's bed)—the rose being the quintessential poetic image of love. "a rose is a rose is a rose…" rewrites romantic imagery by recovering the rose from literary tradition, retrieving it from cliché. And through this recovery, to articulate anew the experience of intimacy.
With some transposition, you seem to have done the same with your series. And yet, and so, LaBelle's execution of his recording is transfigured from the intelligible to the impressionistic.
To make this recording I placed a small microphone inside my mouth and said the phrase […] for roughly five minutes. During this process it became increasingly difficult to articulate the words until by the end all I could do was hum the rhythm of the phrase.
This reminded me of how your Roses monograph section is curated: moving from the gallery wall, to what I've called the multiples with mutations, to the particular, to a final example of the rose—Large Five Petal Rose Study, 2010—, well…, "referring to things outside itself" (to borrow Labelle's phrase), if we choose to interpret what those things might be.

So, Jim, I don't have questions regarding the above, but if you have any response…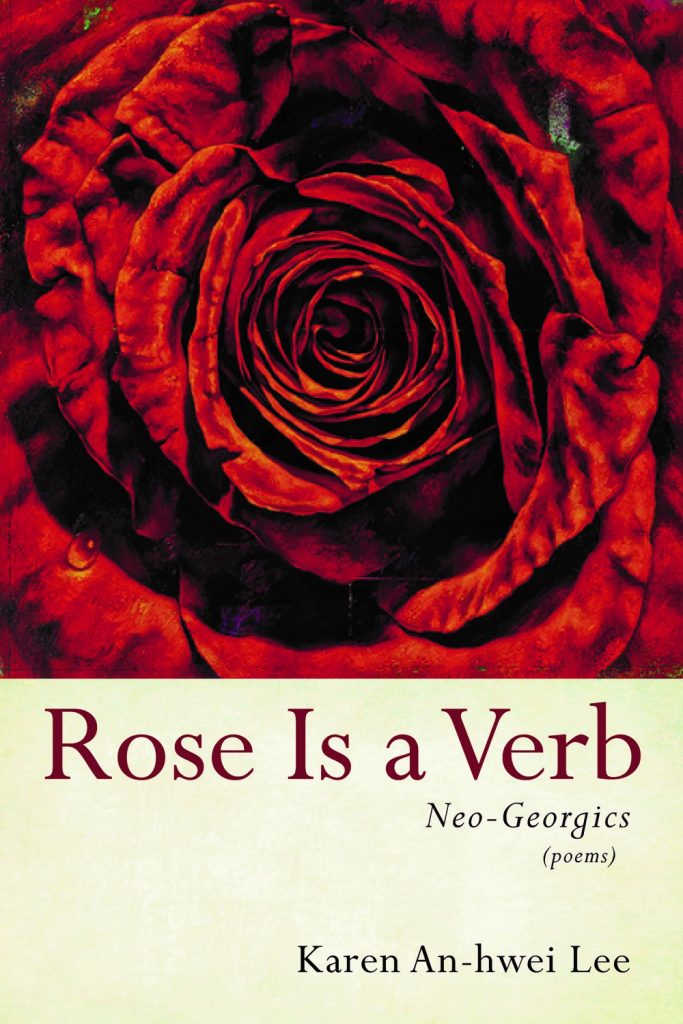 Jim wrote the following section on 2022-06-28 after describing his reaction to seeing an exhibition that included a painting by Barnett Newman.
David, from the red of, Anna's Light, to red roses.
For many years I have used mythological characters, along with Christian iconography, to represent the moral strengths and physical frailties that we all possess. The rose is an object that has, for centuries and in many cultures, symbolically represented the passion, beauty, strength, and mortality of all humankind. For a time, I included an image of a rose, along with other memento mori in many of my paintings.
A little more than a decade ago, I decided to have my rose images stand alone and stand in for the human figure in a new series of paintings. Spiraling petals would fill a square format and serve to pull the viewer's eye into the picture plane and action. I wanted escape to be difficult and I wanted the rose image to feel alive, fleshy and corporeal. Caravaggio's painting, Doubting Thomas, in which Christ guides Thomas's finger into his wound, gently lifting the flesh as if it was a rose petal, was an inspiration for the muscular petals in these paintings. In the completed series, most of the rose images are thickly painted in hues of deep red. In each painting, overlapping petals, sometimes releasing drops of clear fluid, allude to wounds of the flesh. This series of rose paintings was first exhibited in an exhibition titled, Time and Desire.
David replied to Jim two weeks later, on 2022-07-15 after an elusive image kept bouncing around his head.
Jim, what a surprise! That a body of work could take root from such a seed. The perfect image of petal as flesh is mandalic in my mind, firm, fleeting. I can only guess at what I thought I knew when I read your words. I, mm…, probed.
In line with how, as you suggest, Caravaggio has his way with a cliché, brilliantly so, I went to two filmmakers. Tarsem Singh's award-winning promo video for R.E.M.'s "Losing My Religion" was inspired by Caravaggio as well as Andrei Tarkovsky (a favorite of mine). Onscreen the petal of flesh comes from Gabriel García Márquez's "A Very Old Man with Enormous Wings," except that the video invents it, inviting the viewer to probe, while the characters never do. As did I, but without resolution.
My only other frame of reference was Derek Jarman's film Caravaggio. I watched that tonight, and while Jarman recreates many of the artist's tableaux, that for Doubting Thomas is understated: after he's been cut in a fight, Michele (Caravaggio) guides the hand of the waiter Davide into the wound. In his volume of ruminations on his film, Jarman includes a remarkable image by photographer Gerald Incandela: the filmmaker's hand guiding the hand that guides the hand. Michele states:
In the wound the question is answered.
All art is against lived experience.
How can you compare flesh and blood with oil and ground pigment?11
Rhetoric, for sure. Still no resolution for me, but your "muscular petals" are a convergence that the poet in each of us can savor, over, over, and over.
Thank you.
– David
After including that passage from Jarman's film, David had second thoughts:
My July 15 email essentially was the capstone to our conversation (its out-of-order placement here notwithstanding) and I felt uneasy that Jarman's commentary might be construed as a condensation of our colloquy. Then I read the essay on Jim's work by Fr. Terrence Dempsey in Image No. 5: "The Tragic Sense of Life." It includes Jim's reflection on his powerful Skull Painting (No Messiah) from the mid 1980s.
After feeling so positive about the paintings I was doing and after feeling that I was resurrecting an image and giving it new importance, I realized that these paintings weren't the saviors anymore. I question whether I was adding anything […]. Finally, all of these objects are made by mere mortals. They aren't a substitute for something else; they can be triggers to something else—but they aren't the something else. When there are fires, paintings burn up. When there are earthquakes, they fall. They all will return to the earth eventually.
Indeed: the earth whence cometh Jarman's "oil and ground pigment."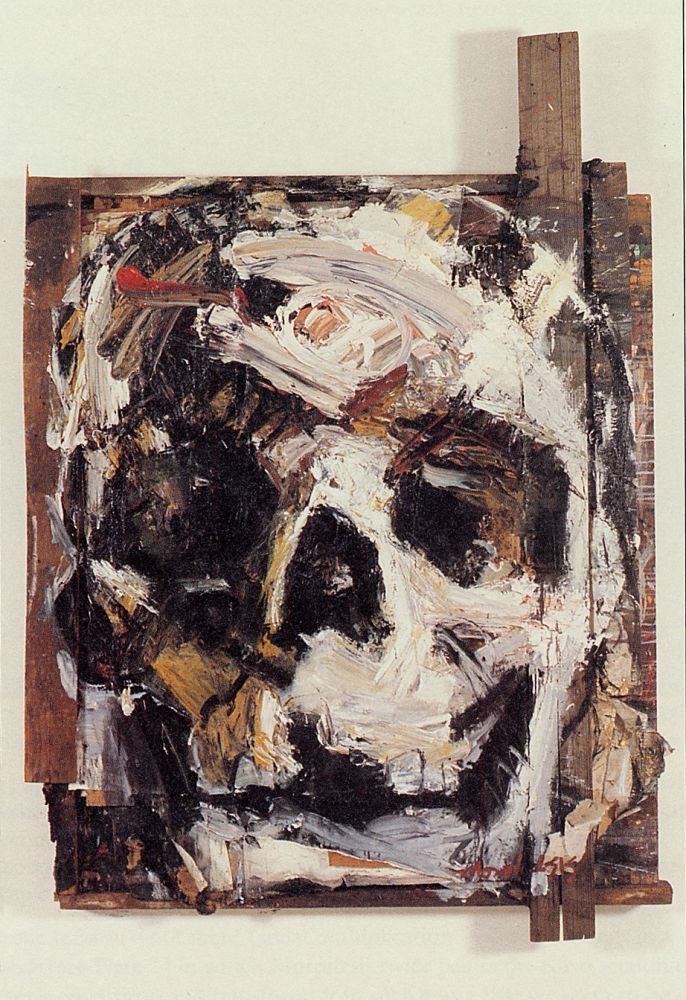 2021-06-26
Dear David,
Thank you so much for your recent message. You, as always, seem to be extremely busy with good work. I enjoyed reading "Portrait of Rudy Perez 5: Anatomy of a Performance 2." Well, I actually have more to read. I was not able to finish because I had cataract surgery this week and I'm currently looking at a blurry world. A temporary situation I trust. My second surgery will be later this week. I did, however, read quite a lot of what you had to say and document in your post. Because I know Steve DeGroodt, I was especially impressed with the work that he did for this project. And I wish that I had known more about Jay Belloli's connection with Rudy and with Dan Flavin years ago. Thanks for including Flavin's restaurant portrait of Jay and his "Remembering Dan Flavin" essay.
David, I so much appreciated your comments on my artworks. I'm always at least a little nervous when I read what someone, who's opinion that I respect, has something to say about my work. And, as you have done in the past, you encouraged me to reflect back on those paintings and consider connections they make with the work that I am doing now. I have more that I want to say about that and I promise to do so as soon as I can write a message to you using both of my eyes.
For now, David, I'll just say that I didn't know that Gertrude Stein coined the phrase and you have me interested in Brandon LaBelle. I played a brief recording of an interview that he did a few years ago.
I also wish you good luck with your next release of Bachelors Anonymous songs.
With best wishes and thanks for taking the time to write your wonderful comments regarding my paintings.
2021-07-25
Dear David,
This brief note is just to let you know that I have played In the Land of Nod in my studio and continue to do so while I'm working. There is of course a wonderful 80s feel to your music, which is very appealing to me. At the same time, I also find your music and lyrics to be very current as well.
David, I must say that your website is very impressive. How fantastic that you found and were able to include so many announcements and stories from, what seems to me to have been, a very active and impressive ten-year run. I still have a lot more to look into, but for now, I want to congratulate you on the release of the album and the website.
With best wishes for a new decade of success with your music.
2021-07-26
Thanks, Jim! I especially am glad you appreciate the documentation. I became a lay historian late in life and cringe at what I may have tossed out long ago. We're constantly having new pieces added to the puzzle. Thanks for listening and enjoying.
Tonight YouTube pushed this video my way and I thought of your virtual lesson sessions and the challenges life models have had for the last eighteen months, with Zoom's ban on the naked form and all. Low is from Duluth and I believe the founders are practicing Christians, tho' I haven't kept up.
2021-07-26
Dear David,
I will be looking for those new puzzle pieces. And today, in the studio, I will be listening to In the Land of Nod and occasionally playing Low. Thank you for the tip. This band is new to me, but I am rather fascinated by their sound and videos.
Best wishes to you, David.
2021-08-10
Jim, I know this is old news, which I've read about, but I never saw represented.
2021-08-11
Dear David,
I did see the story on the Greek and Roman marbles. For years, I have been curious to see how one of these sculptures would look completely restored with accurate colors.
Hope all is well and thanks for the link.
2022-04-23
Subject: Easter Eve Greetings
Hi Jim,
Hope all's well with you.
I've been preoccupied with getting the third and final Bachelors Anonymous collection out, The Big Picture. It was released on the RC Holy Thursday. I'll announce that on my blog and then I'd like to finalize the conversation you and I have had and put that out there too. I'll look it over in the coming days and tighten it up and send it to you for your review. I might have a lingering question or two.
I've been talking with Rudy every once in a while. He's hanging in there but is isolated.
2022-04-23
Dear David,
How wonderful to hear from you and I thank you so much for the Easter Eve Greeting! I hope that you enjoyed a very pleasant Easter last week.
David, I must apologize for not getting back to you days ago as I intended. This is not an excuse, but I did let myself get wrapped up in family health situations, teaching, and studio struggles. The good news is that in two weeks, my teaching semester will come to an end so that I can devote more time to the other stuff. Well, I will make sure that this will include more studio time and listening to the entire Bachelors Anonymous The Big Picture album.
I had just seen the Ulysses Jenkins exhibition at the UCLA Hammer Museum, my first museum visit in over two years, when I received the message from Rudy mentioning that he and Ulysses had worked together in the 1970s. It was a good reason to send a message off to Rudy. I told him that I remembered his collaboration with Ulysses all those years ago. I will be looking forward to connecting with you in the near future so that we can continue and perhaps finalize our ongoing discussion. And again, David, it was very good to hear from you.
With best wishes and congratulations on having now released the entire BA collection!
2022-05-26
Dear Jim,
In viewing the final sections of your catalog—Marsyas and Cuts; Skulls, Vanitas and Memento Mori—I come full circle to your Marsyas III, which I found online in passing before I ever received the catalog. I don't have questions for you, but a single reflection.
With your Cuts I can't help but be reminded of a single performance by Hermann Nitsch, who died last month at age 83. I saw it in April 1978 while attending Immaculate Heart College. I was friends with the music department secretary, who showed me a poster the department had received announcing Nitsch's Orgies Mysteries Theatre, which was to take place on a Saturday night in an anonymous space in Venice. As far as music goes, indeed, among the performers were many who must have dusted off their percussion and wind instruments from grade school, blasting away at the sheep carcass suspended in the space. (Don Bolles, who had just relocated from Phoenix, and who would join the Germs, played clarinet and, ever the exhibitionist, eventually dropped his pants. I recognized him later.12) These performances, rituals, were notorious for employing blood, mucus, entrails.
And so, superficially, Nitsch's performance has a consonance with your Cuts because of your New York studio's proximity to the meat packing plant. But also with Marsyas: Nitsch included the closest to a human cadaver in the piece: a living man. He, like the sheep, was stretched, spread eagle. When released, his muscles quivered uncontrollably. It was, well, a visceral reminder of how sometimes we lack control, controlled by others. I read that Nitsch wanted to use human corpses in his performances. "It's only a question of time, a question of possibilities," he told Nancy Buchanan. Why a medical student and not an artist? he asked. "I would like that we come to a mystic of being, that we are so intensive here," he told Buchanan. "The old kind of mystics were against life." And death is part of life, part of our life—a part of our lives as a young species for a lot longer than our lives as civilizations. "I think the wish to kill is very deep in us," he told Buchanan. "I'm very against killing and cruelty in real life, but we have to be true, and we have to know this." I write this a day after the massacre at Uvalde. Those killed were a sacrifice, a holocaust, to our cult of death, manifest in a military that knows no bounds, arms allotted like candy.
And yet your brutally honest Cuts contain, like Picasso's Guernica, a flower, a blossoming through the pavement of pigment.
2022-05-30
Dear David,
Last week, you sent me a message that began with your reassurance that you had not dropped out. Well, I never thought that you had gone away, however, it is now my turn to apologize for not getting back to you sooner. I have had distractions outside of the studio, but my battles in the studio have taken most of my time and energy. Still, I have been considering all of your questions….
I want to thank you for bringing up Hermann Nitsch and describing so well his performance in 1978. While I was familiar with the Kippers and their performances, until now, I really didn't know much about Nitsch. Your remembrances of the performance, along with quotes from his interview with Nancy Buchanan, were revealing and something that has been helping me through current difficulties that I have been having with my work. Those difficulties include not being able to bury any hints of a possible brighter future within the very dark paintings that I have been doing for quite some time. Although, I have been trying to find a way of planting some of those flowers from Cuts in my current work. Current events continue to stomp those desires.
Finally, David, the connection that you made between my work and Guernica did lift my spirits. I did recently discover that in at least one of the preliminary drawings for Guernica, Picasso had the image of a bird beginning to fly out of a large wound in the horse near the center of the composition, but in the final version, only the large wound remained. But, as you suggest, the positive act of creating the painting gives hope.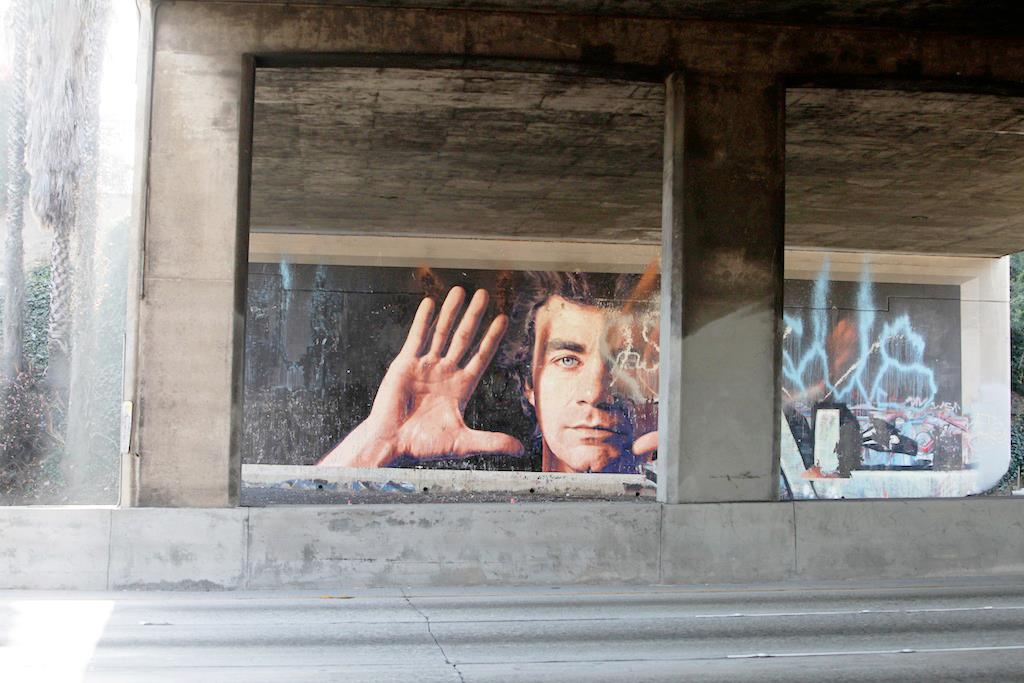 Header image:
Blue Altarpiece, 1984,
oil, magna, wood, fabric,
rope, wire, and gold leaf
on wood panel, 72 x 95 x 10″
---
Notes