I do what I do because
that's what I do, and if
I didn't do it who would?
— Rudy Perez
In talking with Rudy Perez about his career's performances over the last nine months (see Part 1, Part 2, and Part 3), I noticed how many took place in art spaces. Of course, by the time I met Rudy in 1980, performances—dance and otherwise—were often hosted by galleries—large and small, for-profit and non. What follows are reminiscences of such productions during the years before I left Los Angeles for Denver in 2005, including bits from our conversations earlier this month.
Role Playing
In mid May of 1979, the year after Rudy arrived from New York in Los Angeles for his UCLA residency, his ensemble closed Men in Dance, that year's Dance at Brand series held at Glendale's Brand Library & Art Center. For that event Rudy's crew was called The Men's Coalition, denoting an ad hoc alliance. But the ensemble had its roots in New York's Judson Church.1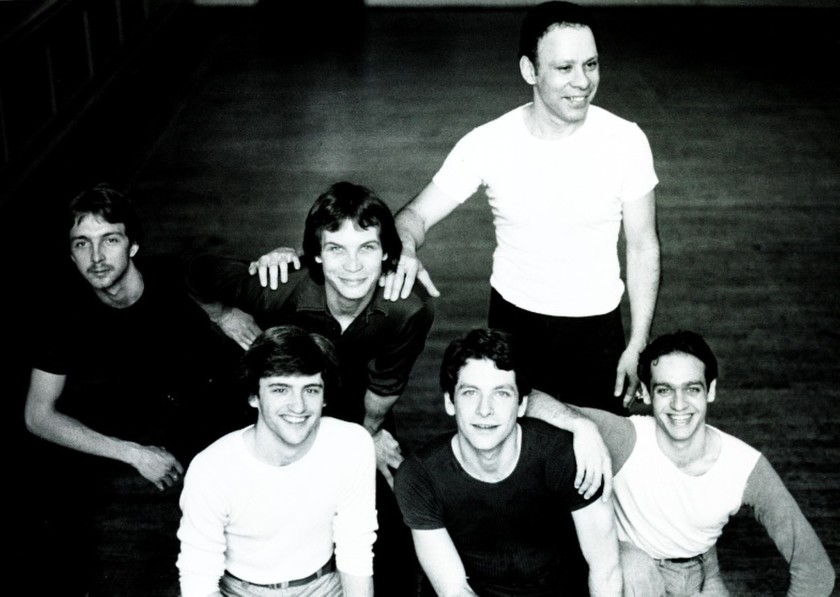 The Glendale venue, for out-of-towners, is a beautiful basilica of the arts, vis-à-vis the cathedrals of LACMA, the Getty, MoCA, the Norton Simon. The Brand is an unlikely façade, a "Moorish inspired exterior […] modeled after the East India Pavilion at the 1893 World's Columbian Exposition in Chicago, which Mr. Brand visited," per the Brand's website, its builder Leslie Brand having made his money from real estate. The library—part of Glendale's public network—houses art monographs you might not find anywhere outside of a university. And it has a 100-seat theater, which featured Men in Dance that season of '79—free to the public.
Although the Los Angeles Times announced the Men's Coalition appearance, the dancing itself wasn't reviewed until it was reprised a month later. Dance critic Lewis Segal:
Set to a powerful, mercurial score by Dale Howard, Perez's vigorous trio, "Highway, Part One," investigates patterns of aggression and dependency in male relationships. It resembles Perez's group works in its physical demands, yet sustains a personal approach akin to the solos.
"Highway, Part Two" was the straightforward anticlimax to the former,
with Perez […] again on another journey—a deliberately prosaic journey interrupted by a moment of overwhelming, unexplained pain.
But just as Rudy was coalescing with men—their "aggression and dependency"—he'd been tweaking the him/her boilerplate, via All Things Considered, which Segal called "a skillfully crafted entertainment" and
an exploitation of American athleticism in its game structures, team costumes and movement, motifs derived from competitive sports. Yet the jocks this time are both males and females, and the reversal of partnering conventions (girls lifting boys, for example) gives this romp a special immediacy.2
And so an image from All Things Considered would become an icon for Rudy. In July the Times published one of two versions: Susan DeSoto bent at the waist, arms outstretched, lifting a spread-eagled Don Graham on her back—an inverted star.3 Rudy used a second version, with, mm…, roles reversed (male on the bottom), for his informational brochure, below.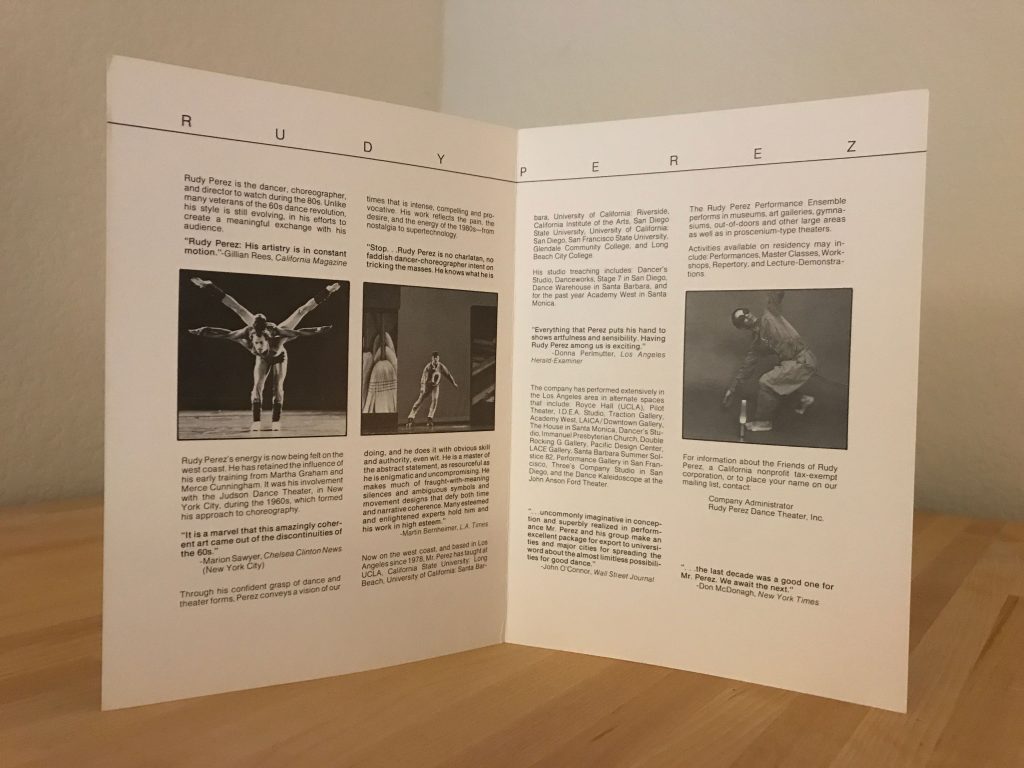 East of Alameda
In July of '79, a month before my loftmates and I performed with Rudy downtown on Traction Ave (see my Anatomy of a Performance), I received a postcard announcing an evening of music by The Cartesian Reunion Memorial Orchestra at a studio about a mile due south. CRMO was, as I recall, the brainchild of Lloyd Rodgers (1942–2016), who told me that at one point he'd become reacquainted with the writing of René Descartes, and…, memorialized the same in 1979 by what he'd call L.A.'s "major autonomous collective" of eight composer/performers.4 On the program was "a preview performance of a new dance by Rudy Perez performed by Karen Goodman": In Plain Sight . . .. Critic Martin Bernheimer, writing eighteen months later, noted that the piece
gave the lithe and lovely Karen Goodman an opportunity to don a flimsy red mock ball gown with mock superdecolletage, to mime flirtatious glances and suggestive stances ironically, while the Cartesian Reunion Memorial Orchestra (that's what it says here) wailed some wonderfully tawdry, repetitive suggestions of a filtered waltz.5
If the Brand Library was (and is) a Glendale landmark, the CRMO venue of 1804 Industrial St. was a downtown L.A. landmark in the making. It would become the second home of Los Angeles Contemporary Exhibitions when LACE moved there from Broadway in 1986. For the CRMO performance it was the site of artist Lin Hixson's loft. That same July of 1979 Hixson and her Hangers "theater of image" group had begun taking the stage in Hollywood, and a year later a Times Stage listing called the 1804 space Hangers Theater.6 The group members came from various backgrounds: fine art, dance, and music as well as theater.7 And so I'm reminded of Rudy's Art Moves weekly workshops open to non-dancers that began in October of '81—in Hixson's loft. These interrelationships and their results are given a critical chronicle by artist and educator (and Perez collaborator) Jacki Apple in her Performance / Media / Art / Culture: Selected Essays 1983–2018.8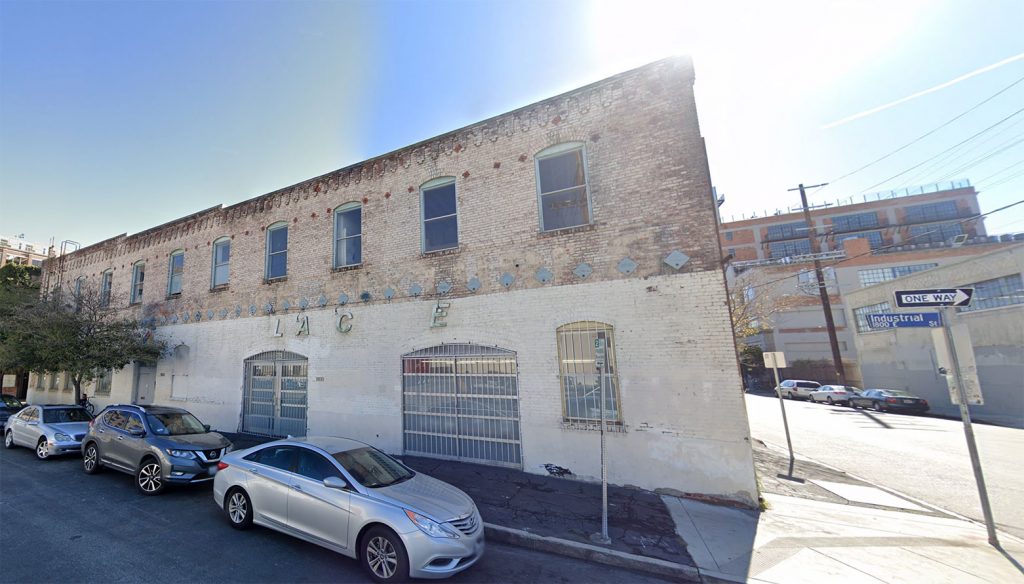 Although I and my now-wife Andrea Carney weren't in Art Moves' first round, we participated in 1982 with at least a half dozen other artists and musicians. As Apple wrote in the L.A. Weekly a year later:
The activities of Art Moves culminated in Meridian Pass, a performance work conceived and directed by Perez using both workshop participants and members of his dance company […].
Our first performance of Meridian Pass was that October at LACE (on Broadway), leading off L.A. Dialogue: An Interdisciplinary Arts Festival. Others in the series: Sally Roberts, Pat O'Neill, Eleanora Antinova, and Joan La Barbara.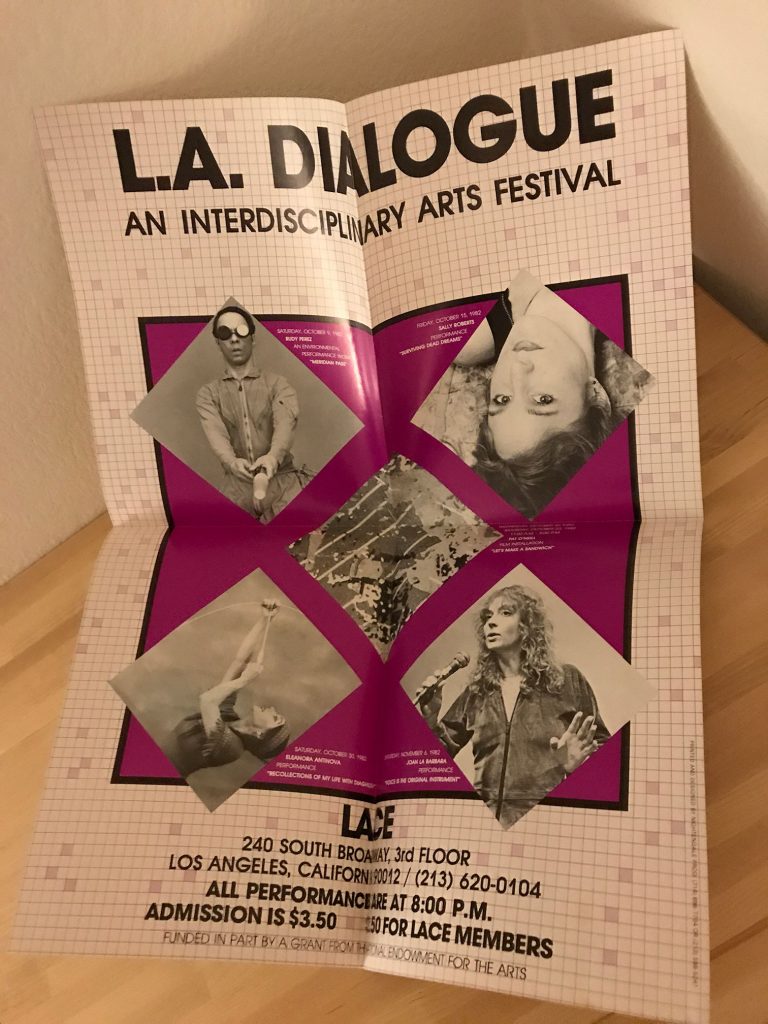 Apple detailed what for me now is a fading memory:
Dressed in torn gray rags and gray make-up, the performers slowly traverse a dimly lit space. They huddle together like numbed animals waiting to be exterminated. They gaze up as if from a dark dungeon towards an imaginary grating. Overhead is the sound of boots echoing on pavement, the slow dripping of water, an impersonal authoritative voice repeating phrases in a foreign language. These and other images are chilling evocations of the systematized atrocities we have perpetuated on each other in the 20th century—Auschwitz, Siberia, Chile, South Africa, to name a few.9
For us the costuming was as much a surprise as it might have been for the viewer. We slathered ourselves in a butoh-like pancake—Steve Nagler, the ceramicist in our number, used slip from his studio—and the T shirts we donned were slit, through which costumer (and makeup artist) Geneva Nash daubed red gashes. Ilona Howay sprayed our hair silver, accented with red zigzags. Our eyes were ringed in red, ringed in black.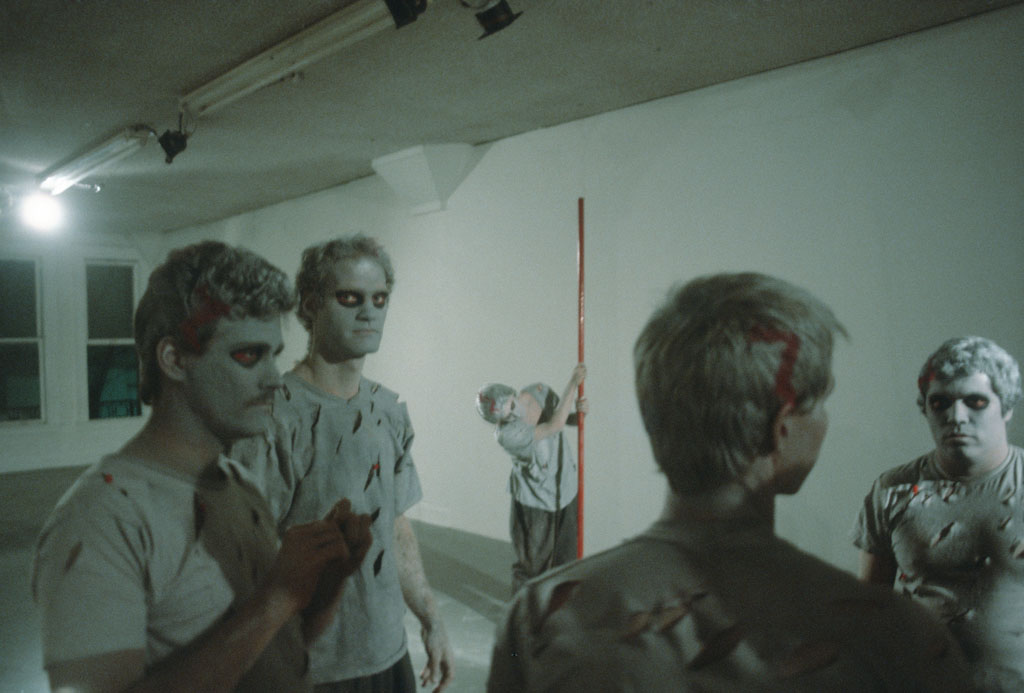 Apple continued:
In the second half of Meridian Pass, the prisoners become the jailers. They manipulate long poles in various abstract architectural and psychological representations of the prison, further dividing and separating the remaining prisoners. What determines who becomes a victim or a victimizer? Perez intimates that as a society we are the architects of our own oppression, the builders of our own prisons. Meridian Pass is a metaphor for a mental construct and a moral choice.
And Apple observed how Rudy, while employing frankly horrific imagery, does so "without seeming cliched or banal." Instead of an "attempt to shock or indict," he conveys the nightmare of our conundrum "by the unbearable tension of waiting." Rudy explained this to me as "immobility."10 Times critic Lewis Segal wrote in 1983:
Indeed, in its superb mastery of mood, group motion and theatrical focus, "Meridian Pass" represents one of Perez's most striking and purposeful works.11
Although such acclaim came many months after the work's premiere, we performed it time and again, including March of '83 as part of UCLA's open air series called Caught in the Act (at noon, which was a change)12 as well as that July as part of the L.A. ART "POPS" series at the Pilot Theater. And earlier: in the fall of '82 around the corner from Lin Hixson, at Double Rocking G, which had opened at 652 Mateo Street in September of '81. Named after its directors George Landry and George Yasuda, the space was intended from the start to feature performance, film, dance, and theater as well as fine art. The gallery hosted the Cartesian Reunion Memorial Orchestra the following February and, that spring, in conjunction with the antinuclear artists collective Target L.A., presented Target: Earth, along with many other venues including Art and Survival at Traction Gallery (run by my erstwhile loftmates), and performers like my band Age of Consent.13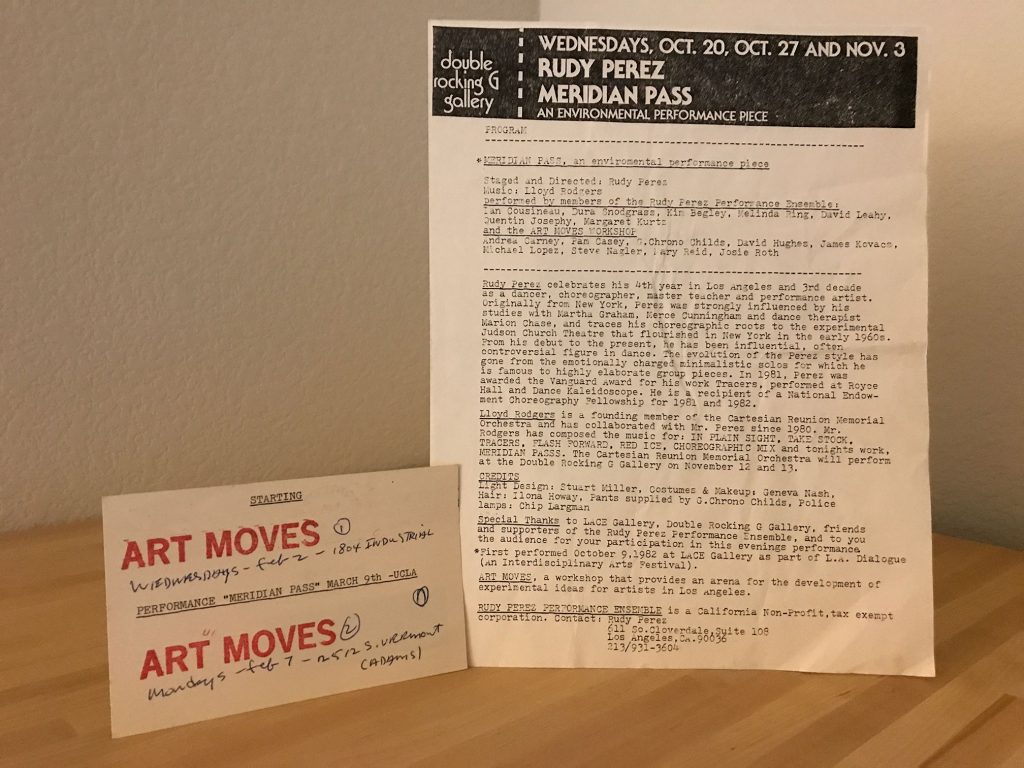 In the late fall of 1984, Double Rocking G featured the premiere of Rudy's Triangles Red, which involved interaction with the gallery's installation by Brian Pilon, Construction Series #1 (see photo here).14 Writing for the L.A. Weekly, Martin A. David focused on the limitations of Rudy's new (all but one) company members,15 whereas the Times' Lewis Segal wrote:
In "Triangles Red," set to another [Lloyd] Rodgers score, Perez's company manipulated four large Brian Pilon sculpture units on the upper stage level, moving through the new apertures that each shift of position provided. Beyond its striking if remote compositions, the piece served as a kind of commercial for Pilon: The dancing did little more than continually use/display/highlight The Product. Maybe Perez is in danger of going Hollywood after all.
This last quip was in reference to Segal's lead-in:
Nobody in modern dance and dance-based performance art captures the casual style and just as casual cruelty of Los Angeles with quite the icy scorn of Rudy Perez. […] He misses nothing, and in remarkably mordant choreographic action-painting he penetrates our rituals of self-celebration to reveal the abyss beneath.16
Long before much of this, in September of 1980, Rudy presented In Collaboration at LAICA's downtown gallery on Traction. It included a reprise of Highway, Part One and the debut of Take Stock, featuring music by Lloyd Rodgers, a stunning set by artist Mark Stock, and Rudy on roller skates with oversized horseshoes pegged on his chest.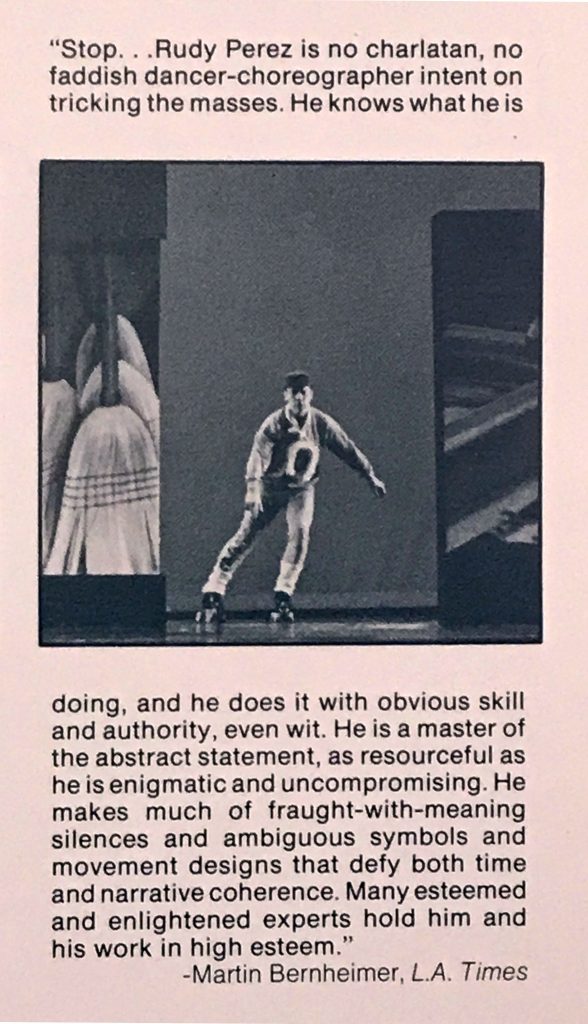 Take Stock was reprised the following January of 1981 at UCLA's Royce Hall as part of the school's Art of Dance series. (Rudy tells me the curtain was delayed for forty-five minutes due to long ticket lines—just two years after his arrival in L.A.) Perhaps because of the august venue, Martin Bernheimer stretched his envelope, as Times music critic, to recount the evening, including Take Stock:
With moving panels designed by Mark Stock (get it?) depicting a subway map, railroad ties and some brooms […], our hero inched his way across the stage on roller skates, in numbing solitude.
He wore a jogging outfit, I think. A hook extended from his chest, and yellow horseshoes hung from the hook. At the end, Perez did some nice gliding and swooping. The sound track concocted by Lloyd Rodgers gurgled appreciatively. Progress remained slow, however, and expressions remained blank. At the end, our "Patineur" heard a few boos mingling with his bravos.17
For someone who bristled at the notion of supertitles at the opera (German born and educated, he presumably had fluency), Bernheimer showed relatively little patience for abstract dance. I'm a little surprised, because I spoke with him in the course of doing publicity for the music series I produced at Traction Gallery four months later, and when I tried steering him towards the classical offerings, he was having none of it. He was interested in Nervous Gender's spinoff Beelzebub Youth and its operetta A Homily, "an electronic bruto-canto dissertation on the banality of spiritual transcendence." (Neither Bernheimer nor any other Times critic attended that one.)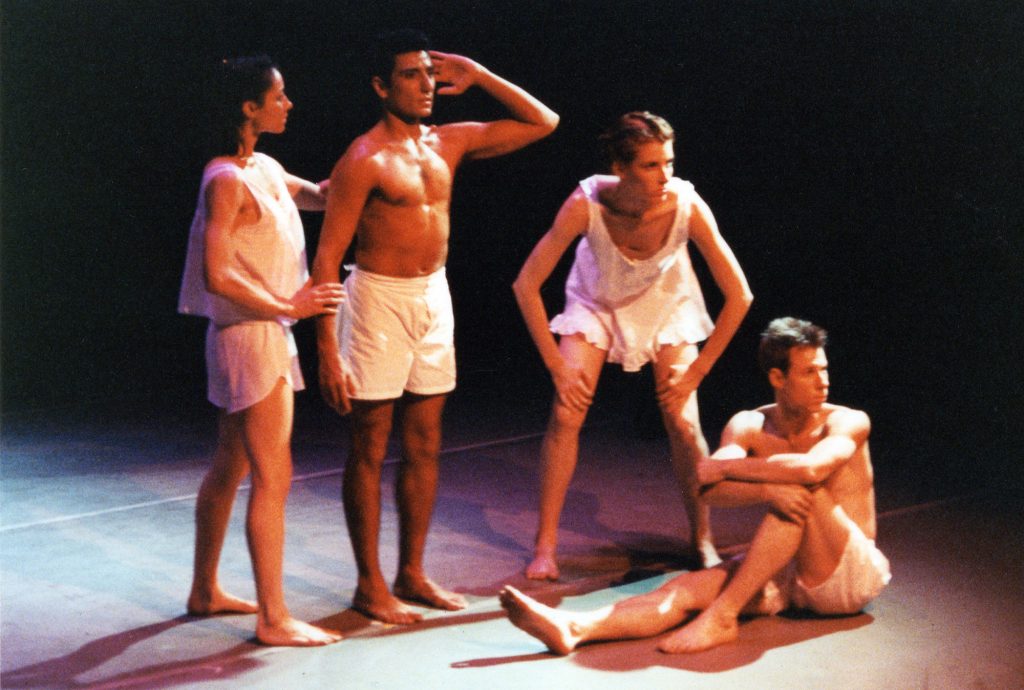 Egyptian Deities and Jacob's Pillow
Eleven years later, in September 1992, Rudy and his company appeared at Pasadena's Armory Center for the (Visual) Arts, a venue imagined by the forty-year-old Pasadena Art Workshops and other tenants in the mid 1980s, having repurposed the 1932 National Guard building in 1989. The Dance-Crazy Kid from New Jersey Meets Hofmannsthal: A Dance-Music-Visual Event had a cast as long as its title. Rudy told me he conceived of the work after reading about modern dance trailblazer Ruth St. Denis in Dance Magazine.18 It was a collaboration between the Rudy Perez Performance Ensemble, composer Michael Bayer, visual artist Steve DeGroodt, and dramaturg Strawn Bovee. Preliminary sketches were presented in January at the Los Angeles Photography Center where Rudy had performed in 1987, and again in June at the Brand Library.
Ruth St. Denis (née Ruth Denis, 1879–1968) was a New Jersey farm girl who also was a student of Christian Science and theosophy as well as the gymnastic technique that sprang from François Delsarte's oratorical-gestural coaching. By St. Denis's time the technique had been brought stateside by American actor Steele MacKaye and developed by Genevieve Stebbins into more than merely a range of pre-talking-head poses. Getting her start as a vaudeville dancer, St. Denis began touring with David (Madame Butterfly) Belasco. Seeing a tobacco poster (below) in a drugstore impacted St. Denis such that it can be viewed as the manifestation of the veiled oriental realm that lay in the theosophy of her studies. From that point on she was an exoticist who had little regard for cultural authenticity even as her portrayals of Radha and Ishtar expressed what can be seen as the universal and syncretic—hallmarks of theosophy.19
St. Denis's eventual student and husband, Ted Shawn (1891–1972), had been a divinity student when he was stricken with diphtheria in Denver at age nineteen; dance was part of his physical therapy. A year later he saw St. Denis perform there and upon his move to New York in 1914 Shawn began working with her (and marrying her, reluctantly at least on the part of St. Denis), which led to the founding of the Denishawn School a year later in Los Angeles. Among its notable students were Martha Graham, Louise Brooks, and Jack Cole. The marriage fell apart in 1931 and that year Shawn, mm…, bought the farm in the Berkshires that would become Jacob's Pillow.20 He also formed a company under the tame name of Ted Shawn and His Men Dancers, and formed a relationship with one of his students and company members—Barton Mumaw, "the American Nijinsky"21—lasting seventeen years, apparently having come under the spell of Walt Whitman, Edward Carpenter, and Havelock Ellis.22 And so he's a link in the chain between the semblant chasteness of the nineteenth-century physical culture movement and the nascent homophile movement of the postwar years—although a weak one, having no time for "the kind of thing that brings discredit on what is essentially a noble thing," meaning what Shawn called "fey actions."23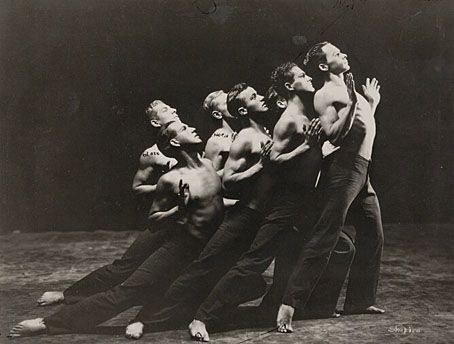 The Dance-Crazy Kid catches St. Denis a few years before she swept Shawn off his feet—in 1906 when she added the St. to her surname upon embarking on her first solo European tour. She came to the attention of many an artist of many forms, among them Auguste Rodin, Rabindranath Tagore and, of course, Hugo von Hofmannsthal, the Austrian poet, playwright, and critic who would provide the libretti for Richard Strauss's operas beginning with Elektra (1909) and the co-visionary a decade later of the Salzburg Festival with Strauss and others.24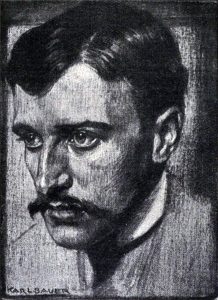 Historian Edward Ross Dickinson writes:
As […] Hugo von Hofmannsthal put it, St. Denis's dance "goes right up to the borders of lust, but is chaste"; Harry Graf (Count) Kessler admired St. Denis's ability to combine "animal beauty and mysticism," both "sexless divinity and merely-sexual woman," both the "sexlessness" of the American woman and the "almost animal sexual feeling of the Oriental woman"—as well as remarking, of course, that she appeared "as if climbed down from a Greek vase."25
And so, consider Radha, the first of St. Denis's post-epiphany depictions in dance. You may recall Radha as Krishna's consort, but it's what can be seen as the Dark One's "animal" feeling that caused him to steal the Radha's clothing and that of her fellow milkmaids as they bathed, daring them to take them back, which they did. It's this mingling of the carnal and the supernal that's inferred by a Bengali song that I included in Hanky and bandage, cigarette and perfume.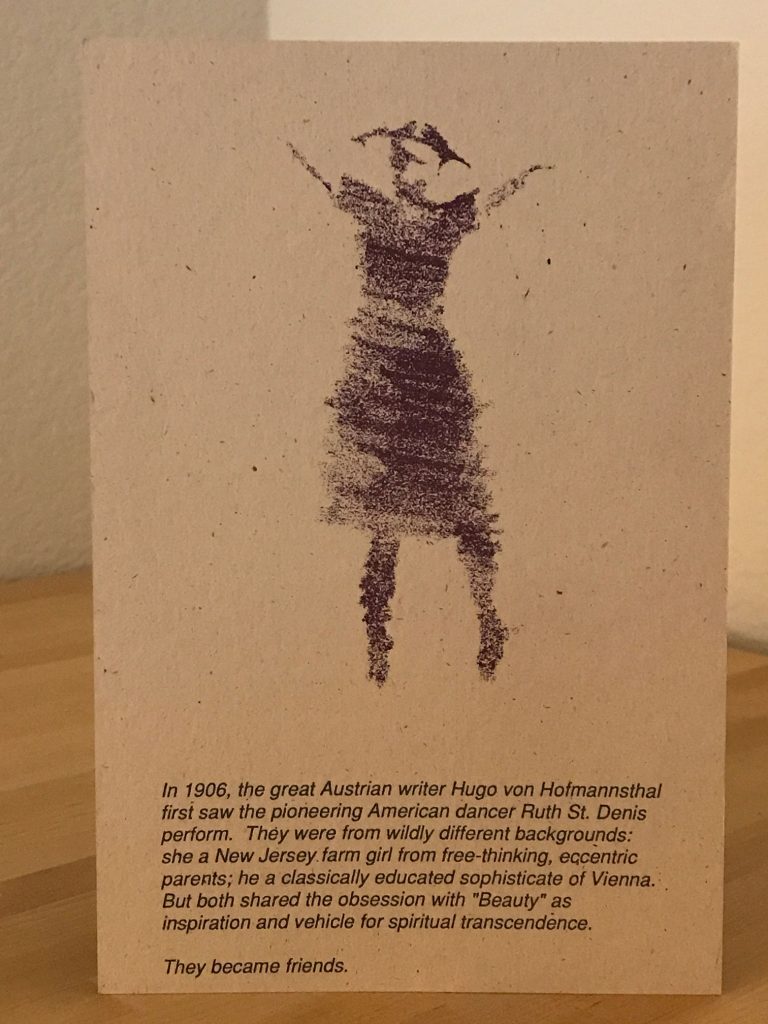 Donna Perlmutter, in reviewing Dance-Crazy Kid for the Times, wrote regarding the "liaison" between St. Denis and Hofmannsthal:
What Perez and his collaborators […] concocted is a symbolist ode to their union, one that filters ritual exoticism through a darkly stringent stasis remindful of Robert Wilson.
Everything in the piece—text, movement, film projections, music—happens sporadically, so that a continuous impact is hard to come by.
Nevertheless, each element counts strongly.
Perlmutter concluded, however, that
one gets the feeling of multiple and separate contributions rather than the ongoing intensity of a single vision—Rudy Perez's trademark.26
Assemblage
2003 saw Rudy Perez presenting two programs with twin titles, but not identical ones. Rudy Perez: Past & Present was offered at the Electric Lodge in June, subtitled 25 years in Los Angeles. Rudy Perez: Old, New and In Between, at the Armory Center in November, was billed as A Gallery Event.
Past & Present leaned heavily on the present with a premiere by Ensemble member Stefan Fabry called Schoeneeklingenachbarn (Beautifulappallingneighbors) featuring a text by Kit Williams, the English artist and author who I know from his second armchair treasure-hunt book Untitled (The Bee Book) featuring illustrations framed in elaborate marquetry. Times reviewer Jennifer Fisher called the dancing "enigmatic tasks as if in a dream." Longtime Ensemble members Anne and Jeffrey Grimaldo performed Abdomen Soft and Flat to the music of the Latin Playboys, Diamanda Galas, Salma Hayek, and Yma Sumak ("suggested a tango performed by puppets" per Fisher). Rudy's Sphinx was inspired by British-born New York artist Graham Nickson whose many seaside depictions of bathers and surfers caught in postures seem naturally paired with Rudy's aesthetic, at least for this piece. But critic Fisher appears to have been a latecomer to the Perez oeuvre:
His latest work […] dealt with carefully measured "everyday" movement: tugging at T-shirts, walking and "surfing." With its ambling and playtime-sounding score by Jeremy Gillen, "Sphinx" looked like Mr. Rogers meets early dance postmodernism. The performers' mostly blank expressions gave the non-sequitur movements an automaton feeling.
Stop. Rudy Perez allows the movement to do the expressing. Take his signature work Countdown, one of that same program's Pasts. It was performed by Victor Quijada, a Perez protégé, and its behind-the-scenes preparation was filmed as the Present centerpiece of a documentary by Severo Perez (no relation). The piece is expressive, yet the soloist has no expression. As a reader commented to Rudy when I posted Part 2 of my interview with him: "I wondered how a Minimalist could be such a Maximus."
Quijada performed his own Exercise in Wholeness and Awareness to music by spoken word artist Saul Williams ("more virtuosic, 'dancier' choreography"; "ballet, capoeira, hip-hop and yoga were molded into a compelling sequence"). Not reviewed was the Ensemble's The Big Picture, which introduced the Ensemble, with sound from Highway by Noah Creshevsky, originator of what he called hyperrealism, who died last month in Manhattan at age 75.
Old, New and In Between: A Gallery Event, at the Armory, was reviewed in the Times by Victoria Looseleaf, who wrote a lot about Rudy in the 2010s, including a major profile for KCET in 2013. Presented for the event was the full-length Shifts: Lingering in Spaces with Past Happiness. For this piece Rudy not only worked with longtime collaborators Karen Goodman, Jacki Apple, Lloyd Rodgers, and composer Steve Moshier, he collaborated with himself, creating an "assemblage of old and new" from his own repertory. And, Rudy most rare: "smiles bloomed." Read the entire review here.
Coda
Rudy Perez:
You asked me about abstraction the other day. It's simple. I work from my intuition, together with the time, the space, and the people who work with me. It's like a canvas. I forget who told me my work is very painterly. Deborah Jowitt?
Here's what critic Jowitt wrote in the January 18, 1968 edition of The Village Voice:
He makes dances like primary structures. In fact, his whole approach to dance has sculptural, even painterly facets. His pieces are short, stark, pristine—conveyed in strong, clear strokes and unshaded colors.
Rudy:
The talent comes from experience. But it could be a costume, a piece of music, that will set me off. You might be a narrative artist. I'm not a narrative artist.
And yet, of course each viewer, each reviewer creates a narrative from the immersive experience of this living theater. I'm reminded of what Marilyn Keuhler wrote in her profile of Lin Hixson in 1980:
If asked by any of the 500 people on its growing mailing list what a particular sketch was about, a typical Hanger's answer would be: "What did you see?"
More Resources
Header image:
Stations, Rudy Perez
Performance Ensemble,
courtesy Susan Perry Miick
Notes