This fifth in a series of portraits of Rudy Perez is akin to the third: an anatomy of a performance. For background on the dancer-choreographer Ruth St. Denis and her consort Ted Shawn, see Egyptian Deities and Jacob's Pillow from Portrait of Rudy Perez 4.
---
"When I know a person's work and propose working with them, I give them free rein," Rudy Perez told me recently. We'd been discussing Rudy's 1992 one-hour chef d'oeuvre, The Dance-Crazy Kid from New Jersey Meets Hofmannsthal, which I wrote about in Part 4. I'd asked him about how he allowed his collaborators to bring their individual talents to the work. "They're artists in their own right and so that's their responsibility. I have nothing to do with it. I realize they'll make a contribution and I can trust them."1 (He certainly did so in working with Rob Berg and me when we did the score for Made in L.A. the year before; see Part 2.)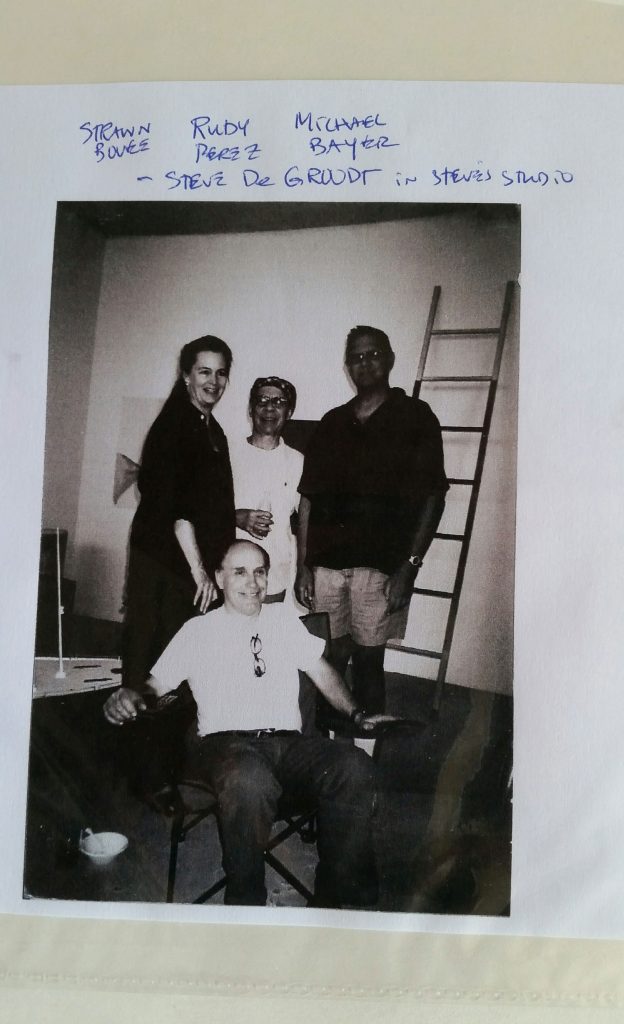 With Dance-Crazy Kid, Rudy was inspired by a brief print profile of modern dance figure Ruth St. Denis, and so he tapped composer Michael Bayer, visual artist Steve DeGroodt, and dramaturg Strawn Bovee to create live music, sets and projections and props, and spoken word and lyrics, respectively.
As well as providing Rudy's title—"She was a dance-crazy kid from New Jersey"—the author of that profile, Walter Sorell, quotes Doris Humphrey as saying that all who knew St. Denis were touched by her verve. "We didn't learn much about dancing from her," Humphrey told Sorell, "because none of us who studied with her really went on, as she did, with Oriental and religious dance. But what we did gain from her was vision."2
I remembered little of what I saw at the Armory Center for the Arts that September of 1992, but I was struck more recently by the closing remark of L.A. Times critic Donna Perlmutter that made me wonder whether Rudy's laissez-faire attitude, as above, might have benefited from an auteur approach: "[O]ne gets the feeling of multiple and separate contributions rather than the ongoing intensity of a single vision—Rudy Perez's trademark."3 Having now viewed a videotape of the opening night,4 kindly supplied by Steve DeGroodt, I disagree with Perlmutter, while agreeing wholeheartedly with the Star-News' Lisa Cooke: "Considering the number of creative voices at work, it is worth mentioning that the piece maintained a consistent coherence throughout."5
And while I'm quibbling…. Daily News critic Jody Leader praised Michael Bayer's "minimalistic, Philip Glass-like score" (before generously listing all nine musicians by name, which I don't recall being the norm), also mentioning the singers' "monkish chants."6 My quibble is that Bayer's score does meander into the medieval, but also into the worldly, as much as it does into—I'd argue—the Steve Reich-like. And the inclusion of cello and clarinet especially gives some passages the flavor of classical chamber music, which of course is minimalist by design. Yet minimal the score is not. As I watched now I wondered how ensembles from the Pasadena Symphony and the L.A. Master Chorale had been shoehorned into the Armory's gallery.7
Michael Bayer
Michael Bayer (1949–2004) was a member of the Cartesian Reunion Memorial Orchestra, which had collaborated on many a Rudy Perez work. He and CRMO founder Lloyd Rodgers also were on the music faculty at Cal State Fullerton. Bayer himself had contributed scores to Rudy's works beginning with 1983's Stations (see the header image to Part 4), about which L.A. Times dance critic Lewis Segal wrote, "Perez used insistent, ominous music by Michael Bayer to propel a fascinating post-modern ballet mecanique."8 Segal's citation of Ballet mécanique, the title of self-proclaimed Bad Boy of Music George Antheil's 1924 masterwork, even in its literal sense of mechanical ballet, is interesting because Antheil's use of pianola, multiple pianos and xylophones, percussion as well as siren and airplane propellors, caused composers like Aaron Copland and Virgil Thompson to declare, respectively, "The boy is a genius" and "The first composer of our generation."9 And yet, eighteen months after Dance-Crazy Kid was presented, Rodgers remarked about submissions for a new-music festival that he and Bayer curated:
Quite frankly, I was surprised how conservative the young composers are today. We got work that was much more conservative than one would have gotten in 1969. There were very few theater pieces, very little involving multimedia, very little political work.10
Steve DeGroodt
Rudy was eager for me to connect with Steve DeGroodt because he has a portfolio of sketches and images and stills from Dance-Crazy Kid's planning and production—a portfolio that will slip out of his hands when he gifts it to a deserving, and no doubt grateful, archive.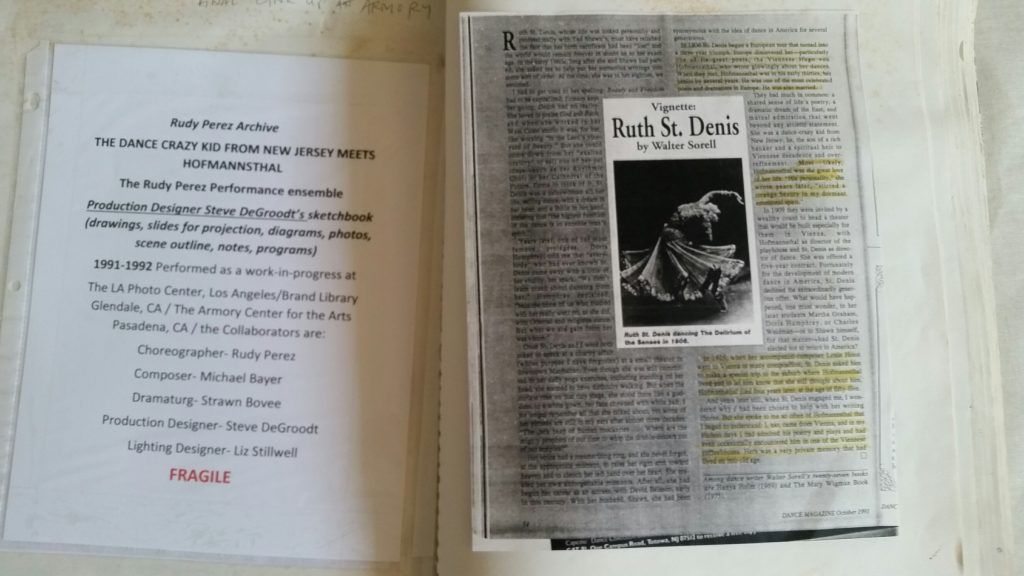 Steve and I chatted about this project, but I also was intrigued that, after receiving a BFA in painting from Florida Atlantic University, he performed and recorded as a professional musician during the '70s. "I worked with Willie Clarke of T.K. Records," he told me.11 Of course I have that label in my collection: KC & The Sunshine Band, Foxy, Anita Ward, Blowfly (!). Not in my collection: 1) a little thing called Saturday Night Fever (T.K. contributed tracks by KC & Band as well as Ralph McDonald; The Bee Gees' "Jive Talkin'" and "You Should Be Dancing" both were recorded in Miami), and 2) Betty Wright, the Miami wunderkind who I know by reputation (and "Shoorah! Shoorah!"), who died last year.
Wright sat in on the session of Steve DeGroodt's "Motor City Madness," released surreptitiously under the band name Together in 1971 by Willie Clarke—the first single on the T.K. subsidiary Drive Records (get it?). Coincidentally, Clarke's Deep City Records (prior to Drive), has been called Miami's Motown. "It was the first Black-owned label in Florida," Steve told me. It's all part of what's now known as the Miami Sound—a decade before Emilio and Gloria Estefan gave that name to their Machine. I wouldn't know the Miami Sound if it came up and bit me on the ass (to paraphrase Frank Zappa's quip about music in general)—except that much of it exhibits what was so intoxicating about funk and disco in the '70s and '80s in general: black and brown and white folx getting together and creating something tail-feather-shakeable. Ken Shipley, a music reiusser out of Chicago, is quoted in the Deep City documentary as saying, "That sound is the sound of a marching band performing as a soul band." It's epitomized by Snoopy Dean's "Your Love Won't Let Me Leave You."
In 1980 Steve DeGroodt shifted gears, so to speak, returning to visual art. Like electronic composer George Todd (see my Electric Evangelists 2), Steve sees parallels between the two art forms: "structure, intervals, color, texture, tension, rhythm."12
Having become friends, Rudy asked Steve to collaborate on a new work for 1987's Los Angeles Festival: painting the dancers' backdrop—literally—as the performance progressed. "I first took a mulberry branch, with an oil stick taped to it," he told me, "and in real time drew a tall image of a satellite dish that morphed into a morning glory, then filled the background with color." The piece was called Equaltime and was described by critic Lewis Segal:
Here the dancers' incessant smiles, glamorous makeup, sleek body-wear, self-celebrating neo-aerobics, plus their cozy interplay with an on-stage composer (Carl Byron) and scenic painter (Steve DeGroodt), added up to a devastating portrait of a California art scene vitiated by vacant craftmanship and chic, unchallenging collaboration.13
For the record, the Festival had its genesis in the 1984 Summer Olympic Games.14 The 1987 iteration, in addition to Rudy Perez, featured dance figures Karole Armitage, Michael Clark, La La La Human Steps, Bella Lewitsky, Lyon Opera Ballet, Compagnie Maguy Marin, Susan Marshall, Monnier-Duroure, Mute-ki-sha Dance Company, and Rudy's mentor Merce Cunningham (via a John Cage retrospective).15 Corporate sponsor AT&T published a two-page ad in the L.A. Times with a single image: a Rudy Perez Performance Ensemble still.16 Critic Donna Perlmutter, in her profile of Rudy at the time, mentioned another full-page Festival ad "with his name emblazoned next to those of Merce Cunningham, John Cage, Ingmar Bergman and Peter Brook," to which Rudy replied, "What an accolade! What a vote of confidence! I'm still taken aback by the festival people and their kindness."17
The Festival folded, however, after its 1990 season, even with acclaimed director Peter Sellars at the helm. The Dance-Crazy Kid from New Jersey Meets Hofmannsthal, with its scale and vision, is the sort of work that could have benefited from a 1993 Los Angeles Festival-level staging and exposure, leading to production offers both stateside and abroad.
Jay Belloli
Dance-Crazy Kid did, however, benefit from the support of the Armory Center for the Arts, and in particular its then-Director of Gallery Programs, Jay Belloli, whom Rudy urged I contact. And now I know why, when he told me:
The Director of Development, David Spiro, asked me to be able to use the gallery space for a fund-raising performance. I said yes because I had already done performances in the gallery and loved that the space could be used for more that just art exhibitions.
What sticks in my mind is what an ambitious work it was. I remember the choreography being excellent—no surprise since Rudy choreographed it. And of course Rudy only worked with very good-to-excellent dancers.
But what I remember the most is how all the parts fit together so well. Steve DeGroodt's sets were wonderful sculptures that still fulfilled their role in stagecraft. It was my first time to see Steve's art, and I was impressed.
Six months before Dance-Crazy Kid, Steve DeGroodt and composer Carl Byron had collaborated on Residue, an installation at the Santa Monica Museum of Art. Steve describes it as "an inquiry into the phenomenon of cultural dislocation," somewhat reminiscent of Lewis Segal's account of Equaltime's artistic tensions. From Steve's online bio:
A solo journey to the south Pacific to the island of Papua New Guinea (1984) had a major impact on [DeGroodt's] life experiences and subsequently his art. The simpatico aesthetic of certain preliterate tribes whose integration of materials from their environment mixed with the flotsam and jetsam of western consumer products proved refreshing though disturbing.18
This experience would manifest in Residue, of course, but also it informed his contribution to Dance-Crazy Kid. A case in point: Steve's studio was at Santa Fe and Washington (an area still home to several galleries as well as vestiges of industry). Finding abandoned tires in a nearby lot, he employed them as sculptural wheels that proclaimed the names of Ruth St. Denis's productions Radha and Ishtar, Hofmannsthal's dramatic masterpiece Der Turm (The Tower), and tepo, a French cajun term for "pretty boy."19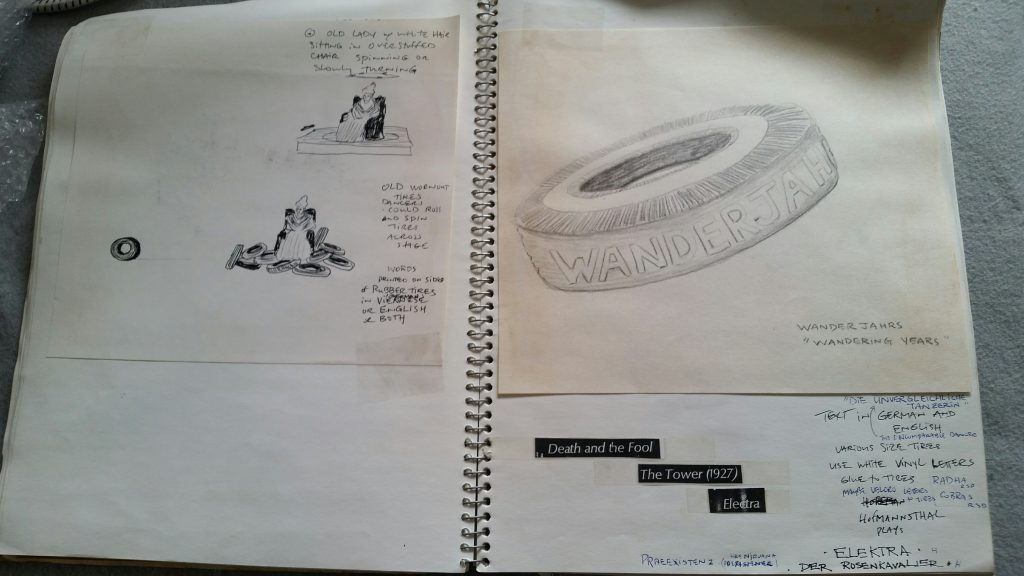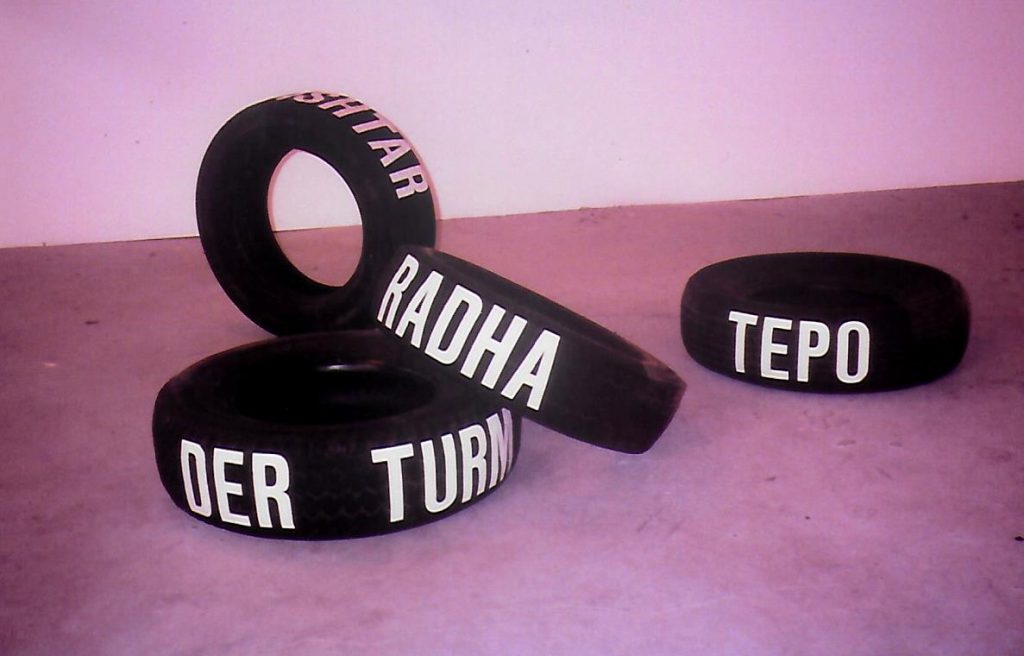 Jay Belloli, continuing:
Also impressive was the lighting and the music. I remember that the lighting designer was a true professional, and the lighting was complex and very good or better. Rudy of course arranged for both.
And there were high-quality risers so, wherever you sat, you could see the performance extremely well.20
Liz Stillwell
Lighting design was by Liz Stillwell (1958–2014), who also was production manager. With a rich résumé in theater lighting for a variety of performing groups, her specialty was dance, having founded the Dance Design Alliance with Monique L'heureux in 1991. She'd received awards for outstanding lighting design by Drama-Logue in 1987 and 1989.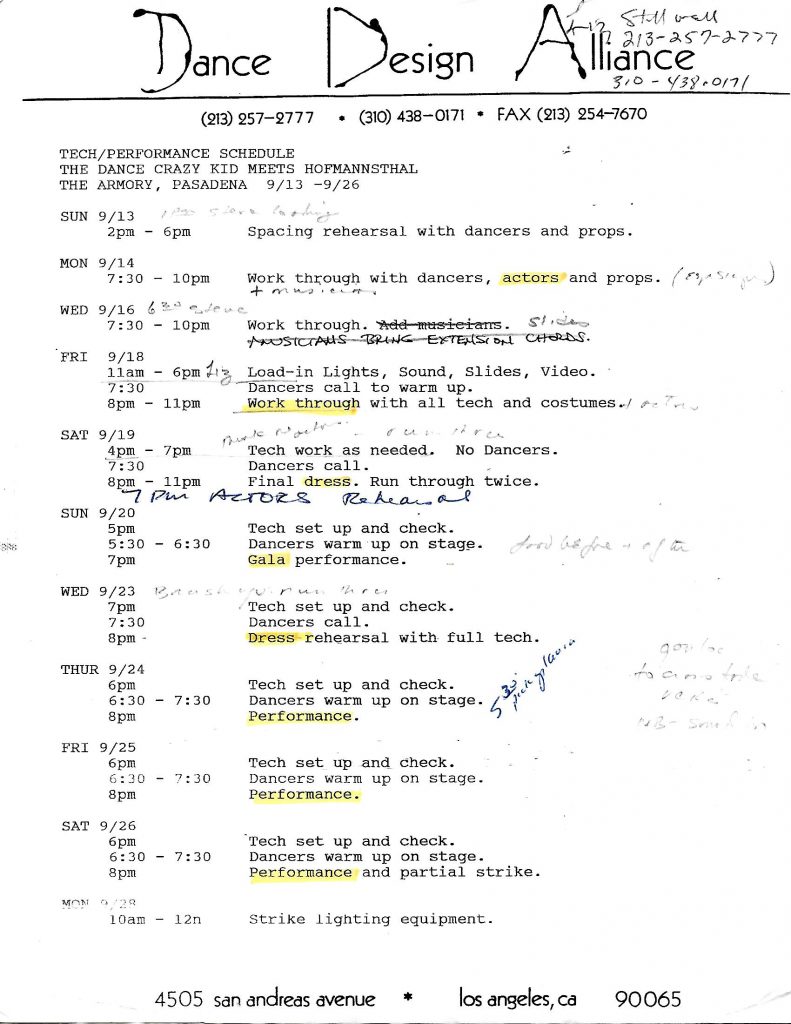 I asked Scott Fraser, who did the sound for Dance-Crazy Kid, to tell me about Liz Stillwell. The two had been together for thirty years when she died in 2014 of brain cancer.
Liz was much beloved in the dance community because she fully understood that her role was not to advance her own creative impulse, but to help the choreographer achieve his/her vision. She was all about collaboration. By looking after all the technical matters she allowed the choreographer to concentrate fully on the artistic vision. She was good at creating striking designs in less well-equipped, non-theatrical spaces, so the Armory would have been right up her alley as a worthy challenge.21
Strawn Bovee
If a fin-de-siècle work like Dance-Crazy Kid would have had eyes on it vis-à-vis twenty-first-century trends, I get the sense that Strawn Bovee, as DCK Dramaturg, might have raised some eyebrows with her masterful literary mashups. From the printed program:
Text: by Strawn Bovee
from the writings of
Hugo von Hofmannsthal
Ruth St. Denis
Okay, but then:
Fritz Scholder
Strawn Bovee
Really. What could visual artist Scholder possibly have in common with an innovator of American modern dance? And Bovee's own writing? From Bovee's capsule bio at the time of this performance, she was a stage and video artist and a cofounder of EZTV, the artist group that pioneered DIY/garage video and became a groundbreaking production house and exhibition space. She had been a journalist and, as she told me:
I had a long-running futurist KPFK radio program, and was then writing poetry. I also had created An Astral Tea Party, a series of performance pieces using artist-pros and civilians (e.g., scientists, psychoanalysts, Japanese tea masters) braided into live semi-scripted encounters held within commissioned art installations.
Steve DeGroodt wrote me after he'd contacted Bovee regarding her textual sources, and she'd listed those that appeared in the program, and more. I responded to Steve:
When I was a kid I stole a copy of motive, the magazine of the Methodist Student Movement, from our church library because it contained several of Fritz Scholder's images, including this one on the cover. Denver Art Museum had a retrospective of his [American Indian paintings] in 2015.22
Bovee found the post-release remarks of hostage and fellow journalist Terry Anderson to fit into what Rudy called the "puzzle" of his pieces. Anderson had been abducted in Lebanon and held by Hezbollah Shiite Muslims for six years and nine months, having been released not long before Dance-Crazy Kid, on December 4, 1991. Strawn also included the words of Rodney King from May 1, 1992.
I spoke with Strawn about Dance-Crazy Kid. She told me:
Rudy didn't want to know what I was doing. And I didn't select or create the words having watched his choreography although that did affect the way in which I ordered them. I researched Ruth St. Denis and Hugo von Hofmannsthal, their writings and their meeting. They were romantic, spiritual, and particularly sensitive to the ideal of Transcendent Beauty and to themes of transience and timelessness. The script became a poetic assemblage that functioned as the subliminal narrative of their journey towards meeting and departure.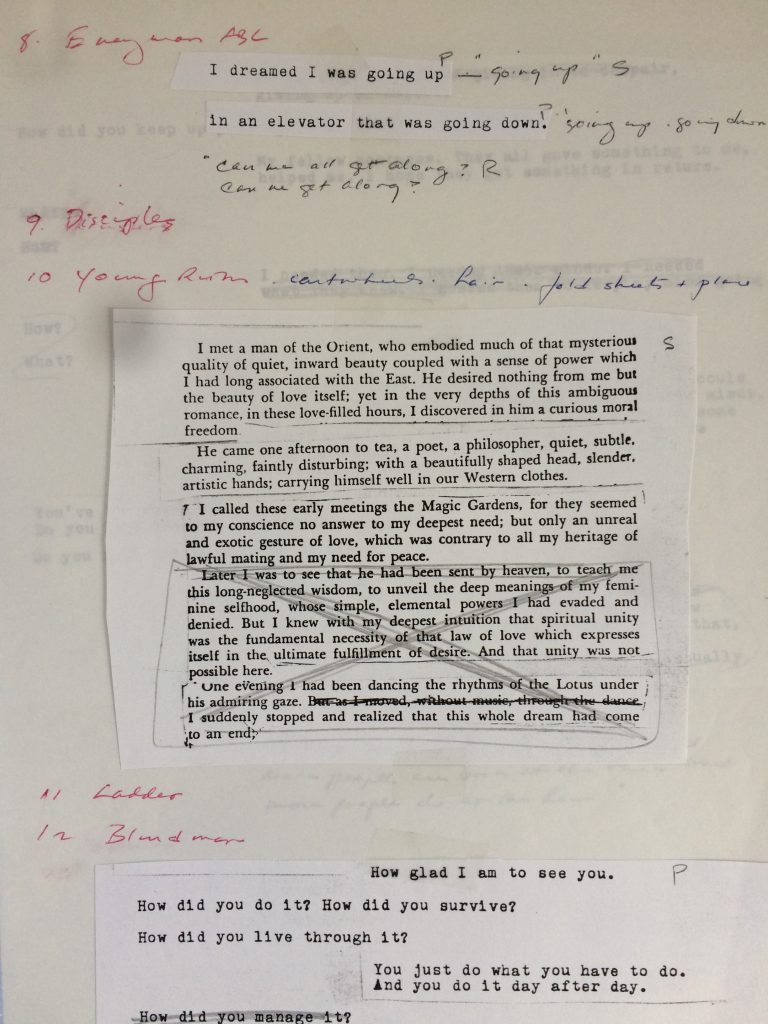 The contemporary elements that I pulled in, such as King, Anderson, Scholder, an astronaut, underscored the longing for union and the inevitability of separation. Like Steve's minimalist visuals, and Michael's uncanny score, they allowed St. Denis and Hofmannsthal to meet in a liminal space with no pressure on the audience to "understand" them explicitly. Rudy is The Master of the liminal in dance performance. His choreography "holds the space" onstage in the most breathtakingly static yet dynamically charged tension I have ever experienced. It is his unique genius. But the Word is powerful. Insensitively applied over the delicate steel of his choreography it could draw focus, distract. I wanted it to vibrate softly in the same space.
We talked about these components. Scholder had handed Strawn his essay personally, with permission to use it. But she mashes, meshes his meditation on the dream world with her own, elegant dream lines.
Strawn sought out and hired the actors; four in addition to herself.
I also prepared them for working with Rudy. I've done this for other of his pieces, including Double Play [2004, and Double Play Revisited, 2005] and I Like to Sit [2005], as well as some that never came to fruition. In the case of Dance-Crazy Kid the script changed, as did the choreography, for each workshop presentation (Los Angeles Photography Center and Brand Library) culminating with its Gala presentation at the Armory Center for the Arts. It was the first time I had worked with Rudy. I hired the actors for their voices and interpretive ability, never expecting that Rudy might want them to move on stage. He was annoyed that they could not move "naturally" in the manner of his dancers, and so the actors were relegated to the side as we should have been.
Dance-Crazy Kid's composer Michael Bayer "wanted a libretto," Strawn said.
He was so happy when I had written the words, "I dreamed I was going up in an elevator that was going down." It not only fit with what I was doing, the motif; it lent itself to the musical score. "I can really work with that," Michael told me.23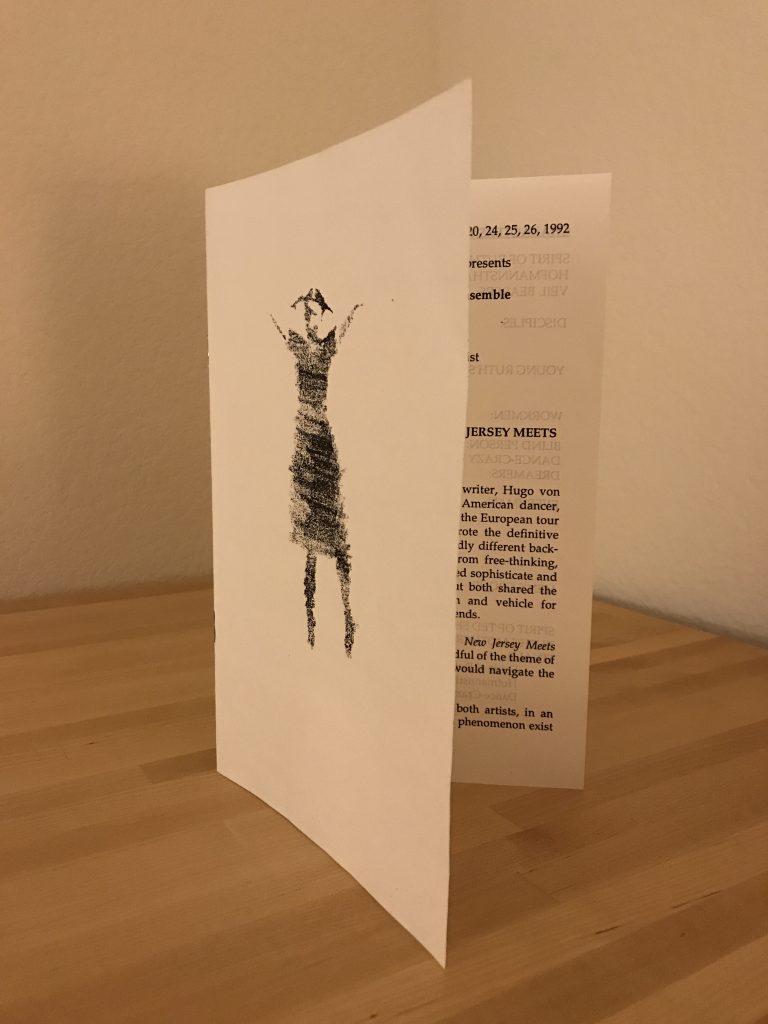 Susan Perry Miick
Costumes were by Susan Perry Miick, with whom Rudy had worked since 1983, having bumped into her on the street. Rudy had been walking one night with J.P. Kovacs, with whom Susan worked at a Bullocks department store. A casual conversation resulted in Rudy offering her the role of costumer for his company.24 And, like Strawn Bovee and Steve DeGroodt, she'd been given free rein in her creations.
Scott Fraser
Sound was by Scott Fraser, an electroacoustic composer and musician who I had featured in a music series at Traction Gallery in 1981. Because our gallery was for-profit, I couldn't get a grant from, say, Meet the Composer, and so its local president (and KPFK music director) Carl Stone suggested I ask Scott. He was happy just to perform, knowing there'd be no remuneration to speak of. His good nature and smile were infectious. Regarding Dance-Crazy Kid, he recalled little:
I remember loading my sound equipment in to the space, into a sort of loft overlooking the performance area. I remember hanging speakers overhead, I remember Steve's set and the ocean liner. I can still recall certain emblematic, iconic gestures from other dances of Rudy's. But the music has escaped me. I think the fact that we put the show together for a short run of just a few performances didn't give the music enough time to really stick in my memory.
The same year as Dance-Crazy Kid at the Armory, Scott began touring as sound designer with the Kronos Quartet. I asked him if he routinely worked with Liz Stillwell and her Dance Design Alliance.
We were together for 30 years and worked on a lot of projects together during that time. We were a team. […]
Liz urged her clients to use me for their sound needs, I think primarily in order to know that would be an area she didn't have to worry about. She knew it would be handled competently. […]
I loved working with dance, especially if live music was involved, having toured with Aman Folk Ensemble and Jazz Tap Ensemble for many years. But that work largely ended with Liz's death, as I pivoted to touring with Kronos, and concentrated on record production.
Scott's work with Kronos would not go unnoticed, as he told me:
I produced, recorded and mixed their 2018 CD with Laurie Anderson, "Landfall" which won the Grammy that year for best chamber ensemble performance.25
Mona Jean Cedar
Just before this post went live, Rudy felt I should consult Mona Jean Cedar, the dancer who portrayed the pigtailed Dance-Crazy Kid, because of her interpretation of the role, which I explain below. She recalled that Dance-Crazy Kid was the first project on which she'd worked with Rudy. "The choreography would change nightly," she told me, "so we'd have to write the sequences down backstage." Nonetheless: "Everyone was so wonderful, very respectful, collaborative, and supportive; a lovely experience."
Cedar went on to dance in Rudy's Crossover Acts (1993), The Art of Rudy Perez "Thank You Martha, Hello Merce" (2001), and Feelings for Open Spaces; None for Crowded Areas (2002). Cedar's husband, musician Jeff Boynton, collaborated with Rudy, Strawn Bovee, and Performance Ensemble member Stefan Fabry on Double Play (2004), in which Cedar also appeared. This was Boyton's first live performance upon exploring "circuit bending," a kind of electronic instrument hacking, and the first of three musical contributions to Rudy's work.26
Anne and Jeffrey Grimaldo
Anne (Goodman) Grimaldo and Jeff Grimaldo had many roles in Dance-Crazy Kid, prominently the Blind Person and Spirit of Ted Shawn, respectively. I heard from them about an hour before posting this.
Dance-Crazy Kid was an epic collaboration of dancers, artists, dramaturg, musicians, ASL interpreter, and of course our infamous director with a vision. With all of these people involved in creating this masterpiece, there was a lot going on simultaneously in our personal and professional lives. Rudy was losing his eyesight, Jeff's mother passed away, old company members returned to support the work. At least a year of rehearsals went on in creating sections of the piece, only to be continuously edited and reimagined.
Rudy has spent a lot of his time this year revisiting the past and the people in it that have supported him all of these years. Thank you for bringing these memories back to life. It was an unforgettable part of our creative life with Rudy. We are so grateful.27
Ruth St. Denis and Hugo von Hofmannsthal
Strangely, I suppose to avoid being influenced in writing this Anatomy, I didn't read the three paragraphs that follow, from the printed program for Dance-Crazy Kid and authored by Strawn Bovee, until I'd written most of the paragraphs above, and "transcribed" the performance below from the mysterious, murky, mesmerizing video sent to me by Steve DeGroodt along with his production notes.
It was in 1906 when the great Austrian writer, Hugo von Hofmannsthal, first saw the pioneering American dancer, Ruth St. Denis perform. She was making the European tour that established her stardom and he wrote the definitive review of her gifts. They were from wildly different back­grounds: she, a New Jersey farm girl from free-thinking, eccentric parents; he, a classically educated sophisticate and literary star of fin-de-siecle Vienna. But both shared the obsession with "Beauty" as inspiration and vehicle for spiritual transcendence. They became friends.
In creating The Dance-Crazy Kid from New Jersey Meets Hofmannsthal, the collaborators are mindful of the theme of inspiration and the perils of those who would navigate the path to transcendence.
The work makes abstract references to both artists, in an association where time, space and dream phenomenon exist as a counterpoint.
For more background on Ruth St. Denis, her consort Ted Shawn, and Hugo von Hofmannsthal, see Egyptian Deities and Jacob's Pillow from Portrait of Rudy Perez 4.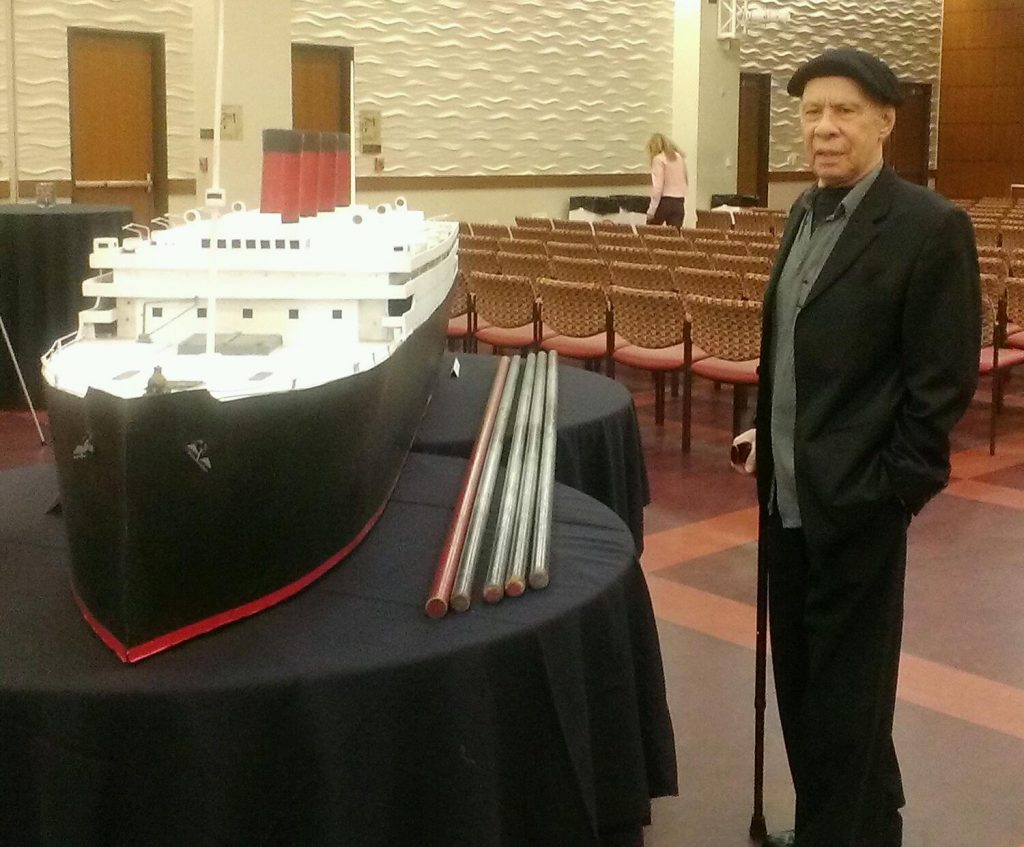 ---
The Dance-Crazy Kid from New Jersey Meets Hofmannsthal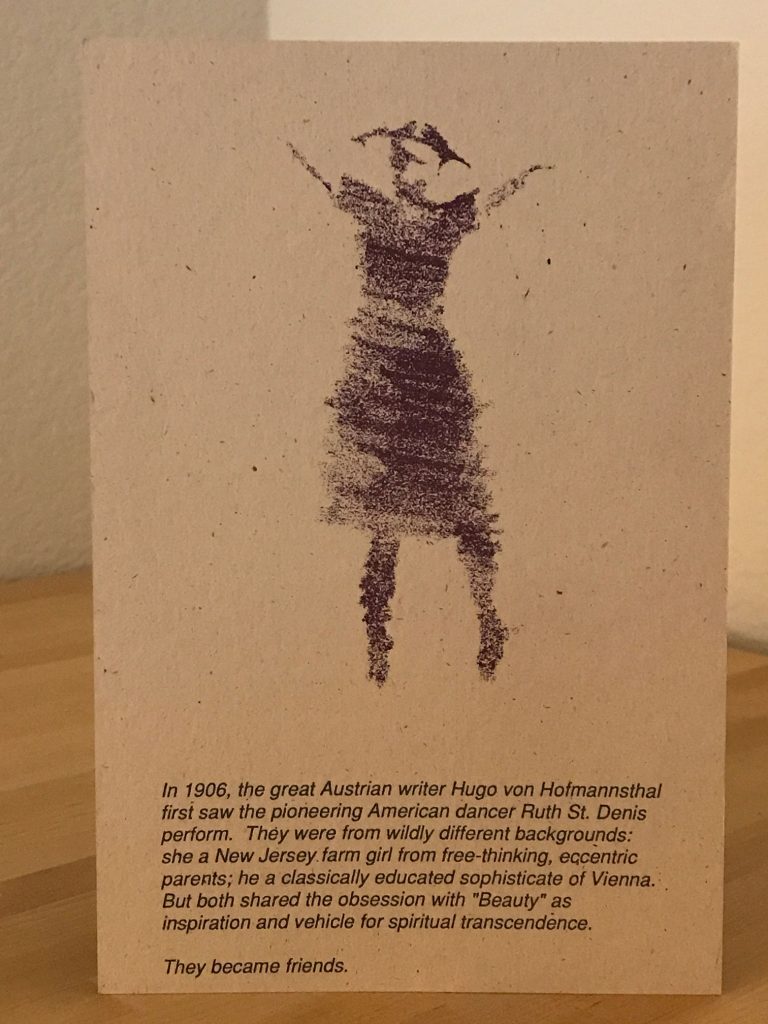 An overhead spot illuminates Dura Snodgrass as the Spirit of Ruth St. Denis in a dramatic pose, legs in stride, arched back and arms. Draped in, well, a drape—think: the shimmer of John Singer Sargent's Nonchaloir (Nonchalant), but, à la nuit. The fabric then becomes a rod, gleaming in her grasp atop up-stretched arms; becomes a veil, a sheath, a shroud.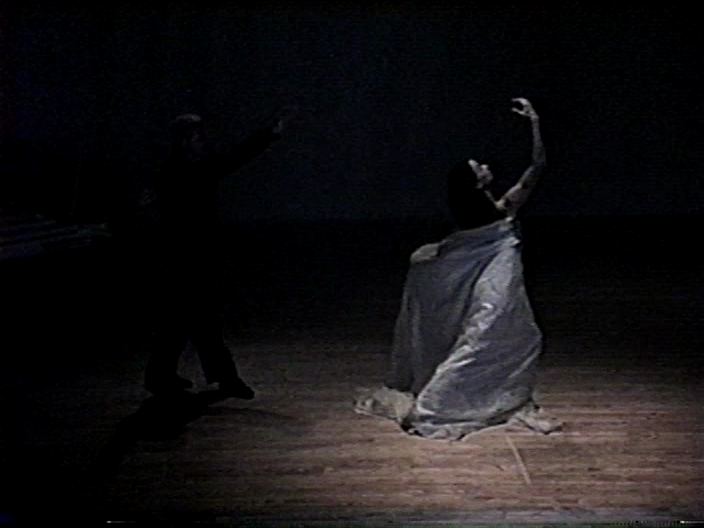 Offstage, an actress reads Ruth's thoughts (or are they?):
I dreamed I was going up in an elevator that was going down.
And, at tonight's vantage point, watching the videotape, I'm struck by how literal is this unfolding, except that I'm told the dream is not the dancer's but rather that of the dramaturg, Strawn Bovee.28 And then this is juxtaposed by a very large ocean liner replica moving, as it should, neither up nor down, behind the Spirit.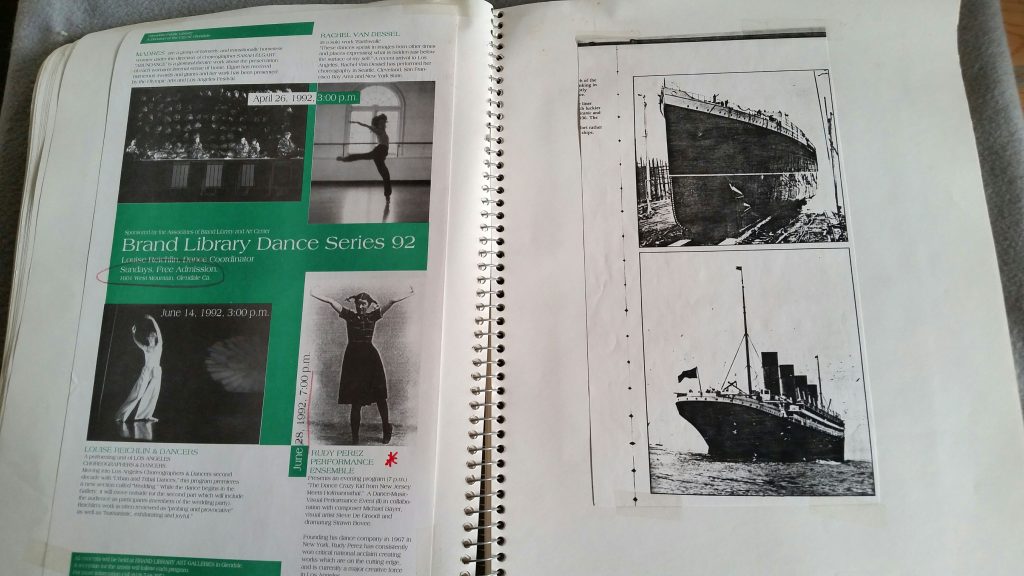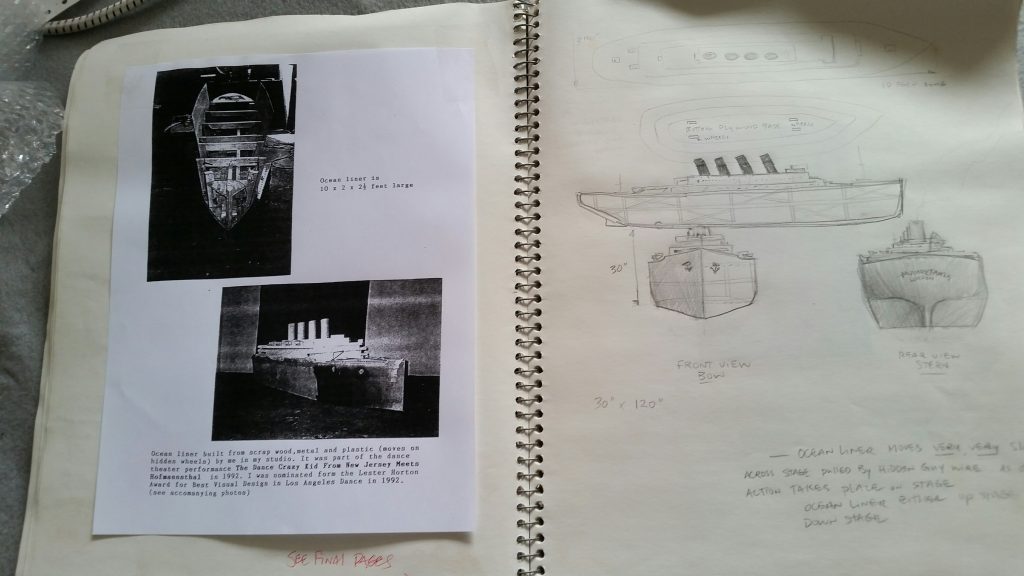 Radha Krishna and the Go-Go Cage
Male: I knew the hour was 4:02 in the morning, The Hour of The Wolf. It is said more people are born at this time and more people die.
Vocalists drone with hints of throat singing, as the Spirit of St. Denis assumes her initial pose. They chant "Ra……… dha………," Radha being the subject of St. Denis's first creation.
Radha swims in the Yamuna River, veiled by its gossamer waters. Hofmannsthal enters and holds, then removes, the veil, to reveal the Spirit's matte drape with yard-long frill. He could stand in for Krishna, who steals Radha's clothing as she bathes in the veil's tissue, yet she can't be disrobed.
Darkness.
Female: Sie trug den Becher in der Hand
—Ihr Kinn und Mund glich seinem Rand—,
So leicht und sicher war ihr Gang,
Kein Tropfen aus dem Becher sprang.
So leicht und fest war seine Hand:
Er ritt auf einem jungen Pferde,
Und mit nachlässiger Gebärde
Erzwang er, daß es zitternd stand.
Male: You can imagine how glad I am to see you. You can imagine how glad I am to see you. You can—.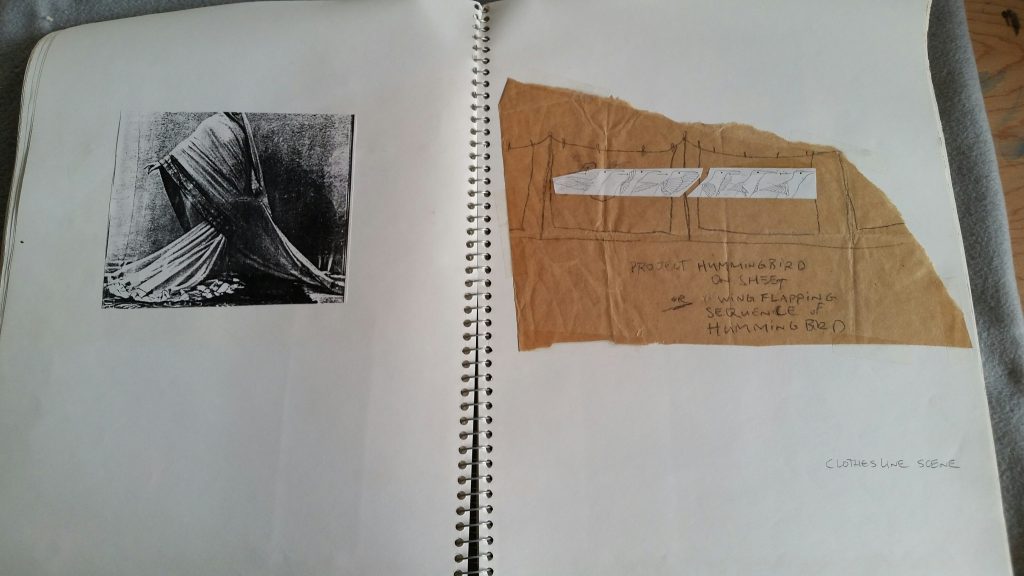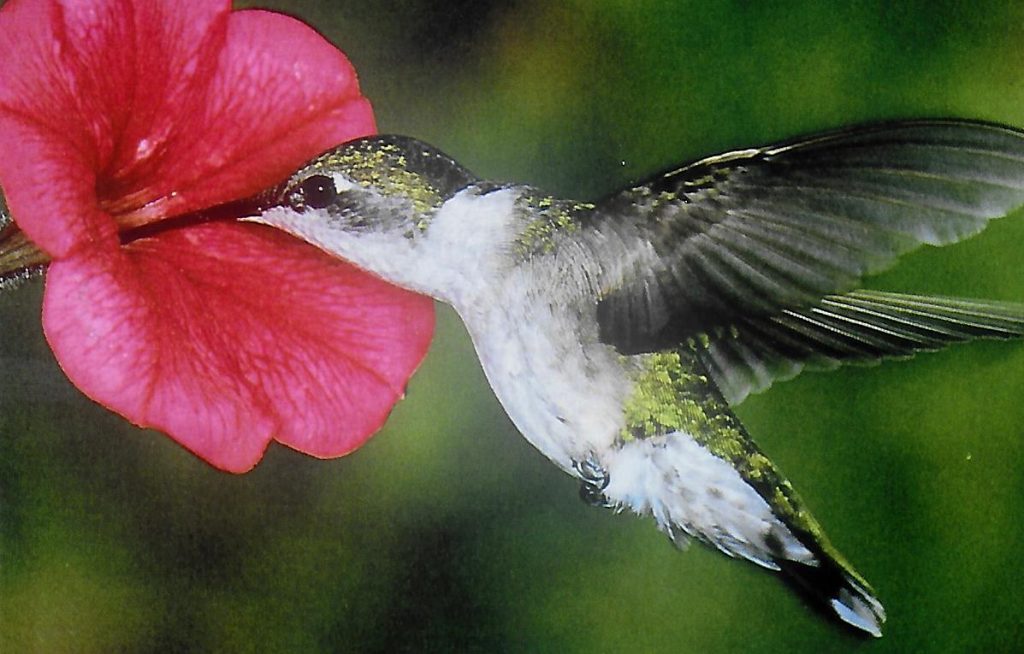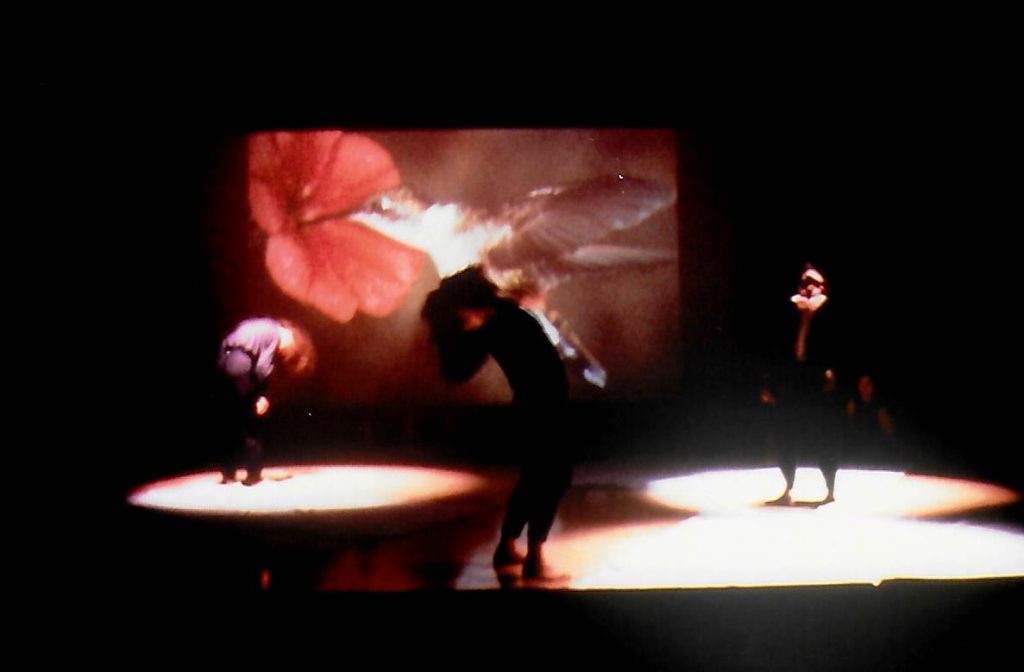 Young Ruths are illumined in three pools before a hummingbird projection. They crane their bodies to view what's above; some pace in a circle. Men remove the women's drapes amid a throbbing thump.
Male: To sum up: In those days I, in a continuous state of intoxication, conceived the whole of existence as being one great unit; the spiritual and physical worlds seemed to form no contrast. And thus it prevailed through the whole expanse of life in all directions: everywhere I was in the center of it, never suspecting mere appearance: at other times I divined that all was allegory. And I felt myself the one capable of seizing each by the handle and unlocking as many of the others as were willing to yield.
A matrix projection covers the entire stage. Workmen in jumpsuits enter running. The cello sounds, suggesting a foghorn or ship's horn, Steve DeGroodt tells me.29 The Workmen run stage right, bounce, and are followed by two black-clad figures. Stage left, these new cells divide once more. It's a sweet slight of hand and a little disorienting as, front-lit, their shadows turn the six figures into twelve more against the trellis projection.
Slid in stage left are what I'd call sliding-glass doors, what Steve DeGroodt reveals to me to be, deadpan, the "go-go cage" (a term that dates me, even though those were long gone from the Whisky when I first darkened that door: Blondie on their first tour in 1977).
The Dance-Crazy Kid stands at the back, gesturing; she's the girl in pigtails portrayed by Mona Jean Cedar. Deliberately or not, the dancer's gestures are a vestige of St. Denis's training in the gymnastics-meets-oratorical gesticulations mentioned in Part 4. Cedar herself told me that her gestures grew out of American Sign Language interpretations of poems by Hugo von Hofmannsthal and Ruth St. Denis, and a statement Hofmannsthal had made about Ruth. Cedar took them from the literal to the abstract, as dance.30
Poet's Ladder
The Workmen return with a twelve-foot ladder, what Steve calls the "Industrial scene."31 Their tool is a ruler, a fence, a mill's driveshaft, a carnival ride, a satellite's tether. The Dance-Crazy Kid exits, the farm girl crowded, yet presumably intrigued. The Workers pause, again incline their gaze, as four figures are revealed within the cage.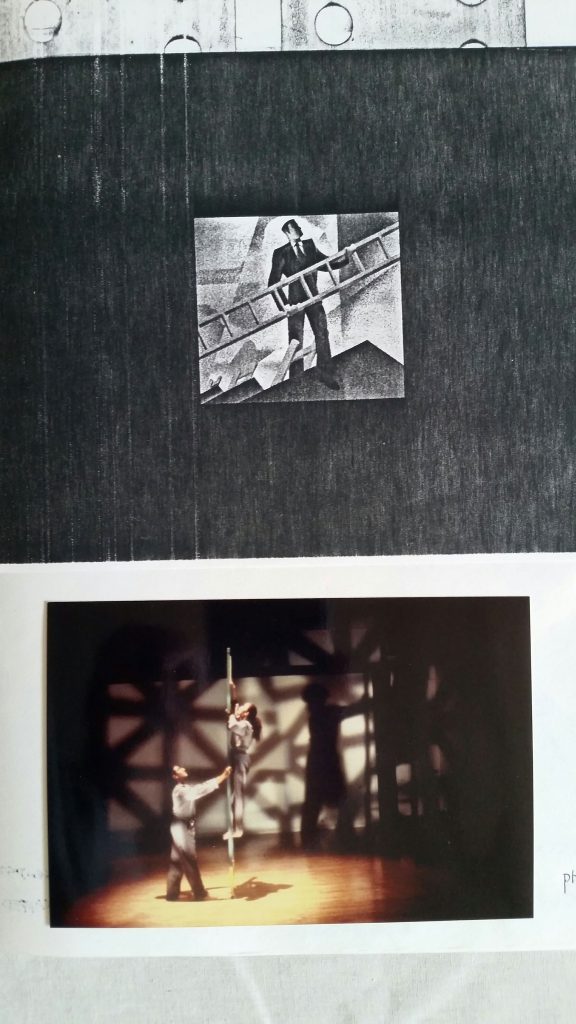 Noting in his sketchbook, Steve envisioned:
If Hofmannsthal's ladder had screen sections the moiré wave patterns would interplay with [the] veil of s[arcophagus?] hanging as backdrop.
Instead, the poet's ladder was swapped with the cages at the back wall, outfitted with their own veils, made of window screen, which played with the light, creating the desired patterns. In the cages are not dancers but rather singers, accompanied elsewhere by the instrumental ensemble of clarinet, cello, percussion, and keyboard.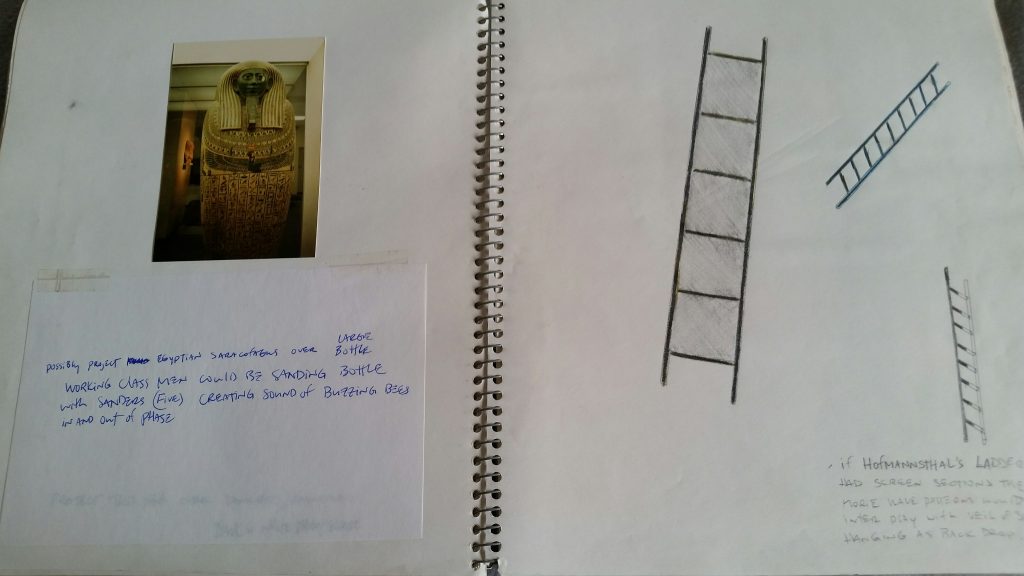 Losing Sight
An insistent rapping causes even the Workmen to leave; it's Anne Goodman tapping the Blind Person's cane. At this point I gasp; it foreshadows Rudy's loss of sight.
Male: I dreamed I was going up…
Female [as if an elevator attendant]: Going up, going up…
Male: …in an elevator that was going down
Female: Going up, going up…
Male: Can we all get along? Can we get along?
Again, my gasp. As I wrote Steve:
While I watched the video, I remarked to my wife Andrea that there was a line that seemed lifted from Rodney King. Not a month goes by that Andrea doesn't recite his quote. Her ex-husband lives around the corner from where King was beaten. It seemed odd to hear it in the context of The Dance-Crazy Kid from New Jersey Meets Hofmannsthal, until I remembered that King spoke those words in 1992.32
I am writing this on April 20, 2021, upon the conviction of George Floyd's killer. And so for me, tonight, the Blind Person, white, embodies the clueless. That night of the infamous acquittal, April 29, 1992, five months before seeing Dance-Crazy Kid, I distinctly remember a local television news anchor asking, of those involved in the uprising, from her perch, "Don't they understand they're only hurting themselves?"
The Workmen gently guide the Blind, but then mimic her actions, becoming her handlers if not her captors, wary of the wily Blind. To my mind, the cane is a picket sign, a dowsing rod, an axe, a prod, a cudgel, a gun. The Dance-Crazy Kid reenters and grasps the cane, tugging slowly, then becomes the satellite in swift orbit, the moon breaking free. The cane's tapping is magnified by ensemble percussion in counterpoint.
In darkness the caged vocalists declaim—"Up/ In/ Her/ Hand/ Chin/ Mouth"—in time with the percussion while the veil again is borne and illuminated. And another expression of reconciliation:
Male: How glad I am to see you.
Female: How did you do it? How did you survive?
Male: You just do what you have to do and you do it day after day.
Female: How did you keep up your spirit?
Male: My fellow hostages. They all gave something to me, helped me. I hope they got something in return.
Female: What? How?
Male: We learned from each other—everything we could possibly teach. And we explored each other's minds. Talked. I remembered some sign language I had learned as a kid. When we couldn't speak, we signed. What I couldn't remember, I made up.
Female: You've been chained to a wall for seven years! Do you hate the men who did this to you? Do you feel they should be punished?
Male: I never thought I wouldn't be free. It was just taking a long time.
Mother and Child
The veil is suspended, with which a Young Ruth plays hide and seek. The tires are placed downstage. Erect, the Dance-Crazy Kid pokes her head through the veil, walks forward, and is replaced by her Spirit: a Madonna as her mantle is raised 'round by invisible putti. The Kid sits on a tire and gestures as her Spirit retreats. She pushes another tire, it is a cumbersome hoop, followed by others who remove the rest.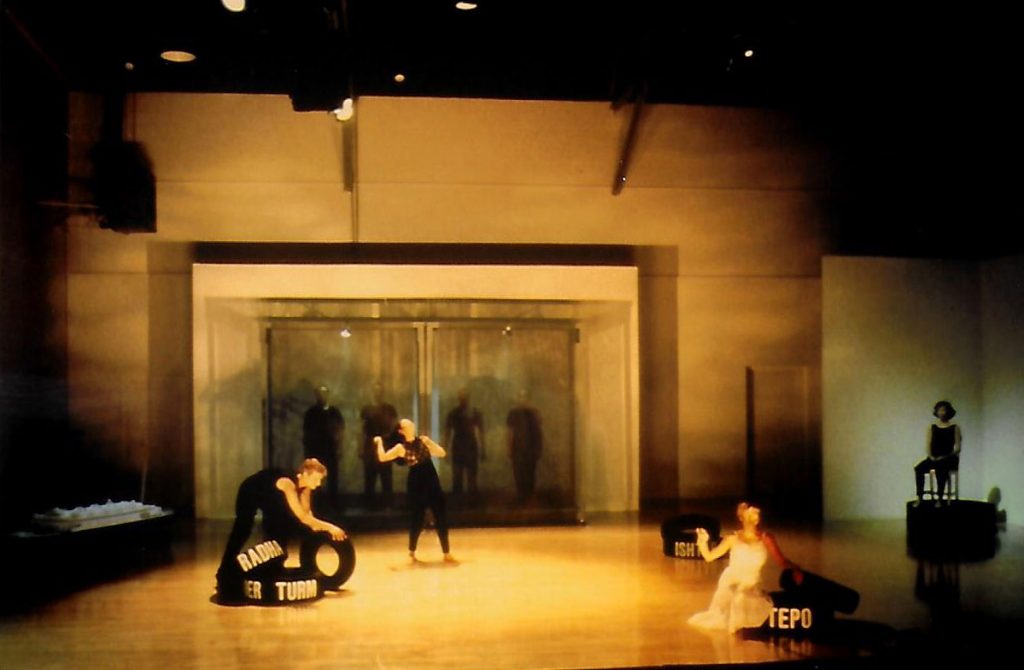 A body is suspended, horizontal above the vertical veil, à la Tarkovsky, yet floating on the water, as the vocalists chant. Then, rising from the waves: an Egyptian sarcophagus.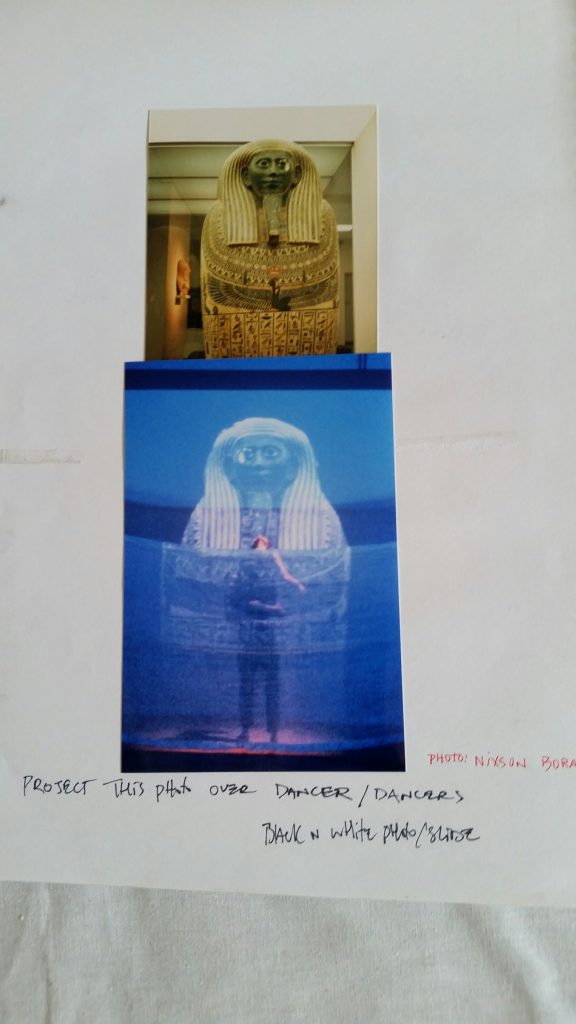 Chant gives way to the Reichian rhythms of keyboards, xylophone, and eventually vocals—"Down down down down down, up, up, up, up, up…."
Door of Perception
A door moves. It doesn't swing; it's a moving portal that's coming closer and closer. When we first spoke, Steve DeGroodt mentioned this to me, something about a Dutch doorway, sending me a projection image, but I didn't understand why…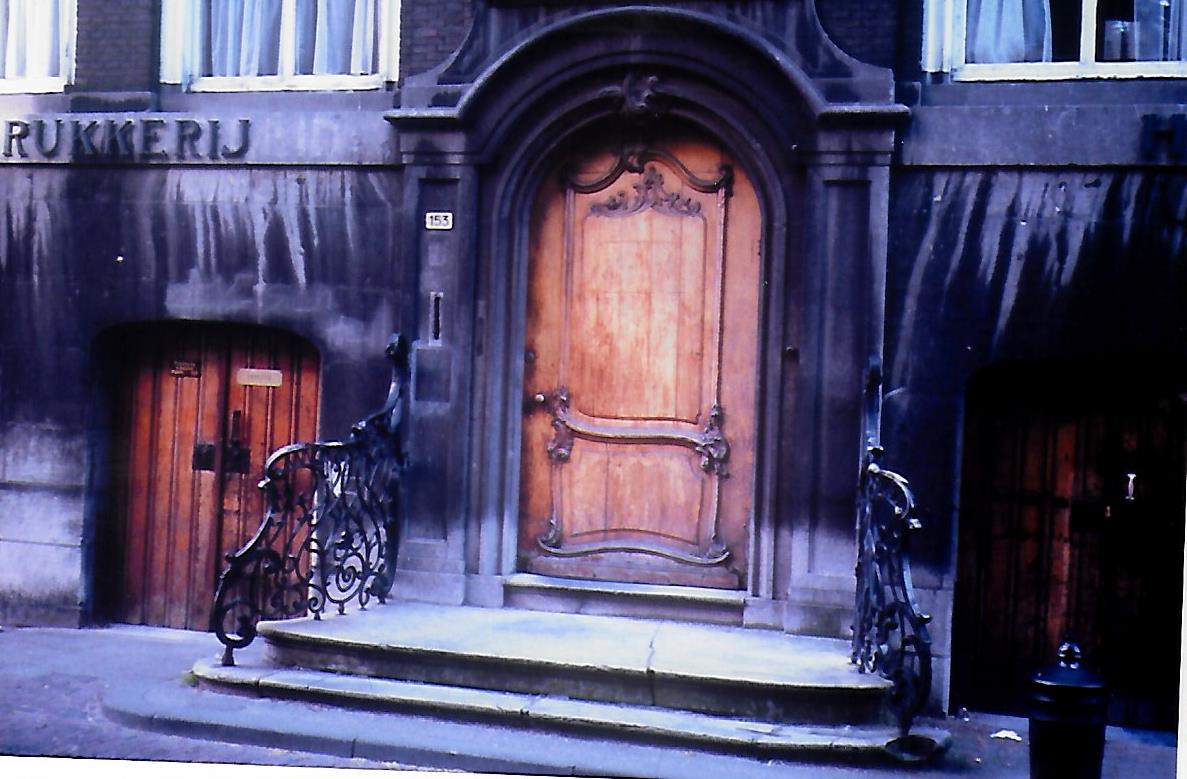 …until I saw it in the video, as Steve describes:
A 3 dimensional trick of the eye image that was brought to real life from the photo I took of the Art Nouveau façade I saw in Dordrecht, in The Netherlands. During the [onstage] blackout, I carried out the huge door/tomb and found my glow tap cues and stood like a meat sandwich; I was in the middle between the door prop and the [upstage] wall. Then once the slide was projected I was perfectly aligned and walked backward toward the audience. One reviewer said I used a film projection. It was not a film… simply a photo projected on a moving object, the door. Rudy insisted I be the one to carry the door/tomb on my back. Though you can't really tell in this dark grainy video, it WAS an eye catcher. A simple inexpensive device I thought up that added mystery. I had to be inventive and, as Rudy says, "Resourceful." It made me stretch creatively and took me to places I might not otherwise have explored. Again… I had complete freedom.33
A white-edged polygon/arc whirls, suspended, eye-level in the dark. Flat, planar. If upright, it would be the door, the cross, the tomb.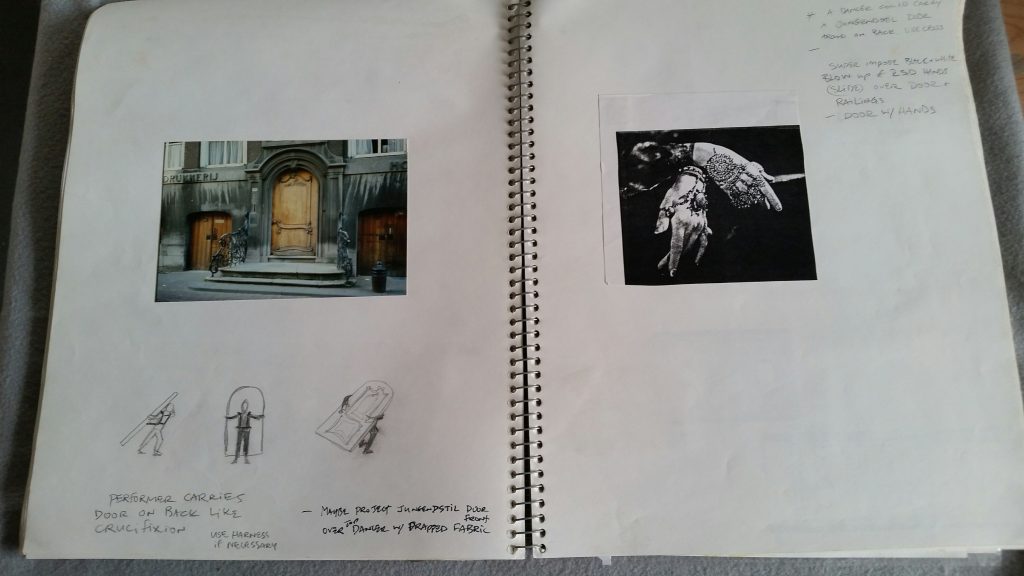 Blue Blades and the Chaise Valise
Three globes glow like Pueblo melon vases, reflected on the backdrop and floorboards. They aren't static, however, and a figure spins these, one, two, three. Steve DeGroodt recalls they were industrial attic fans.
Liz Stillwell put dimmer switches on the blue lights I had mounted inside of each fan. […] I was quite pleased how visually striking it became as the older Ruth St. Denis casually dragged her fingers, lightly turning each turbine. An act that made the three turbines spin at three different speeds. Blue slivers…. A simple idea that added so much visually to this dreamy dance performance that was soooo much more.34
The music turns to throat singing.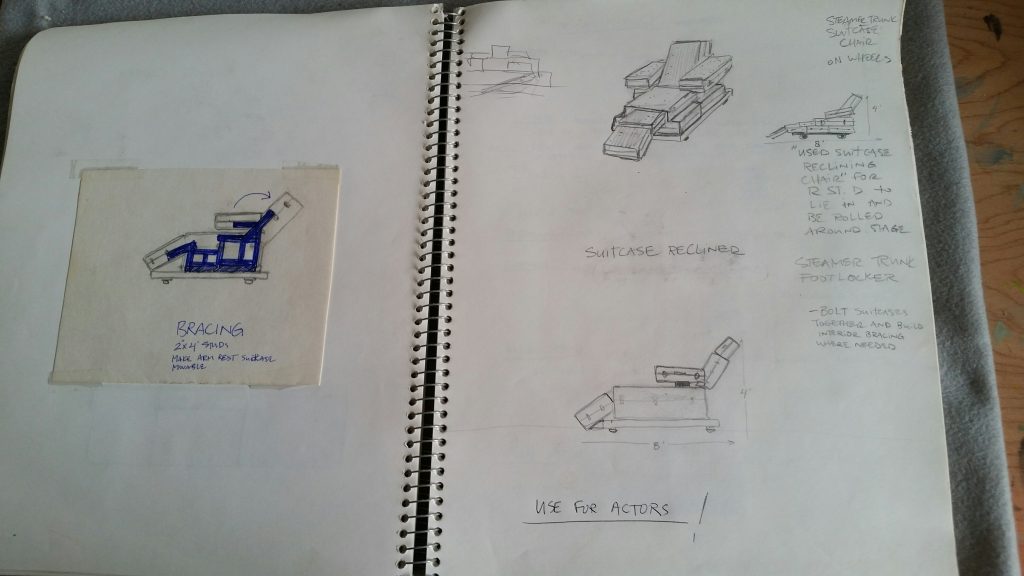 Female: I met a man of the Orient, who embodied much of that mysterious quality of quiet, inward beauty coupled with a sense of power which I had long associated with the East. He desired nothing from me but the beauty of love itself; yet in the very depths of this ambiguous romance, in these love-filled hours, I discovered in him a curious moral freedom.
Three dancers in black—Everymen—receive umbrellas.
He came one afternoon to tea, a poet, a philosopher, quiet, subtle, charming, faintly disturbing; with a beautifully shaped head, slender, artistic hands; carrying himself well in our Western clothes.
I called these early meetings the Magic Gardens, for they seemed to my conscience no answer to my deepest need; but only an unreal and exotic gesture of love, which was contrary to all my heritage of lawful mating and my need for peace.
The Everymen dancing in this section are Rudy active, which always is in rivalry and in harmony with Rudy still, paused, immobile. The Veil Bearers clear the stage by walking the dancers back, then bear what they bear, as the vocalists sing, "Up up up up… down down down down… Going up… going down…." Again, lovely lighting at the downstage corners shadows the Bearers against the back projection. The Dance-Crazy Kid enters center stage, gesturing, and is doubled in shadow by those lights. She exits.
Ted's Trousers
An Everyman, Jeffrey Grimaldo, enters, drops his trousers, and shuffles. A Bearer (now a Men's Group member) does the same.
Male: It was the Hour of the Wolf.
Female: Jedoch, wenn er aus ihrer Hand
Den leichten Becher nehmen sollte,
So war es beiden allzuschwer:
Denn beide bebten sie so sehr,
Daß keine Hand die andre fand
Und dunkler Wein am Boden rollte.
The second Men's Group member drops his trousers and does the same. The three turn and face the audience, flaunting it. They hop, Everyman exits, and the Men's Group/Bearers bear, to a plaintive cello line and strummed, unfingered zither, or keyboard clusters. Out of darkness the Spirit of Ted Shawn appears, bare-chested and athletic, moving, freezing as the veil rises like a current. Against the cloudscape projection both Bearers and Shawn become a septet of shadow dancers as the current becomes Egyptian pyramids in light and shade.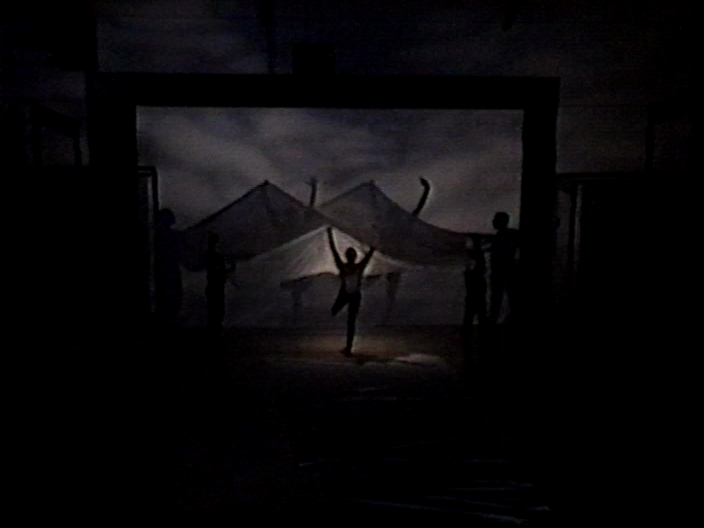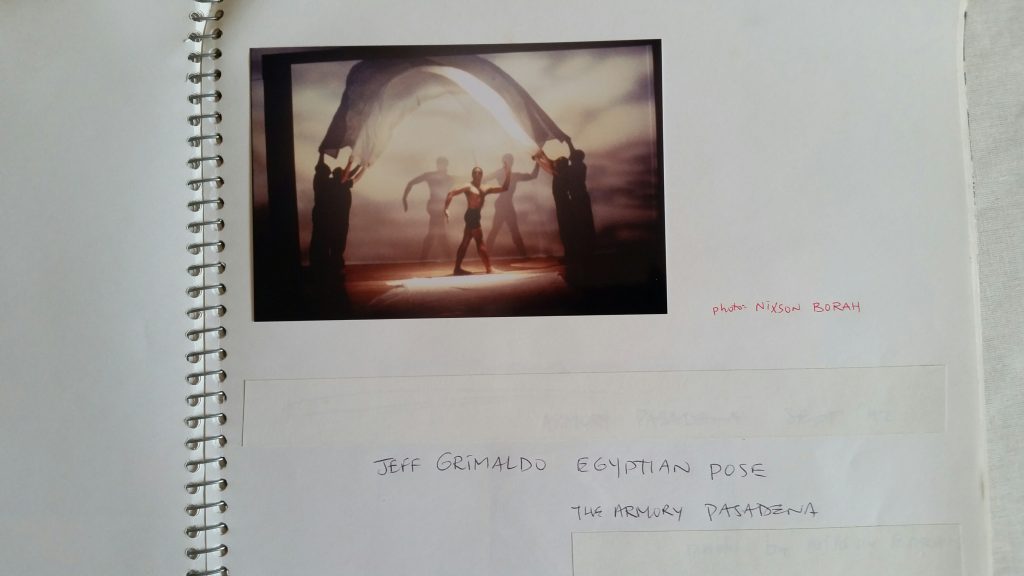 Male: She held the cup in her hand—her chin and mouth were like its rim—her gait was so light and assured, not a drop spilled out of the cup.
Female: His hand was equally light and firm; he rode on a young horse, and with a careless movement he made it stand still, quivering.
Male: But when he was to take the light cup from her hand, it was too heavy for both of them:
Femaie: …for both trembled so much that no hand found the other hand, and dark wine flowed…
Both: …on the ground.
Female: Aufsteiden. Aufsteiden.
Female: I was going up.
Spirit of Ted Shawn sits, striking a Shawn-like pose. He stands and does the same, as figures move behind the vertical veil. He lifts a matte cloth and drapes himself, as women twirl beside him with their own fluttering sheets, as he recedes.
Finale: Still Life with Watermelon
Meanwhile, the projection of clouds, which has since gone dark, reappears as an oblong object—a watermelon—suspended, displaying the same variegated light. Steve DeGroodt:
I bought [the watermelon] from a Mexican man whose pickup truck was loaded. Took it back to my studio to photograph. I thought that surely a young Ruth St. Denis, raised on a farm, would have had watermelons growing. Projected so large, the scale of the watermelon became surreal on stage. […] I like how the watermelon and ocean liner are parallel universes.35
Mother of Ruth in a polkadot dress sits in a spotlit chair as cello and clarinet wash. She turns her gaze stage right. The Dance-Crazy Kid rotates the steam ship for the return voyage. She strides slowly stage left to her own spot circle, gesturing as usual. Her movements become frantic. Bearers bear the veil behind Mother, and drape her.
Male: One night not long ago I woke up from a dream. I knew the hour was 4:02 in the morning, The Hour of The Wolf. It is said more people are born at this time and more people die at this hour. I tried to reconstruct my dream. I had been working on a painting and was becoming frustrated. I was having trouble putting down the image that I wanted. The paint was turning to mud and the image was fading fast. I stopped. Then I realized I had no cause for worry. There are no mistakes in dreams.
A veiled Spirit of Ruth enters. She outstretches the veil, then envelopes herself, as in the beginning. She wears a hefty necklace, like a tire. Hofmannsthal enters, arm outstretched beside her, a step back. The luxury liner is transported downstage to the opposite corner as the Spirit revolves and Hofmannsthal waves slowly, revolving. Clouds coat the watermelon as lights brighten so that all are doubled in silhouette, in particular the poet waving, the ship on its waves, the Spirit posing. These stunning strata—how had I forgotten them?—will remain with me for my remaining years.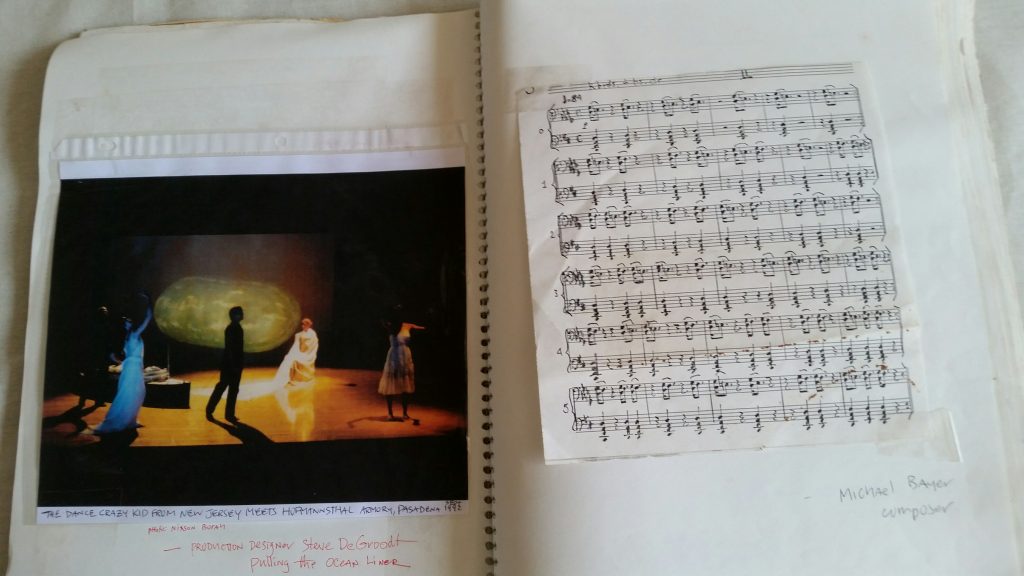 Anticlimactically, in a most tender sense, the performers leave the stage, simply unable to remain, as the musicians issue a lush, troubling chord.
An empty chair, in a full spot, fades.
---
Appendix A: Sue Spaid
Rudy Perez and Steve DeGroodt insisted I read an essay by curator and philosopher Sue Spaid, which she'd written about The Dance-Crazy Kid from New Jersey Meets Hofmannsthal. As I suspected, Sue moved beyond my mere anatomy-as-separation-of-parts to a perceptive probing of those elements. With Sue's permission I'm happy to offer it under the title of:
THE LANGUAGE OF ACCUMULATION
Or, Why the Rudy Perez Performance Ensemble Met the
"Dance-Crazy Kid from New Jersey Meets Hofmannsthal"
I'll only comment on one of Spaid's observations, which upends mine above, about critic Perlmutter's comment regarding Dance-Crazy Kid coming off as the result of "multiple and separate contributions rather than the ongoing intensity of a single vision." Spaid:
It's odd that [Perlmutter] would view each collaborator's diversity as Perez' relinquishment of authority and the dance's shortfall. Rather, 'simultaneous pluralism', the combination of different approaches under the same banner, is the optimum methodology at the end of utopia. There's no longer one particular pluralism, but myriad independent groups whose constituents share common values, yet maintain diversity.
This is in keeping with what I wrote about in my Marx and Eno two years ago.
Appendix B: Armory Center for the Arts
Rudy's performances at the Armory Center for the Arts didn't begin and end with The Dance-Crazy Kid from New Jersey Meets Hofmannsthal, although it would be ten years later, as Jay Belloli, then-Director of Gallery Programs at the Armory, told me:
After "Dance Crazy Kid" Rudy approached me to do another performance. As I remember I said yes immediately. Rudy's performance happened in the studio space, a completely different space than the gallery because it was rougher, much less pristine. It was in this performance, probably with six dancers, that I saw the purity of Rudy's choreography. There was a glorious rightness in how he used moving bodies in space. Earlier in my career I had seen performances by Merce Cunningham's company, Twyla Tharp's company, Trisha Brown's company, Meredith Monk, Lucinda Childs, and others. But, with the possible exception of Trisha Brown, I had never seen ostensibly simple choreography that filled me with the sense of seeing perfect art. The repetition in Rudy's choreography made it meditative, never just repetitious.
And so Back by Popular Demand was performed on May 18 and 19, 2002 at the Armory. It included reprises of work he'd premiered eight months before at Luckman—Feelings for Open Spaces; None for Crowded Areas, and The Art of Rudy Perez "Thank You Martha, Hello Merce"—as well as a new dance, Sphinx, "inspired by British-born New York artist Graham Nickson whose many seaside depictions of bathers and surfers caught in postures seem naturally paired with Rudy's aesthetic, at least for this piece," as I wrote last time.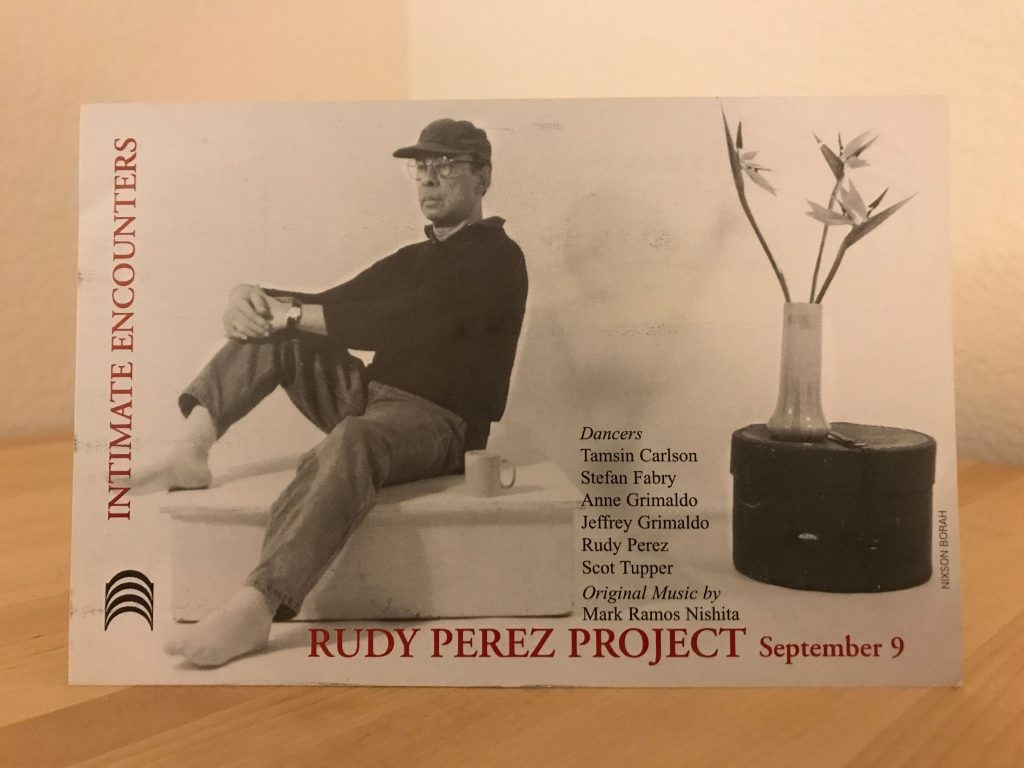 Jay Belloli:
I wanted to work with Rudy again. He looked at the Armory's interior spaces again. He decided to put the audience in the thin continuous spaces of the mezzanine. The choreography would be on the first floor. Because of Rudy's decision, intentionally the audience saw the dancers from above, an incredibly different vantage point, and one I had never seen a choreographer use.
This November 2003 performance was titled Old, New and In Between: A Gallery Event and is described well by critic Victoria Looseleaf. Ten months later, on the third anniversary of the 9/11 disaster in New York, the Armory hosted Dance, Art & Dialogue, held on September 11 and 12, 2004. On the program were Take Your Alligator With You (1963), Equinox-Run (1978), and It Should Go Unsaid (1982) as well as Excerpts of Double Play, which would receive its full premiere on October 9 with eight ensemble members, seventeen guest performers, and dramaturgy by Strawn Bovee. Attendees also got a sneak peek at Countdown: Reflections on a Life in Dance, the documentary film produced by Severo Perez and directed by Rachel Perez (no relation), prior to its official premiere at MOCA in November.36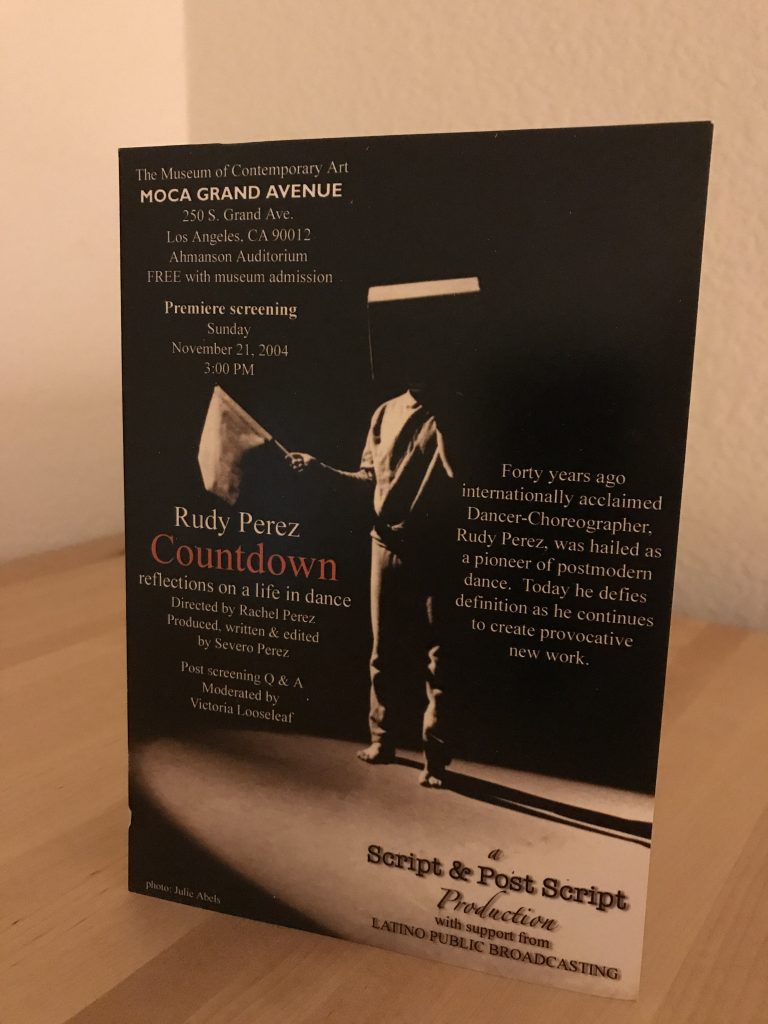 Jay Belloli:
The final performance I worked on with Rudy was for the Armory Center for the Arts' 20th anniversary in 2009. I made the decision to have a number of works of art outside the Armory building for this to emphasize the Armory's close connection with the Pasdena community. Rudy and I visited a couple possible interior spaces for his company to dance in. The Sweetland Hall parish room at All Saints Episcopal Church seemed the best to him by far. It was roughly square and two stories tall with four long banners hung from the ceiling.
Indeed, the performance was site specific, dedicated to Merce Cunningham, who had died three months before. It included the premiere of Open Suite/WHOOSH the Traffic, created for the space and, according to critic Victoria Looseleaf, "with dancers moving in and out of the work randomly [and] features unison running, airplane-like arm gestures and a slow-motion disrobing segment," all of which she called "a melding of past and present." Also performed was Surrender, Dorothy! which had debuted at Luckman in June and featured poems by Dorothy Parker.
Days before the October 23–24 performances, Jay told Looseleaf that he planned to retire the next year, "and this is one more wonderful thing to do with Rudy before I leave." He recalled to me: "As always, the resulting performance of Rudy's choreography was spare, ordered, and wonderful. It was a fitting end to my close working relationship with Rudy at the Armory Center for the Arts."37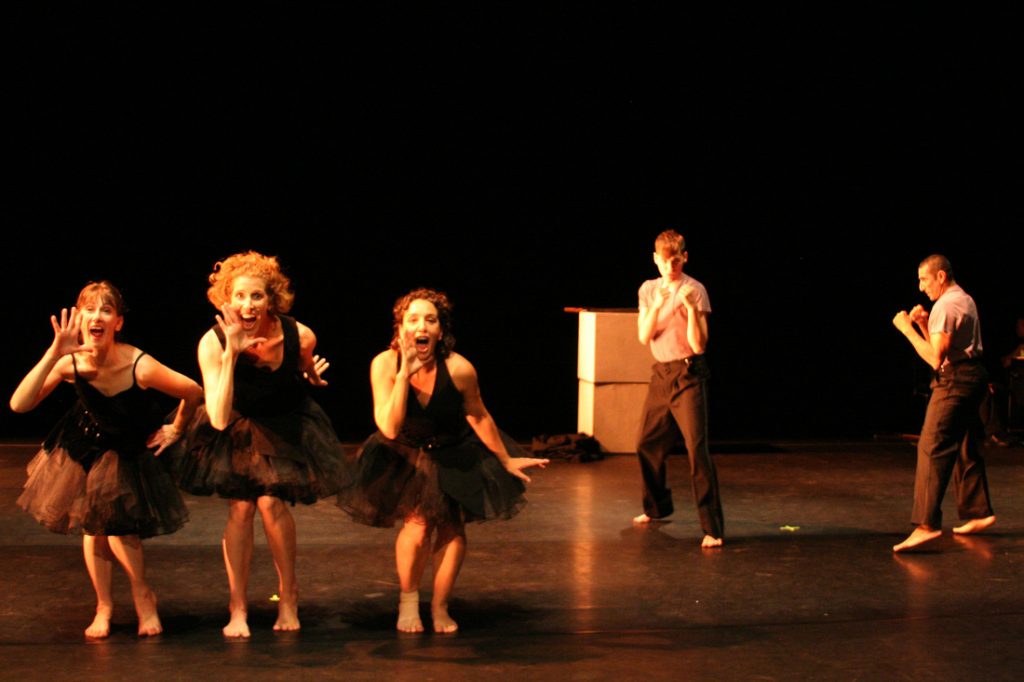 I'll close with two more quotes from Looseleaf's Times article.38
Jeffrey Grimaldo had danced with Rudy since 1986; his now-wife Anne (Goodman) Grimaldo joined in 1988. Jeffrey Grimaldo:
Rudy has taught tons of kids who are now working professionals around the world. I feel privileged to have been part of that, as Rudy is an important link to the past, and he's teaching future generations. To be able to say we have a master with us in L.A., with its spread-out dance landscape, is extremely important.
Jay Belloli:
This is a major late 20th- and early 21st-century choreographer. How Rudy uses space, how he uses movement, how he uses movement as defining space, how he uses music, how in recent years he uses written text—it's extraordinary. L.A. is lucky to have him.
Jay Belloli 1944–2021
We were shocked to learn that Jay Belloli died ten days ago, on May 21, of an apparent heart attack. He retired from the Armory Center for the Arts in 2010, but remained engaged. His reminiscences to me above came only days after he'd launched The Earth from Space, an online exhibition at ArtCenter College of Design in Pasadena, combining his love of art and astronomy. Although I never met him, as an antiwar activist in the '70s I already knew Jay through his iconic Amerika Is Devouring Its Children poster, which he created while doing graduate work at UC Berkeley. That and an obituary can be viewed at Pasadena Now.39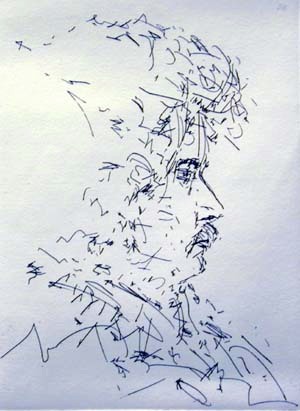 ---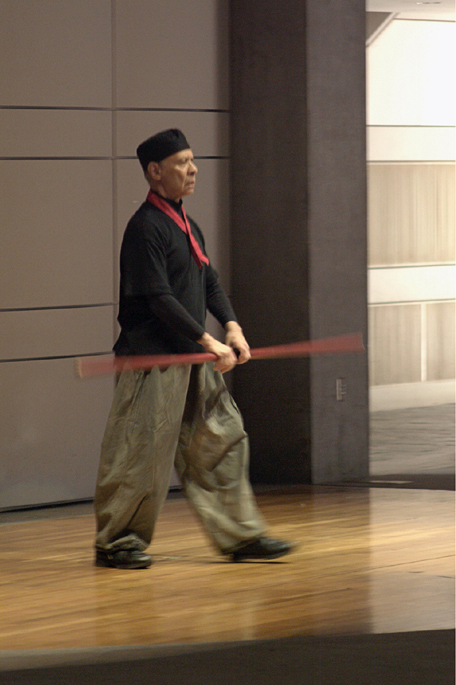 ---
Dedicated to the departed, this Memorial Day 2021.
Thank you to the many people who contributed to this post. And thank you, Rudy, for not allowing me to pass on this opportunity.
---
Notes